COROS announced as Official GPS Watch Partner to XNRG Events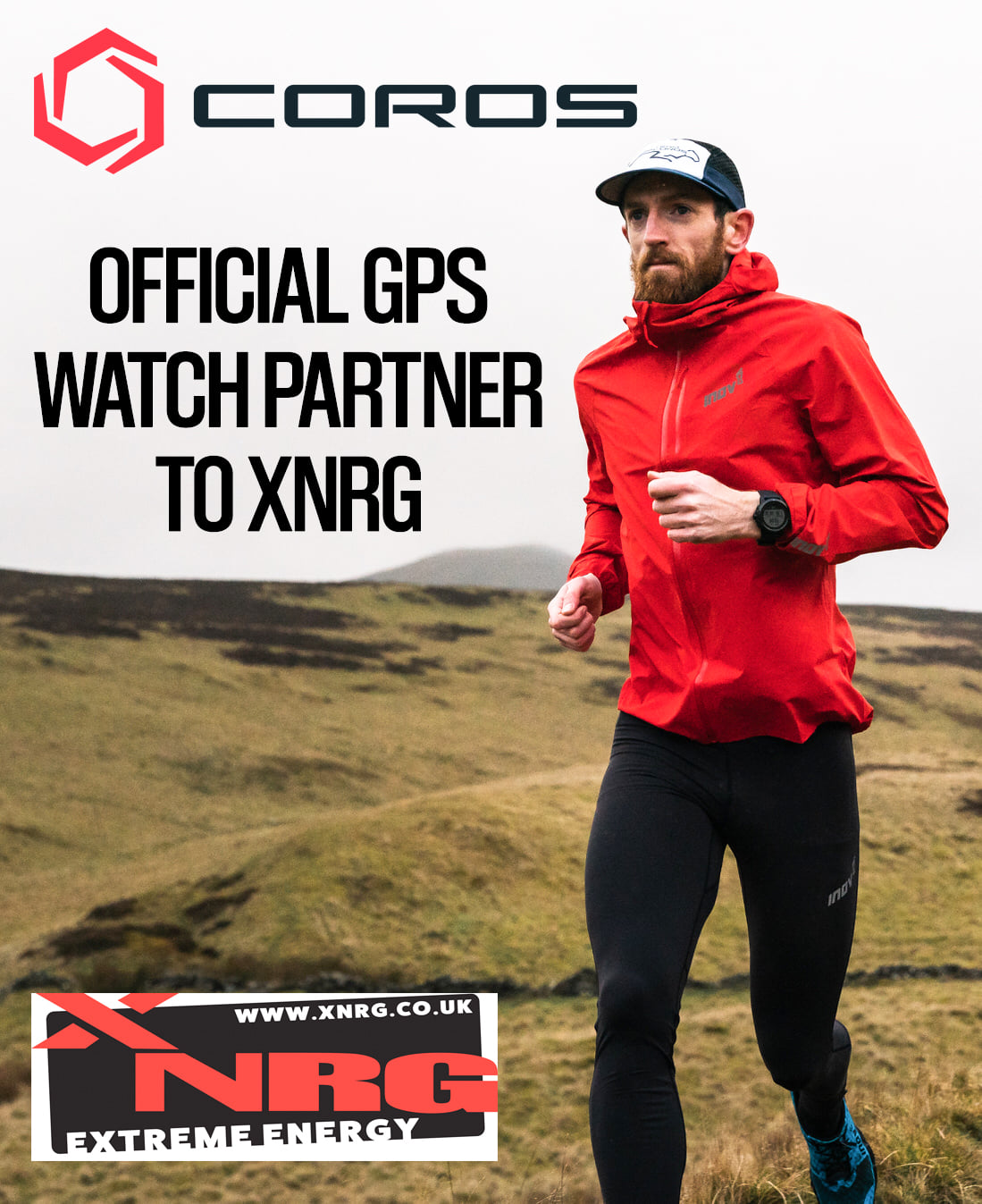 COROS Wearables Inc., makers of performance endurance sports wearables, announced today that they are the Official GPS Watch Partner to the ultra-marathon events organiser, XNRG Events.
As part of the partnership, COROS aims to create a seamless and natural customer journey for first-time athletes thinking of competing in their first ultra-marathon. The partnership will also seek to benefit the more 'battle-hardened multi-day athlete', with the potential addition of future events as well the offering of prizes to race winners, event support, and perks for mutual partners.
Northern Europe Market Manager for COROS, Ben Clark said, "Partnering with XNRG will help to increase our foothold in the ultra-running community by ensuring that athletes can continue to attend some of the best events in the industry whilst also wearing a product that has been exclusively designed with them in mind. Our customers value having the best tools for the job, and what better way to test them than by going to compete in some of the best ultra-events the UK has to offer!"
Neil Thubron, owner of XNRG said, "We are excited to announce our working relationship with COROS as we are always looking for quality brands to partner with that will add value to our XNRG community. COROS is the perfect technology for our long-distance single-stage and multiday competitors, boasting great functionality and amazing battery life."
ABOUT COROS WEARABLES COROS
is a performance sports technology company that helps athletes train to be their best. For COROS it's all about outdoors, mountains, and a passionate active lifestyle. We combine high-grade hardware with innovative technology to provide endurance athletes with the gear they rely on in the world's most extreme environments. Advanced technology with an efficient and intuitive user experience is at our core – when you use a COROS product, you know you are getting a tool that has been designed, tested and perfected for the athlete, by the athlete. COROS users have set World Records and been to the highest point on earth, pushing our products to the extremes. At COROS, creation and innovation are never-ending. Our customers, the athletes make COROS – be a part of our community @COROSGlobal + @COROS_UK on Facebook, Instagram and LinkedIn.
ABOUT XNRG
XNRG's mission is to help people challenge themselves and breakthrough their mental and physical barriers, whilst providing peace of mind with expertly run events, going the extra mile for every competitor. Our heartland is multi-day endurance events; we originally started to help people training for the world's toughest desert footrace, the Marathon Des Sables. Today, we welcome hundreds of competitors across our events, from single day ultra-marathons to multi-day events.
Our business is built on 3 values – High-Quality Challenging Events, A Fun Environment, We lead with Safety first.
inov-8 and COROS Wearables have teamed up to help people reap the rewards that exercise brings to mental health.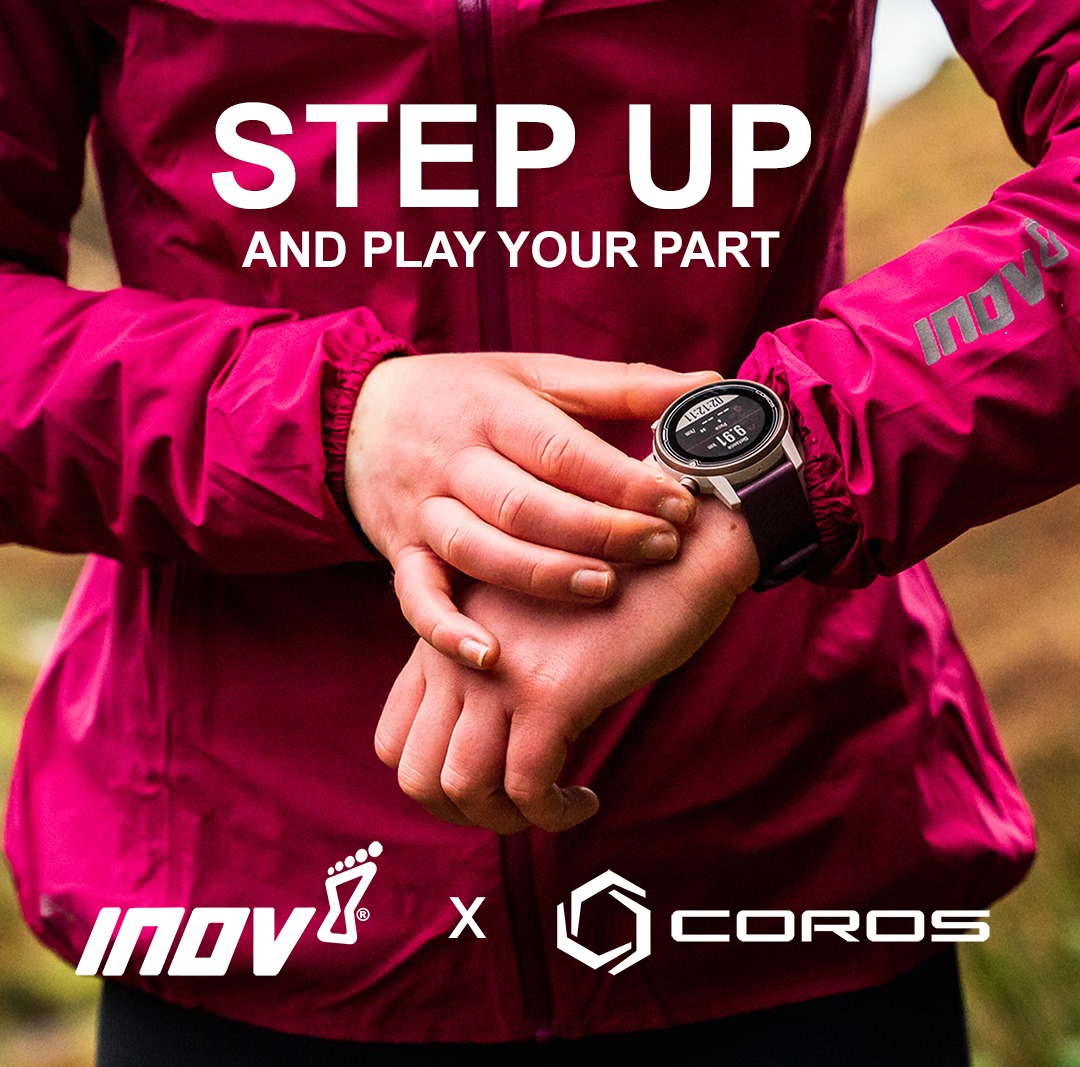 The two sports brands have launched their Step Up & Play Your Part Challenge in a bid to amass 21 million steps of responsible exercise before the end of January 2021.
To do this they are calling on runners, walkers and all sportspeople to log their daily number of steps on the inov-8 website here.
And while both brands are promoting exercise to help people with their mental health during these hugely challenging times of the Covid pandemic, they are also stressing that all exercise must be carried out responsibly and within government guidelines that apply locally. 
The challenge is open to everyone worldwide, with inov-8 and COROS offering daily prizes that include award-winning running, hiking & fitness kit and GPS watches.
Michael Price, inov-8 COO, said: "In June last year we digitally brought together a team of more than 1,000 runners globally to complete a 25,000-mile virtual lap of the world within a week. 
"The inov-8 World Run was a huge success and proved to be integral in our Play Your Part campaign, set-up at the start of the pandemic to support, motivate and inspire people through these difficult times.
"Now we're stepping things up a level and looking for people to join us in amassing 21 million steps of responsible exercise, and in doing so improve their mental health at a time when things are incredibly tough for us all."
Ben Clark, COROS Northern Europe Market Manager, added: "I'm grateful that we were able to partner with inov-8 to bring this fantastic challenge to the world.

"Earlier in the year, COROS also partnered with JoggingBuddy, RedJanuary and our charity partner Sport In Mind to promote exercise as a means to support and motivate both the mental and physical wellbeing of people worldwide. 
"Together with our wider partners, we believe that the challenge will be the beginning of a very active and successful year for everyone involved!"
Use the hashtags #inov8StepUp and #CorosStepUp on social media to show how you are contributing to the challenge. 
The inaugural edition of Thailand by UTMB is going to end on Sunday 1st November 2020. This is the most challenging period in the world. Yet, Thailand By UTMB, hosted by Sports Authority of Thailand (SAT) shows its potential to overcome all the uncertain circumstances. Successfully and safely, runners are back on the track and enjoyed an authentic trail running experience.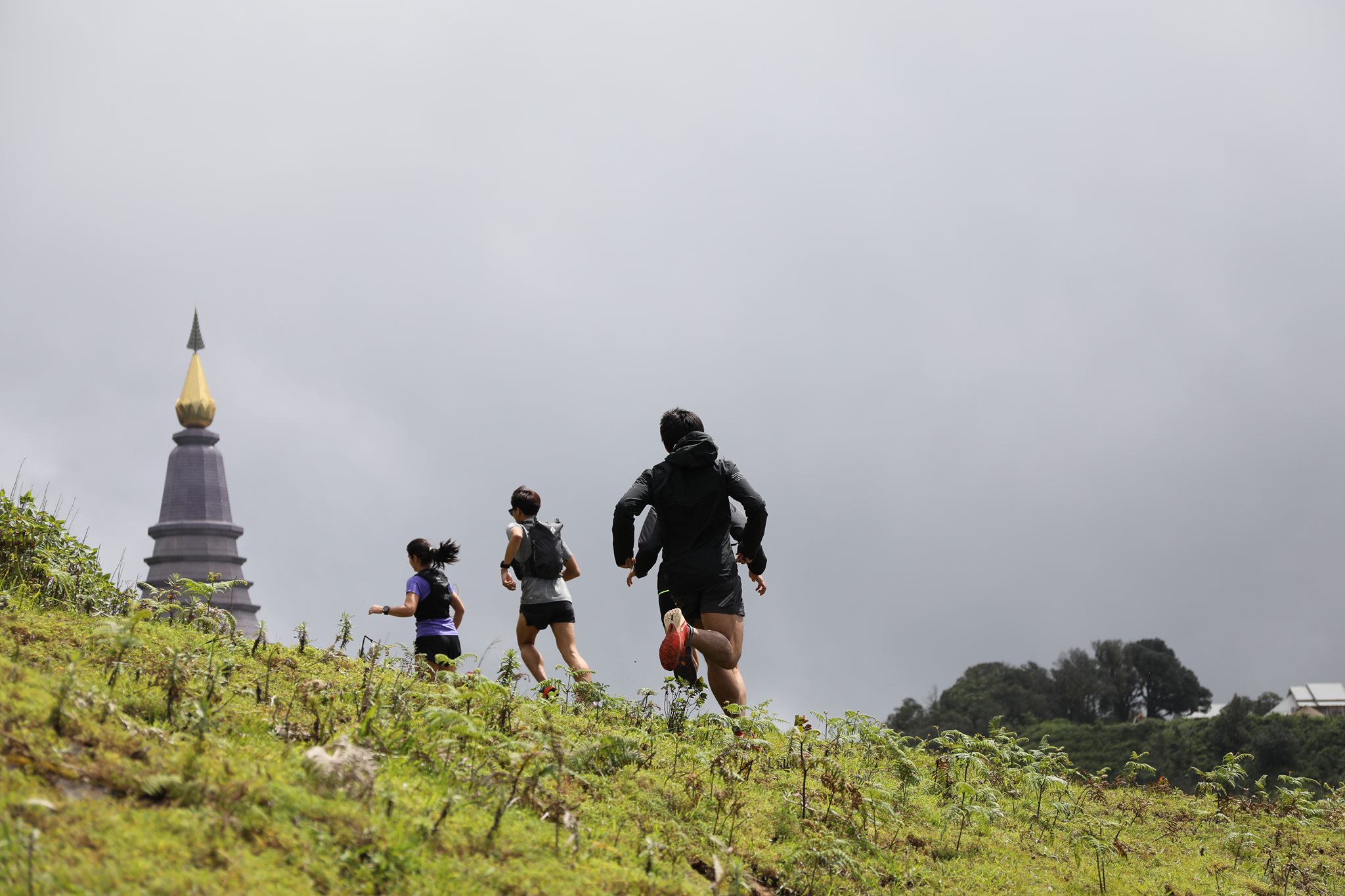 Although there were uncontrollable problems on Day 1 as the Thai Meteorological Department announced that there would be a typhoon, Molave slammed into Vietnam and would pass over Thailand, Thailand by the UTMB team has prepared for the back-up plan carefully, as the highest priority is the safety of everyone, not only for the runners but also for the volunteers, staff, and media.

Eventually, the cooperation of every single part brings the event surpassing obstacles and delivering the best destination as its quote.

More than 1,500 runners head to the rooftop of Thailand, Doi Inthanon, to be a part of this historic day. The champion is Sanya Kanchai, the same one as in the test event in February. This Thai elite ran the longest distance Inthanon 6 (100 miles) and achieved a time of 26:40:06. At the 1st place Women of Inthanon 6 was Phitchanan Mahachot, crossing the finish at 36:16:38.

2020 is an unprecedented and challenging year. We, however, will neither give up nor stop in order to be THE BEST DESTINATION for all trail runners friends.

Text & Video Credits: Thailand by UTMB
Salomon athlete steps down from the mountains in Phantasm 24 Project this November
Kilian Jornet, the most decorated trail runner in the history of the sport and the man who summited Mt Everest twice in one week has set his sights on a new athletic challenge. This month, wearing the new Salomon S/LAB Phantasm road racing shoes, he will step on the 400-metre (¼ mile) track in Måndalen, Norway and run for 24 consecutive hours.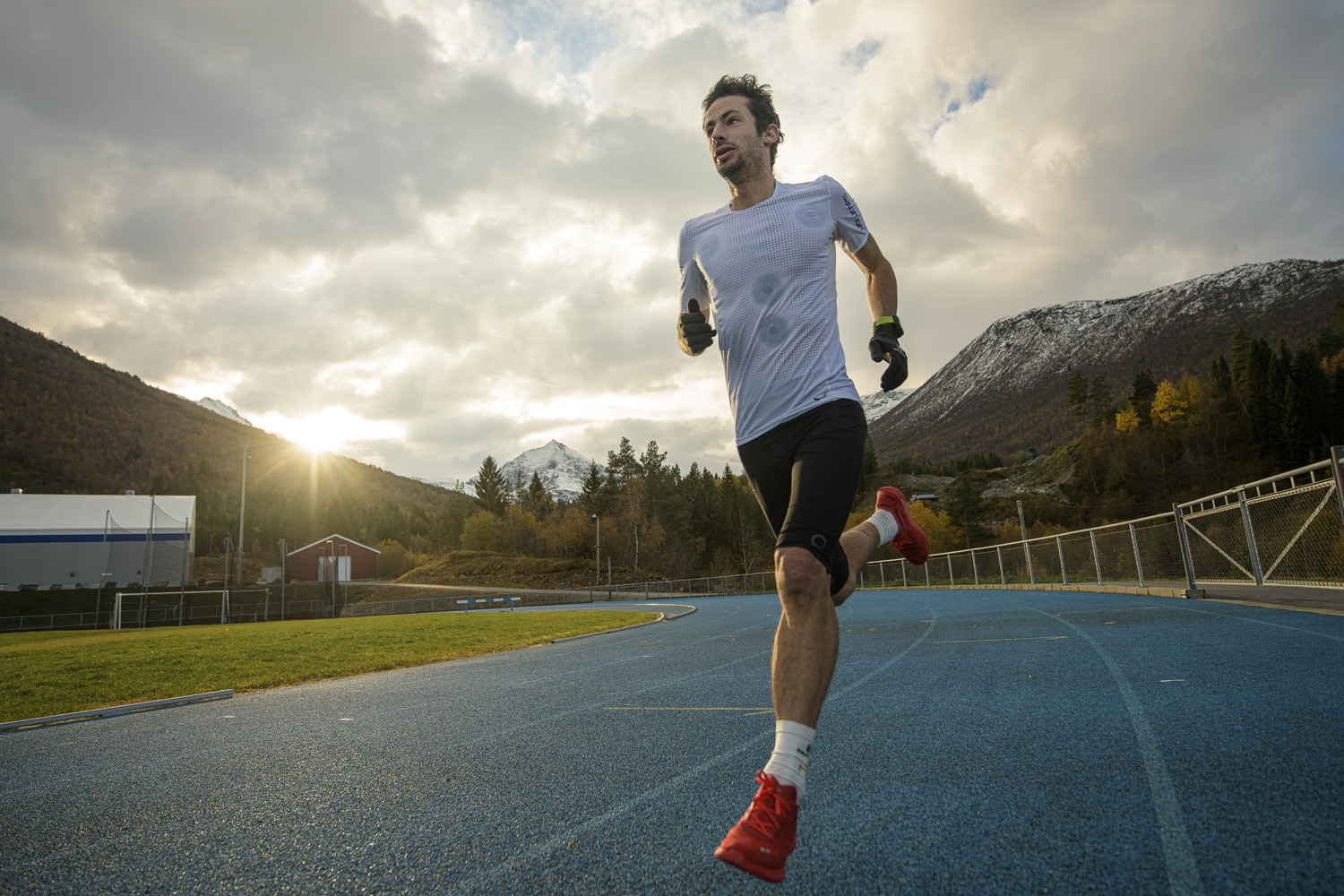 For Jornet, who has won trail running races all over the planet, the Phantasm 24 running challenge will be a step outside of the ordinary, which is always attractive to him. "The motivation is to go outside of my comfort zone, to try different things and see what I am able to do, whether that is climbing at high altitude or, in this case, running on flat ground," Jornet said. "It's fun to discover different things I can do, and training on the flat is a good test and an opportunity to learn in terms of nutrition and pacing, and then try to apply those things to different activities, like even mountaineering projects."
The exact date of Jornet's day-long run is yet to be determined, as the project is somewhat weather-dependent. The current target date is November 21-22. Fans will be able to watch Kilian's Phantasm 24 running challenge via a live feed at www.Salomon.com/phantasm24. Check the social media channels of Salomon and Kilian Jornet for the exact date and time of the run. A web series previewing Jornet's preparation will appear on Salomon's and Jornet's social media in the coming days.
Norway, where Jornet lives, has been relatively unaffected by the COVID-19 pandemic. Still, to adhere to health precautions, the stadium will be closed to spectators during the run. In order to make the race official, several accomplished Norwegian ultra-runners will also compete.
Jornet has had his eyes on this 24-hour running challenge for some months and, as always, won't make predictions or set expectations about how far he can run. That said, whenever the Spaniard laces up his Salomon running shoes, there is always a possibility for the extraordinary. Officially, the longest distance ever run in 24 hours was set in 1997 by Yiannis Kouros, who ran 303.506 kilometres (188.590 miles), which Jornet calls an "absolutely wild" achievement.
"It's so many kilometres that I cannot even visualize it," Jornet said. "I've seen Yiannis' splits so I want to keep up with that as long as I can. I know the speed I need to keep every hour, so then I know the pace for every kilometre and every lap. Of course, the first 10 hours will be a bit faster and then slowing every hour after, so I have a plan and I know what I want to run every hour. The big thing is to not have any muscle problems and be able to eat without having big down periods."
Accustomed to running (and winning) famed races like Ultra-Trail du Mont Blanc (UTMB), Hardrock 100, Western States 100 and countless mountain marathons around the globe, Jornet has sought expert advice from coaches and physios as he incorporated more speed work into his training.
"For mountain athletes, we have a big motor, so it's easy in terms of cardio and endurance," Jornet says. "It's mostly working on the speed because my legs aren't used to moving this fast. To prepare, I've been doing three days of speed work each week at the track or on roads. But the form you run with on the flat is very different from how you run in the mountains, where you run higher because you pass over obstacles and put your feet in different places as the terrain changes."
Much of Jornet's training research has centered around minimizing injuries that might come with the repetitive motion of flat-ground running. In fact, he was forced to delay the 24-hour attempt in recent weeks due to some nagging muscle injuries that cropped up prior to his first 10 km road race, the famed Hytteplanmila race in Norway, which he finished in 29:59 in mid-October.
"I think the biggest challenge is to be able to train consistently and not have injuries because the transition to flat ground is very hard for the muscles," Jornet says. "The training has been a bit frustrating the last few months going from injury to injury to injury. I have had good blocks of training and then I would have an injury and have to rest. After the 10 km race, I had to stop training and rest an injury. Now, the plan is to do one good week of training and see how my body feels, then rest the muscle tissues and recover for the attempt."
In his 24-hour attempt, Jornet will use Salomon's new S/LAB Phantasm, a super lightweight road racing shoe that will be released in the spring of 2021. He has been using the shoe for several months during his track and road running training sessions.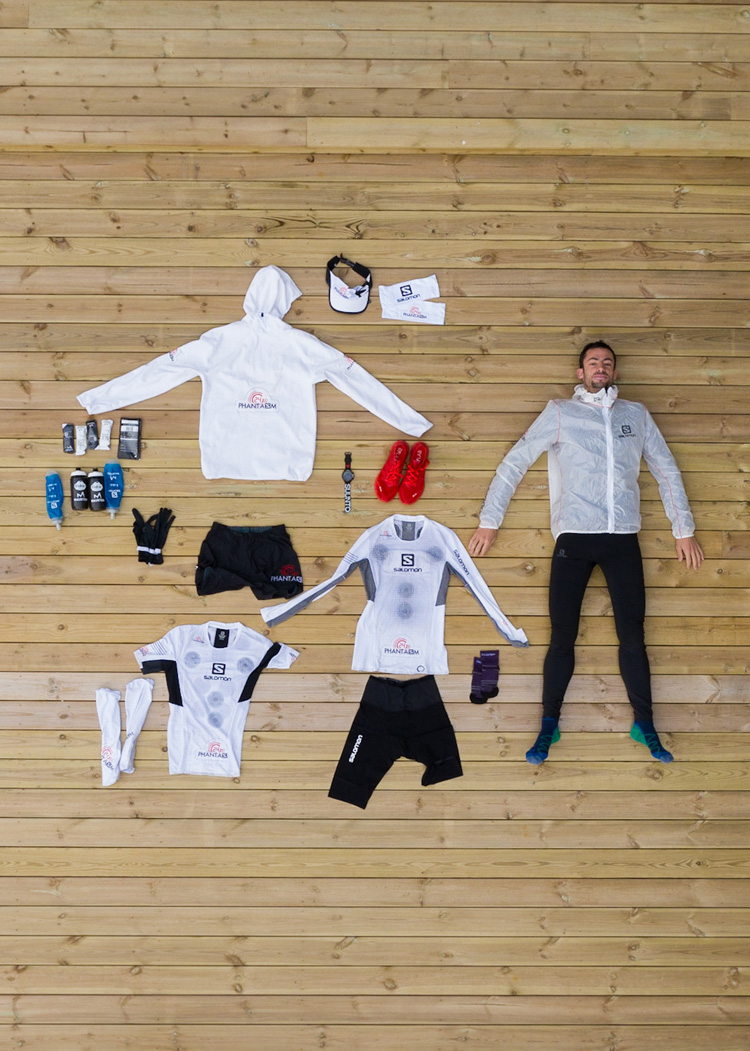 "I tested the prototypes of the S/LAB Phantasm a year ago and now I'm using the same shoe that will be available in spring to the public," Jornet says. "It's great for road running. It's a light, very reactive and well-balanced shoe with good cushioning, which is important when you are doing longer training on hard surfaces. And the grip is really good, even in wet conditions, which is important."
A dynamic racing flat (6 mm drop) that was developed with top athletes, the S/LAB Phantasm focuses on weight, breathability and a fast transition, which is achieved with a curved, rocker profile and Salomon's lightest, most responsive foam, called Energy Surge. A nearly invisible upper made of TPU Mesh gives the shoe a breathable, lightweight design (199 grams).
"It's cool to see Salomon doing different things like this now in running footwear," Jornet said. "Some things that they learned from the mountains—such as lightness and an amazing shape and the breathable upper—have been applied here with the Phantasm. And some things from the road, like cushioning, will help improve the mountain shoes."
On the day of the attempt, Jornet will switch directions every four hours on the track he now knows well. He expects temperatures to get as low as zero degree Celsius at night and range from 8-15 degrees during the day. In preparation for the unpredictable Norwegian weather, he has selected a variety of Salomon apparel to have ready on the day including the NSO T-shirt, Sense Longsleeve Tee, S/Lab shorts, S/Lab NSO tights, Hybrid pants, the Active Hat, a buff, the Pulse gloves, NSO mid socks and a couple of jackets: the Haloes Down Hybrid and Outline Down Agile FZ.
Suunto, the Finnish sports timepiece company who has been one of Jornet's major supporters for more than a decade, will serve as the official timekeeper of the Phantasm24 challenge.
Ultra-marathon legend, John Kelly has joined COROS Wearables as a Pro Athlete Ambassador.
COROS Wearables Inc., makers of endurance sports wearables, announced today a new partnership with ultra-marathon legend John Kelly to join their global Pro Athlete team. John who specializes in mountainous, multi-day events such as The Barkley Marathons, The Spine Race, Tor Des Geants, and long FKTs such as his recent Grand Round project that connected all of the UK's big 3 fell running rounds, said "COROS is bringing innovation and new capabilities to an area that has largely seen only incremental improvements over the previous decade. The long battery life and versatile user interface are a valuable asset for the sort of multi-day challenges that I do in remote terrain, and I look forward to my future adventures with a COROS."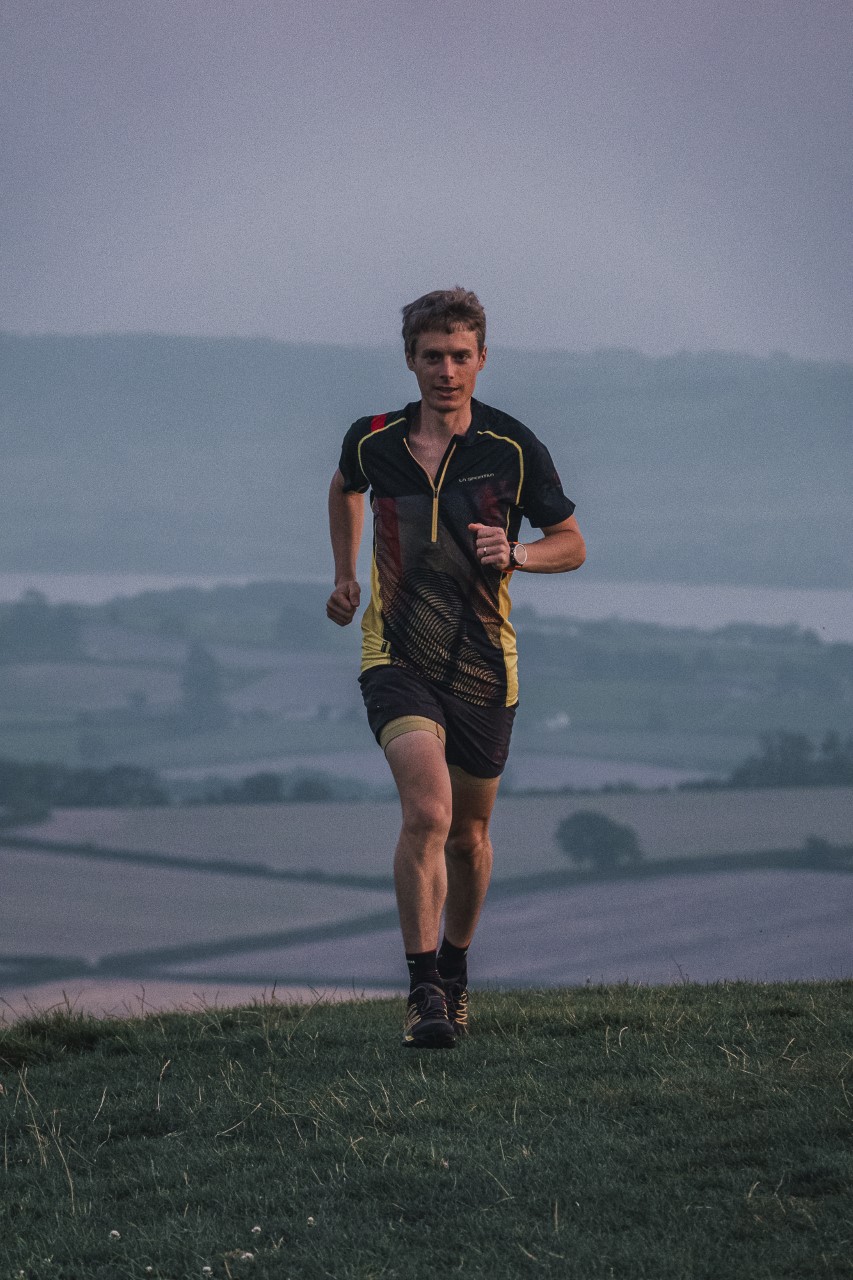 Photo by Phil Hill at PH Balance (https://www.thephbalance.co.uk/)
John grew up in east Tennessee USA, where his love of the mountains began, and now lives in the UK with his wife and four kids where he's the CTO and co-founder of a tech startup. Some of John's ultra-running achievements include: - 2017 Barkley Marathons winner - 2018 ITU Long Course Age Group World Champion - 2020 Spine Winner - 1st to complete "The Grand Round" – the UK's big 3 fell running rounds, cycling between them - Guinness World Record for "Fastest Marathon Dressed as a Videogame Character" (2016 Boston Marathon) John will continue exploring the mountains and his own limits, challenging himself with goals that push his boundaries.
He hopes to be able to pass these passions along to his kids and others - promoting an appreciation and preservation of wild places and the value they bring to our society. Northern Europe Market Manager for COROS, Ben Clark said: "We're delighted to have John join our team, he has worked extremely hard to reach his ultra-running goals, as well as often completing them in a superbly unique way. I am really excited to see what John is able to accomplish when using our products going forward, as well as wishing him the best of luck as he welcomes a new addition to his family". COROS' Pro Athlete Team also includes endurance elites such as Des Linden, Camille Herron, and Hayden Hawks, as well as the recent allusion of Eliud Kipchoge who was spotted wearing a COROS APEX Pro after some investigative journalism by Runner's World UK. You can read more about John Kelly's "The Grand Round" FKT here.
To purchase Coros watches, if you use the following links you will gain the URC a small commision at no cost to your self. As an Amazon Associate I earn from qualifying purchases. Thanks.
To read my review on the Apex Pro, then follow this link - APEX PRO review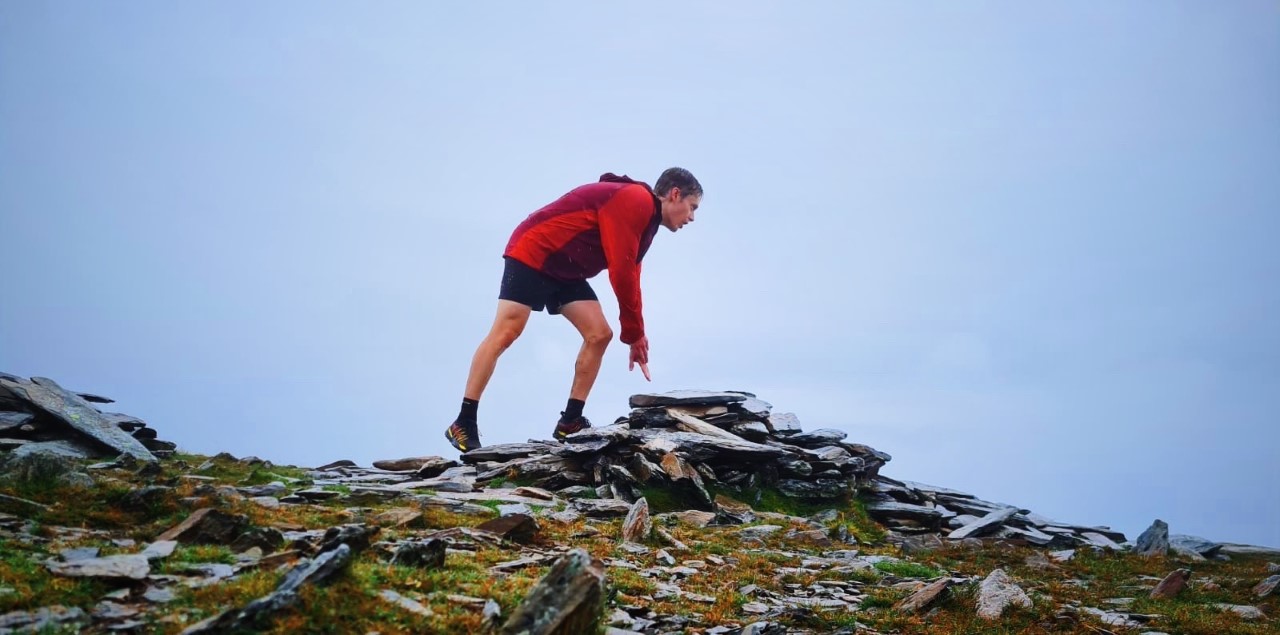 Photo by Michael Corrales – COROS
Written by Jens Jakob Andersen - http://runrepeat.com/ Ultra-runners might be the group of runners that spend the most money on running shoes due to the many miles we log, but are…

Written by Mark Cameron - https://markcameronrunner.wordpress.com Rather than my usual race report I wanted to do something different with my blog, it still involves a race but from a different angle…

Written by Aleks Kashefi - https://pursuingthevoid.wordpress.com Sunday 30th August (Day 34 of my run). After 38 miles I had an amusing conversation with my Uncle, who joined me to run some…
Written by Aleks Kashefi - https://pursuingthevoid.wordpress.com I finished at 10pm on the 2nd of September after a 53 mile day in 10 hours of running. This was the day after, having…

Written by Guy Mawson - https://guymawson.wordpress.com I'd decided to head off to Chamonix for a week after finding some last-minute flights to Geneva, a bit of Googling sorted me out with…

Written by Owain Thomas - http://www.ultrarunningmatelot.co.uk It's been 4 days since I finished this epic journey and as I still recover it's best to jot down some words whilst it is…
Written by Jennifer Bradley - http://runningandbaking.com When the email arrived with dates for the UTMR training camp I was delighted – the same week as the Zermatt Ultramarathon so I'd be…

Written by Kevin O'Rourke - http://ultrakev.blogspot.co.uk Robert Young is in my opinion a living legend. Known as the MarathonMan he has completed some amazing feats including winning the Race Across America and…

Written by Neil Turnbull - https://thefarsideofbeyond.wordpress.com My plan was to start the journey at Alderbury Police Station – the most southern Police Station in Wiltshire. I would then run in the…