Written by Roger Webster
I was accepted onto OCC on the 3rd attempt. Unfortunately it was then cancelled (Covid) and I deferred the next year (thought it was going to be cancelled) so 7 year after starting to collect points I was in and ready?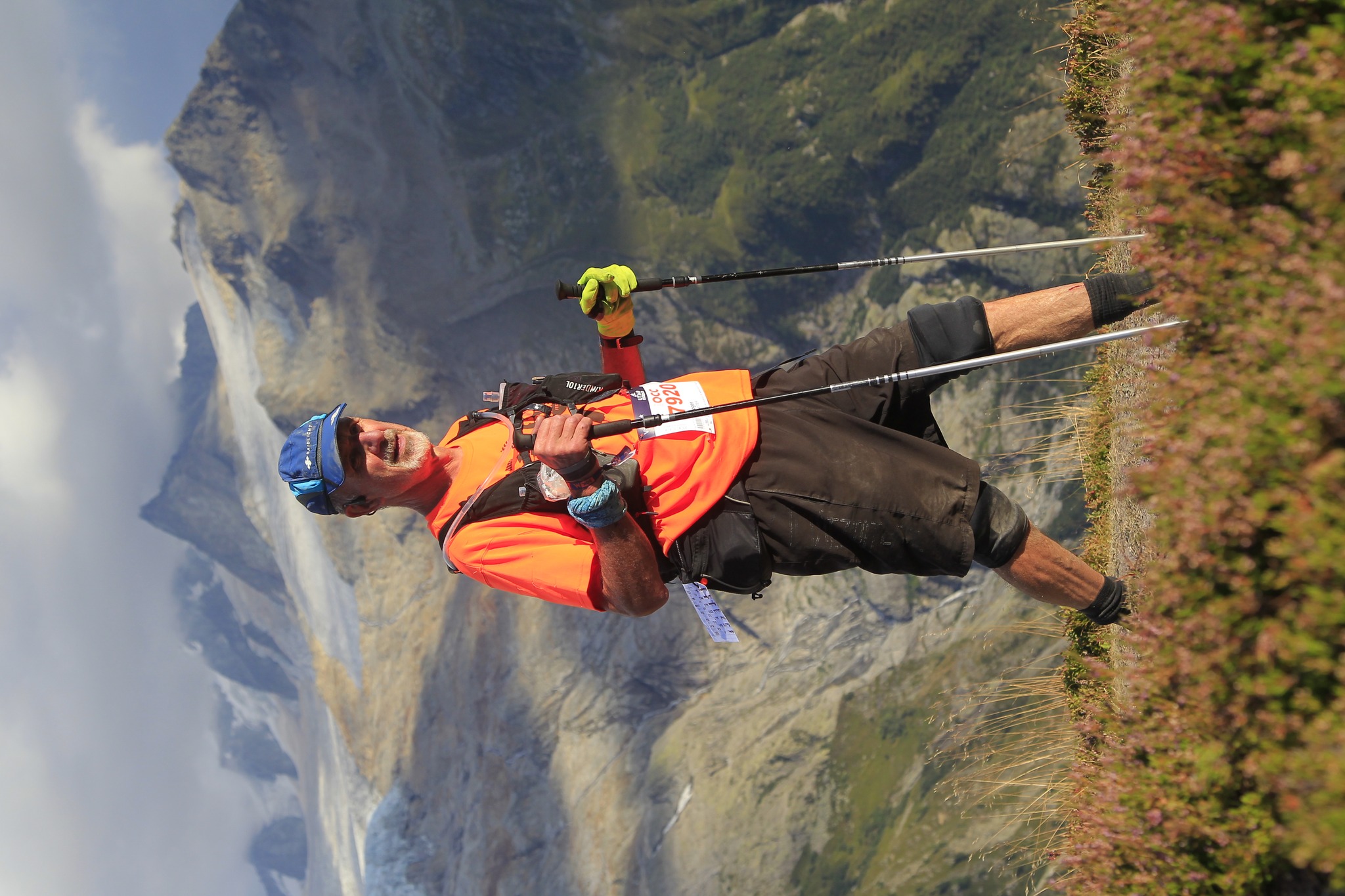 Over the 7 years my knees were beginning to play up so would now attempt it as a power hike rather than a run! Could I keep up 5km per hour while allowing an hour for every 1000m of climbing, 141/2 hours in total. I would be going faster at the start, (6.5kph) but could I keep it up? 
Trained as well as I could in The Chilterns, no long climbs but sought out 100m climbs (Whiteleaf Cross) and was doing 12 reps and other convoluted climbing power hikes (Wendover, Lodge Hill, Beacon Hill, Whiteleaf Cross and back)plus 2 trips to The Brecon Beacons in the 9 months before. 
Travelled by train to Chamonix, not as easy as I hoped. 4 days to acclimatise and walked up to the café at La Floria as my recce. 
Got my number bag etc etc, having worried about kit and would it pass the check, was waved through without being asked to show anything apart from ID. Only elite checked' not 69 year old plodders. Hurdle one completed 
3.30 up and breakfast. 20 min walk to bus pick up, not even 1st there. 
5.15 onto bus and just got seat. One beautiful point with sky beginning to lighten, moon on a ruin on the hill top 
6.30 at Orsiere. Sat in car park. Had coffee from my flask, snacks and 3 trips to the loo 
9.15 start. Good walking pace. Few slow joggers going past. Off road and getting increasingly steep, passing a few people.  
10.46 7.6Km +614m Champex Lac. Good walking pace on road and the forestry tracks to Plan D'Lau. 4x4 track then narrower more gnarly and steeper. Flatten out, at Bovine with cows lying around. Then steep up again to Col de Forclaz. Then lots of downhill, jumping down lots of drops, metal veranda with view of Triente and very steep switch backs down, enjoyed the controlled jumping down.  
14.36 23.7km +1776m Into Triente aid station, Carys, Will and Rhian sorted me and off again, over half an hour up on my schedule!! (had I been going too fast?) 
Along the river, up road and crossing hairpins getting steeper and steeper, going at slow steady trudge, passing a few. Kept going with occasional 5 sec rest. Water stop in byre, then extremely narrow steep up, eventually going up rock face path with chains. At the top, terrain became very broken, lots of extremely tentative runners. 5 sections of chains. Slow going for me but others even slower, my watch said I was still for 20 mins at various points waiting for others. Overtook 140 but hard to do so. Flattened out, Col de Balme in the distance. 10km 31/2 hours!!!! 
18.00 33.3km +2837m Col de Balme Col quite chilly, volunteers in jackets. I had lost time (but made up places) now just 30 mins off cut off. Not very steep good surfaced path for 6 km which I ran, through ski area (not pretty). Then steeper down and had to bounce down and into Tour. Not really expecting climb to Argentiere.  
20.07 44.3km +3029m Argentiere Aid station food looked very unappetising. Had carried lots of food but eaten it and now wanted more but not to my liking. Carbs in water to keep me going. Cross road and now onto La Flegere. Just dark at the start on 4x4 track. When thinned down headlight on. Got rockier steeper zig zags and I started to really grumble and mutter to myself. Out of trees onto loosish wide steep up hill (assume ski slope)  and into last aid station. 
21.54 49.2km +3656m La Flegere Pleased I'm there but not happy. From Argentiere had moved at 2 kph! Toooo much climbing. Now down in shuffle run. Steep steep switch backs. Took forever to get to La Florian, seemed forever then to get to Chamonix, but knew I was within cut off and not feeling too bad. Did a "sprint" up to the finish..  
23.26 56.1km +3662m 14 hrs 11 mins, 40 mins longer than planned!! 1260 out of over 1500 starters so extremely pleased with that