Written by Jessica Williams for the URC
The X-Claw is one of the latest additions to the Inov-8 trail shoe line-up and I purchased - so not a freebie - mine just after Lakeland 100. I had run the latter half of Lakeland in the Terraclaw, but their grip on soft ground and wet rock I have found somewhat lacking. What I wanted was Terraclaw comfort with Mudclaw grip that could go the distance over long distance. The X-Claw is Inov-8's answer to problem for those of us needing grip but also wanting to go longer than the fell race distances that their others are aimed at. It's an extreme shoe for ultra distance.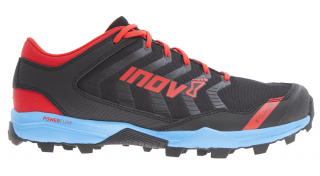 First up what Inov-8 say about the X-Claw:
"The next generation of off-trail running shoes designed to deliver the ultimate in grip over extreme terrain."
I tried the X-Claw on just a couple of days after Lakeland and even with swollen feet post race they were generous in the toebox in my usual size 8. I had the Ultra Tour Monte Rosa (UTMR) coming up around 5 weeks after and knowing that the terrain there would be dry but very technical in places, I took the plunge and bought them. The fit is comfortably secure, I have found it sits somewhere between the wider Terraclaw 250 and the precision fit of the Mudclaw 300s. I find I have to fiddle with the laces a little at the start of my run to get them just so, but once tied they stay secure and allow little ankle movement. They also have a cool retro look that reminded me of my Walsh PBs, I really like that no frills vibe!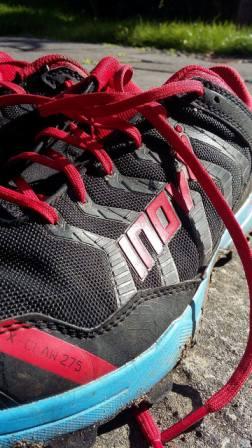 My normal running terrain is the South West Coast Path around the Looe area so I tackle mud, narrow trail, wet rocks and steps and some short sections of tarmac on my usual run routes. I ran in the shoes just a handful of times prior to UTMR logging no more than 20 miles in them. I felt confident enough with them that I ran the first short stage day - of 16.5 miles - in them. The terrain consisted of loose earth and rock on the first day but nothing overtly technical, they coped well with the steep downhills though and I found minimal debris ended up in the shoe thanks to the gusset. There is also a good rubber toe protector which is very helpful for those pesky rocks that you don't see coming. The third day at UTMR was where the shoes really shone for me however, there was a wide variety of terrain; from the highly technical, to some short snow patches, to a fairly long tarmac section on route to and from Saas Fee. The only place where the grip was an issue was on the high altitude icy snow, but I suspect only a metal stud would cope with that and so I suspect that this is not a shoe those who come into regular contact with that kind of problem would pick! However, on loose talus, scree and large slabs it coped superbly, I like to run fast on downhills and at no point did I ever feel I needed to put the brakes including on the frequent grades of -35%. Day three was 28 miles over 9 hours and apart from a blister on my little toe (which I tend to get in all my shoes) my feet felt little discomfort apart from the usual aches from fatigue, the cushioning is definitely a big factor. It might be something to consider if you were going long in a hot place to go a half or even a whole size up if swelling is something that causes you issues.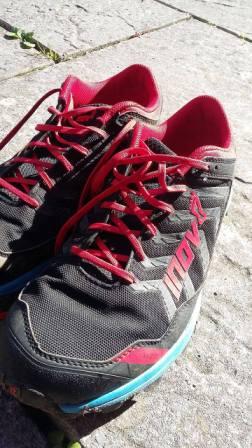 UTMR however was dry and I suspect that this is a shoe a lot of people will want to wear for Winter weather, so back to my home terrain for some mud! The coastal path can get very churned up in winter and this was a big consideration when buying these shoes. So far I haven't had to cope with the really sloppy stuff but I have been out in both the X-Claw and the Mudclaw and find that the X-Claw clears the claggy stuff out better than the Mudclaw - the Mudclaw ended up with a big wad of mud and grass that made the shoe feel noticeably heavier on the same route. The X-Claw copes very well on wet grass, again I find even on long grass on downhills, that I feel pretty confident running a fast pace. The lugs along the outsole are very neat - something which I found irritated me with my Salomon Fellraisers was that the aggressive lug tended to catch the grass on the edge of narrow coast trail which made it feel clunky at times to me - not so here, the shoe is very streamlined and even where there is overgrowth it doesn't catch.
Overall it's a great shoe, I haven't thrown the worst of the winter mud at it yet, but I have put it through pretty much every other type of terrain and it copes very well, the cushioning that Inov-8 have built in to make sure this shoe can go the distance has the added bonus of making it very comfortable to wear on short sections of road. It's great to have the option of a shoe that doesn't compromise on grip whilst delivering the comfort needed for the longer days. It won't let you down on the flatter, smoother trails but this is a shoe that really shines on the gnarly technical stuff where you don't want to worry about sloppy footwork or turned ankles. If you are an Inov-8 fan already this will be a great addition to the collection, and if you aren't, it might be time to get acquainted over the coming wet months!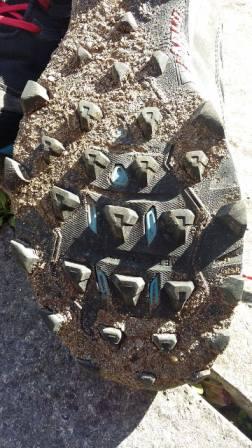 Pros: Good toe protection, secure fit, fantastic grip over most terrain and cushioned enough for long distance.
Cons: Being a recent offering means no deals at the moment so you'll be paying in the region of £100 for them which might be a concern if you aren't familiar with Inov-8.