Written by Neil Bryant for the URC
*scroll to the bottom for update after 785km*
Full disclosure. I was given this pair of Kaptiva shoes for free to review.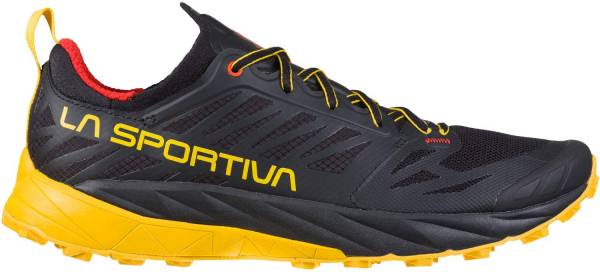 I first saw the Kaptiva when I was lucky enough to visit La Sportiva's HQ in South Tyrol in Northern Italy last Summer. As you can imagine they had samples of everything they make there with a huge bag of sample shoes that we could test run but alas there were no Kaptivas as they just hadn't gone into full production yet. They looked like a great shoe that was taking elements from other shoes and streamlining the whole thing. They seemed like a really polished shoe. A nice wraparound tongue, welded seams, lightweight, sticky tread and they didn't look crazy narrow like so many racey type shoes are. This is great for my slightly wider than average feet!
I had quite a wait before finally getting my own pair to try on and test out. But they were worth the wait! The fit feels great for my feet and the full wraparound tongue really hugs your feet evenly all around. If you are familiar with the Bushido, then the tongue is similar to that, though the improved version.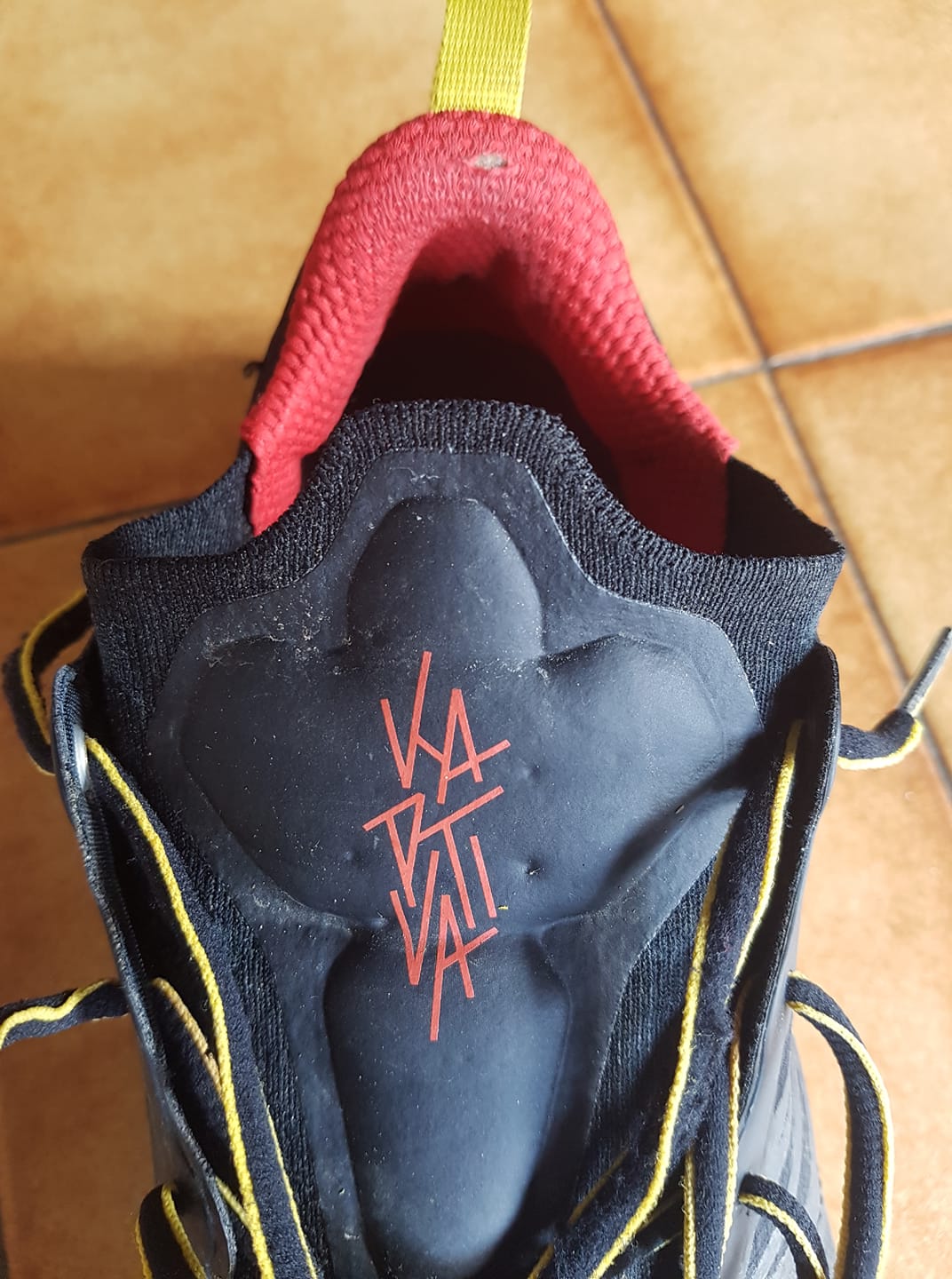 The fantastic wraparound tongue
The midsole gives a heel to toe drop of 6mm, with the heel being 17mm and the toe 11mm keeping you quite low to the ground which should add some extra stability and feel for the trail. In case this is possibly too thin for some (I thought it maybe for me as my feet hurt after a while on rough ground), they have added a 1.5mm Dual-Density EVA Rock-Guard in the forefoot & heel. I have found that some rockplates are not adequate for my softy feet (The Helios SR was one!), so I'd just have to hope they did the job once I'd done some mileage in them. La Sportivagumph describes the tread as 'superior' and the shoe being designed for technical terrain which seems to make sense when trying them on, but the proof is in the running!
I currently have racked up 280km on them so feel that I have a good idea about how they are now. I have run in snow, dusty trail, very wet rocky trail and even a few km's of road.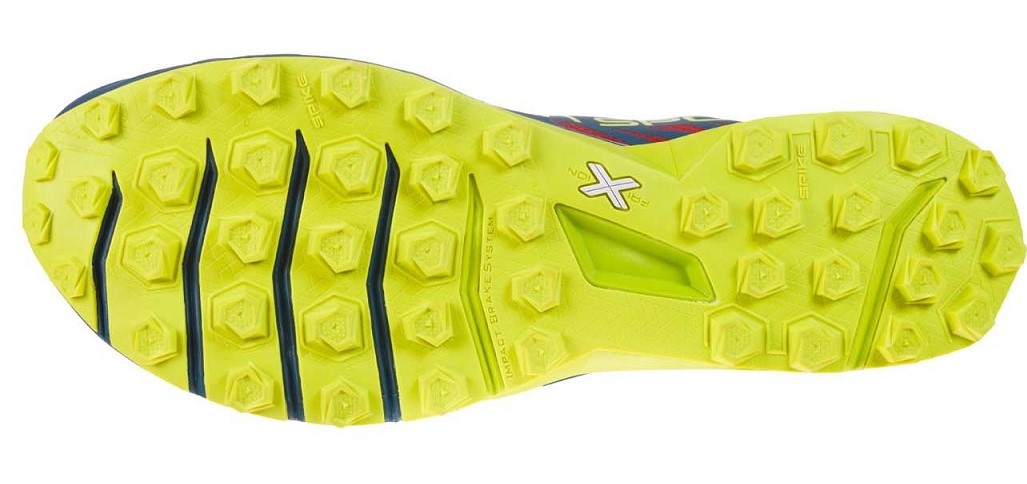 The fit is fantastic on my foot and the relatively lightweight of 260g means you don't really notice they are there. The cushioning, Compressed Molded dual density MEMlex (I don't know what MEMlex is!), felt good. Not spongy and soft but there was certainly enough for a comfortable ride. There is apparently a torsion-resistant insert inside which is supposed to add to the stability of the shoe on difficult terrain. I can't say whether this works, but the shoe certainly feels stable on the technical terrain I have been running on, but I am guessing that this is due to many elements (low heel to toe, low stack height, foot hugging fit and grippy tread) so it is impossible for me to assess this one detail. I guess it doesn't really matter to the user. I could say the same about therockplate. I found the underfoot protection ideal for my purposes. Whether this was due to the rockplate or not, I'll never know. All I do know is it felt good.
Now the tread. This was probably the most exciting part of the shoe for me. Before putting it on, the rubber felt sticky and soft. I couldn't imagine this not being an effective outsole! But I was concerned that this generally led to durability issues. I know you can't have it all, but I hate it when shoe treads wear out long before the upper does (or vice-versa).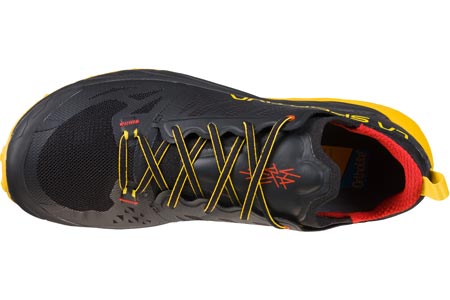 No real news here, but the tread is superb. It really is very tacky, and grips well on most surfaces. A little slipping on the wetter greasier rocks, but once you understand them then you adapt to it. Anyway, I have never tried a shoe that doesn't slip on wetgreasy rocks.
Then there is the durability of the outsole. After 280km of trail, would you expect to see much wear? Well I am not too surprised to see a decent amount of wear. I will still be wearing them for quite a while yet, but the medium sized tread which consists of raised (either 3.5mm or 4.5mm) hexagons is starting to wear down considerably on the outer edges. Again, I know you can't have superior tread and brilliant durability at the same time, but Is the wear acceptable and worth it for the grip? I think that if you bought these as a race only shoe, then maybe that would make the £140 price more acceptable. If you wear these all the time, then they aren't going to last too long. I guess it depends on your expectations, budget and what you want them for (everyday shoe, racing). The upper so far is in immaculate condition by the way.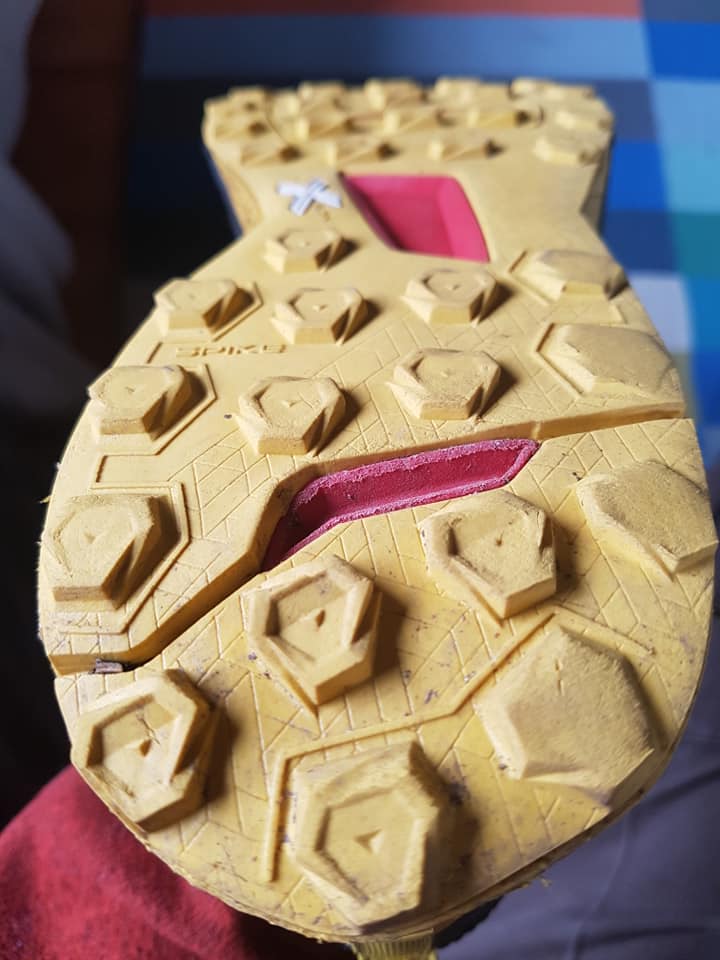 A picture showing the wear after 280km on trail on the heel.
So overall, I am really impressed with the Kaptiva. It is comfortable, stable, protected, the tongue is excellent, even the toe rand is spot on and there is a good feel for the trail. The grip is excellent (I can't work out whether it is better or not than Vibrams excellentMegagrip so will say they are equal) and works well on really gnarly trail as well as road seeing as the studs are not huge. The shoe feels fast and nimble (if only I did!).
My only gripe, if you can call it that, is the durability of the tread. I have added pictures of the wear after 280km of Chamonix trails. It's not a cheap shoe by any standard, but as I said previously it depends on your expectations. I know some people are not happy if their shoe is worn out at 800km. This might not be the shoe for them!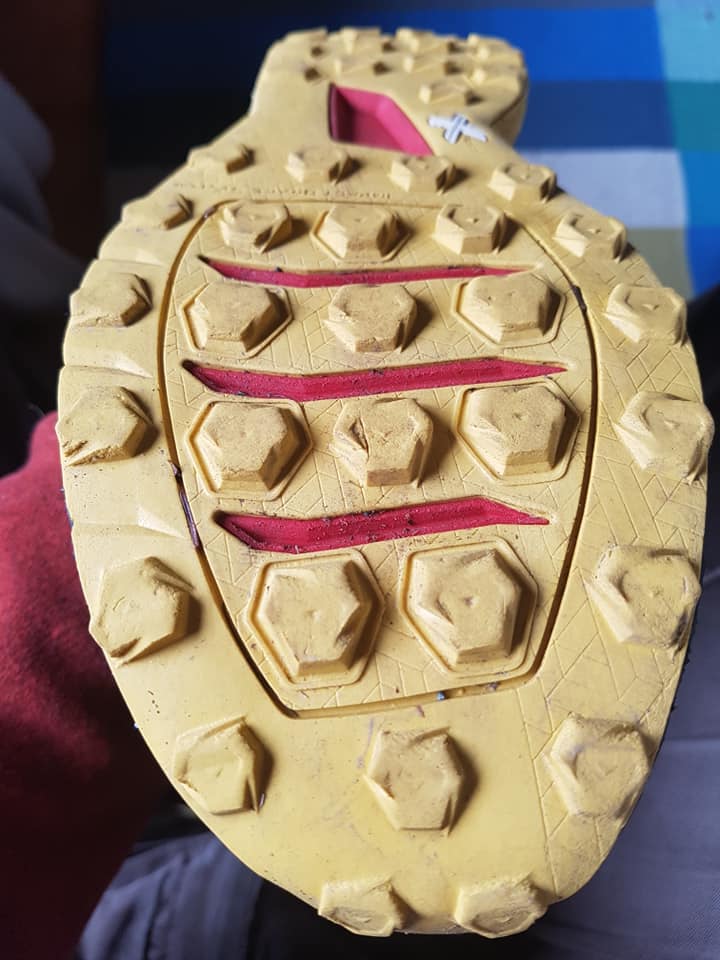 A picture showing the wear after 280km on trail on the forefoot.
I think overall I have to recommend the Kaptiva as it has got so much right, and runs very nicely. It is an excellent shoe which lives on technical trail, though is very adaptable. Well done La Sportiva, you really are improving your already great shoe line year on year. I look forward to see what is next!
Durability update
I have decided that a durability report is due on the Kaptiva as I have been wearing them a lot and giving them some serious abuse. They are now up to 785km and I will still wear them for a bit more. Basically in my opinion, my concern of the durability of the sole was unfounded. It has worn well and the upper also is doing well. They are basically as durable as I have found most La Sportiva shoes. So here are some picture to give you an idea yourself.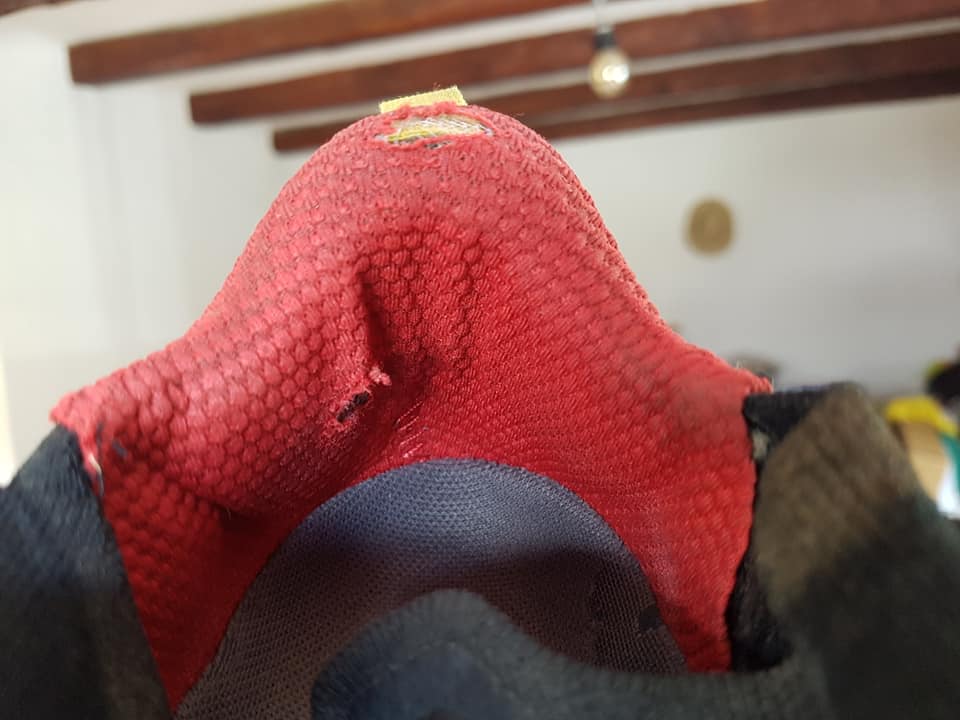 A little wear on the heel section. No discomfort currently.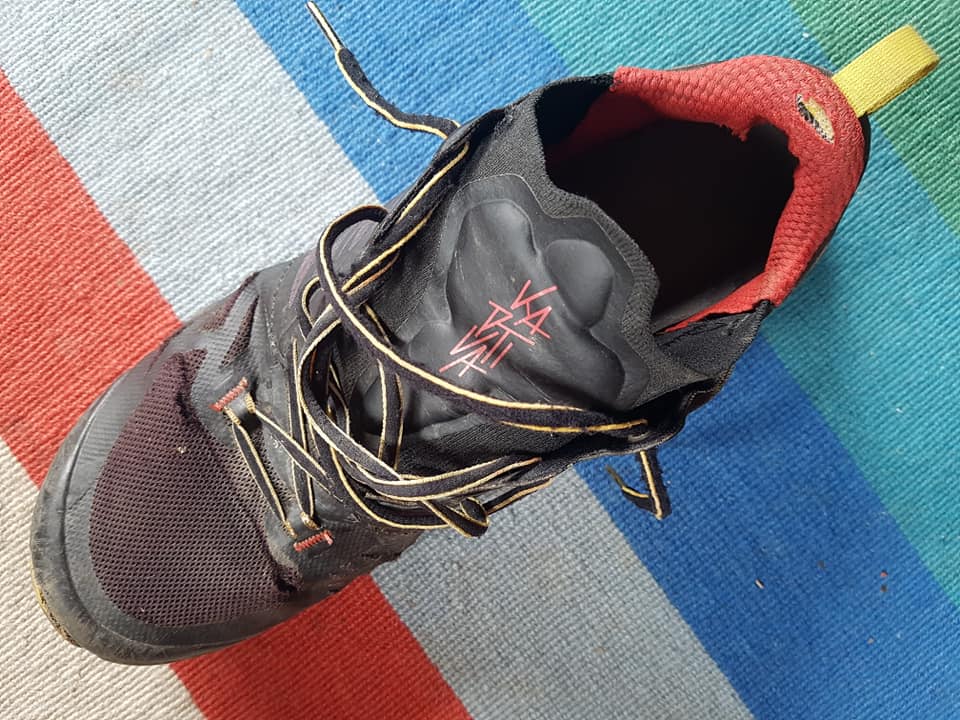 Looking a little battered but nothing of concern!
Showing the beginnings of holes in the common weak point of the toe crease. They have a liner though which prevents it being a big open hole though. No concern really.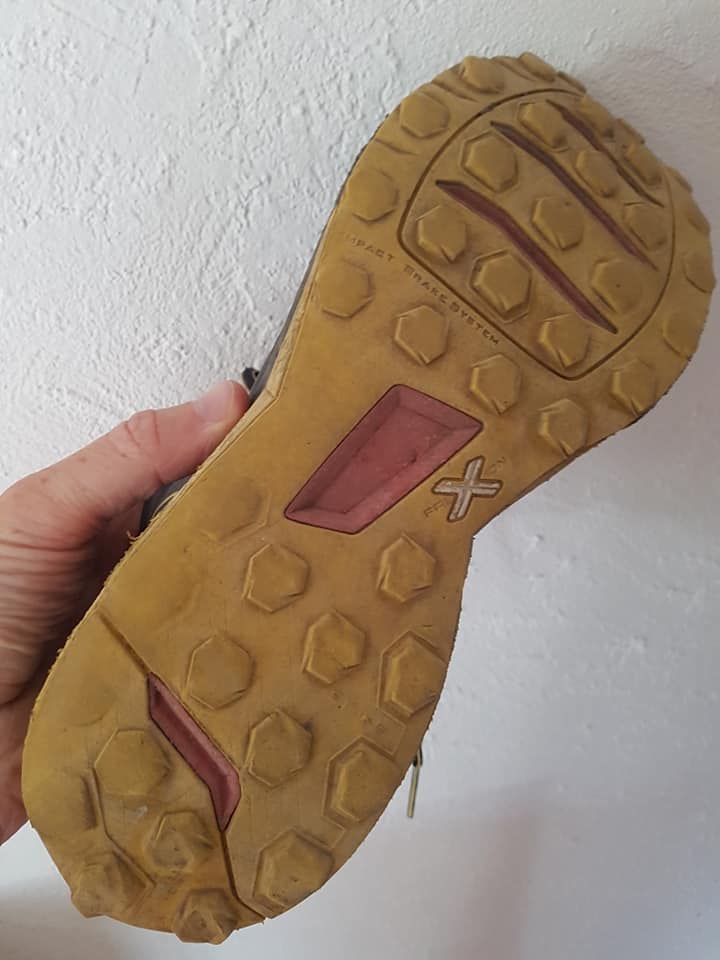 Certyainly looking more road shoe than mountain shoe, but I am happy with the durability considering the mileage and the stickiness of the rubber. Very impressive!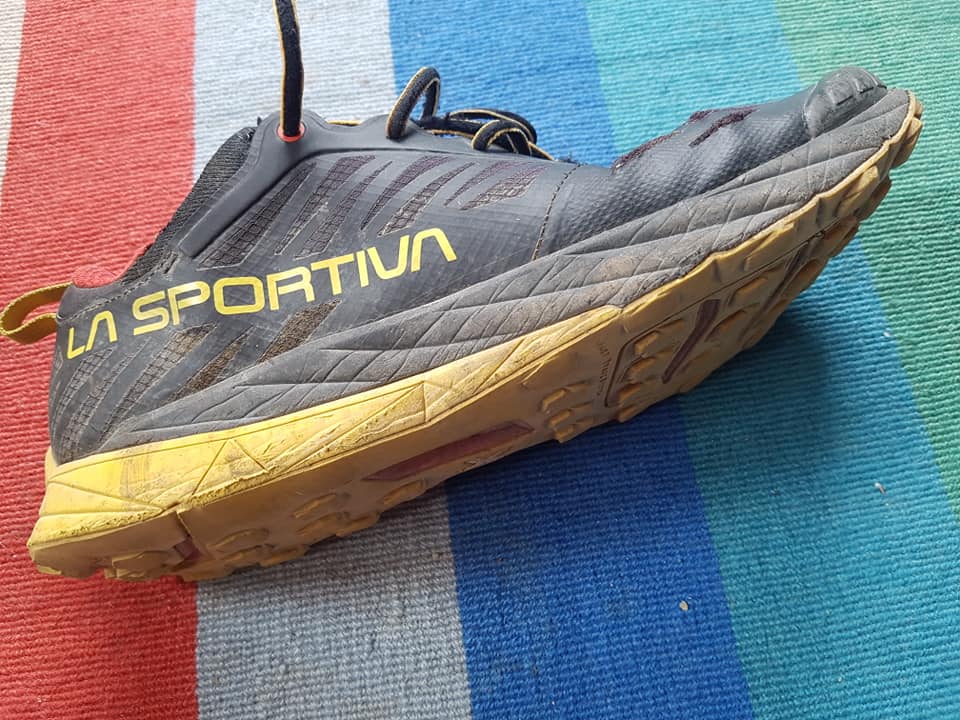 I will be sad to finally end their service.