Written by Neil Bryant for the URC
If you have already read the 'first look', then scroll down for the update.
The first thing to notice with the TERRAULTRA G 270 is the name which has changed from 260 to 270 signifying a 10g weight gain. I am not too bothered about the extra 10g, but it does show that inov-8 have changed this shoe. The colour is still the bright green of the 260 so they still look similar.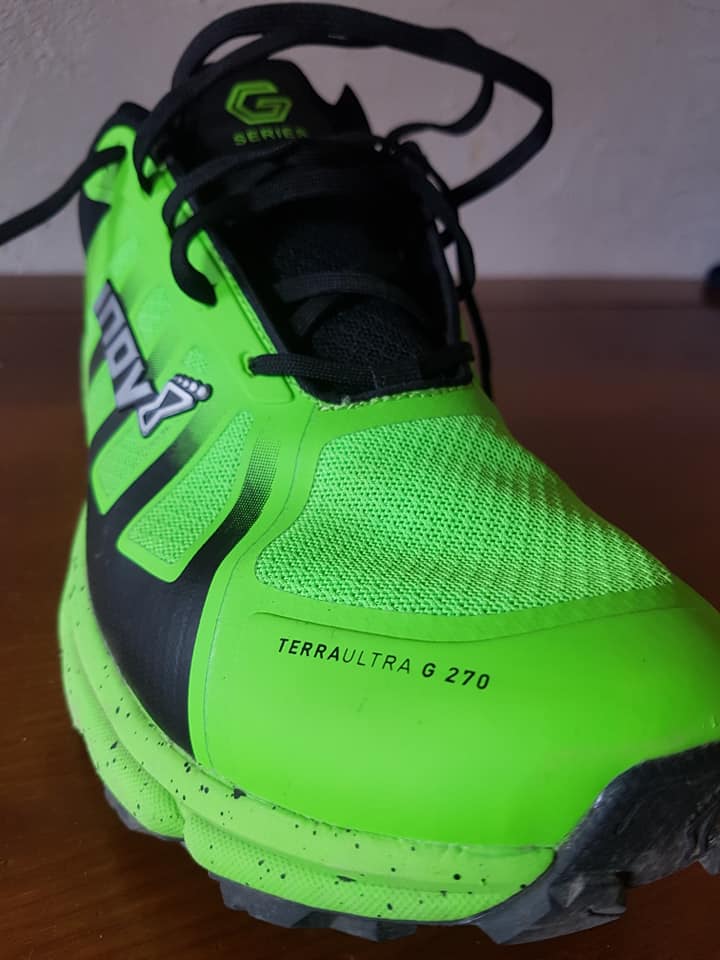 What has been altered then? Well, the main upgrade is the midsole foam which is tagged POWERFLOW MAX and apparently delivers 20% more energy return and cushioning levels are retained for twice as long. I'm not sure what they comparing it too or how they test it, but I was keen to try them out!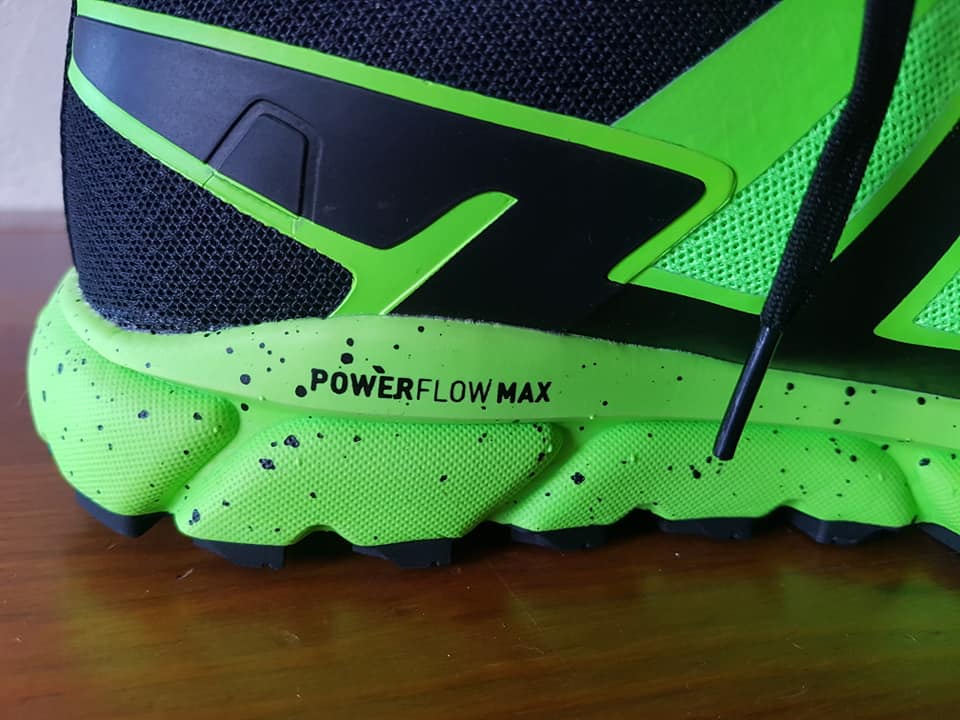 There is also a BOOMERANG insole which inov-8 claim gives a 40% increase in energy return versus the previous footbed. There is also ADAPTERFIT technology in the upper which adapts to any foot swelling and changes in the terrain which should improve comfort.
If you are not familiar with the old TERRAULTRA, then here is a run through of the spec.
The upper is very tidy and cleanly made. The most notable thing for me is the toe box. It is very wide. Not quite Altra level, but wider than anything else I have ever tried. I really like the feel of it. To make the wide toebox work, you need the rest of the shoe to fit nice and snug to prevent any sliding around and the TERRAULTRA delivers. The tongue is thin and gusseted and really adds to the comfort and stability. The whole midsole fits nice a snug around my foot.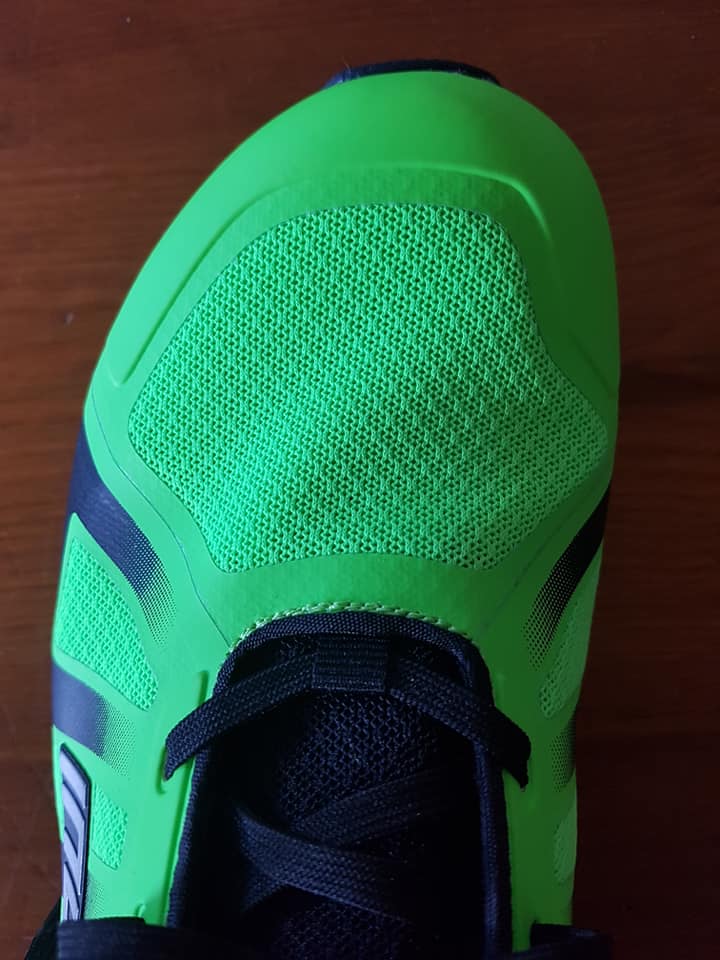 The outsole is made from the super sticky Graphene which I liked when I reviewed the Trailroc G 280, and the stud depth is 4mm which is meaty enough to give good traction when it's a bit slippery, yet low enough to still be comfortable on hard trail.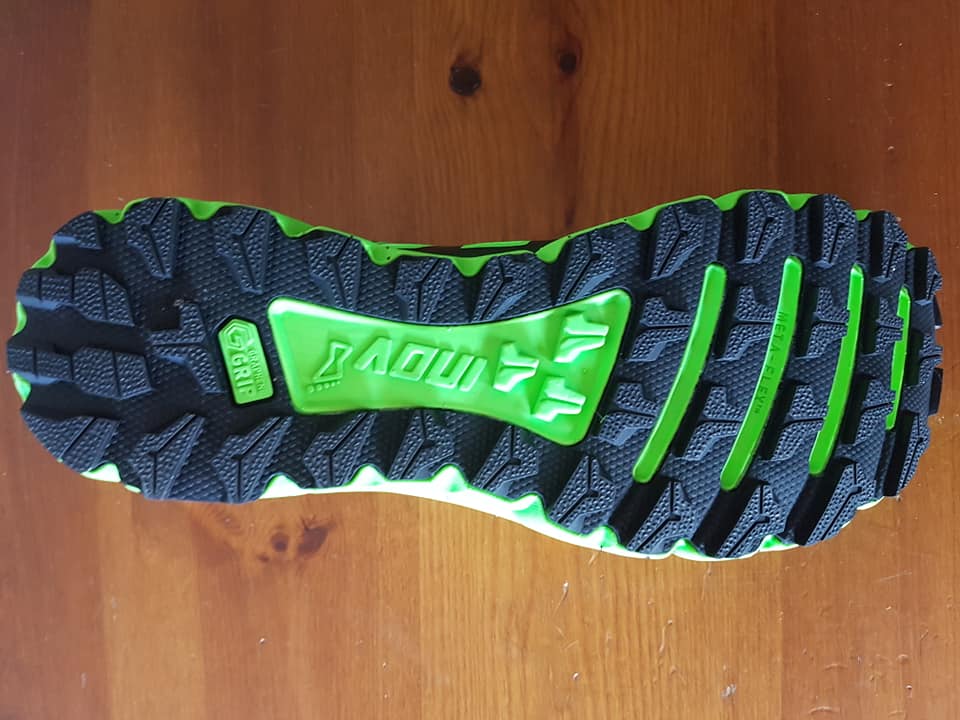 A feature that makes this shoe a little niche is the fact it has a zero heel to toe drop, so unless you are already adapted, then they will need some caution, before running every run in them. Indeed, they will not be suitable for some people.
I have literally just received these so have managed to get out for one hour long run on a circuit that includes steep up and down, some pretty technical trail, easy trail and even some road. A good circuit to get a feel for a shoe. They felt great putting them on and thankfully my normal size fits well with plenty of toe space to help protect my poor battered toe nails. The first km is on road and they felt great. They feel lighter than they are if that makes sense. Maybe it is to do with the bounce of the midsole, which is really nice and springy. Once on the trail and heading up, the grip dug in and held well on all surfaces, though it was as dry as a bone. I will need to test them in wet conditions later to get a better understanding.
After a little road that connect two trails, it was back up on an easy trail as hard as I could and they were feeling quite racy for an ultra-specific shoe.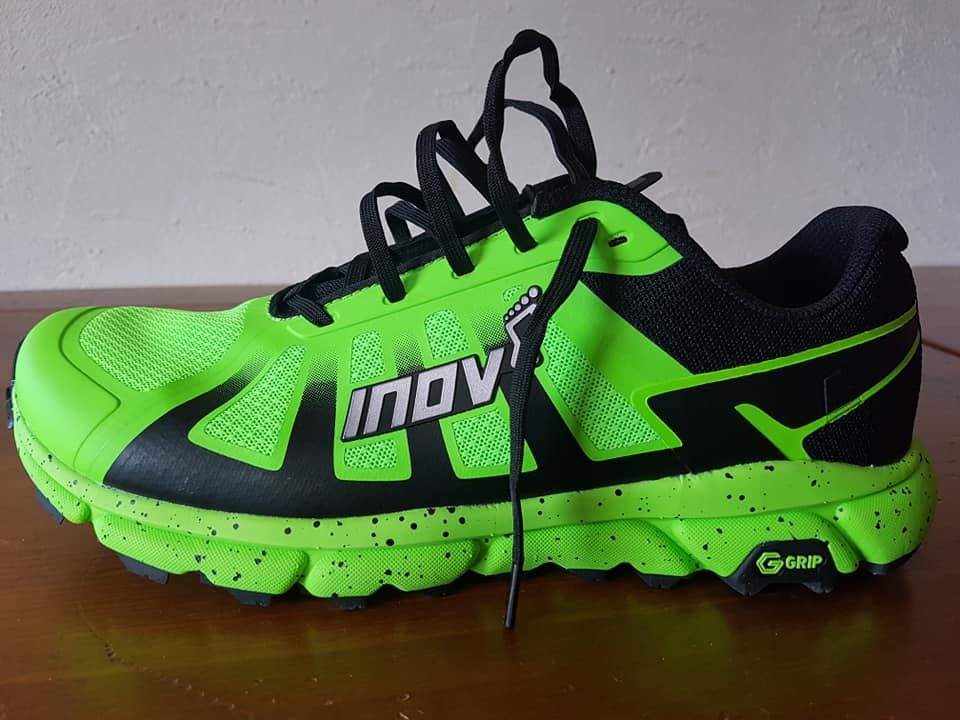 Then the descent down some steep and technical trail, with some loose rock that I often slip on. There were a couple little slides, but I was in control. Then finish with a final road dash back home. They were great fun! I am not adapted to zero heel rise, so was a little nervous that I would irritate my achilles, but all is good. That is all I can give for now. In a month or so I will update when I have some decent mountain mileage on them, but for now, I am impressed and look forward to testing them further.
Please consider puchasing the TERRAULTRA G 270 at the following link to support this site. Thanks https://geni.us/ku24
Update
Since writing the first look report above, I have managed to get in 200km of decent mountainous trail here in Chamonix including a 27km mountain race. I had some concern about the zero-drop seeing as I am not adapted to that and have had some achilles issues in the past so decided to just use them unless the achilles started playing up. Fortunately (or unfortunately) my life at the moment only allows 3 runs a week which means the achilles always gets at least a day off after each run to recover. One of the first tests though was the Centurion Running 'One up' virtual challenge which was a matter of running as much vert as possible in seven days. I managed to run all seven days and hit just over Everest by running 1300m of ascent a day. I managed to wear the Terraultras every day and had no issues. I ran the steepest, closest trails to home which meant a sharp 1300m up and then straight back down. Usually on pretty technical trail and mostly in dry dusty conditions. The shoes were perfect for this. The soft, bouncy sole gave me a bounce in my stride as I run/walked up, and the tread really worked well. So well that my confidence in them grew fast. I was really enjoying the wide open toebox . The upper, tongue and heelcup held my feet firmly in place even on the steepest of trail.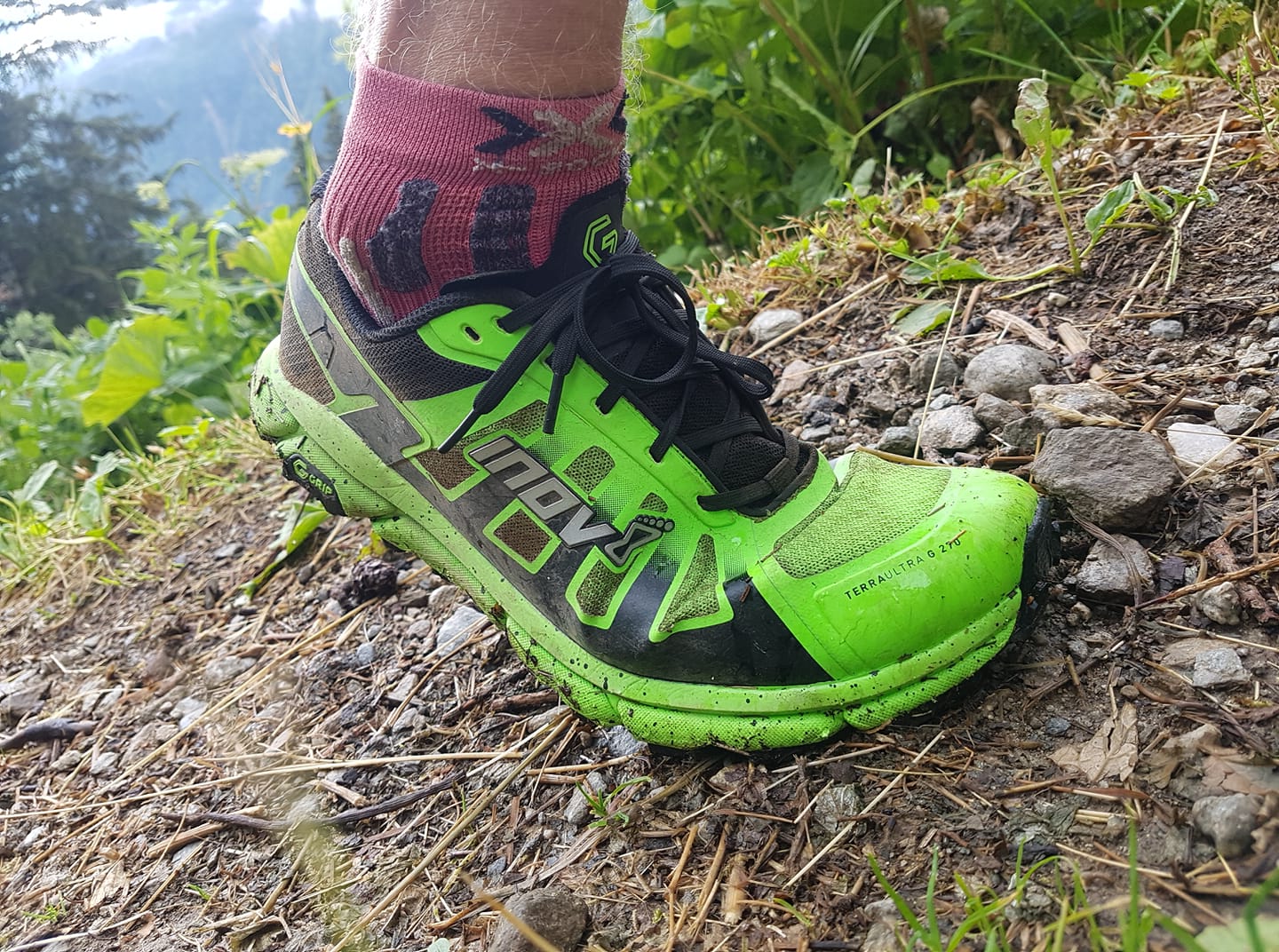 They are far from being a super light shoe, but they feel lighter than they are. Maybe it's the slipper like feel, due to the midsole and wide toebox that gives that impression?
On the descents they really held the trail well on most surfaces. I slipped a few times on wet, slimy rock, but feel that no shoe I am aware of would have gripped there.
Considering there is a fairly soft and springy midsole, you still get quite a bit of feedback from the trail when it is rocky and that is nice, but after a bit of time on technical terrain with plenty of sharp rocks, I got a few ouchy moments. But they weren't designed for super rocky trails.
They are great on anything below 3 hours on really rocky terrain though, and at the moment, that is the majority of my running, but if I was running plenty of longer days like a few years ago, then I would probably be after a little more protection. That is of course just me. I know there are people out there who could run these for hundreds of miles on this terrain quite happily.
I feel like this shoe is more for the not so technical trail, where underfoot protection becomes less important. It is an ultra shoe with little underfoot protection, a very wide toebox and is zero drop. It is quite a niche shoe I think. It could have been a little more mainstream with, say a 4mm drop, but inov-8 were brave and I have to say, I think it paid off. It is not going to be for everyone, just on the zero drop alone, but what shoe is!
So, if you are looking for a zero drop, yet plush zingy feel, and you intend to run fairly smooth trails, then the TERRAULTRA is certainly worth a look.
When originally released they were available in the very bright green and the all-black colourways which was a bit all or nothing, but they have just released a new blue/yellow colourway that is toned down from the Green and a little more exciting than the black. My favourite!
As usual when I have run many more km's in them, I will update on durability etc.
To purchase and to help a little with the running of the URC, use the following link. The URC get a small commission for each sale. Thanks.