Written by Neil Bryant for the URC
I, like I imagine most people who read this, often find myself checking out other people's shoes. It's not really a conscious thing. I suppose I am just a bit of a shoe geek! Over the last Summer I noticed a few pairs of shoes I was not familiar with. They looked pretty good, and on closer inspection, I saw the name 'Cimalp' down the back of them. I got on the web and looked them up and I discovered an interesting looking outdoors company that is local to me (Chamonix, France).
A few months later I got an email from them asking if I would like to review their shoes as they had just opened up a website in English and they were delivering to the UK and were after some exposure. Well, I of course jumped at this opportunity.
Before receiving the shoes to test, I was back online again to learn some more. The 864 Drop Evolution, is one of two shoes the French company produce. The 864 in the name relates to the interesting concept regarding adjustable heel stack height, and therefore heel to toe height. This is done simply by the shoes coming with three different pairs of insoles. The thinnest give a 4mm drop, the next give a 6mm drop and the last give an 8mm drop. For me personally, I see this as a useful feature as I like to run in 4mm shoes, but every now and then, my achilles play up a little and I need to swap shoes so I get a higher heel. With the Cimalps, I just need one shoe! Does it work well though? First a bit more about the shoe.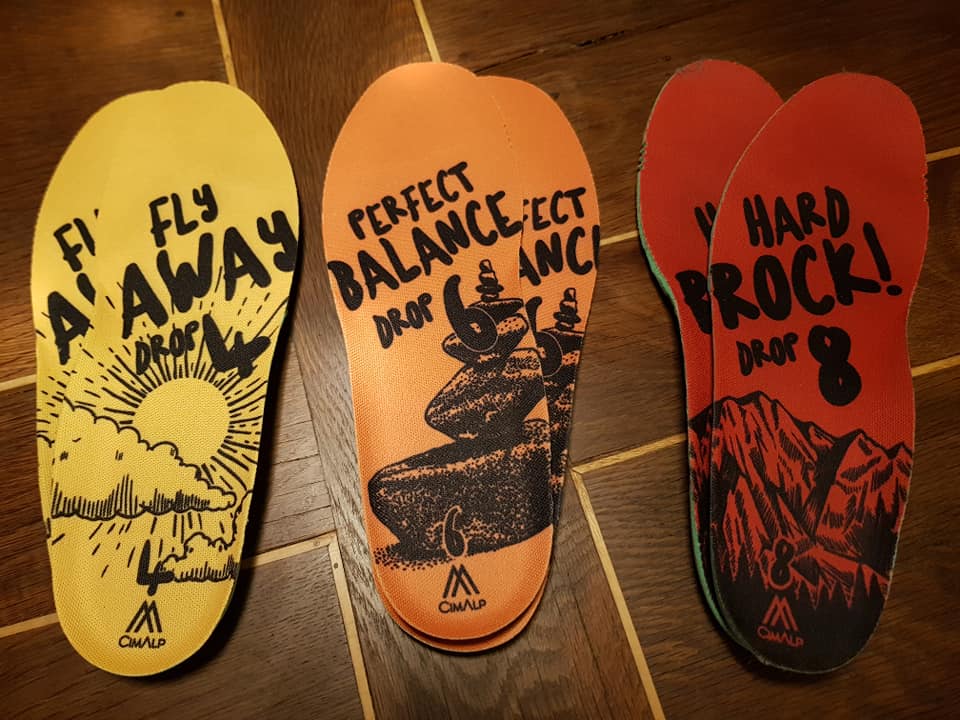 The shoe weighs in at 275g, excluding the insoles, which of course are all different weights. Not featherweight but certainly not hefty either. With the largest, 8mm insole, one of the shoes weighed a solid 355g. If it is a durable shoe, then I am happy to have the little extra weight. This shoe is designed as a versatile mountain running shoe which is as at home on the shorter, faster stuff as it is on the longer, where more comfort is needed. The insoles really add to the versatility as you can adjust the cushioning as well as the stack height.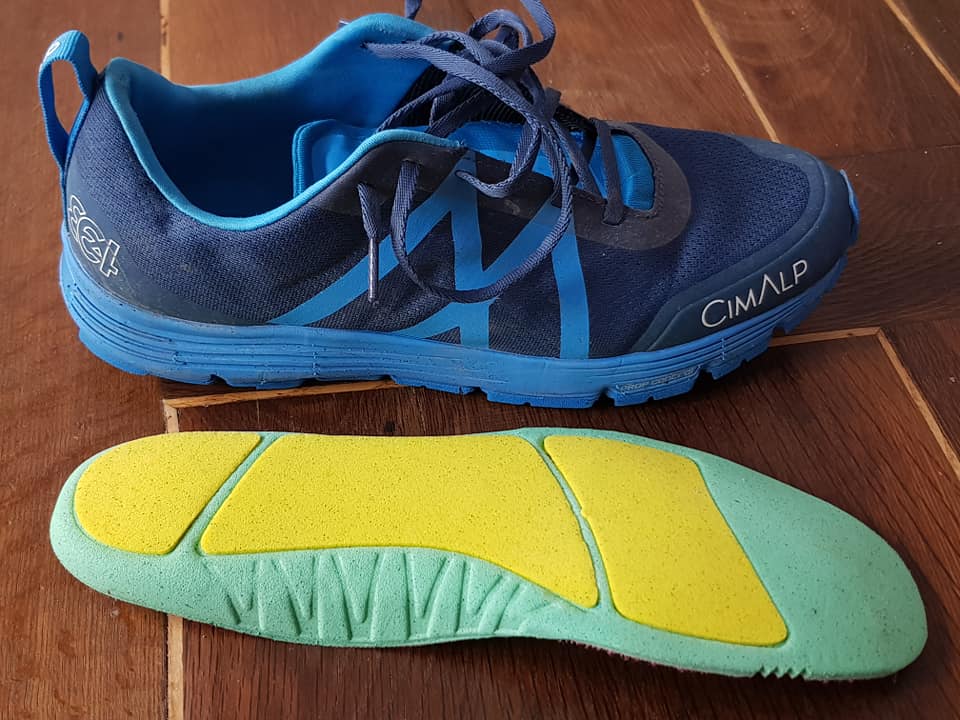 The upper is a very fine weave material, which is sure to keep all debris from working its way through, but I am a little concerned that when it is hot, my feet won't get enough ventilation, as my feet really get hot. Unfortunately, I won't be able to test this out as it is bloody cold here at the moment and won't warm up for a few months yet. I will aim to update this when Spring arrives!
The toe protection is a welded on and fairly minimalist affair that will certainly add some protection. Not super heavy weight like some shoes out there, but about right for my needs. I run on very rocky trails and will occasionally stub toes, so I do certainly appreciate a little protection.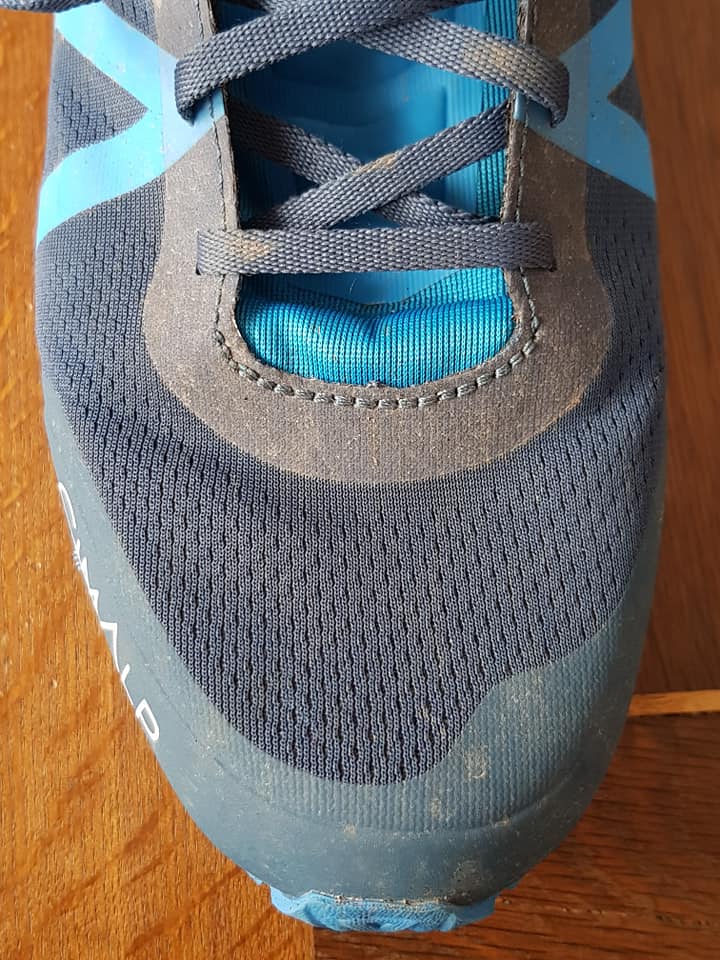 There is a thin rigid PVC (?) midfoot support system in place in the shape of an 'M' on each side of each shoe. The heel is a fairly solid and therefore supportive one, which will add to the stability and comfort over long periods of mountain terrain.
The tongue is gusseted and is seamless and smooth, as is the whole of the inside of the shoe, which all helps to give your feet a happier ride. The tongue has a light foam padding in key areas. It reminds me a little of the La Sportiva Bushido tongue, which I really like!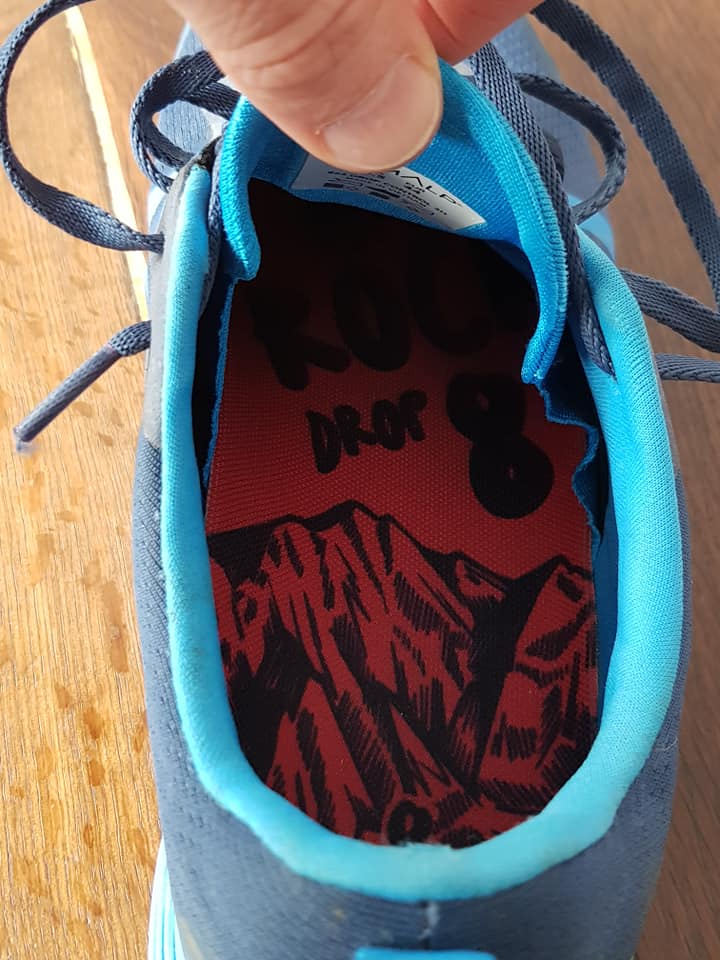 There is also a decent webbing pull-on loop at the back too which is great.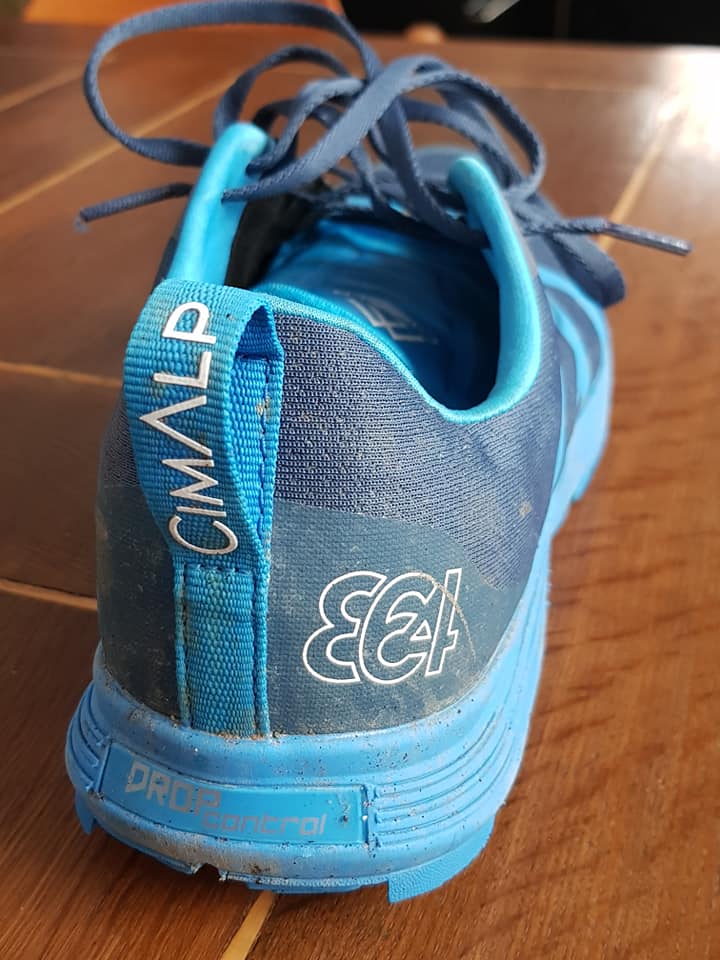 The midsole, according to the site is an 'Ultra-dynamic CHROMOSOME® midsole for an effective stride and improved proprioception.'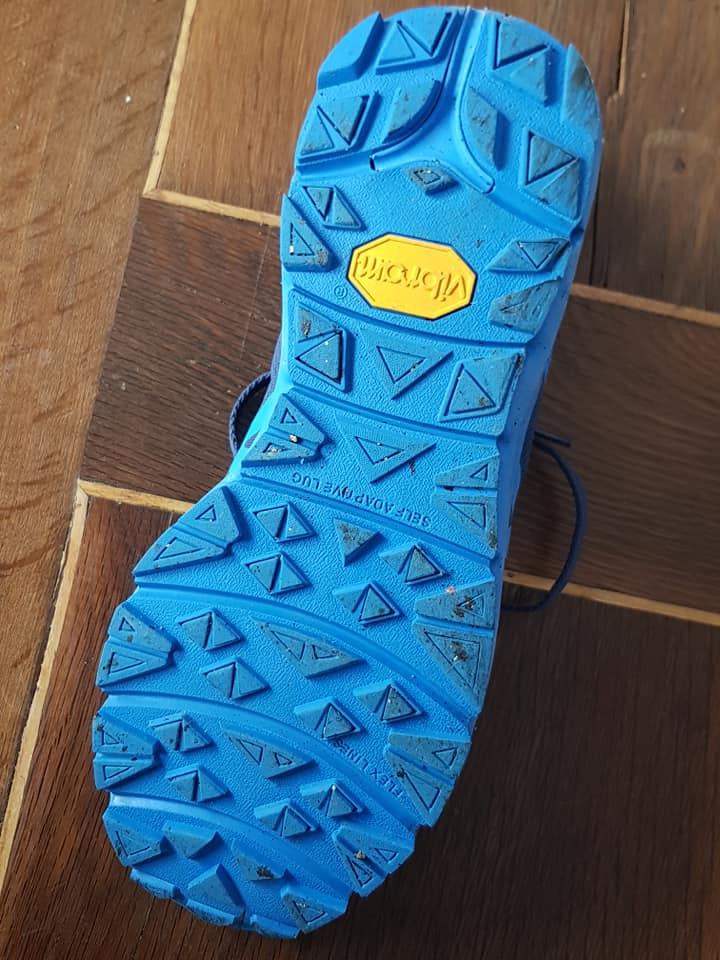 Then on to the outsole. Here we have another excellent tread from the team at Vibram. The Megagrip is an outstanding rubber compound. Every single shoe I have run in that has a Megagrip outsole, no matter what the lug pattern is, is brilliant. A seemingly perfect balance between Durability, grip and comfort. The Cimalp tread pattern is a collection of triangles facing in different directions with a varied stud height with a max of around 4mm. A good solid all-rounder, Though, as usual, it will no doubt struggle on the really gloopy mud as all shoes with this size studs will.
Since receiving the shoes, it has turned from Autumn to Winter. Conditions are not the best at this time of year for shoe testing, but they have seen some deep mud, Deep powder snow, Crusty snow, Hard rocky trail, dry road and a few other conditions, so they have had a fair test!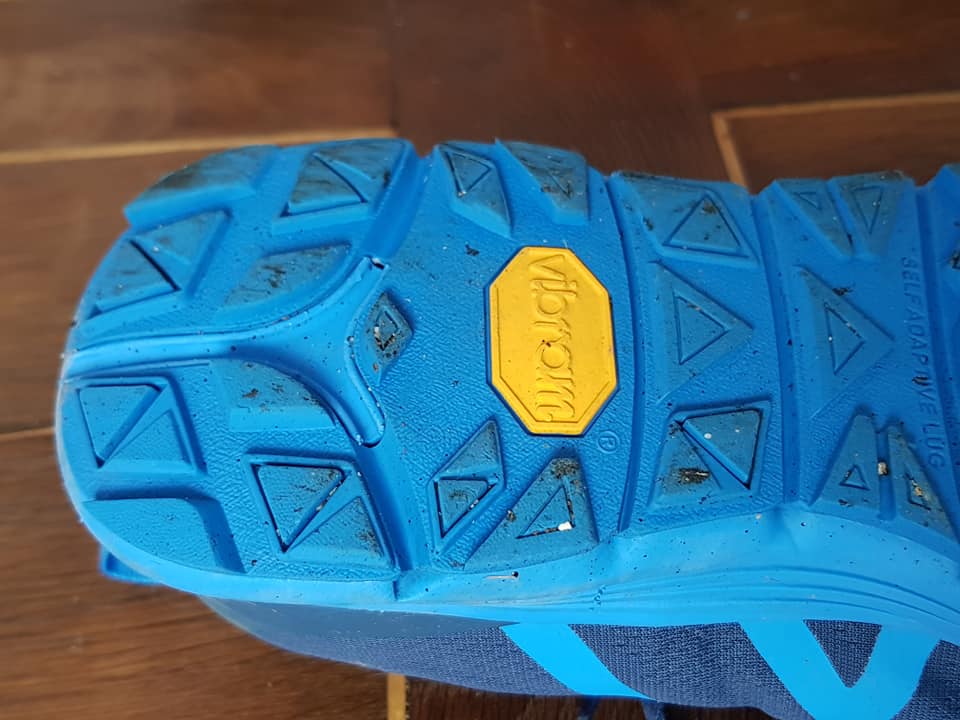 I have already used the word solid, and I think I will use it again, as this shoe just feels, well, solid! It supports the foot well and my feet felt secure at all times, so they work well with my feet. My feet are fairly average, though a touch wide if anything. The tongue is great and there are no issues with the laces. They have really good underfoot protection which of course varies a little depending on which insole you have in, but if there are lots of sharp rocks where you are running then you may well be grateful. The Vibram outsole is predictably brilliant and my confidence in them not slipping much grew quickly. Everyone should use Megagrip!
I haven't taken them up high on rocky ridges or anything of the like, but when I do I get a feeling that they will be ideal. The tread height of 4mm is a fairly standard height in many shoes, and it certainly seems like a sweet spot that is the best multi tasker. It can provide a really solid tread on so many terrains, yet is still comfortable on the road. When on the road and hard pack smooth trails, I could certainly feel the extra protection compared to a road shoe.
The Cimalp 864 Drop Evolution is a rugged, dependable work horse of a mountain running shoe. The build quality is superb and it feels like it will last forever (I will update later in the year). There is a confidence in foot placement and comfort, which makes this also ideal for long ultras. The fact that you can change the insoles and stack height makes it even better for 100 milers and beyond. Being able to start with 4mm and moving up to 6mm when you are tiring and 8mm near the end would be brilliant!
This is no minimalist, super lightweight shoe with loads of trail feel, but that certainly doesn't make it a poor shoe. It really is an interesting shoe which deserves to get some heavy use. I am certain that there are a lot of people out there who would like it too. I would really be interested to hear how people get on with this shoe!