Written by Neil Bryant for the URC
Years ago, tired with either not being able to go running or sliding around like mad when the temperature plummeted, I purchased a pair of the fantastic Microspikes from Kahtoola. I still have them and they are still used. They have been totally dependable and show not a sign of wear. They grip really well and if I had any issue with them, it would be that they can be quite uncomfortable when the ground is hard like ice or tarmac.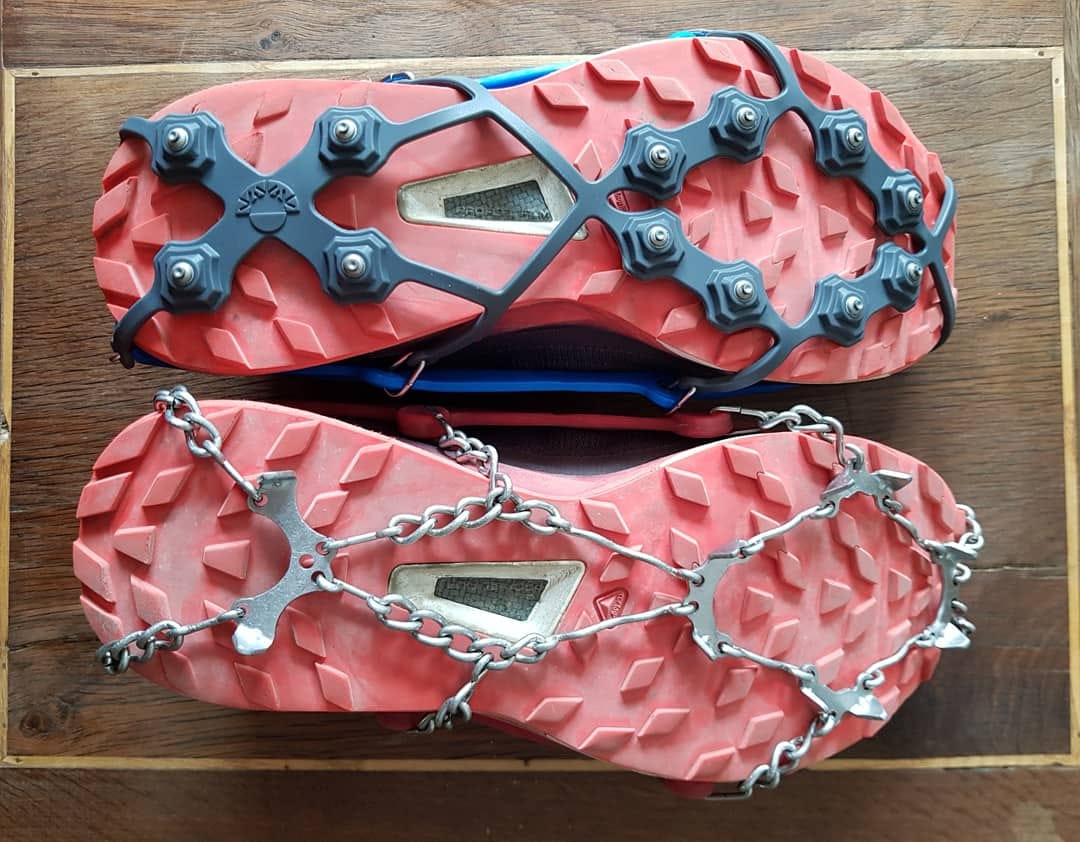 A comparison to show the differences between the microspikes (below) and the EXOspikes (above)
Kahtoola have an answer to this. The EXOspikes have a similar upper section as the microspikes, but the lower section is very different. Instead of the chain construction of the microspikes, there is a 'TPU Traction Matrix' which holds the relatively low profile Tungsten Carbide tips (12 on each foot).
It is the low profile nature of these traction devices that really is a big improvement over the microspikes. When not being worn, they are noticeably smaller in size making them easier to carry. They are also a lot lighter which is a huge bonus. Being low profile means they are more comfortable when running on hard surfaces.
A close up of the tungsten carbide tips
Kahtoola state that they are tough enough to handle dirt, mud and rocks, so I was certainly keen to put them through their paces. If the microspikes are anything to go by, durability will not be an issue!
In use, they are simple to pull on. All you need to make sure is that you get them the right way around, but other than that, just push your toe in and stretch the back over your heel. Check they are tight and even all round, and you are ready to run!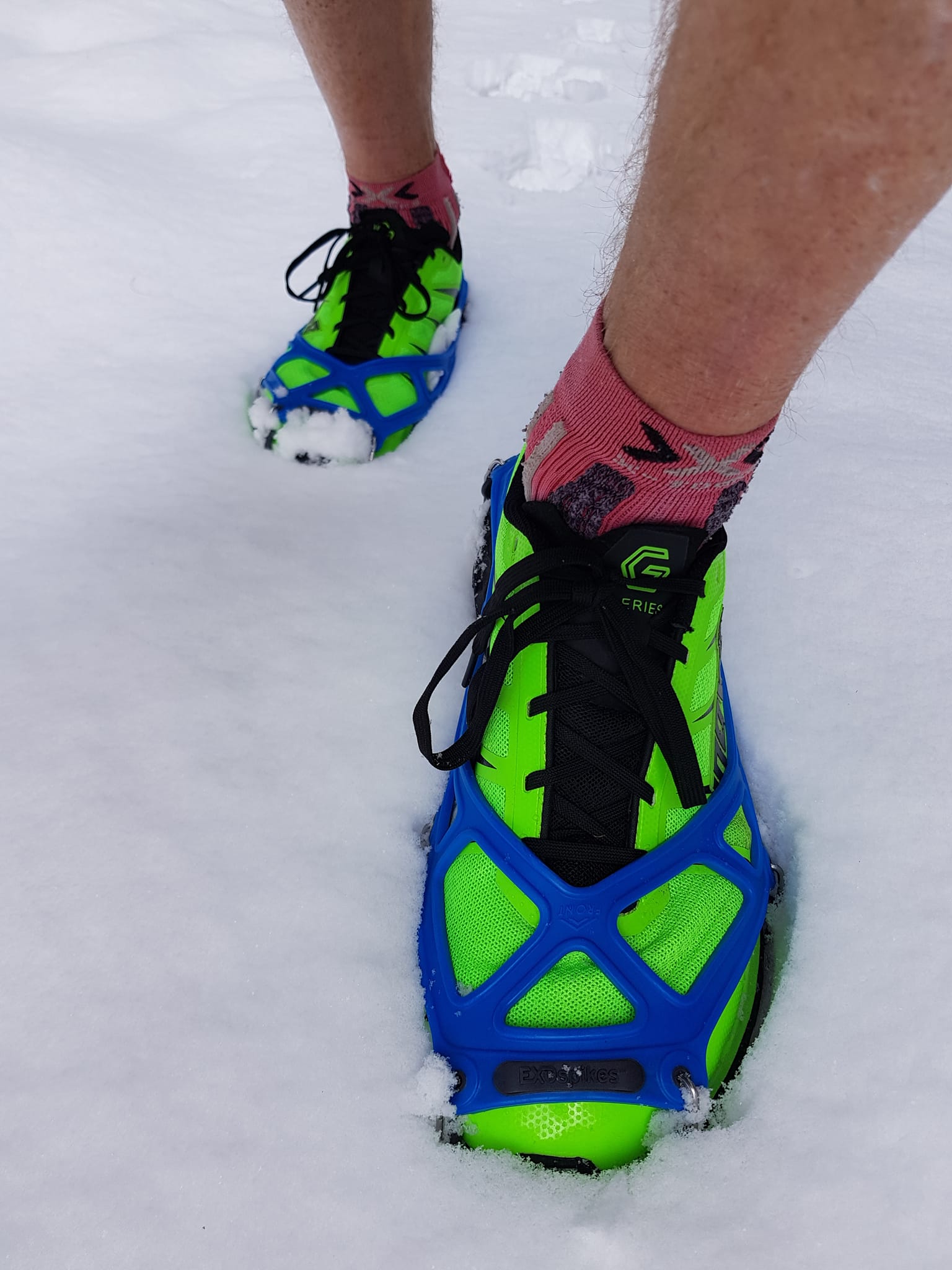 In their favourite environment
I've used these in quite a lot of different conditions, from ice, to slushy ice to thin hard snow, to deep snow. On many runs, they have done stretches of trail or road with no ice or snow. As with the microspikes, you quickly become very confident that you aren't going to slip. This is really empowering and opens your eyes to just what you can now achieve in what before was difficult conditions.
For me, the best part of the EXOspikes, is that they really are ok to run in on hard surfaces. I used to have to take the microspikes off after a while of running on hard surfaces, as they dug into the bottom of my feet, but the EXOspikes stay on. Even when I have finished with them out on a run, they are quite packable and light (110g each) and just about squeeze into my Salomon Pulse Belt. They also come with a little bag which is good as they are generally wet and muddy when you take them off so it's good for keeping the mud off the rest of your kit.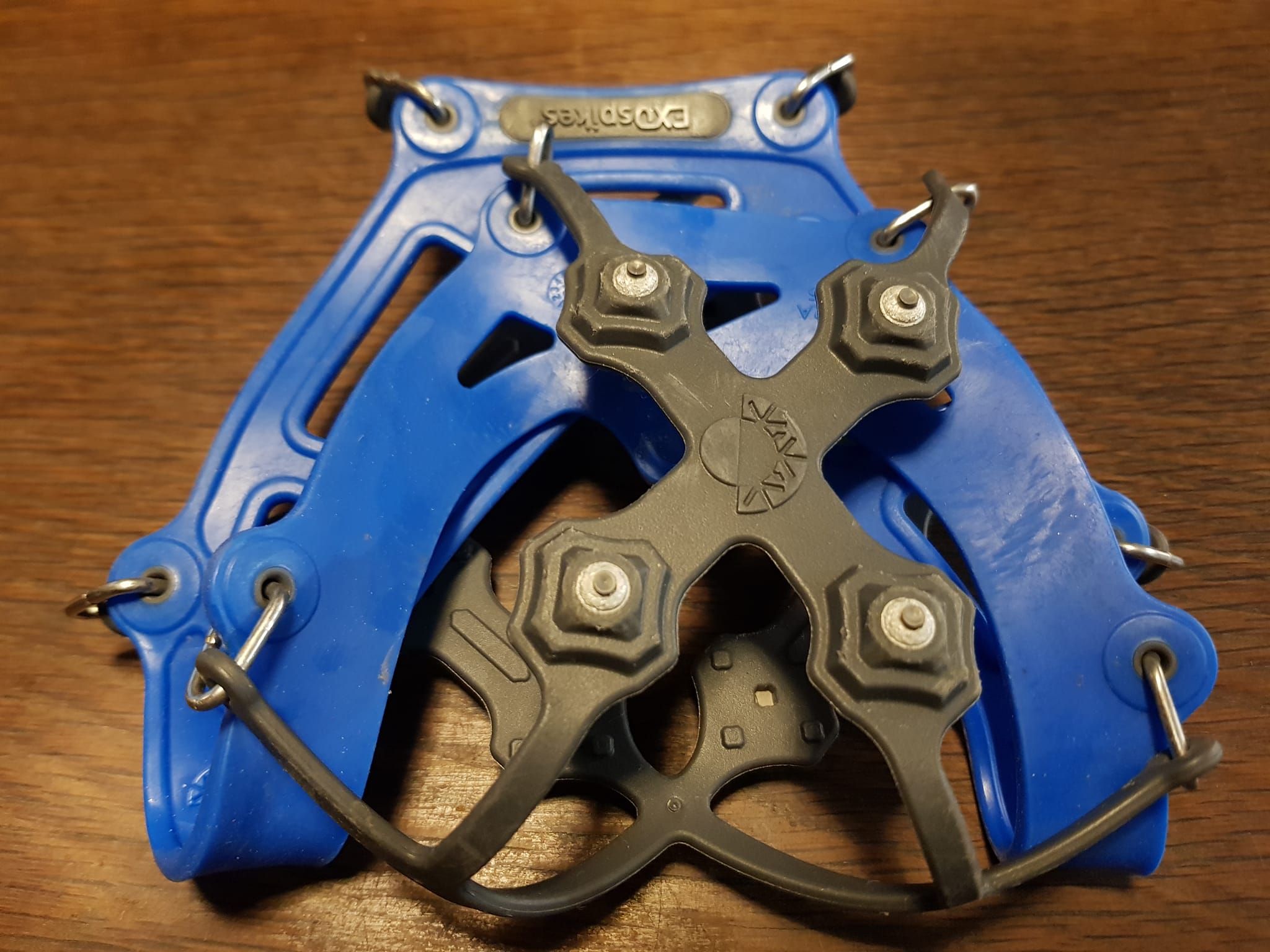 Folded in half, ready to be stowed
As with most gear, they do have their limitations, and with the EXOspikes, it is deep soft snow. The microspkes would handle this surprisingly well, whereas the Exospikes, although adding a little extra traction, it's not massively confidence building as with all other conditions.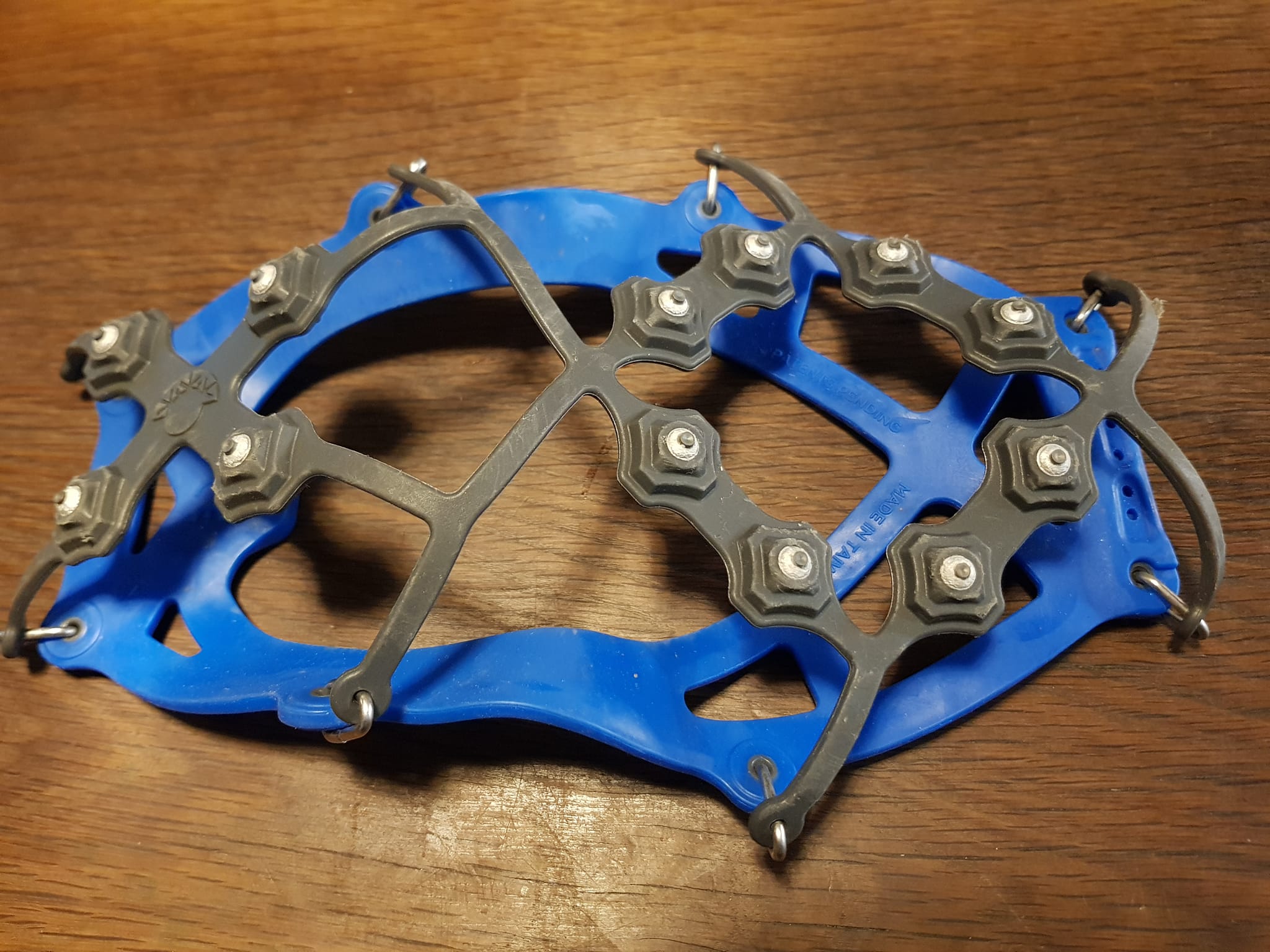 Opened up, ready to fit on to your shoe
Overall, the EXOspikes are fantastic. I even did a fast interval session on icy roads the other day and managed similar paces to normal. I think, for people who want to be running at all times of the year, then the EXOspikes are invaluable, even though they will barely be used for many runners, when you do need them, you will be smiling!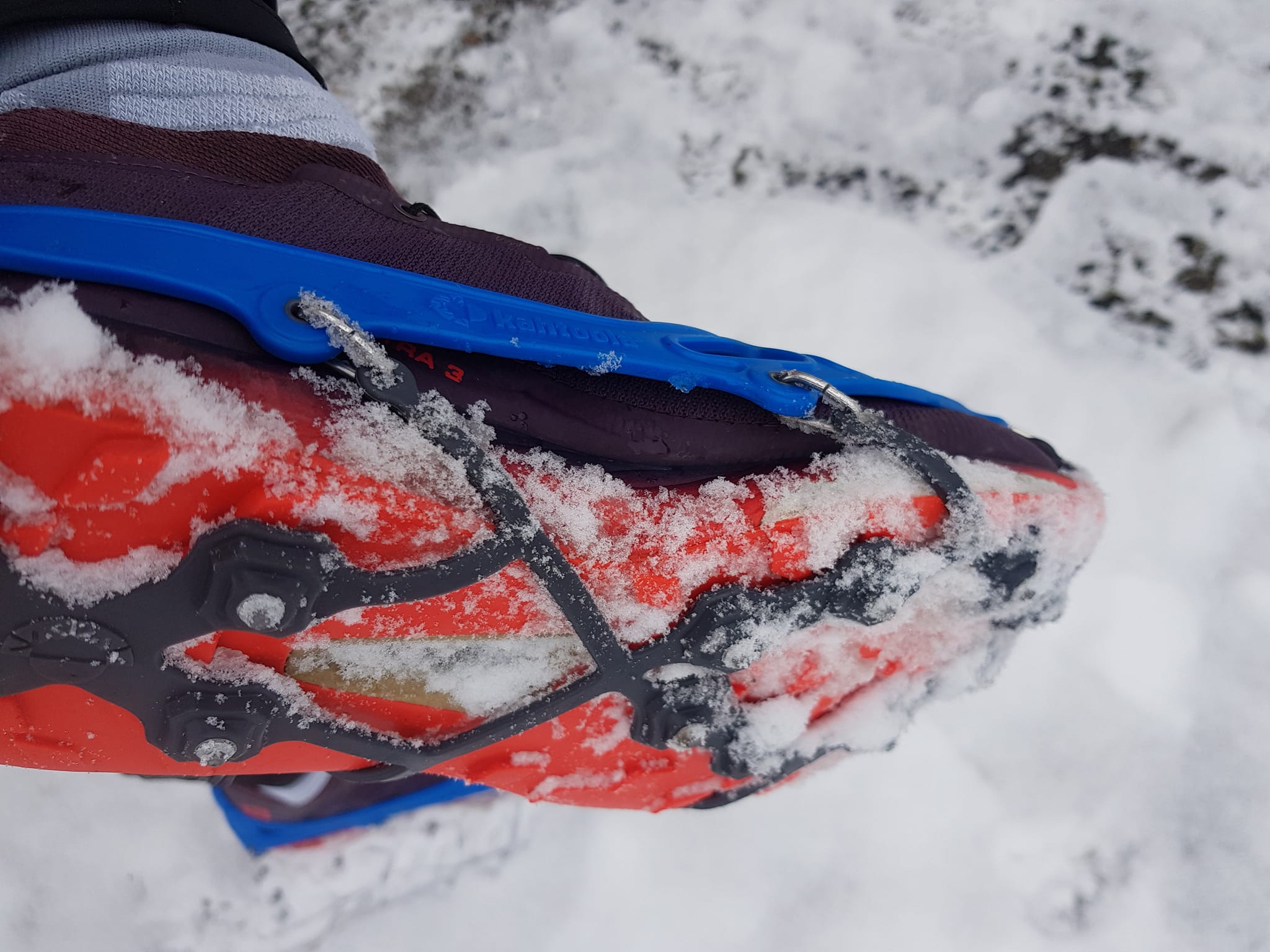 At £49 they are certainly not cheap, but I think they are basically a lifetime investment seeing as they are so durable. Remember, they can be used when not running too! I think they are worth the price due to their effectiveness, durability and how small and light they are. They even get a mention on 'My Favourite Running Gear'. That's how much I rate them!
To purchase the EXOspikes from Kahtoola, please consider using the following link for a good price - Buy Kahtoola EXOspikes here . This is an Amazon affiliate link. The URC will make a small commision from each sale at no cost to the buyer.