Written by Neil Bryant for URC
351g (sample weight UK9)
8mm drop
Flex test - 6.7kg
Built to last the distance, and when I say distance, I mean long, long, long! Clearly these are not going to be chosen by the weight obsessed amongst us, but more the reliability conscious. And lets not just make this out to be the sensible boring shoe, as it most certainly isn't. Check out the tread. It is epic and it is difficult to believe you will ever slip in them, and not only is it a super deep, agressive tread, but the rubber compound feels super soft, which generally means it sticks to anything, with the pay off of wearing away quicker. Let's see how they fare in the test.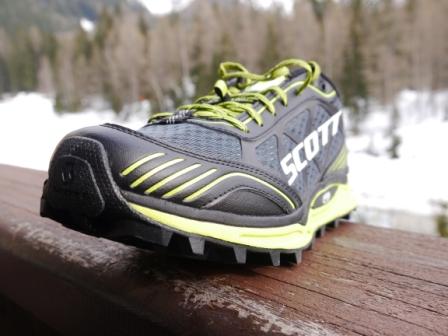 I have owned one other pair of Scott shoes before these, and that was the excellent Scott T2 Kinabalu. I used and abused this shoe a great deal in all conditions. I finally put them too rest after wearing them for the Spine race of 2014. They proved to be such a solid dependable shoe, which is why they were my Spine shoe. Do I look back on this as a wise decision now? Well, yes I do. They are super comfortable, and just never really showed any sign of wear. There was one issue though, which I constantly questioned and got frustrated about. A shoe which is built to last and to me seemed like the ideal do everything shoe, had a tread that when the going got muddy, slid around like an eel on ice. I wanted to, and seriously considered writing to Scott and saying that if they put a deep, sticky tread on it, they would make a seriously impressive shoe even better. Of course I never did, but I think they must have been picking up some of my thought waves.
Enter the Supertrac!
So let's just go through the technologies that Scott incorporate in the Supertrac.
Upper
Pretty much every shoe that's made today has a mesh upper and the Supertrac is no different. It is a very fine weave which is good for preventing debris from working its way in. There is then a synthertic criss-cross overlay that works it's way around the midfoot adding some stability to the lace holes. The Heel has a fully molded counter which adds further to the rock solid feel of this shoe. The rand that streches all around the toe box is also a solid, thick affair that really makes you believe that these shoes really will last more than the average shoe and will not blow out on either side like so many shoes
do. My T2 Kinabalus did a hefty amount of very tough on shoes Alpine mileage, before the Spine and the only real reason they got abandoned at the pub at the end is because they stank like a long-dead dog and I didn't fancy taking them on a plane! Other than that, they were in good order.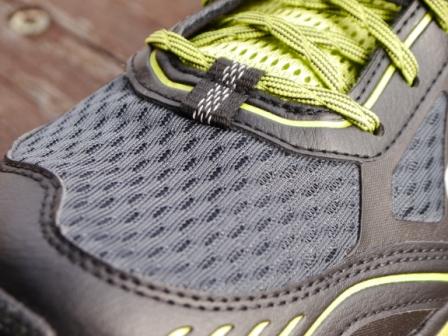 The tongue is a standard, no-fuss type. If you have read my review on the La Sportiva Helios SR, then you will know what a fan I am of the gusseted tongue as it keeps it central and hugs your foot. I hate it when tongues keep sliding towards the outer side. I'll admit though that although this isn't my beloved gusseted type, it sticks like glue. It does all you would need a tongue to do. The laces are specially woven to create a texture that prevents them from coming undone, which really seems to work. They are a great length too, but if you want to really tidy things up when running you can always tuck them into the Lace Locker which is simply a piece of elastic that runs across the laces about mid way down. A nice touch.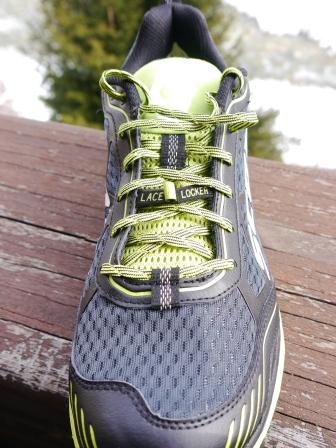 Firstly, and to me the most prominent feature when you first try these on, is the eRide platform. The sole doesn't sit flat on the ground as it is turned up a little at the toe and heel. What this does is it makes the heel to toe transition roll through. It is slightly weird at first if you've never tried it before, but it is certainly not a bad thing. In fact it quite positively made me smile at first. It soon feels normal too.

Midsole

Let's start with the insole. Scott have an insole system providing a racing and a training insole for both Men and Women. The women specific model takes into account womens narrower feet so adds more volume and the heel wraps up further than the mens. The racing insole is lightweight and breathable, whereas the training insole has extra cushioning, support and therefore comfort for everyday use. My sample came supplied with the training version which I assume is standard. It's fine, and is not exactly chunky, so I would be interested to try the racing one. I have had thin insoles before in different shoes and they sometimes fold up inside which is a nightmare in a race situation, and a pain when not. I wonder if these would be the same?
The foam midsole is made from Scotts improved AeroFoam+. According to Scott, AeroFoam+ is more durable and elastic than their original AeroFoam, giving more rebound. Well I'll just have to take their word for it.
The Outsole
Now down to the guts of this shoe. The real talking point. The Supertrac sole. It might sound like an easy task adding a heavily lugged sole onto basically the same shoe to get a super shoe, but just because a tread is deep it doesn't instantly make it highly effective. The shape of the studs, the gap between studs and the rubber compound all are paramount and if anyone of them is badly executed then you could be that eel on ice again. The pattern is based on the tried and tested chevron pattern, and the studs are well spaced which will mean that they will clear mud rather than collect it. When I first pulled them out of the box and marvelled at the sole, I pushed my finger nail into the rubber to gauge softness and was pleasantly surprised to find a soft compound rubber which generally means they will be sticky though quicker wearing. I couldn't wait to take them out.
The Ride
As previously mentioned, the eRide platform is a lovely thing which rolls your foot along and almost keeps you running. That is of course if you are on a flat surface. I don't think these shoes want to be on the flat really, as don't I. I am not sure whether I really felt any of the benefits of the eRide platform when on technical trail, but I guess it doesn't matter that it's there. It made crossing the road nice once I'd left the trail! The AeroFoam+ feels great being neither too rigid or too soft, and I really was happy with the level of protection offered from sharp rocks poking through. My senses are not completely numbed out though as I still felt in touch with the trail below my feet. I generally run in a lighter and lower shoe than this, and although I wouldn't say there is no difference in the feel between this and a shoe that is 100g lighter and more flexible, The difference is certainly not negative. I of course put it through the Flex-Test (read about the Flex-Test here) and it came out at a whopping 6.7! This is well over double the La Sportiva Helios and almost double the La Sportiva Anakonda. Three very different shoes as the Flex-Test demonstrates.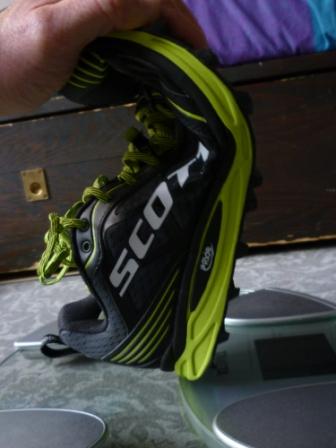 As the snow melts and the trails reveal themselves again here in Chamonix, so my running has returned as my staple form of exercise. I have really been giving the Supertracs a good hammering and they are really holding up well. The tread in my mind is an absolute success, gripping well to every surface they come in contact with, and the mud shedding qualities are not unfounded. I have been bounding down some pretty technical trails with plenty of confidence in the shoe, if only my ability wouldn't let me down! There is a little wear on the sole as to be expected, but nothing much, whereas the upper, other than dirt, look as good as new, and they have scraped against some pretty rough rocks on their journeys. I'm sure that in the good old days (whenever that was?) shoes would be ready for the bin once the sole had completely worn through, whereas nowadays with the obsession for ultra light gear, the uppers fail first and you end up throwing away shoes with a perfectly serviceable sole still on them. I think the Kinabalu Supertrac will revert back to the old ways which has to be a good thing doesn't it!
I really think this shoe could be used for anything, though it will want to pull you towards the muddy, technical and slippery stuff. That sole just needs to get stuck into some challenging terrain. If you run a lot on smoother trails then perhaps try the Scott T2 Kinabalu with the flatter tread. It's ideal life is to be running huge distances where comfort becomes more important than weight and ideally in the mountains.
A superb shoe which seems to be relatively gimmick free and, well, sensible. This shoe will be a reliable friend for many a tough mountain mile.
This shoe was given to me specifically to test (lucky me). I did not pay for it. I give you my word that this is a completely truthful review, as are all that I write. If you would like me to put some equipment through the mill and reviewed and published on this site, please contact me at This email address is being protected from spambots. You need JavaScript enabled to view it.
Order your Supertracs here