Written by The Ultrarunning Community
A few months back I go sent through two pairs of shoes from Scott Sports. These shoes could not be more polar opposites as far as trail shoes go. The kinabalu supertrac (review here) is a big, chunky shoe with a very deep tread that is clearly designed for long races on tough terrain. A great shoe! The second shoe was the Trail Rocket 2.0. Here is a shoe that is a lot lighter and with not a lot of tread when placed alongside the Supertrac.
I was very excited to try the Supertrac due to the tread, but I was also looking forward to playing around with the Trail Rocket as I knew that it would feel a whole lot nimbler than the Supertrac.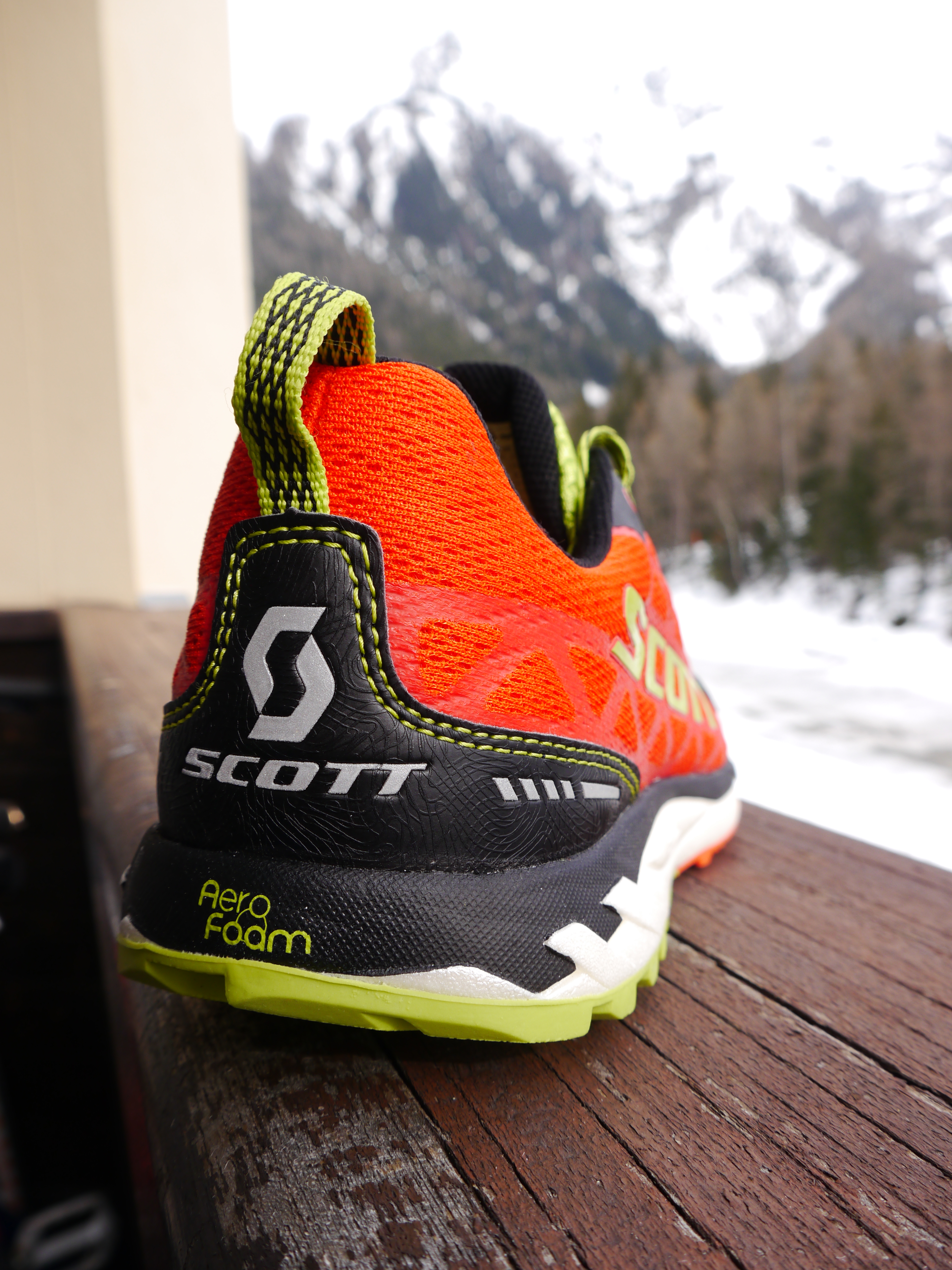 Scott describe the shoe on their site as :
"The updated SCOTT Trail Rocket 2.0 shoe is a lightweight and low-profile trail racing shoe featuring minimal cushioning and a firm ride. The completely re-designed full rubber outsole promotes superior traction, comfort and an efficient ride in any trail conditions. "
Let's see how the trail rocket is put together then.
Upper
The whole upper is constructed with a very fine mesh with an overlay of slightly more open mesh. The heel cup is pretty average adding support but not too rigid which is playing it pretty safe which is a good thing. From the heel stretching around the midfoot is a synthetic overlay 'cage' to create some stability. This is welded on which seems to be a common technology on many shoes these days. The rand around the toe is a fairly substantial material that has not been welded, but stitched on. For me, this is a good move to create a light racing shoe but to still have a few grammes sacrificed to add some toe protection. Let's try and preserve some toenails!
The tongue is a standard one, meaning it is not gusseted at the sides. It is not too thick though and fairly breathable with a open mesh on the top. The laces are what I now know of as very good laces as they are a good length and just don't come loose. As with the Supertracs, Scott have added their 'Lace Locker', which is simply a piece of elastic running horizontally midway down the eyelets with the purpose of tucking your laces under once they are tied to keep everything shipshape.
Midsole
As with other Scott shoes the midsole is simple yet effective. It is made using Aerofoam+ Which is super light yet has very good shock absorbing qualities. The profile of the base of the shoe is very banana like due to the Eride concept which Scott uses on all (?) their shoes. This means from heal to toe the transition is smooth. In fact it feels like you roll through. The insole inside is the thinner of the two that Scott make. The Supertrac has the standard thicker one. I mentioned in that review that I was a little concerned that the thinner insole may curl up inside when running, but I can happily report that this hasen't happened once.
The stackheight at the fore is 17.5mm and the heel measures a scant 22.5mm giving a very low profile, racey 5mm drop. Flat and close to the trail, these are not for those with achilles issues out there, though if you can take them I'm guessing the ride is pretty good!
Outsole
The tread pattern is again quite minimalist with an open and shallow formation of small hexagonal posts and bars. It looks and feels like it would be pretty good on not too techy trails and probably no good in boggy mud, but that's just guessing. Let's get running!
The Ride
When I first started using these, there was still a fair bit of snow on the trails, and at first I though I'd probably be better of using a grippier shoe, but actually, they coped well. I won't make out this is a snow shoe that just ploughs through it, but they didn't really hold me back when I make route decisions. As to be expected, the feel of the trail rocket and the supertrac are like chalk and cheese.
As I blasted up the trail for the first time in the Rockets a big beam appeared across my face. What a feeling it is to run in a light, low, super comfy shoe. I subconsciously accelerated. Here is where I was pleasantly surprised by the one stat that doesn't really match the rest of it's svelte, fast DNA. The stiffnes of the shoe is a little more than I thought it might be. Sure enough when put to the Flex-Test, it scores a fairly middle of the range 4.9. Off course this is way looser than the Supertrac which is current king of stiffness at 6.7, but compared to the La Sportiva Helios which is a flimsy 3, it feels a lot stiffer. How does this affect it's ride then? What does the Flex-Test teach us before we have donned it? My experience so far tells me that the higher the score, then the higher the protection. So, with the Rockets, even though they are basically trail racing flats, they still protect your feet from the sharp rocks underfoot. I find that if I wear too bendy shoes all the time, then I start overworking my Plantar Fascia, and if I ignore it, and continue to wear bendy shoes, then I will develop the dreaded plantar Fasciitis. Stiffer shoes take some of the load off, meaning I can run longer pain-free. I like a stiffer sole.
I went out more and more in these Rockets, and they stood up admirabely to everything I could find in the Chamonix valley to throw at them. The one problem with wearing them is that I want to run fast in them all the time. They just don't feel right to me going slow.
The Eride sole feels great as your foot rolls from heel through to toe. It feels really natural, but whether it actually helps in any manner I'm not sure. I guess if it feels good though that alone is a pretty big thing. I said it with the Supertrac and I'll say it again here: the Eride for me is only noticeable on nice smooth surfaces. Anything rocky, rooty or just uneven looses the lovely rolling feel of the Eride. So for me personally I was rarely feeling that lovely rolling motion as the trails I like to run are quite rough. Certainly not a negative about the shoe, but something to consider if you perhaps use Scott road shoes.
I was doing lots of climbing and lots of fast awkward descending. On the climbs thes things are fantastic up untill things get super steep and then you may get a little slippage and on the descents these things are great as their lightness means your feet are just that little bit extra nimble and accurate with placement which all adds confidence and with confidence comes speed. Perfect.
The tread is good enough for everyday use, and I felt I could take them anywhere, but I have to say, that if I were asked to make improvements, the first thing I would address is the grip. I'm not sure whether I'd change the pattern, but I'd definitely make it a little deeper, so it would instantly become a little bit sharper. Of course this would add weight possibly balancing out the grip advantage. I'll probably never know.
My other improvement would be to make the tongue into a gusseted tongue. When out on longer runs, the tongue would slide down laterally exposing a little of the laces to my foot. Not great. Does anyone else suffer from this? It's not that bad, but it's unneccassary in my opinion.
Overall then, this is a light, low to the deck shoe that is probably more for the well groomed trail, but can run well on really rocky terrain. It eats up ascents and drags you down at scary speeds you may not normally be used to. It is surprisingly well protected meaning you can take it out for big days out in the hills and still keep relatively unbattered feet. My Trail Rockets have got 330km on them now (which may not sound much to some of you, but that is a fair bit on these alpine trails) and they are still looking ok really. There is a little wear to the soles, but otherwise they are good. So unlike some other light shoes, they they are quite tough too.
What a great shoe. If you can handle the low drop, then I would strongly reccommend having a pair of these shoes because, well, other than everything I've just mentioned above, they are great fun to run in, and that is the heart of why we run isn't it?