Written by Neil Bryant for the URC
I currently own an Ambit. It's the original version which I got not long after it was released. It is a bit battered, as it has had a lot of use, but other than the battery life slowly getting shorter and shorter, it is still very impressive. The only issue I've had is the loop on the strap snapped recently (hardly surprising!) and it has lost satellites when in dense tree cover a hand full of times. Basically it has been pretty close to flawless for me. Now, I know that some of you will have had different experiences, but I can only give you mine. I will also not be doing a comparison with the Fenix as I have never tried one.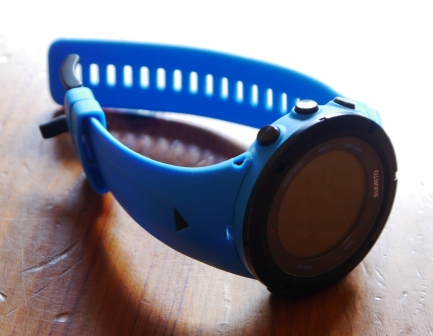 Suunto have basically lent me a brand new watch to test for 6 weeks. I then have to send it back. I've been using it for a few weeks now, and, well, I'm getting a little attached to it, and I think it is going to be hard to part with it!
Upon opening the box, the bright blue colour jumped out at me. I've seen many before (living in Chamonix it seems like 30% of people own one!) but I quite like the colour next to my old sombre black one. The next thing to notice is just how little the styling has changed from the original. The bezel is no longer as raised as it was and the marking around the edge are slightly different, but basically it's the same, just a little cleaner looking.
Also in the box though, was a blue hear rate strap. Years ago, I used to train using a HRM. Initially a Polar, then I switched to a Garmin 310x. When I upgraded to the Ambit, though I didn't feel the need, so this would be interesting. My running is very different and less structured and of course I am older so my max hr will be dropping.
This is where one of the first big changes comes in. Connectivity is via Bluetooth smart, which is basically the same as the original Bluetooth, but less power hungry. So, the HR strap which is provided with the top model and extra sensors, such as footpod, bike cadence, and bike sensor etc. all connect via Bluetooth. So, the Ant+ chip has been replaced with the Bluetooth smart chip, meaning it is completely incompatible with Ant+ sensors. Bluetooth smart is compatible with most smart phones meaning they can now pair up giving many new and interesting features. In my eyes, the best of these is that when you get in from a run, you don't need to remove your watch and plug it in to download your move (Suunto name for a recorded session), as soon as you get within Bluetooth range of your phone, it will download it making things less faffy.
Also, a nice touch is that if you are carrying your phone during a run and you get a text message or facebook message etc. it will pop up on your watch face with an alert, saving you from stopping and removing your phone from your bag or pocket. Again, very nice as it removes a little more faff from your routine. Yes I know, if you want to remove the faff from your runs then remove all things electronic, but this is a review for the gadget hungry runner.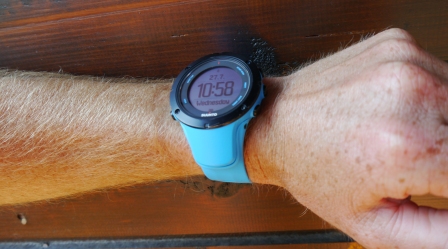 Other interesting features include the recovery data, which is based on your HR through a quick test or/and an overnight test. At the end of each test you will get a recovery test result %. 100% being fully recovered.
There is a recovery graph which will drop over time when not exercising and will rise again after exercise (amount dependent on length and intensity). Some interesting data which I am not too sure about. I certainly monitor this regularly, out of interest, but not to dictate my training pattern. Maybe with time, when I learn more about how it deals with my training patterns and recovery I could utilise it as a some form of guidance, but for now it is a graph which is always showing that I need at least 4 days of rest! I have been in an overtrained state twice in my life, so I think (I hope!) I know when things are going too far.
GPS
To me the GPS is the most important feature of the Ambit (closely followed by the Alti/Baro), so it needs to be reliable, accurate and fast to get started. I've had a few GPS units over the years from Garmin, Polar and my trusty old original Ambit and they have all been fairly good, though the Ambit has been the best. It would track correctly 99% of the time with a loss of satellites occurring every 6 months or so. So it is pretty accurate. How fast it finds the satellites has slowed down I think as I found myself stood around in the road outside holding my wrist up waiting for it to lock on, before running which is incredibly irritating. The GPS chipset on the Ambit3 Peak is a SIRFstar V which is a big upgrade from my original Ambit so I had high hopes for it. Well, I have used it for twenty moves (Suunto calls each session a move) as I type this, and every time it has taken way under 30 seconds to find satellites each time, usually within 5! It's a vast improvement for me. No fuss waiting for the beep to let you know it's locked on. It's really impressed me. I haven't noticed any errors in the track either, even though a great deal of my running is done under heavy tree coverage. So with a month of decent use, it's GPS system has really impressed me.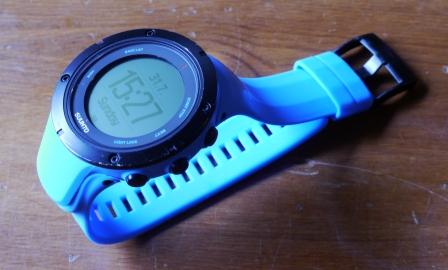 Battery Life
Not a lot to report about on the battery life. Suunto give the following :
20 hour battery life
30 hours in 5 second recording mode.
200 hours on 60 second sampling
I started the watch (when it was new so the battery was fresh) up next to a skylight in my apartment and left it till it was flat. It was recording on 1 second mode which Suunto claim should last 20 hrs. Mine stopped recording after just over 19hrs. Ok it's not exact, but it's pretty close (5% below the claimed). It would certainly cover a huge proportion of your running, and for the longer stuff, you can of course set it to 5 second recording which should last around 30hrs. I've worn mine for a 13hr mountaineering trip and it of course was fine.
For me personally, the battery life is just about fine for everyday use. To be honest every now and then, when I think about just how much technology is encapsulated within the Ambit, it blows me away. And the battery is actually good now for most moves. Looking forward, as technology improves, this will of course improve as well.
I recently went on a two day mountaineering trip staying in a refuge overnight and not charging. The first day was 8hrs and the second was 7.5hrs. This was working on 5 second recording and at the end it was on 94% still which I was amazed by!
HRM
So, the HRM on my old Ambit, was Ant+ whereas on the Ambit3 Peak it is Bluetooth smart. The new Ambit will not work with anything Ant+. This for me personally is no issue as I have no sensors, but would be a pain if I had some expensive Ant+ sensors as they would now be useless with the Ambit3. I have had a few HRM's in the past and found that they would work ok for me, but would occasionally drop the HR or give a spurious, clearly wrong reading. I guessed that my hairy chest didn't really help matters, but I wasn't about to go and shave my chest just to get a good reading! I was expecting more of the same to be honest, but, other than losing my HR twice for a tiny 10 seconds, it has been faultless. It always picks it up very quickly and, other than those two times, not once have I noticed any spurious readings. I stopped wearing my old HRM belt years ago as there were just too many times where there were issues, which in my mind compromised all the data. Why should I trust any of it, when it is so often wrong! Well, since using the Ambit3 with HRM, I can pretty much forget about it, and trust what it is telling me. No fiddling with it on the trail, trying to moisten the electrodes more. No need to shave the chest either! It's comfortable too. I wore it overnight once to test my recovery, totally expecting to have to remove it as it would become too uncomfortable. I was wrong as I slept fine and woke up with a full night's sleep of testing done! So, for me, two of the biggest features on the Ambit3, GPS and HRM, are both excellent. Really impressive so far!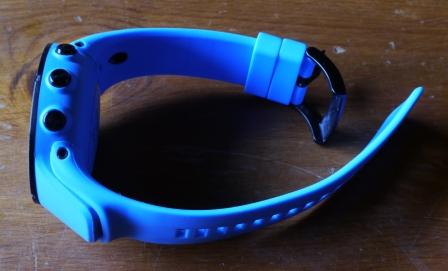 Alt/Baro
The altitude on the watch is surprisingly accurate without setting it at the start of each move. This is due to the FusedAlti feature, which is a combination of GPS altitude and barometric altitude. GPS altitude can be erroneous due to poor satellite signal, but using both figures will give a good figure. A lot of the signposts on the footpaths here have the altitude on them and when I check this with the Ambit it is usually within 10 metres. That is as good as I need it to be to give me a confidence in it, which in turn makes it a very useful feature for navigation. The barometer is useful as you can set up a storm alarm which will alert you if there is a sudden change in the air pressure possibly signalling a storm brewing. It is always good to be ready for a storm and could help you make some important route choices if high in the mountains and getting caught high in a storm could be dangerous. The storm alarm does seem to go off a lot with me and usually no storm comes. There is the potential for a certain degree of 'cry wolf'. I'd be interested to hear other people's experience of the storm alarm.
Compass
I don't have a great deal to add about the compass. It seems accurate whenever I use it, but it is not like I would use it for proper navigation. I would use it to orientate the map or just to see where north is, but to actually navigate off a map, I would certainly use my old-school baseplate compass. A handy feature none-the-less.
Connectivity
So, as already mentioned, there are two ways of downloading the Ambits data; by the traditional usb cable, or the new to Suunto method of Bluetooth straight to your smartphone, meaning you can look at your move immediately without your pc/laptop. This is great if you are travelling, and makes the whole setup that little bit slicker. You should only need to remove the watch to charge it. A huge improvement I believe using the technologies to their advantage. When I first got the watch it wasn't connecting well with my phone. I have an Android phone and the app has been plagued with issues since I have had the watch till the recent update. To be fair to Suunto though, they have been working hard at trying to resolve the problems releasing new updates and keeping a forum going for all thinks moveslink android related. It seems very open with nothing apparently deleted and Suunto responding all the time. It's now working for me on my android phone, and I tried it on my iphone also (work phone) and that is good too. If you look on the forum though some people are still having issues. All complex tech products have issues though I guess, especially ones that have to communicate with an endless list of third party products.
From my personal experience, I am happy with the connectivity even though there was a bumpy start. I also feel that Suunto has a good customer service. Of course I understand that there are people out there who have not had such a great experience, but again, this is a personal review.
Movescount
Movescount is the online location where your moves get dumped and you can view and analyse them. Now this just had a big update, mostly with how it looked but also maps were added which is like the Strava feature, heatmaps. This is a map of the globe which you can zoom in on and shows all the moves on it from everyone! The moves are in orange and the more times a route is used the brighter the orange is. It makes for really interesting viewing and it is also good for discovering routes you may not be aware of. Great if you are somewhere new, on holiday or on a work trip.
Movescount is nicer to look at now with customizable profiles and a generally pretty slick image. I like it. You can search for other athletes and follow them so that their moves appear on your feed. There are groups you can join with other likeminded athletes that have tables so you can see who is churning out the most mileage, ascent or training time. It is easy to analyse each moves pace, heart rate (if you have the strap), speed, cadence and everything else that is measured using this incredible device.
You can set it up to transfer your moves directly to your Strava account if you have one. I do and tend to view my activities on Strava more than Movescount to be honest. Strava, for me, is just really well laid out and very user friendly. So I am obviously happy that Movescount has this option. I think Suunto (or any other watch manufacturer) would be mad to not embrace the big third party sites.
Movies
The movies feature is great I think. Yes, it's a gimmick and we could live without it, but it certainly adds something to the whole experience. In case you haven't seen one posted by someone on one of your social media feeds, it is a fly through movie of one of your moves on a 3D map. I like how I can show my girlfriend what I've been up to rather than badly trying to describe the paths I'd been on. It's a nice touch, which I can imagine many modifications and improvements happening as Suunto further understand how people are using or want to use it.
Overall thoughts
I was sent the blue version and the only other colours available are black and the black sapphire version which has a silver bezel instead of black making it look more quality than toy-like. Initially I wasn't keen on the blue, but it has really grown on me. It is certainly not for everyone, but it's nice and bright and for me that's a good thing. I like a bit of colour in my life.
It is a big watch, and I would certainly suggest trying one on if you have small wrists or are generally concerned about having such a chunky watch strapped to your wrist. I had the old Ambit which I believe is almost identical in size and shape, so was already used to it. The display is very clear and customisable so you can view easily whatever is important to you.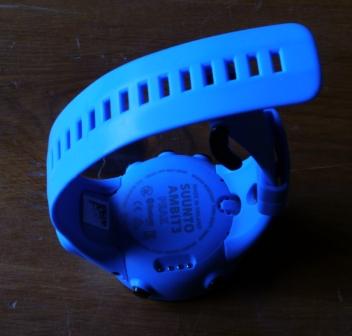 One thing which I haven't ever used in this watch is following a route via pre-loaded waypoints. I hear good things, but if anyone has one of these watches and uses this feature or any other navigation features, I would really like to hear how you get on with it.
Living here in Chamonix, I do a fair amount of ascent during each run and so the altimeter is a very important feature for me. It is accurate and because of this it is very useful, to see what my altitude is, and how much climbing I have done. The HRM is excellent. The best I have ever used in fact. Once on it is comfortable and doesn't lose a beat!
The GPS is very fast at locking on to satellites and hasn't suffered at all under dense tree cover.
As you can see I am very happy with how the Ambit3 Peak has performed. It really is a put on, switch on and forget watch. It is slick.
My only downer here is the previously mentioned new Movescount app for Android phone users. If you are considering the Ambit3 and you are a Android phone user, then it could be worth borrowing a ambit3 from someone and pairing it to see if it connects ok, if possible. If you are an iphone user you will have no issues (as far as I am aware).
This is a fantastic piece of hardware that looks good with some incredible features that work really well. The software was certainly a fly in the ointment, but for me I would still be happy to purchase as I feel that the Suunto customer service is good and they know that they need to smooth this out asap.
I know that you are probably reading this trying to decide whether to get the Ambit or the Fenix, and sadly I can offer no advice as a Fenix has never graced my wrist.
It is far from cheap, but if you want an all singing and dancing watch that does probably more than you'll need, as you love gadgets and post exercise stat analysis, then this could well be the watch for you!
I know that I have left out many features in this review, but it is not intended to be a super geeky analysis. More an overview with some genuine everyman type of views from a frequent user, to guide the many people who get lost in their quest to find the right GPS for them.
I loved my first Suunto Ambit and I really love my Suunto Ambit3 Peak Sapphire. It really is a huge improvement and it has really impressed me.
I have to send it back now…