Written by Neil Bryant for the URC
If you have a GPS watch,it is likely either a Suunto or Garmin, but there is now a new kid in town who wants to join and eventually take the crown off these two GPS giants.
Coros have been around for a few short years, but already, they have a formidable lineup of watches. If you have read about them, then you will probably be aware of their incredible battery life. The best from a full functioning GPS watch on the market.
The range consists of the Pace which is their simplest multisport watch, the Apex – the more advanced watch with better durability, battery life and their signature digital knob, which I'll go over later. Then there is the Apex Pro, which is what I'll be testing. This has touch screen capability and even better battery life. Finally there is the Vertix. The Vertix is even hardier with the greatest battery life of them all at 60hrs on full GPS mode! It also can survive more extreme temperatures and is waterproof to an insane 150 metres.
For the past few years I have been wearing the Suunto Ambit 3 Peak. It has served me well, though is not working so well now with reduced battery life and faulty altitude reading. I wear it constantly except when charging of course. Upon opening the packaging and removing the Apex Pro (I had the watch for a few weeks then sent it back, so no bias), I was blown away with its size. It is tiny compared to the Ambit. It is almost a massive 5mm thinner than the Ambit and 3mm smaller in diameter, yet the face looks the same. It is a little unfair to be comparing them when one is relatively old and one is new, it is more to demonstrate for those that may have an Ambit.
Size comparison with my old Suunto Ambit 3 Peak
The Spec is very impressive too. As already mentioned, and certainly a factor that will swing it for many ultra runners, the battery life is jaw-droppingly good.
40 hours on full GPS mode
100 hours on UltraMax GPS mode
I ran for 6 hours on full GPS (this includes HRM) and it used up 14%! Mind boggling compared to my old Ambit. I am not sure how this is achieved. Some software wizardry I guess?
The screen is made from the super tough, Sapphire glass. The bezel is made from strong and light titanium. The strap is a flexible and comfortable, silicon and is also quick release, meaning you don't need any tools or have to take it to a shop to get it removed. It really is simple to remove. My first concern was whether this could release accidently and help lose your watch, but it seems really secure. Maybe I am wrong but I can't imagine it happening now I've had it on my wrist for a few weeks.
It weighs in at a paltry 59 grammes which is a huge 30 grammes less than my old Suunto. Very noticeable, especially when running. I know that some people would actually prefer a heavier watch as it feels more solid and therefore durable. I would certainly prefer the lighter watch though.
I mentioned earlier the Vertix having the capability to go down to 150 metres underwater. Which is surely no use to too many people on the planet? Well, the Apex Pro would still work well if you dived as it still goes a huge 100 metres down! Personally, I will never use this, but it will be a great feature for some I am sure.
It can operate in a temperature range of –10 degrees C to 60 degrees C. I hope I will never be in 60 degree temperatures being a ginger who is scared of the sun! -10 is not that low, but generally when you start operating in temps below that, then you need to keep all electronic devices as warm as possible else the batteries drain incredibly fast, so I don't see the need to go much colder.
It also has all the features which I think are fairly standard for a top end unit these days including accelerometer, compass and barometric altimeter.
An interesting feature which may not be to everyones liking, is that it downloads workouts to an app via Bluetooth. There is no web version to analyse your training on the big screen. It felt a little strange not being able to look at my data on my laptop, but if I'm honest, it hasn't taken long to adapt, plus all my workouts go on Strava, so if there is some desire to look on the big screen then I can via Strava. I will discuss the app a little later.
A major feature I have not yet mentioned is the optical heart rate monitor on the back of the unit. I have trained using my HR many times in the past, but always with a chest strap. Wrist optical monitors are good but not perfect I have read, and will give false readings sometimes which has made me a little sceptical of them up until now. I used to have issues with my chest straps on Garmin, Suunto and Polar units, so I am not sure why I was not too willing to give these a try. After using it solidly (24hr reading) for the previous few weeks, I have to say I am really impressed! There have certainly not been any really obvious false readings such as very high when not doing much or vice versa. I am not saying it has been totally convincing at all times, but I am happy with the data that is coming out. It feels like it is relevant to my effort and rested state.
Rear of the watch showing the charge cable socket which comes with a little rubber plug, optical HRM and pulse oximeter. You can also see the small buttons used to remove the straps.
It also monitors sleep patterns giving you the time you went to sleep and woke up, plus time in deep sleep, light sleep or awake. Makes for interesting reading. It also monitors HR during the night which adds to understanding your sleep patterns better. Mine clearly shows when our 1yr old wakes through the night! When you view this data on the monthly view it can really show whether there is a pattern forming such as overall sleep lessening or growing.
The accelerometer is utilised to calculate your step count.
The watch face itself is a decent size and there are a number of different watch face designs you can use to customize the look. I like to keep things clear and simple and I personally found a lot of the faces were way to cluttered for my liking, but there are certainly a couple I am really happy with. I do find that it is quite a dark face though and find myself pressing the light button fairly frequently which is a little annoying. Maybe I am missing some setting somewhere?
There is also the feature of it having touchscreen capability. This is used for changing screen while training, and moving the map around in navigation mode. This is a nice little luxury. It is handy for changing screens as you don't need to unlock the buttons first. It is also handy to be able to move the map around to check what is ahead on the trail. I haven't managed to test it when it is wet yet though. I imagine it will struggle.
Which brings me to navigation. It is easy to upload a route via the app and following it seemed quite easy. I have only used it once on a route I know, but purposely went of course twice to see how it responded. Both times I went off route there was around a 30 second delay before it gave an audible alarm accompanied with a small vibration. I think it works well but would be far more user friendly if it had maps on it, so that you could see trail junctions and landmarks adding another layer of confidence. I wonder whether this is a feature that is to be added in a future update? Let's hope so. I believe that part of the reason for their not being maps is that it is a huge drain on power. Maybe it would be good if you could switch the maps on or off during navigation?
If you are needing a watch to help you manage high altitude efforts then the Apex Pro has a Pulse oximeter which is on the back of the watch with the pulse monitor. This measure your blood oxygen levels and gives you an hourly altitude report telling whether you should continue climbing or head down to a lower altitude. This is for high altitude ventures so will be of no use to many, but if you live somewhere with mountains above 2500m (the altitude it starts working) and you head up there regularly, or you're planning some mountaineering trips, then it could well be an interesting feature for you.
Controls on the Apex Pro are two buttons and the digital knob. They are all on one side with the buttons at the top and bottom and the knob in the middle. The watch is reversible so that it can be worn on both wrists with the buttons on whichever side suits. My buttons are on the right. The top button is the light, the lower button is back and lap. All very simple. Then there is the digital knob which is a similar to the Apple digital crown. This is used to unlock the controls which lock after a short period (just a small twist), scrolling through menus, and you can squeeze it like a normal button to select, and start an exercise. Does it work and is it effective? I have to say it is really simple to use, even while running. A great way to unlock, and I am not aware of once accidently unlocking. An intuitive and simple control that makes the Coros a little different to the competitors.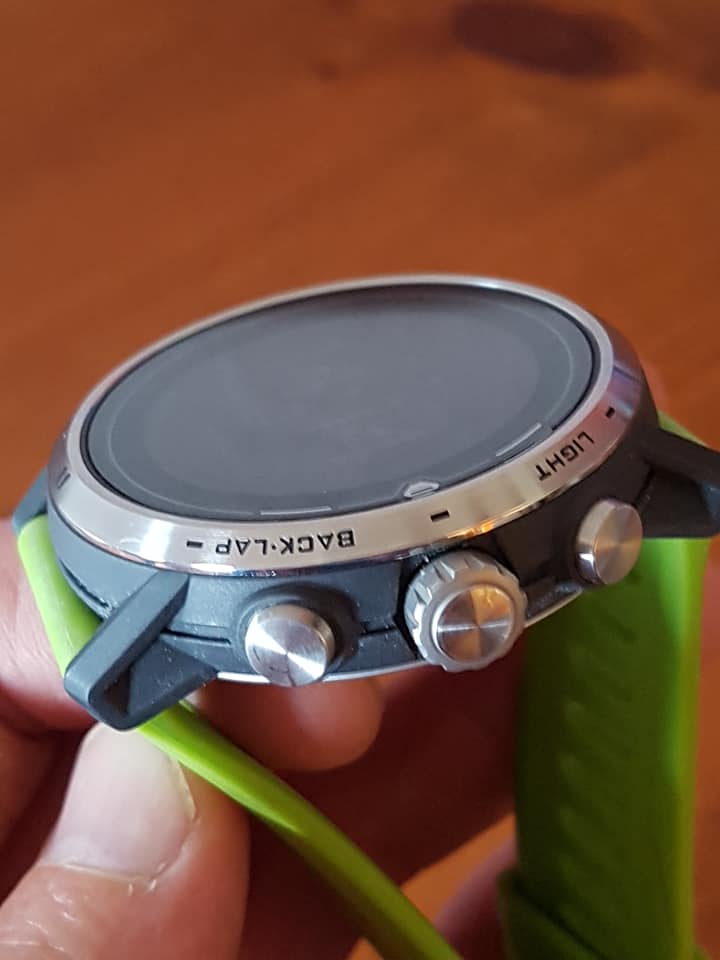 One detail I am not too keen on is the charging method. There is a small socket on the back of the watch and you plug the cable which has a USB the other end straight in. There is no way you can wear it while charging. Not the end of the world seeing as it has such a long life, but there are races that need more than one charge.
A couple of other points that may be of interest, though I have no need for either. Firstly, there is no ability to play music. Maybe a watch at this level, should have? Also, you can have the watch set up to receive notifications from your phone. I have no need for this so turn it off, but it is there for those who want it.
Now let's discuss the app. The watch would lose a lot of points if the app doesn't work well. As previously mentioned, there is just the app, no web version. I like the simplicity of this, and what I didn't like with my Suunto, was that the app didn't have the same features as the web version. The same with Strava. Obviously, if there is only an app then that means it will do everything that can be done. Never a need to carry a laptop when traveling. I had them paired up within a few minutes and straight away saw just how fast they connect. As soon as you open the app, they connect and workouts are loaded in seconds. Every time so far which is refreshing coming from the not so fast Suunto. This needs more time to test, but so far when a workout transfers to the app, it transfers to Strava almost as quickly. I was of the understanding that my Suunto data sometimes taking ages to transfer to Strava was a Strava issue, but now I'm not so sure? So, connectivity has been excellent so far.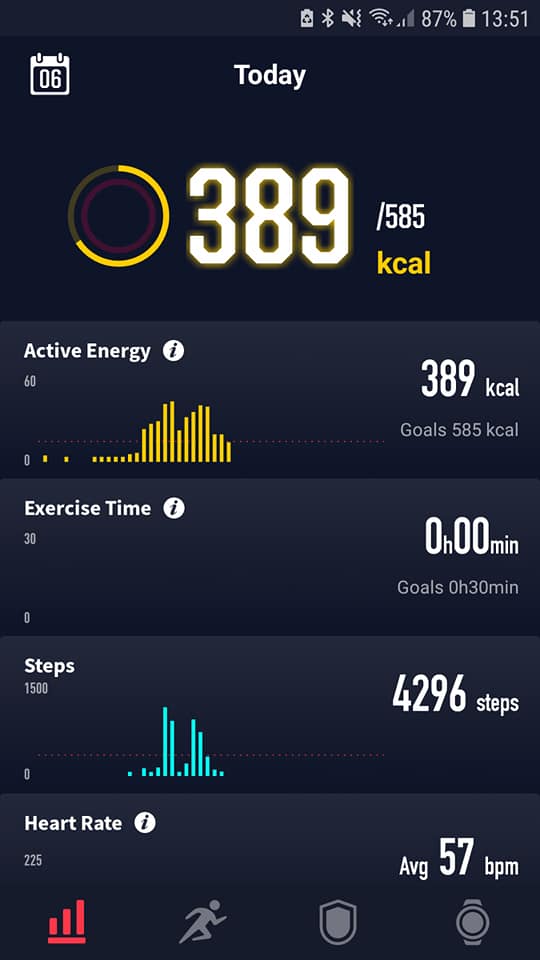 Under the 'today' tab, there are numerous graphs you can look over and customize which is simple, plus you can superimpose different data sets on one graph easily. You have a daily HR graph, Steps graph, Active energy graph (Calories burnt out of workouts plus in workouts), Calories (calories burnt just during workouts), Sleep graph, training load and a load of fitness indexs (V02 max, resting HR, Lactate threshold, Threshold pace and fitness level).
Then there is the 'workouts' tab which lists all your workouts in chronological order which you can click on and analyse further.
The 'profile' tab is where you add all your personal details, such as age, weight, gender, HR zones, Sleep times. You can also set up connection to third party apps such as Strava, TrainingPeaks, Relive etc. You can also store routes here which you can then transfer to your watch to use. It was all very simple to setup. This is also where you build up interval session and strength and conditioning programmes.
The fourth and final tab is the 'device' tab. This is to add and remove devices, and to manage current devices.
Before I got the Apex Pro to test, I read a few reviews online and one thing that stuck out was that you could only set up simple interval session, such as quantity of efforts, length of efforts and length of rest period between each. You couldn't programme in pyramids or anything else that had more than three sets of data. Seemed like a glaring gap for a high-end sport watch I thought. I also read that Coros do tend to listen to users and make many updates. I am currently using a pre released version of the app (now released as I publish this) that gives you the capability to construct pretty much any complex session. Not only that but they have added the strength and conditioning section which has a library of exercises you can choose via the body part you want to exercise, and build up a full workout in the same framework as the intervals.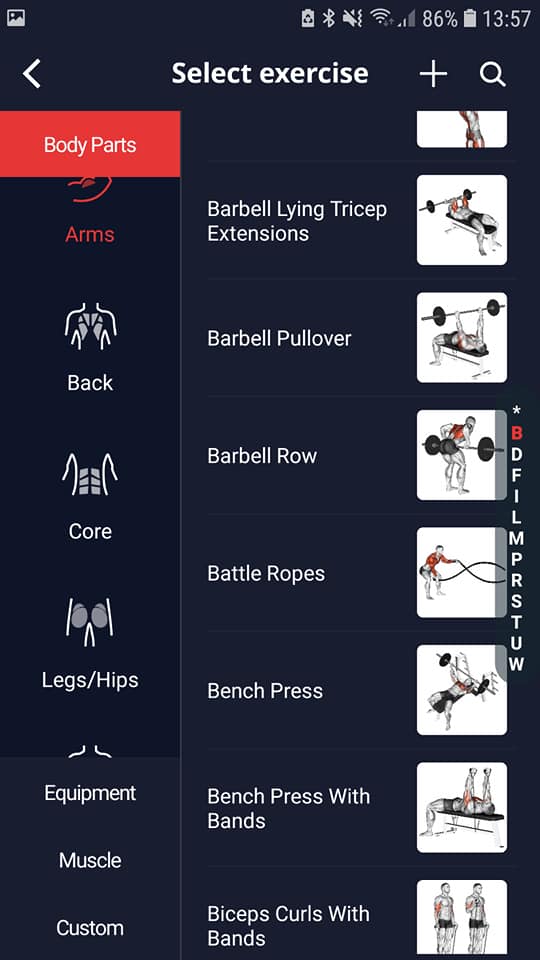 As you use it more and more, you get a heatmap showing which areas of your body you are exercising and to what degree. I've been using it quite a bit and I have to say I think it is great. A great addition and fix to what I (and others) saw as a fault. S&C is an aspect of training that is very important for any serious athlete and is often overlooked, so it is nice to have this packaged in.
One thing to note about the app is the fact it is not a social app, so you don't connect or communicate with other users. You can send workouts to others and share a workout to FB but basically it is not a social app. I am on Strava, so if I want people to say I am amazing, then that is always there.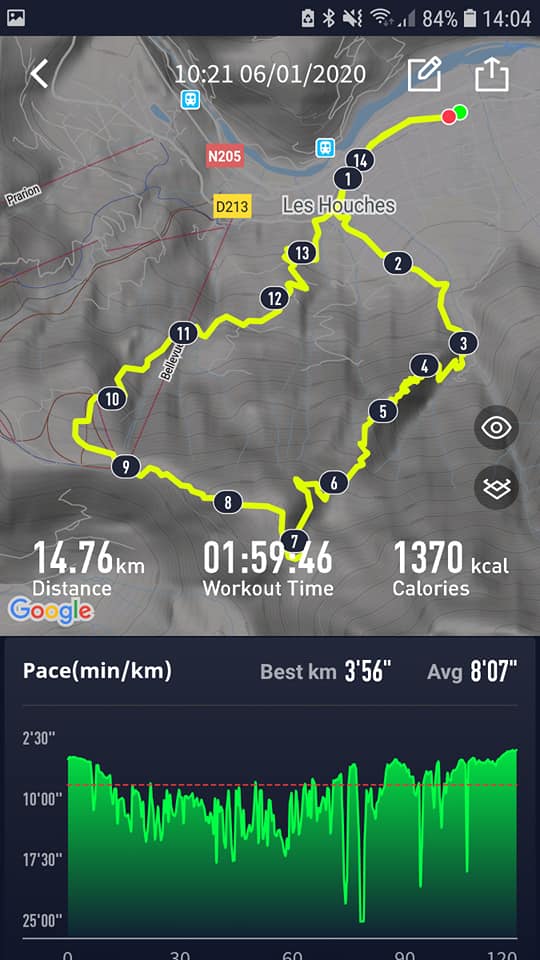 Overall, I have to say that I like the app. I like its simplicity. I thought it seemed like a gamble not being a social app and there not being a web version, but I think it works. Like I say, if you want that stuff then there are always third-party apps you can connect it too. The speed with which it connects to the device in incredible!
I have read quite a bit about Coros before getting to try one and overall, they sounded great. Not perfect, but certainly worth considering if you are in the market for a new watch. Now I have been using one for a few weeks I have been really surprised by just how good it is! I love its size and light weight. I also think it looks really nice. It is simple to use, has the best battery life (except for its big brother the Vertix). The App is great and works nicely with an incredibly fast connection. I like the digital knob and really like the simplicity of building up workouts and transferring them to the watch. It isn't perfect though as there are no maps in navigation and there is no music capability. I have found the screen a little dark and you can't charge it on your wrist. Coros are known for listening to their users and responding, so who knows what updates there will be in the future.
Priced in the UK at £449.99 (on New Running Gear in the UK), the Apex Pro is not cheap, and this puts it up there competing with some of the best units on the market. Very brave of Coros, but I believe that they have something pretty good with the Apex Pro.
A slick, compact, tough and reliable watch, the Coros Apex Pro should be considered by any endurance athlete who is serious with their training. If you are specifically wanting maps and music, then maybe you need to look elsewhere, but with the way Coros is making a name for itself by responding to the consumer with plenty of updates (especially the one that dropped recently with the strength and conditioning capability), then the Apex Pro is set to improve further with time. Apparently, there will be more big updates too!
Super fast connectivity with phone
Great strength and conditioning capability
Plenty of updates with improvements
Can't charge on the wrist
Not social app
To buy a Coros Apex Pro and support the URC website, please use the following link. It doesn't cost you anything extra! Thanks.
Here are links to purchase the other Coros watches