Written by Neil Bryant for the URC
A long, long time ago, when I took up running ultras (It really was a long, long time ago!) I didn't feel the need for a waterproof jacket. None of the races I had ran initially, seemed to ask you to carry one, and I found that I just sweated buckets on the one occasion I tried it. What was the point I thought! Then I began running on more mountainous terrain and quickly realised that the protection was a necessity! After a little research, I purchased a puke green coloured Montane Minimus. Possibly the first iteration of the Minimus? It was amazing with a fantastic hood. I still own it because, even though it is no longer waterproof, it is still windproof, so still gets dragged out for some mountaineering trips and ski touring. In fact, mines been up Mt Blanc twice. Once on foot and once on ski.
Last year when I was offered the newer version of the Montane Minimus Stretch Ultra (as a free sample) but as a pull-on, so not a full zip, I was intrigued to see how they had changed.
The main differences I could see between them, other than the shorter zip, were the cuffs. The older one had velcro straps to adjust size. Great if you're wearing gloves and makes getting it on and off easier. The new one has just elasticated wrists. No adjustability but this is aiming to be a minimalist, stripped down, yet serviceable jacket, so this saves precious grammes that helps keep the jackets overall weight at a relatively unnoticeable 154 grammes. I understand that things need to be sacrificed to make things as light as possible, and yes, the jacket works perfectly well with just elasticated cuffs, but I would prefer the adjustable cuffs.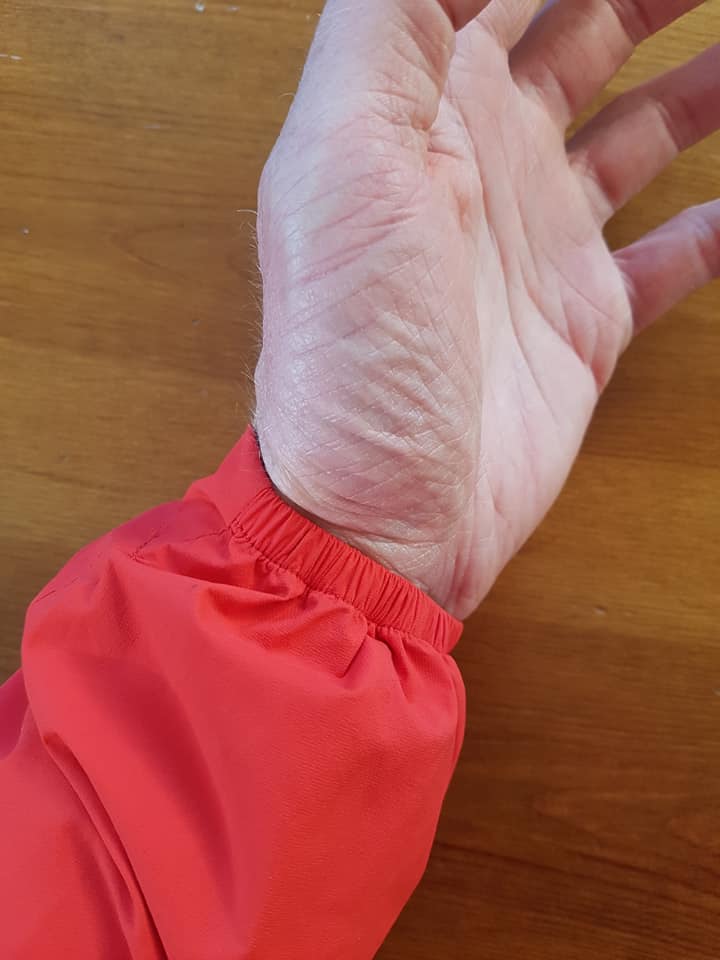 An image showing the basic cuff.
The material has been tested to give a Hydrostatic Head of 20,000 and a MVTR – Moisture Vapour Transmission Rate (breathability) of also 20,000. Both high readings!
I know there are lighter jackets out there, but they generally are totally stripped of function. It may have lost its velcro wrists, but it thankfully retained its superb hood (many of the super light jackets have just an elasticated hood with no peak). It is elasticated around the back and adjustable elastic around the face, with a malleable wire peak. Having worn it in some pretty foul conditions, I can vouch that it is effective. I would prefer either a tighter elastic around the back of the head, or it was adjustable, as it would shift a little with strong winds. I have a few jackets in my collection now and the only hoods that have a bendable wire in the hood are the Montanes. I don't really get the concept of a wired hood. All I ever do is bend it so it is a nice neat arc. I much prefer the hoods that just hold their shape regardless. I am guessing that some people love them though as Montane obviously have made the decision based on user feedback.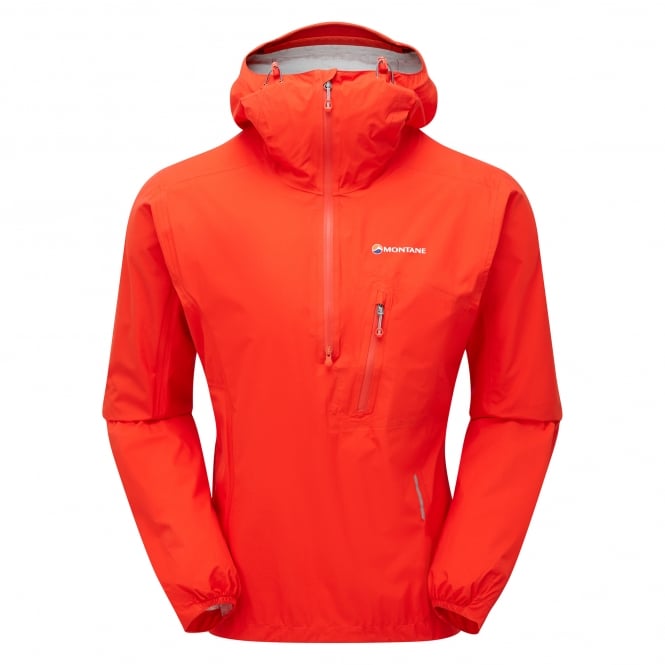 Other features I haven't yet mentioned are the adjustable, elasticated waist and an outer chest pocket which has a small hole inside which is for a headphone cable. You can fold the whole jacket neatly into the pocket and zip it up. waterproof zips are made by the dominant YKK, which are slimline, easy to use and stay up.
So how is it in use? Well, the stretchy 20 Denier PERTEX® SHIELD 2.5 layer waterproof fabric, has a soft to touch feel to it which is also fairly quiet which is nice. Nothing more annoying than sounding like a packet of crisps running down the trail! It is really stretchy too! It doesn't feel at all restrictive because of it.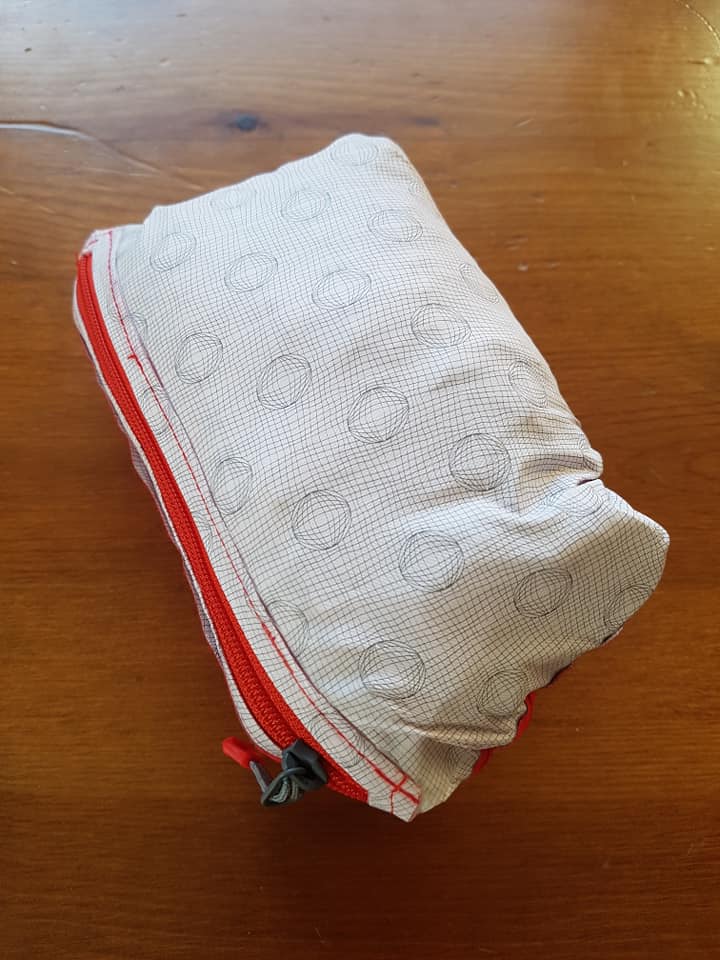 Neatly tucked away in the chest pocket.
A very important factor on how effective a waterproof jacket will be is it's fit. I am around 5' 10" and an average/slim build weighing 70kg to give you some idea of my size. I have a size small and it fits me really nicely. Arms are long enough and the waist is also good. The cut suits my build well, giving me a fairly close feel all over, but not so close that a few extra layers can't be worn underneath.
You shouldn't wear a waterproof with no lining such as this over naked skin, so if I am expecting to wear it on a run, I would wear either a long sleeve top underneath, or arm warmers. This helps to move the moisture away from your skin and then the jacket will do it's best to let the moisture pass through the fabric. I find in practice, that if I am running at a decent effort, and the temperature is above 0 degrees C, then I will sweat out any jacket no problem. If it is sub-zero, then there is a chance I won't get wet inside. Unsurprisingly for me, this jacket is no different. I think I may be a heavy sweater! It is certainly better than wearing a non-breathable jacket, so I am ok with that. When moisture is trying to work its way through from the outside as rain, then it is far more effective. Water still beads on the outside and rolls off which is a good sign.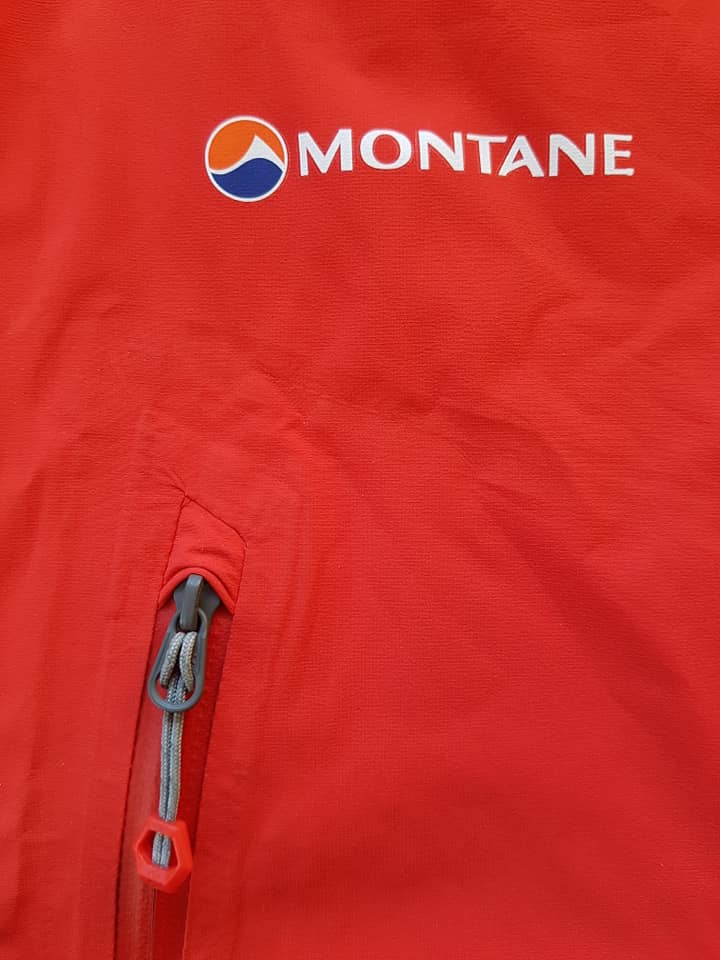 This is a jacket that is suitable as an obligatory item for most long events. It is very light and packs small. There are certainly lighter ones out there but I feel maybe this is a little more practical. It is still nothing compared to a hardshell that weighs 4 or more times the weight, so don't expect the same sort of performance from it, but it is surprisingly effective. I would have definitely sacrificed an extra few grammes for the velcro wrists, and possibly a little more adjustability in the hood, but overall this is a simple but very effective jacket which can be carried very easily in case of adverse weather. Oh, and when I received it, I was not sure about having the half zip instead of the full. I now prefer it. Less bulky zip, and I discovered I don't need it anyway as the half zip opens it up enough for ventilation. It is also available in full zip if that is what you prefer.
It retails for £145, but I've seen it for around £100 online, without looking much which I would say is great value for what you're getting.
To purchase the minimus jacket (this is for the full zipped version), use the following link. This will get you an excellent price and a small commission for the running of the URC