Written by Neil Bryant for the URC
Summer finally arrived here in Chamonix, after a few false starts, so it was perfect for trying out some of Montanes new Summer running wear. I have been given samples in the following items to test:
I have run a fair amount in all these items. The Sabre T-shirt the most as I got that over Winter so it got worn on some of the not so cold days.
The Dragon shorts consist of an inner liner that has long legs like cycling shorts, a nice thin, loose outer short, and a waist band. The liner and waistband are produced with Econyl which is a yarn manufactured from pre or post-industrial waste, preventing much waste from ending up in landfill and even reclaiming fishing nets that have been dumped in the sea. You can read more about Carvico, the company that carries out this recycling process here.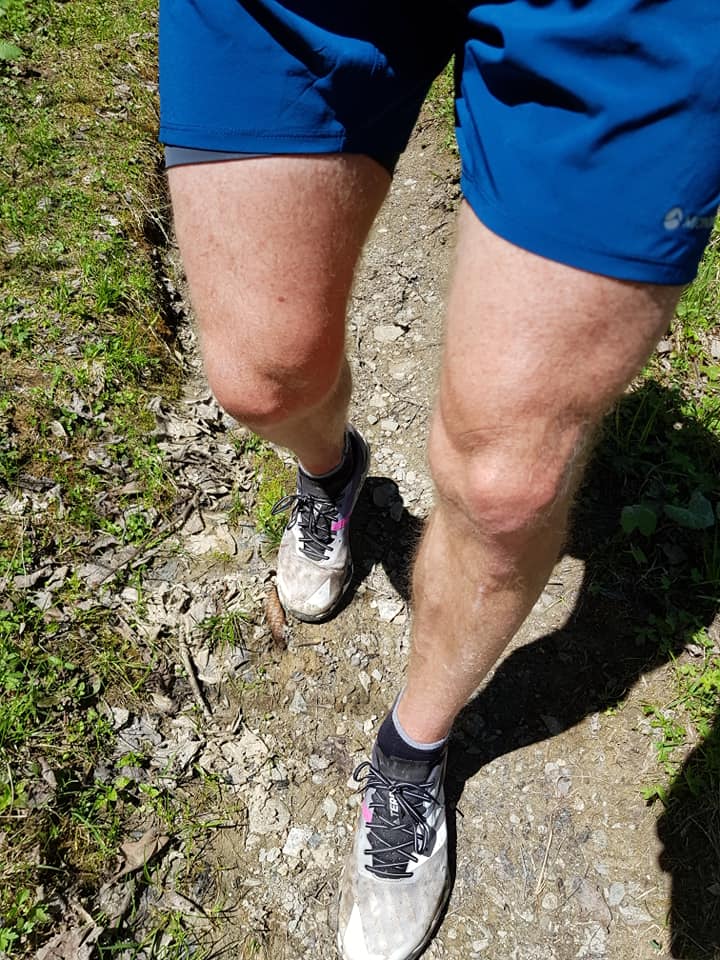 Ok, so, you will either care about eco credentials, or not, but what you all will care about when buying new shorts, is how comfortable they are! They feel good on, and although the liner is quite tight, it isn't super tight which I am not keen on. They are supportive, yet still leave some freedom. The liner is not thick, but is not that thin either. I like the wide waistband and I particularly like the way the draw cord comes out the top of the waistband where they usually have the exit holes internally or externally. I find it sits better and more comfortably on my skin.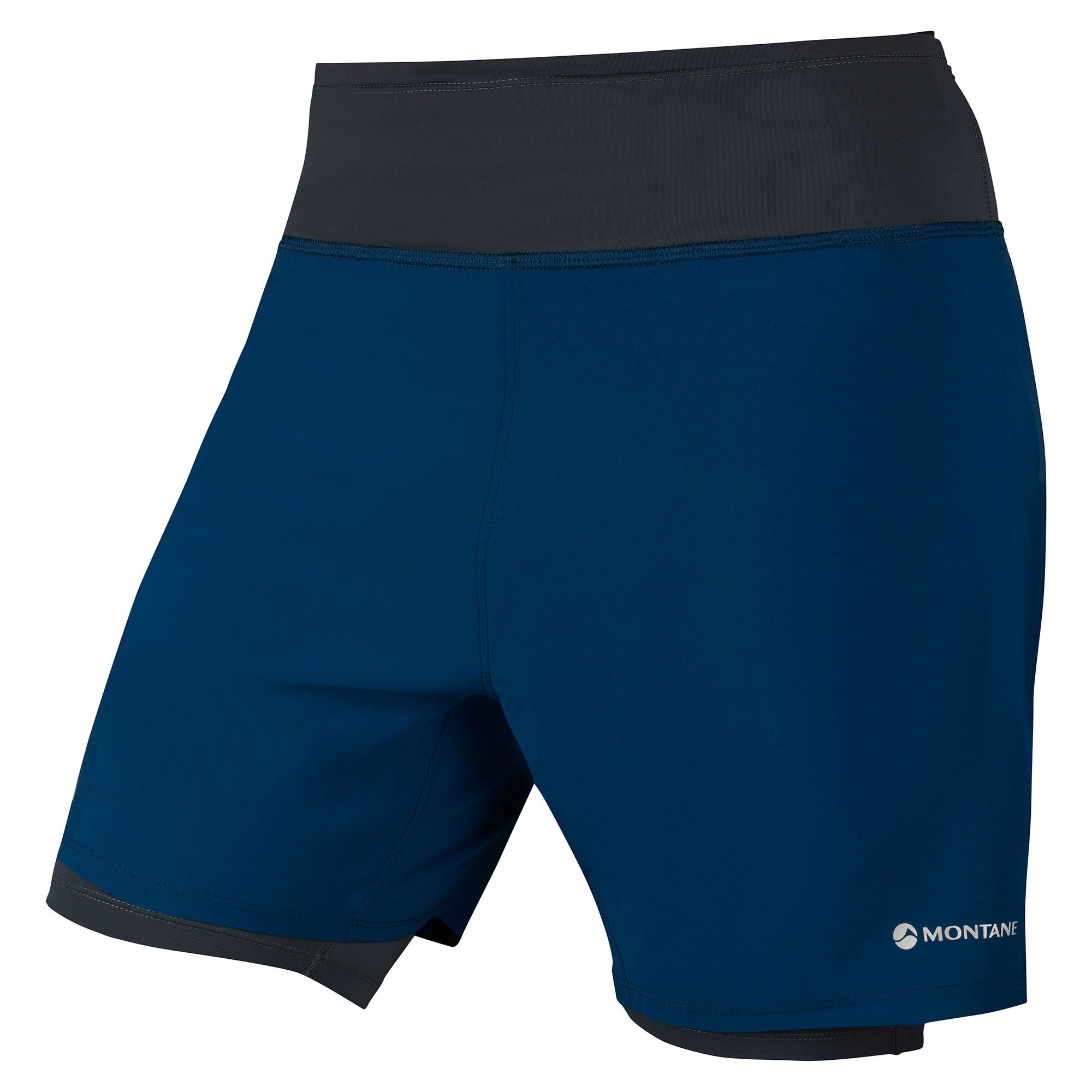 There is a rear zipped pocket, big enough for my phone like on almost every pair of shorts out there and also two small stash pockets, one on each side for gels or litter. There are no pockets on the front, which is a shame I thought.
The outer short is a light, thin and very stretchy material. There are some brand markings in various places which are reflective which is great for added safety.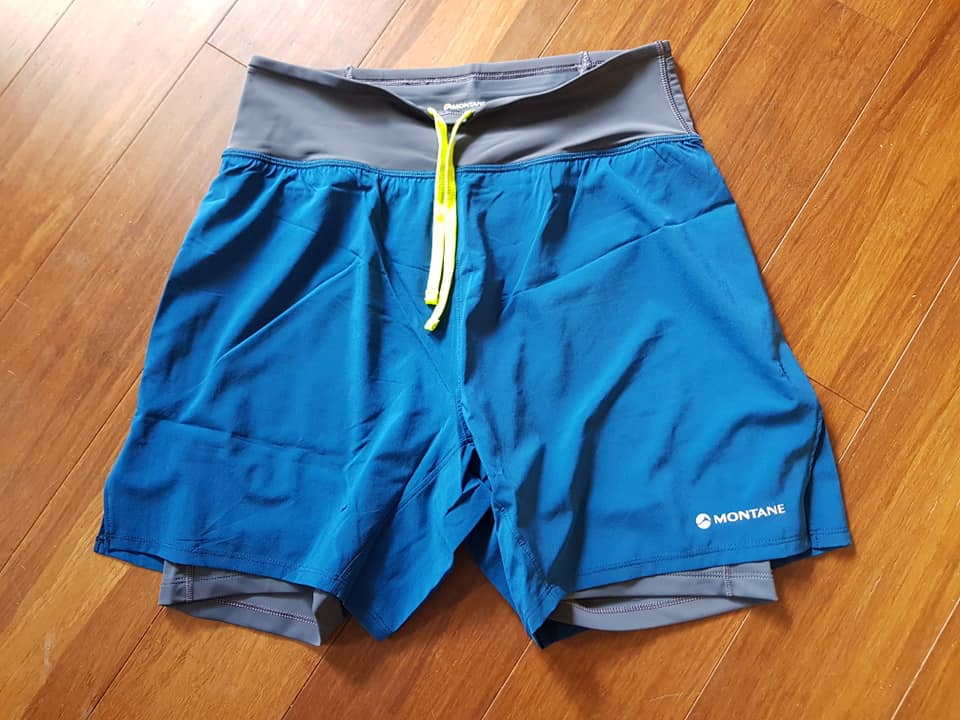 On the trails and roads, these shorts have been comfortable. Mine are medium, but small would certainly have been a better fit for me, so I would recommend dropping down a size from what the size charts advise. Even though the size was a little large for me, they were still comfortable, and I enjoyed the length a lot.
It has been pretty hot here at around 30 celcius (Hot for me!) and so I have been sweating heavily, which is always a great test for shorts. Do they prevent chafing and do the manage moisture well? The liner does have seams but I have had no issues at all, so currently I have to say they have passed the chafe test!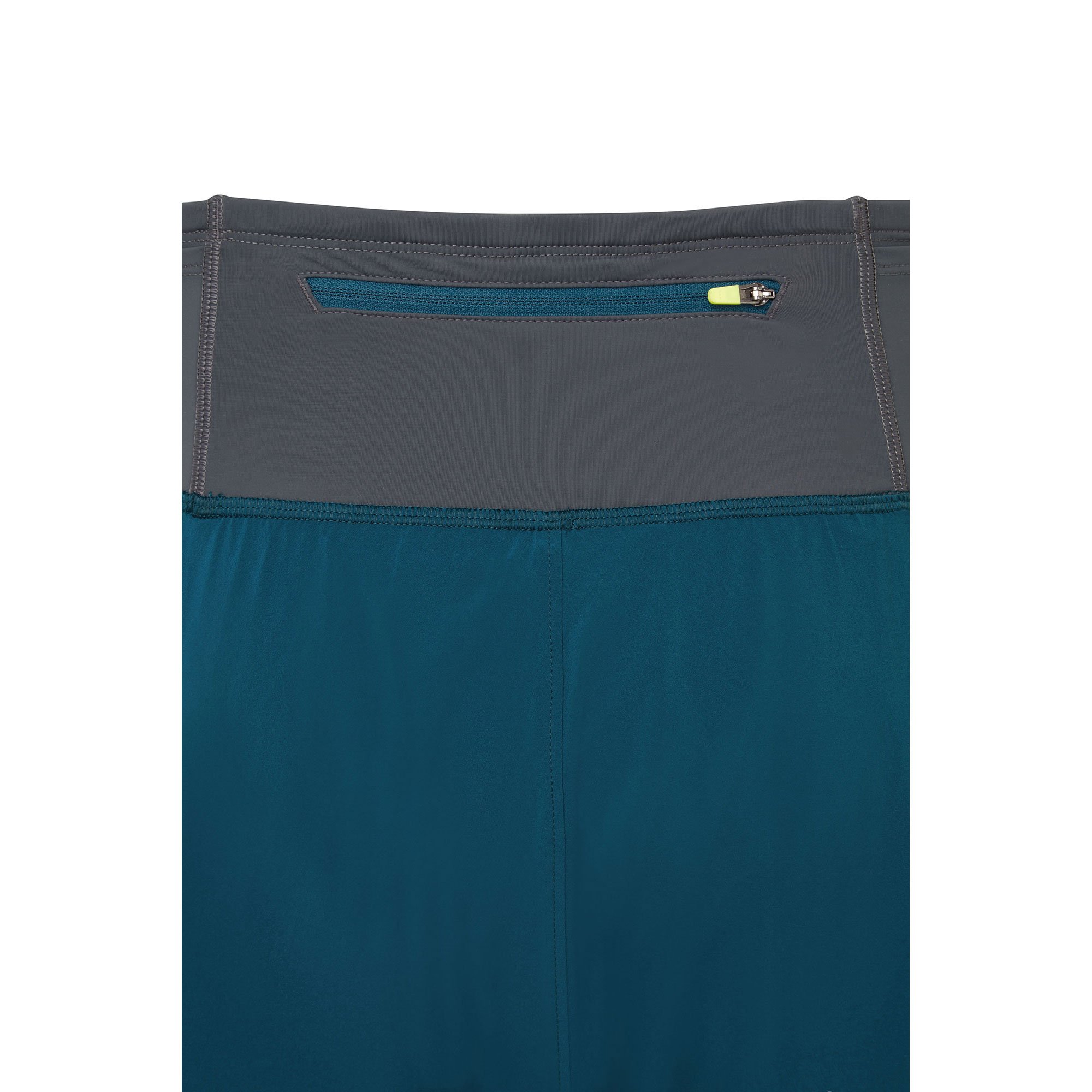 Moisture management on the other hand, is not so good. When I am really hot, I sweat a lot on my back and backside, to the point where you could wring it all out. I am not sure that there is any short I have worn that doesn't get so sodden when it is really hot, but for me, when they got wet, they stayed wet for quite a while too. While wet though, they did remain comfortable which I guess is the most important factor.
The rear pocket is great and big enough for most phones. I have had shorts where the rear pocket is not big enough for a smartphone which, these days, is a bit short sighted in my opinion. The two gel pockets are useful, but would be a bit more useful if they went a bit further around the waist. I think the whole waist should get used for at least elasticated stash pockets.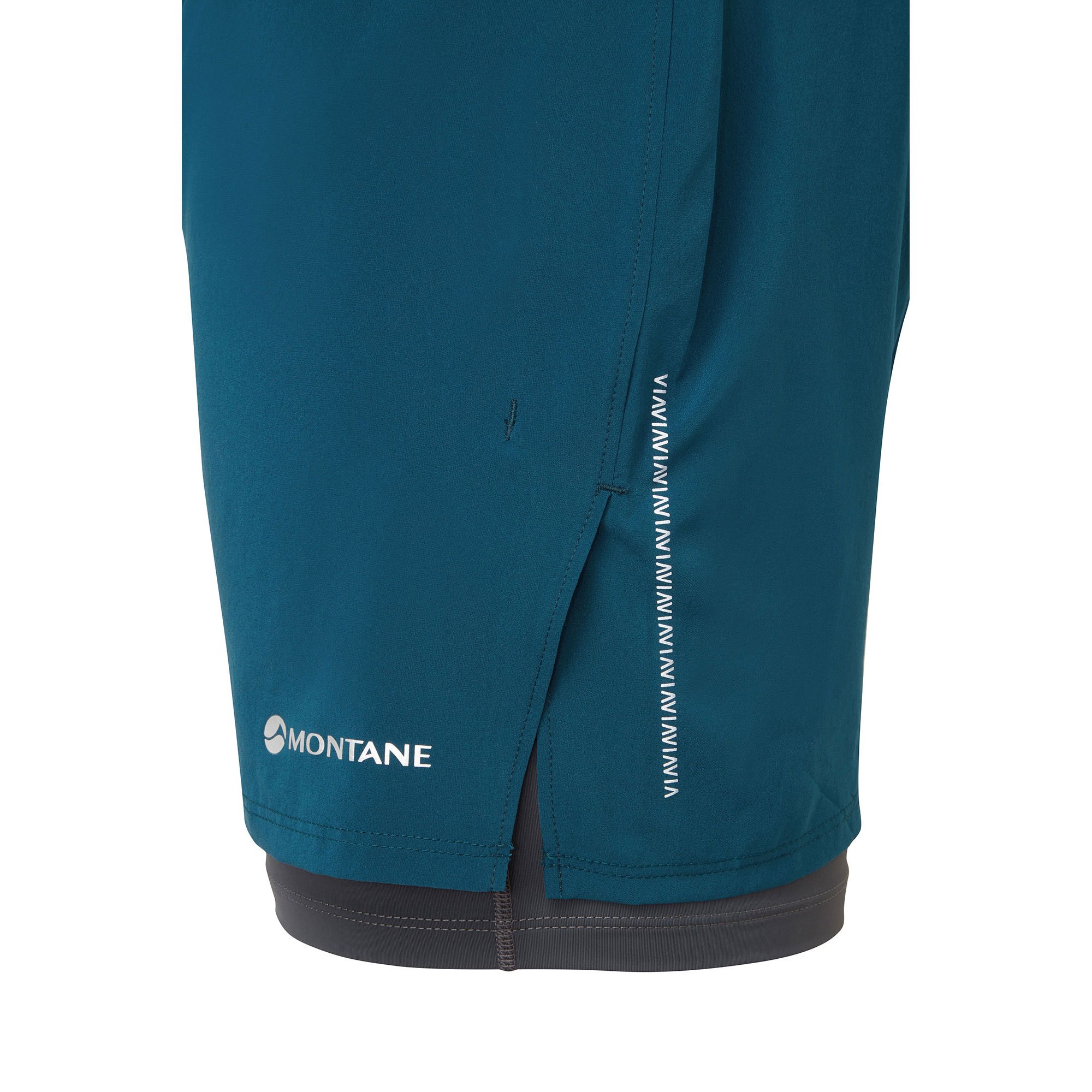 Overall, I have liked these shorts and tend to grab them most times, but if it is really warm out, then I will tend to pick out something lighter. A good short which could be a great short with some refinements.
The Dragon twin-skin shorts are priced at £60 so are top/mid priced for a quality double short.
To purchase the Dragon twin skin shorts follow this link -
The dragon tank, is brilliant. Simple, no fuss and barely feel it on as it is so thin and light. This is designed for the hot days and if you want to not get a hardcore t-shirt tan on the arms, then a tank is the way to go! It is thin as previously mentioned, it has a slightly raised neck which I really like as it puts a layer between you and your running pack you may be wearing, so helps prevent any chafing that may occur. It also has a zip which is always great to add some extra ventilation when it is really hot.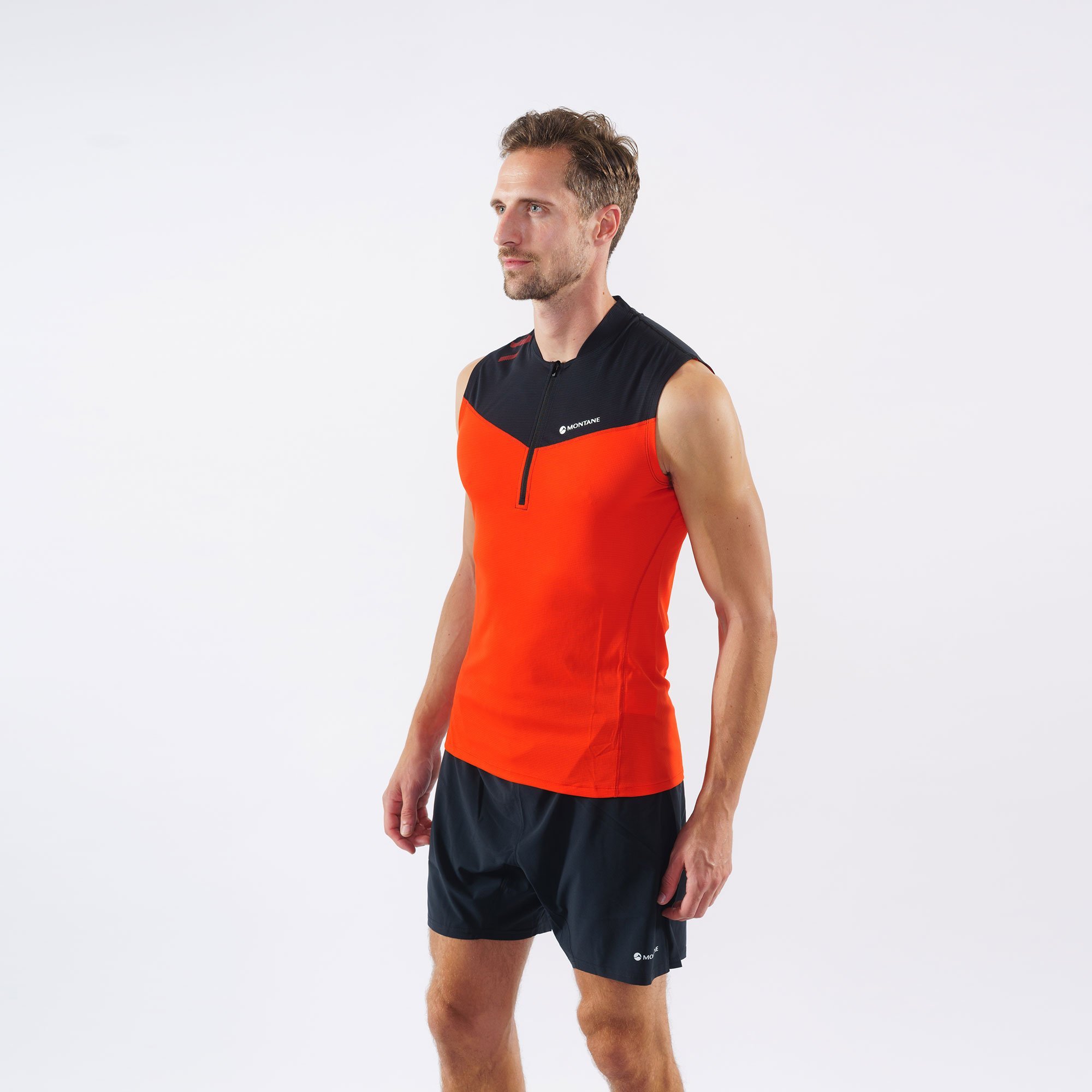 The material has been treated with Polygiene which aids odour prevention, which I think is an effective way of not stinking even after a really long day.
Like the shorts, there are also some small reflective details that will help you be seen, adding a little extra safety.
This fitted me lovely, and was long enough and didn't ride up. The neck was long enough to always add protection for my neck and the zip was a welcome addition when the temps were really high.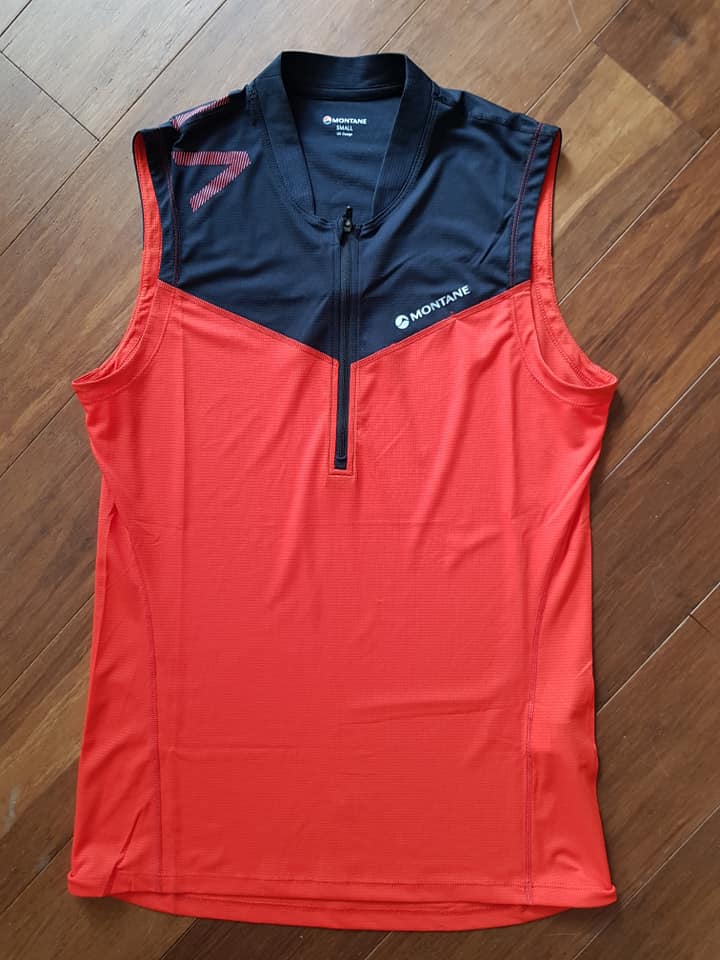 This is almost like the opposite to the Dragon shorts for me : when it is really warm I don't want the shorts, but do want the Dragon tank, and vice-versa. A fantastic item I enjoy wearing.
The Dragon zip tank retails at £38 and is a great price for a technical garment, which is simple yet well thought out.
To purchase the Dragon zip tank, follow the following link -
When there is any sign of sun, or if it is cold, due to the fact of having little hair on top, I need some sort of cover for warmth or sun protection. During the Summer it is usually a cap. I have had a few over the years and generally have a favourite that gets worn till its falling apart. I like the idea of the Cadenza. It is a light, stretchy cap that is designed with a flexible peak, to make it an easily stowable cap. You really can just screw it up and stuff it in whatever pocket you have free.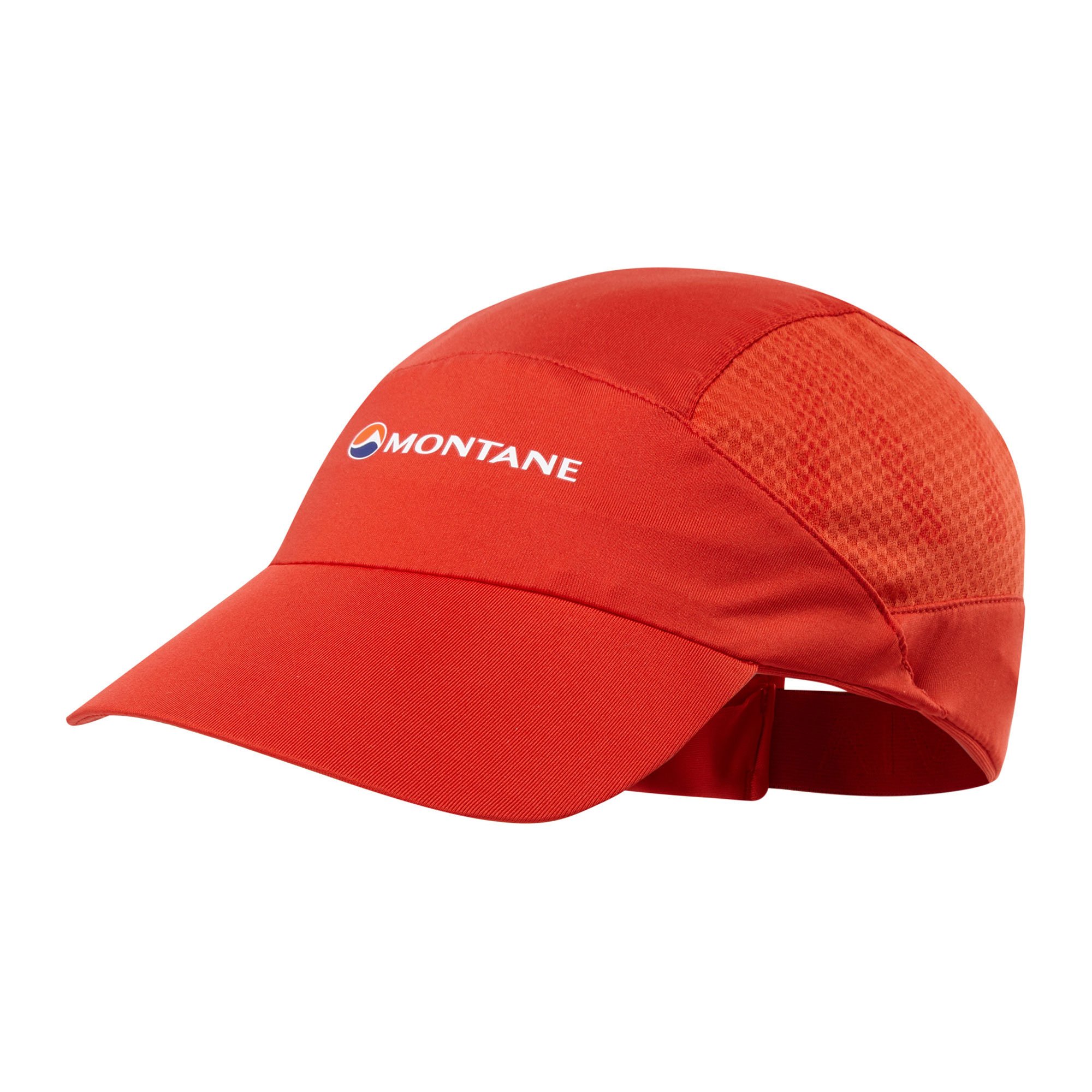 It come in one size and is non-adjustable, so you need to check if it is ok on your head. It was just about ok on my head, but if my head were any larger, then it could possibly be too tight. I think my head is a size 58.
I like this cap as it is purely designed for activity and fits your head closely using technical materials that breath well and manage moisture well. The peak is fairly short though still an effective sun shade, but when I have been sweating for a long time and the peak soaks up the sweat, it gets a little heavier and a little floppier. I found this a little annoying, but not overly so. I still wear the cap.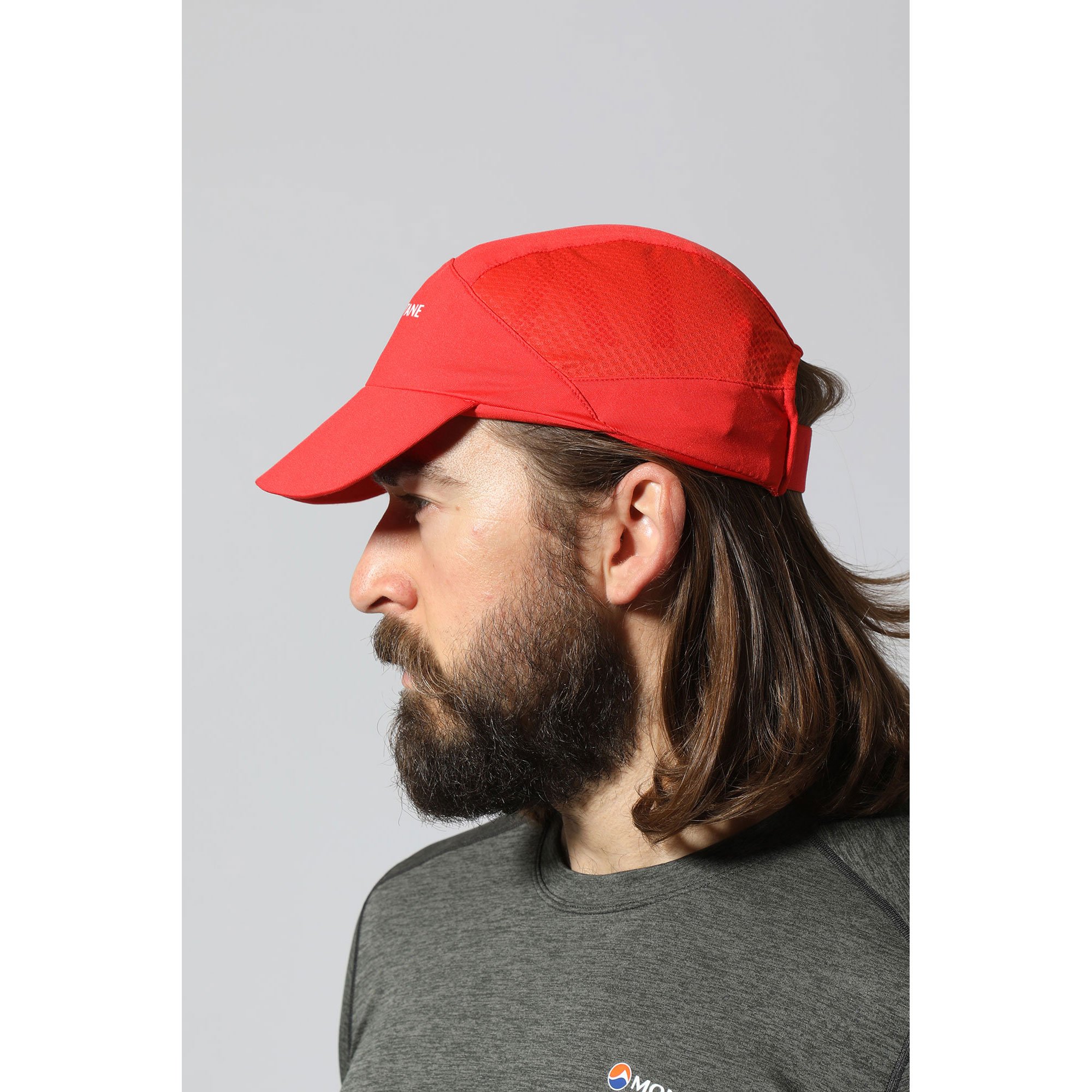 The Cadenza cap is priced at £24 which seems very reasonable and should last a long time.
As I said earlier, I have been using this top for longer than all the other items, and it has crossed over the seasons well.
It is a simple, no fuss, long-sleeved top made from a fairly thin material. I have added it in with this list of summer items, as it is perfect for warming up pre-race, or wearing on those days when it is just a tiny bit too cold to have your arms out. It is not really a base layer, but of course can be treated as such, which is why I got quite a bit of use from it during Winter.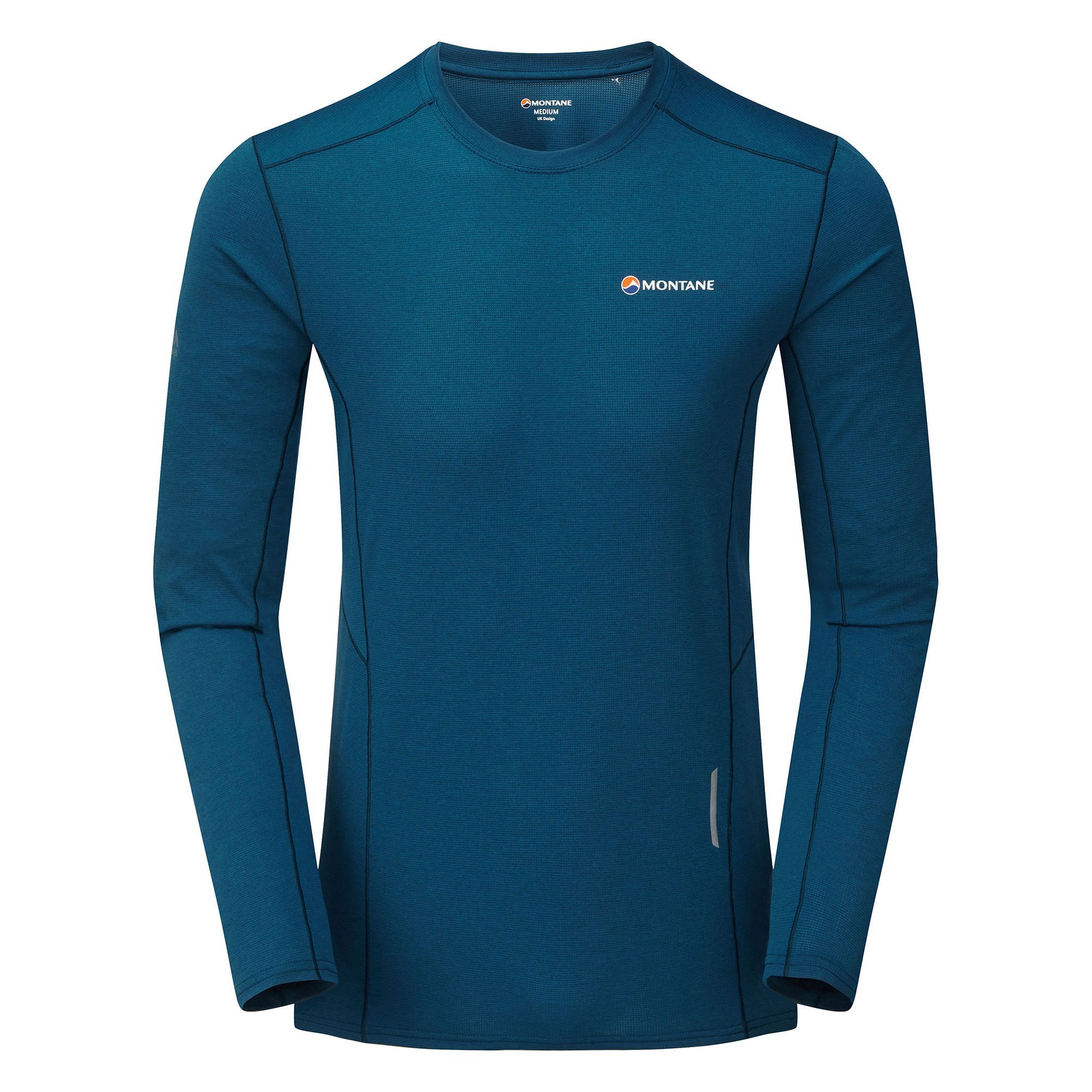 The fact it is thin, aids it drying quickly and makes for a comfortable wear.
As much as I am sometimes quite keen on a bit of in-your-face bright Euro styling, I really liked the plain down-to-Earth look of this. It could just about be worn as casual wear which I liked.
At 135g, this top is very packable and is ideal as a spare, or emergency top to stuff in your pack.
For me it fitted really well, body length was long enough and never rode up, the arms were quite long, and when rolled up they stayed up well. The neck was a crew neck and although I like a higher neck for the added chafe protection, this was really nice to pull on for days when not wearing a vest, and the feeling of being light feels great!
This is a great all-rounder which I will be reaching for at least once in every month I imagine. I simple yet versatile top which fits beautifully.
At £38, the Sabre long-sleeve is a great deal in my opinion.
To purchase the sabre long sleeved top, follow this link -
I have spoken before of my love of the simple, windproof gilet, and that continues here with Montanes own gilet. I believe Montane made one years ago but stopped producing them. They have just re-released it and that makes me very happy. Again, simplicity is key, with such minimalist clothing.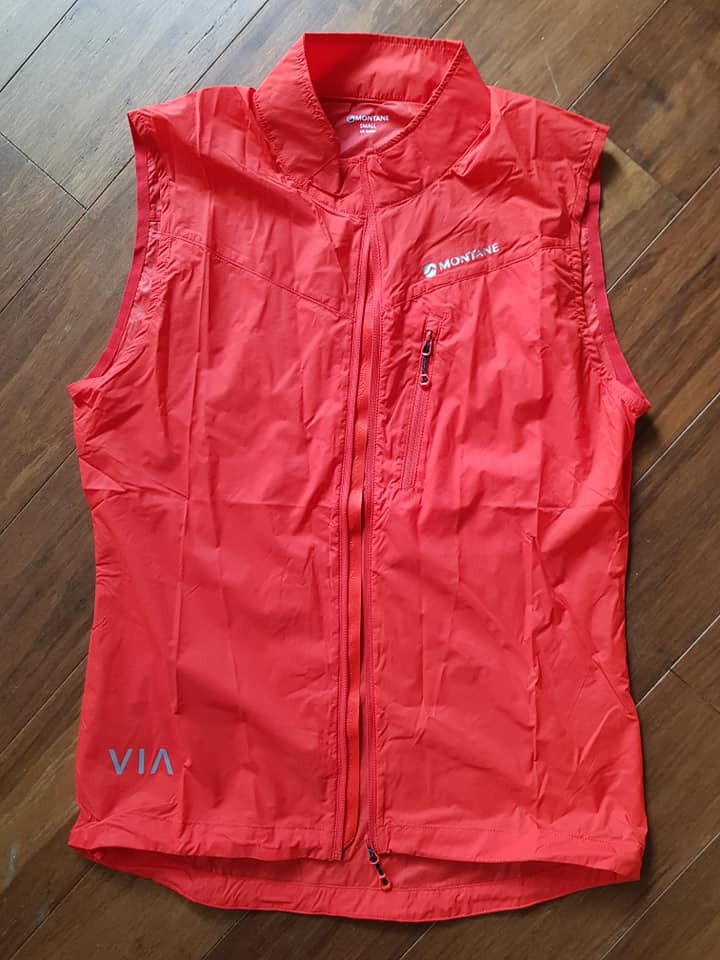 The waist hem is adjustable and the arm holes are lightly elasticated to give a close yet comfortable fit. It has a decent full-length zip and the material is windproof and has some stretch to it. There is also a small zipped pocket on the chest which also doubles up as a bag for the gilet if you tuck it all in.
At just 75g, this is something I will always be either carrying or wearing if there is anything other than amazing wall to wall sunshine during 1 or 2 hour runs and I will almost certainly have it on me for anything longer. It is just so small and light, that it really doesn't cross my mind whether I shouldn't take it!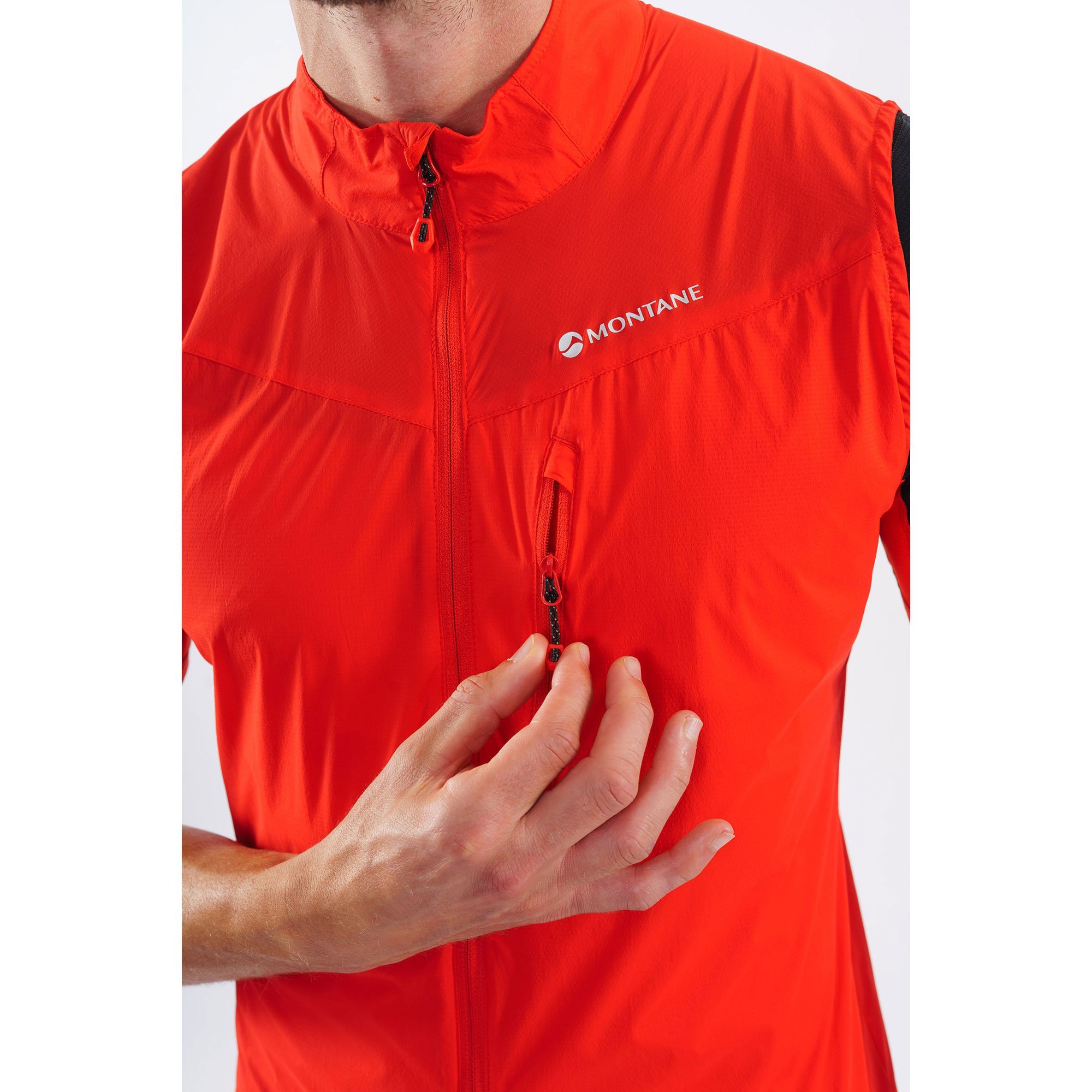 The material is soft and not all crinkly so is nice to wear. It fits me closely enough that it doesn't blow around like a bin bag but so tight that it is restrictive.
When a cold wind blows at the top of a long climb, when I am wet with sweat, then the featherlite trail vest is magic!
Priced at £60, I'd say it sits in the middle. Neither cheap, nor very pricey. For me though, the gilet is an important item of clothing for running all year round. I use mine ski touring during winter and it is just as valuable!