Rab Stormveil and Kinetic Ultra jackets
Category: Clothing Review
and a waterproof jacket, the Kinetic Ultra.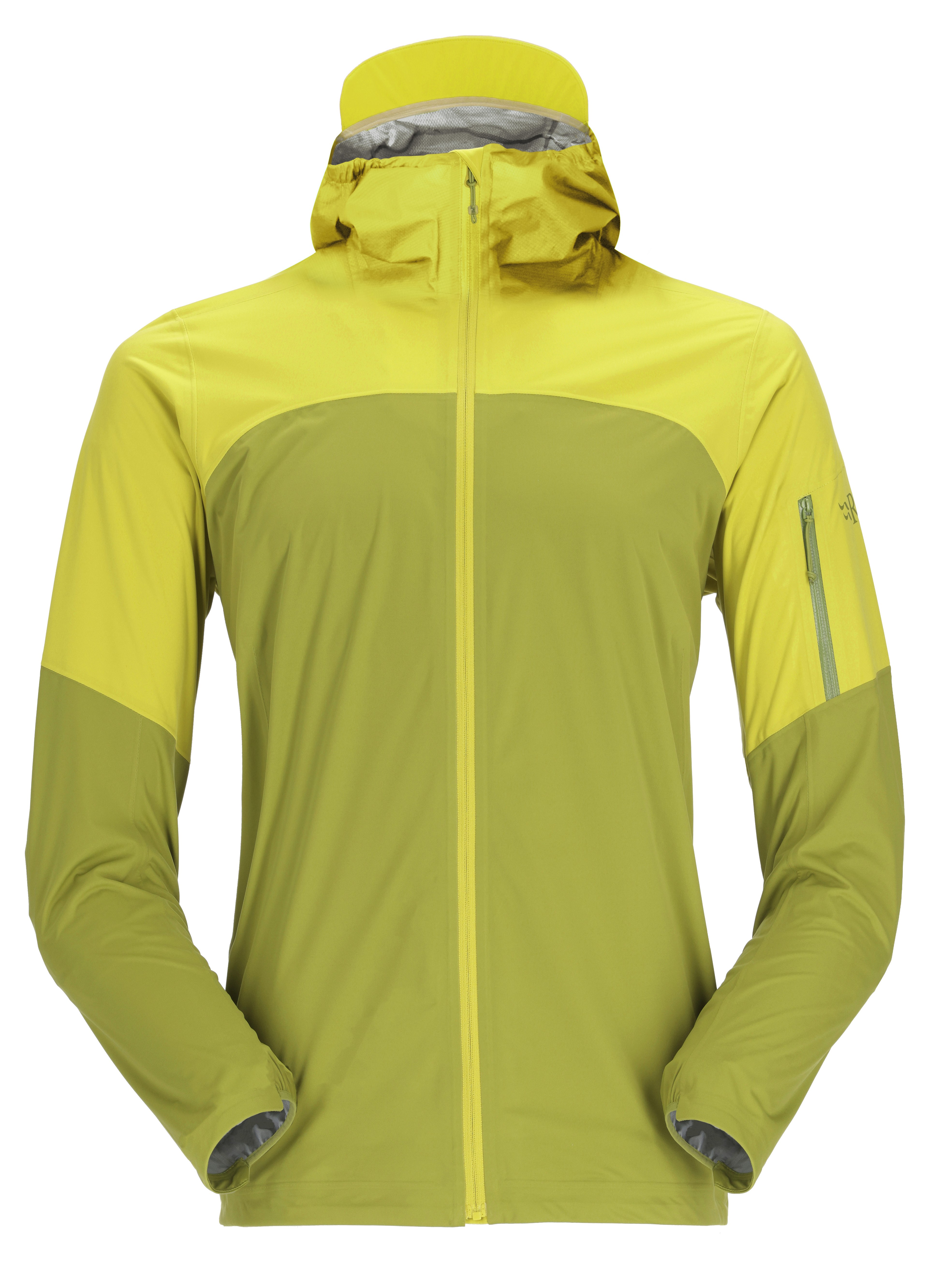 I'll begin with the Stormveil Windstopper. I have never owned a windproof jacket like this. If I want to keep the wind out, I usually use my barely-there gilet, or if it is bad, then just throw a waterproof on. Would the Stormveil convince me I needed a softshell? 
Fresh out the packet, the Stormveil looks beautifully made, just like the other RAB gear I had, with neat stitching all over. It is hoodless which Could be seen as a negative or a positive I guess. I quite liked the idea of it being a bit more stripped down and simple. From the outside it almost looks like it is all made from the same material, but when looking inside you can see two separate materials.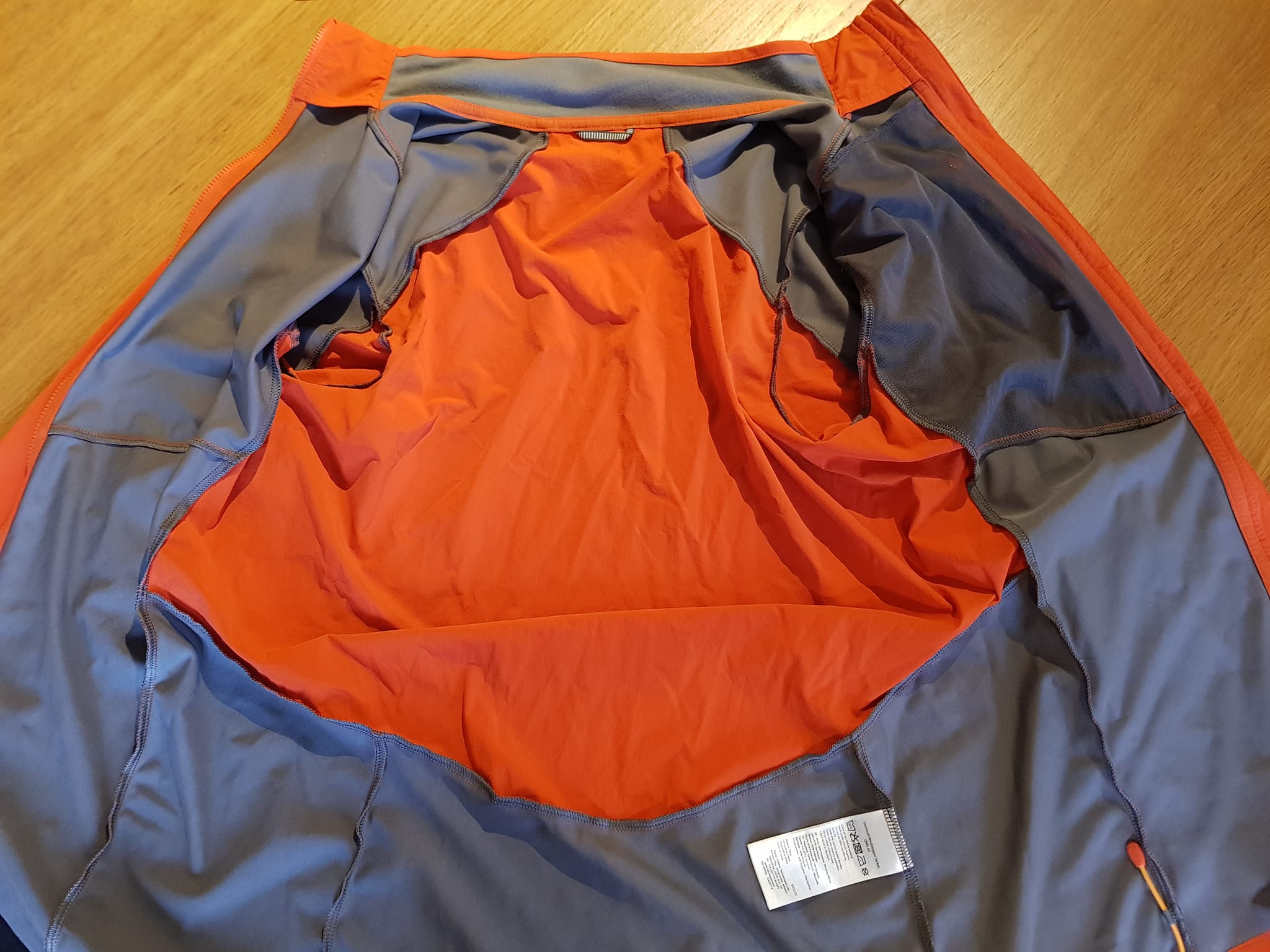 The inner view showing the Infinum panels in grey, and the non windproof red section.
The windproofing is Infinium by Gore-Tex. This is a new material that is completely windproof, is breathable and sheds light rain and snow. Infinium panels cover the front, the rear section at the back, and the outer arms. The underarms and upper back panels are a stretchy and highly breathable matrix material. 
Initially, when I tried it on, I was a little concerned that it was a little small, but in fact, after many uses, it actually is an excellent fit for me. It is close fitting, so I couldn't afford too many mince pies over Christmas, but it actually feels like it was tailored for me! The arms are long but not too long, with neat stretchy cuffs that are enough to keep them in place. The close fitting and lack of hood, means there is no flapping around in strong winds, which is just excellent in my opinion!  
Interestingly, Rab have the weight at 353g for a medium, whereas my small weighs in at 270g! Hardly a heavy garment, but it isn't a 'super light, stuff it in your pack and forget about it' sort of garment either. Personally this has been great for runs when there is a cold wind blowing and there is a slight threat of a shower, as it adds a nice feeling of comfort and protection that you don't feel from a windproof shell.  
It has one zipped chest pocket, that isn't waterproof, that is large enough for a phone and keys. I kept my house key in there as anything more just bounces around too much.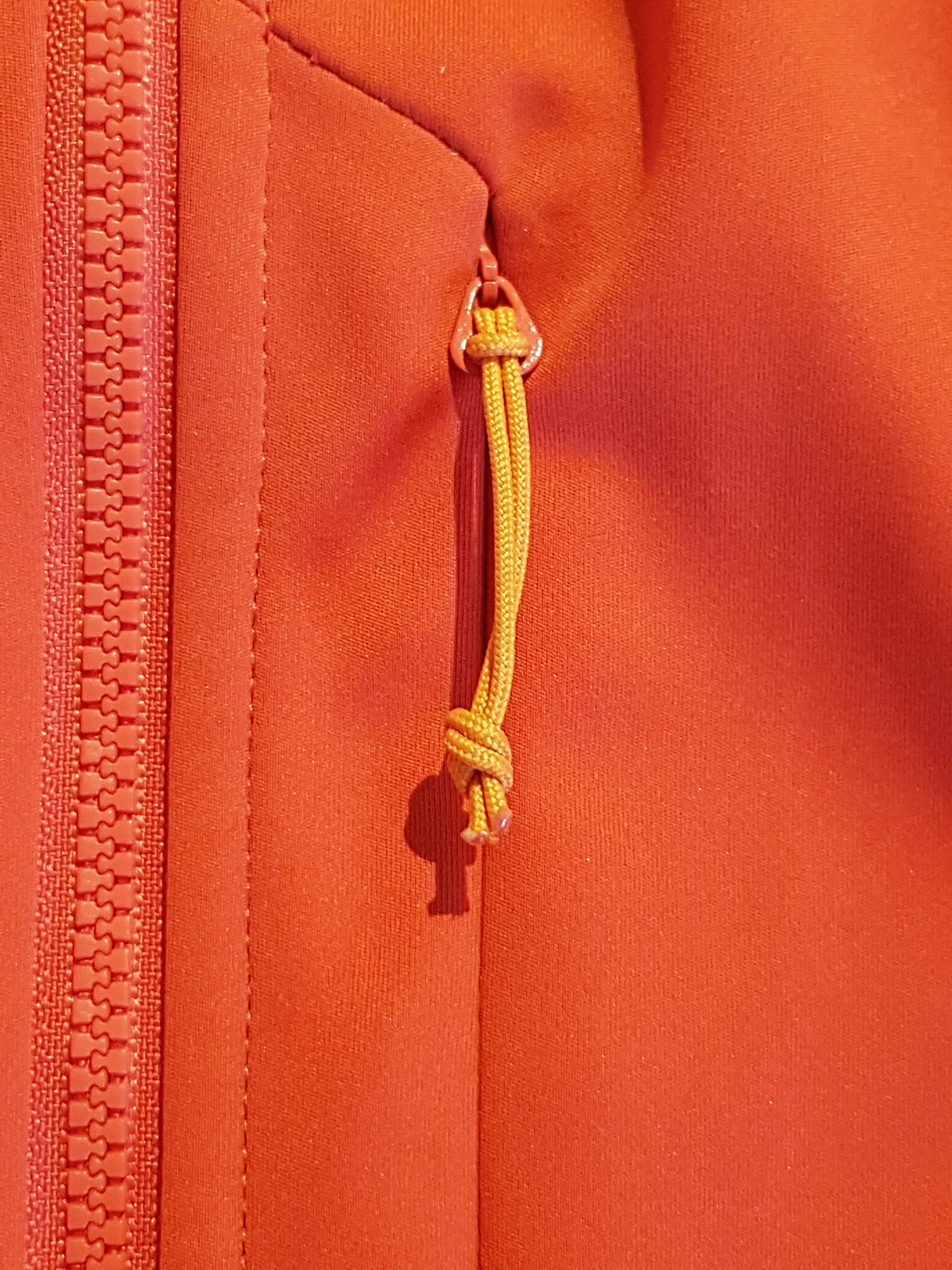 There is also a drawcord around the rear at the back to help keep it in place for when it's really blowy, though the fit was so good for me, I can't see this ever getting any use. 
There is a thin soft layer around the neck to add some extra comfort.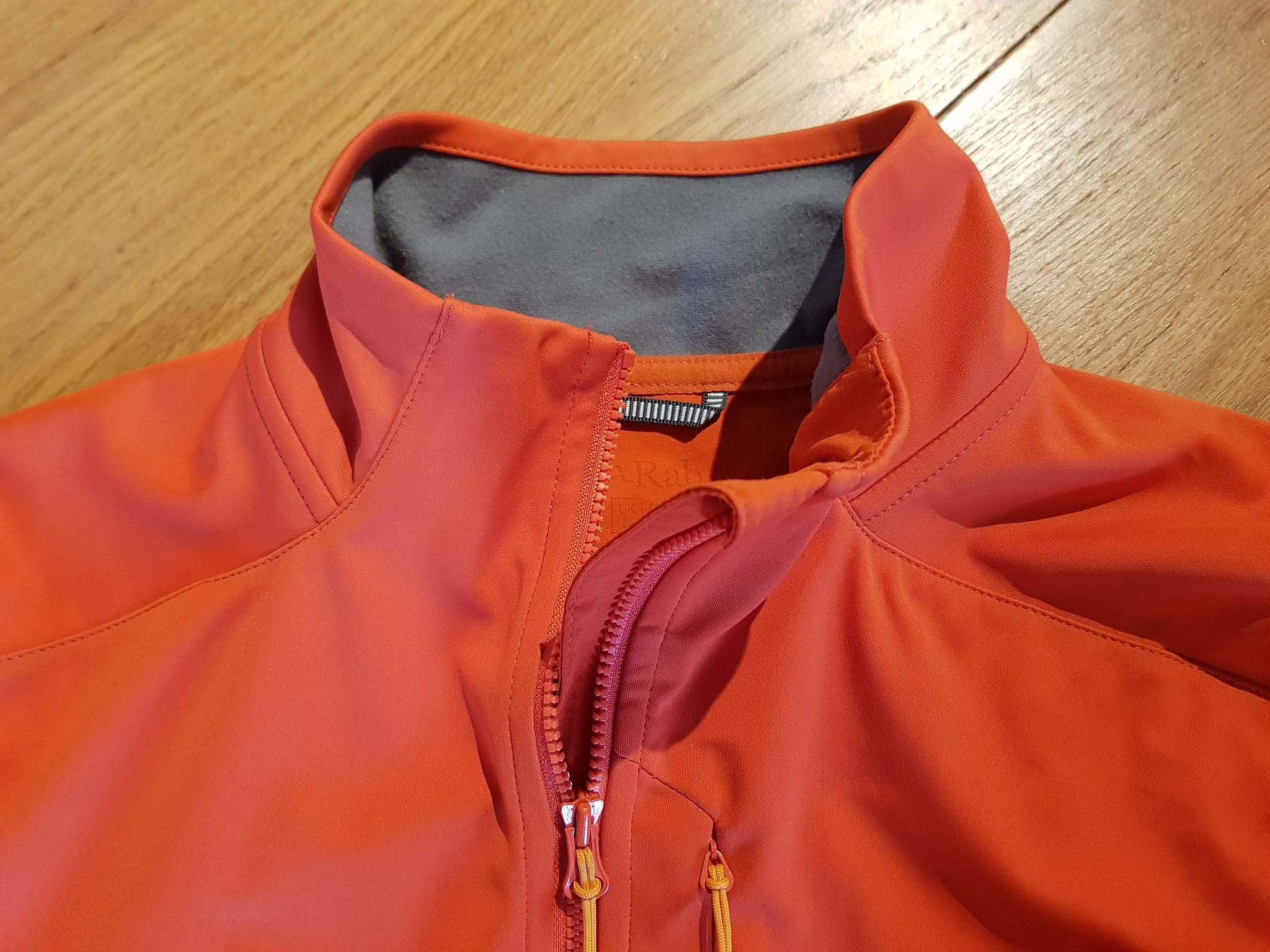 I'm sold! This is a jacket that I would only wear when the cold wind blows, which here on the South Coast of England, it seems to always do! Beautifully made and a lovely fit, but obviously the fit is personal.  
Priced at £150 on the RAB site (lower prices can be found) it is certainly not a cheap item, that everyone is going to get, and I don't think I would stretch to this expense for a garment that is excellent, but not an everyday jacket for me (as well as a waterproof). It feels to me like a bit of a luxury for my current running. If you run in higher mountains all the time, and were facing very windy, cold conditions more frequently, then this would make a great layering item and I would consider it more an essential, but for my current use, although well ventilated, it is just not cold enough, frequently, to be worn. Again, this is personal, as I know there are many out there who will wear lots more than me and not overheat. 
Rab Kinetic Ultra Waterproof Jacket 
Next, we have the Kinetic Ultra waterproof. This is a fairly light, stripped-down waterproof jacket. My sample weighed in at 240g, so this is not just an emergency, jacket, but more aimed at actually wearing on crappy days and fending the elements off you for as long as possible.  
Again, like with the Windveil, the build quality seems top notch! Every seam is just so tidy, near perfect I'd say!  
It is manufactured from a proprietary material, called Proflex. Proflex is a 3 layer, stretchy and breathable fabric. It feels nice to the touch, and more like a soft shell. It has a HH of 10,000mm (waterproof rating) and MVTR of 35000g/m2/24hrs (breathability rating). The HH rating is good and what a lot of running jackets are, but the MVTR seems high. We shall see how that works out in a storm! 
The first noticeable feature that caught my attention, was the peak on the hood. Rab call it 'cap style' which fits well as it is the size of the peak on a cap, being larger than anything else I have tried. This seems like a smart idea to me. Why have a small little peak, that actually isn't quite big enough. It isn't a wired, malleable hood, but made from a stiffer yet still quite flexible material. 
On the rear of the head is some crown adjustment via a simple pull strap. This will help hold it in place in high winds. If you are not using the hood and want to pack it away, there are some simple, though slightly fiddly, bungees to roll it up.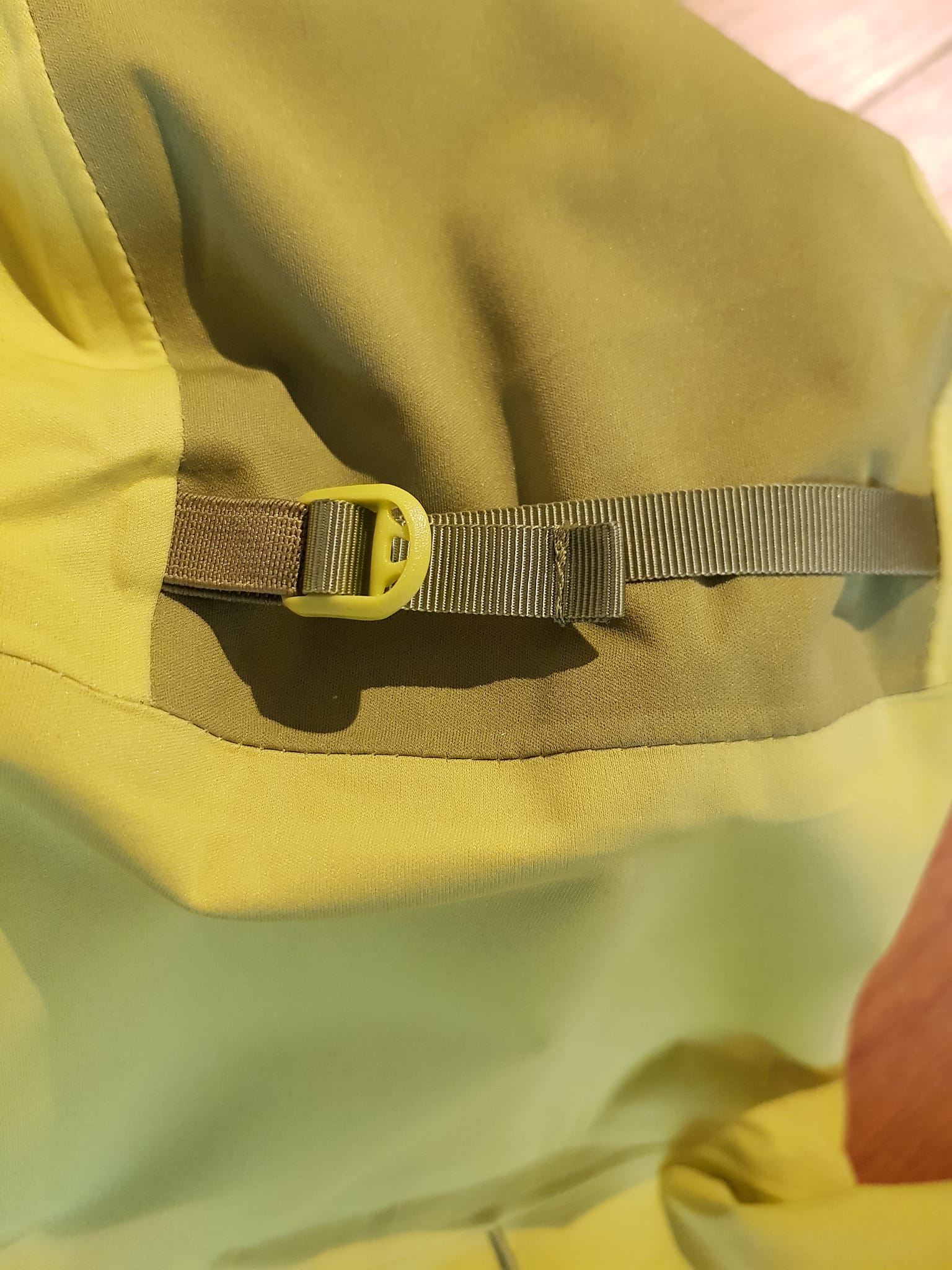 Another great, yet simple feature I have seen on a few other jackets is the upper storm flap snap fastener, which means you can unzip most of the way down, without the jacket coming off the shoulders, making ventilation far more effective, and potentially meaning less stopping to remove your jacket as you overheat. 
Along the lower hem at the rear, you have a simple elasticated pull cord to seal the elements out when it is getting particularly blowy!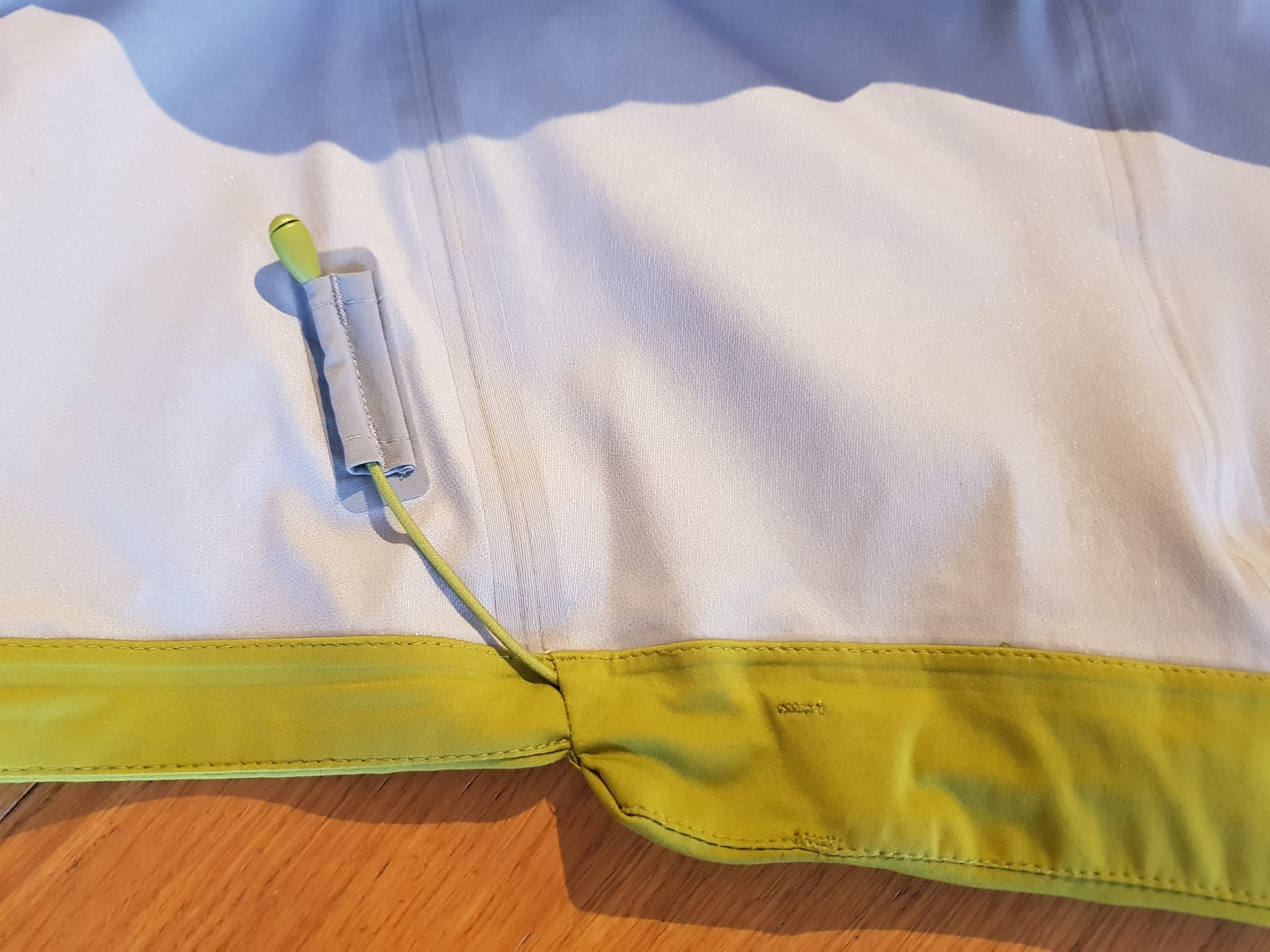 The now pretty normal, extended cuffs over the back of the hands to add that little extra protection is also featured. Such a stupidly simple idea, yet incredibly effective!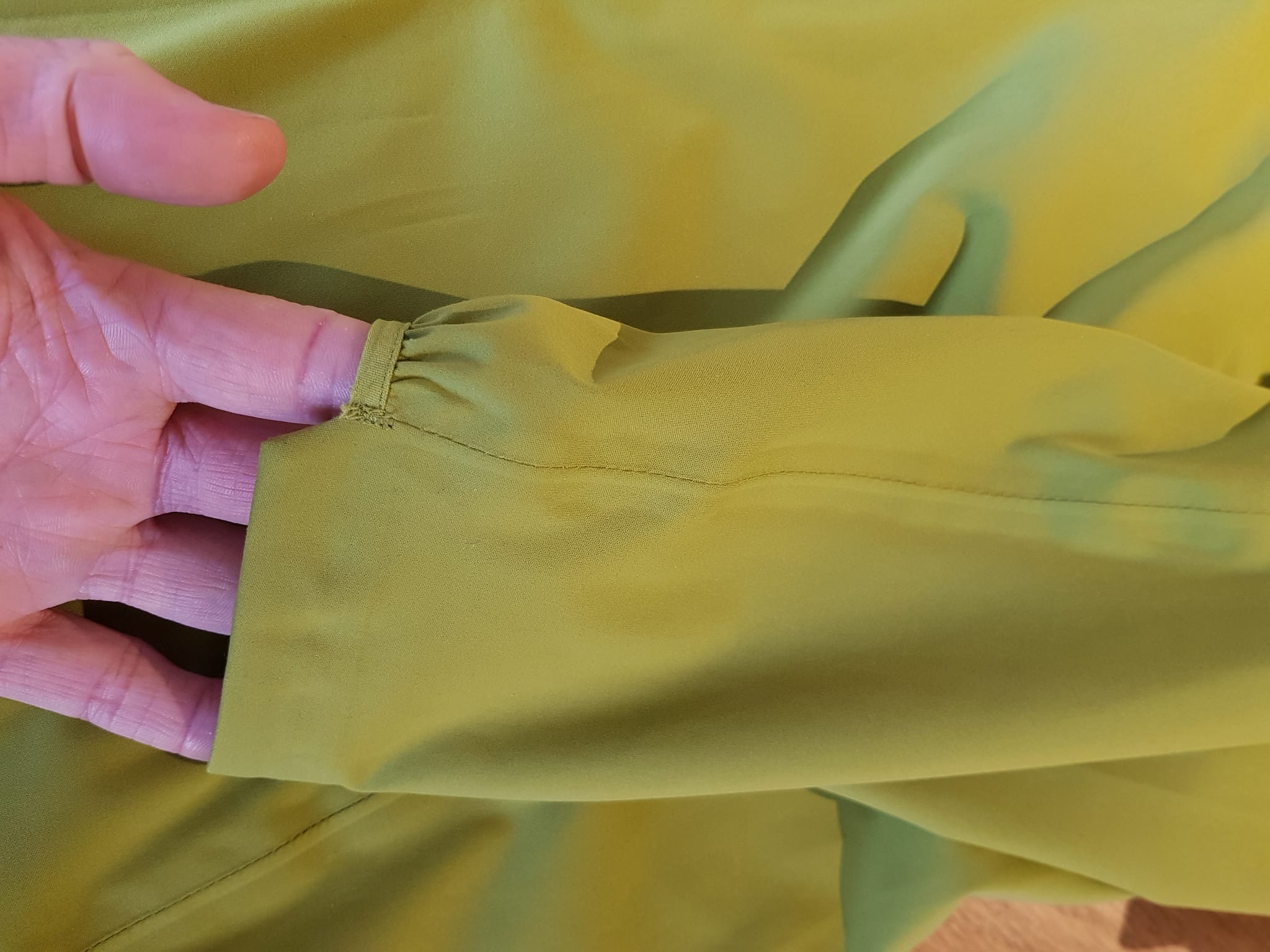 The cuff, showing the slightly extended section that goes over the back of the hand for that little extra protection.
On the upper left arm there is a small zipped pocket. Large enough for a card or key or maybe a little nutrition. This is the only pocket.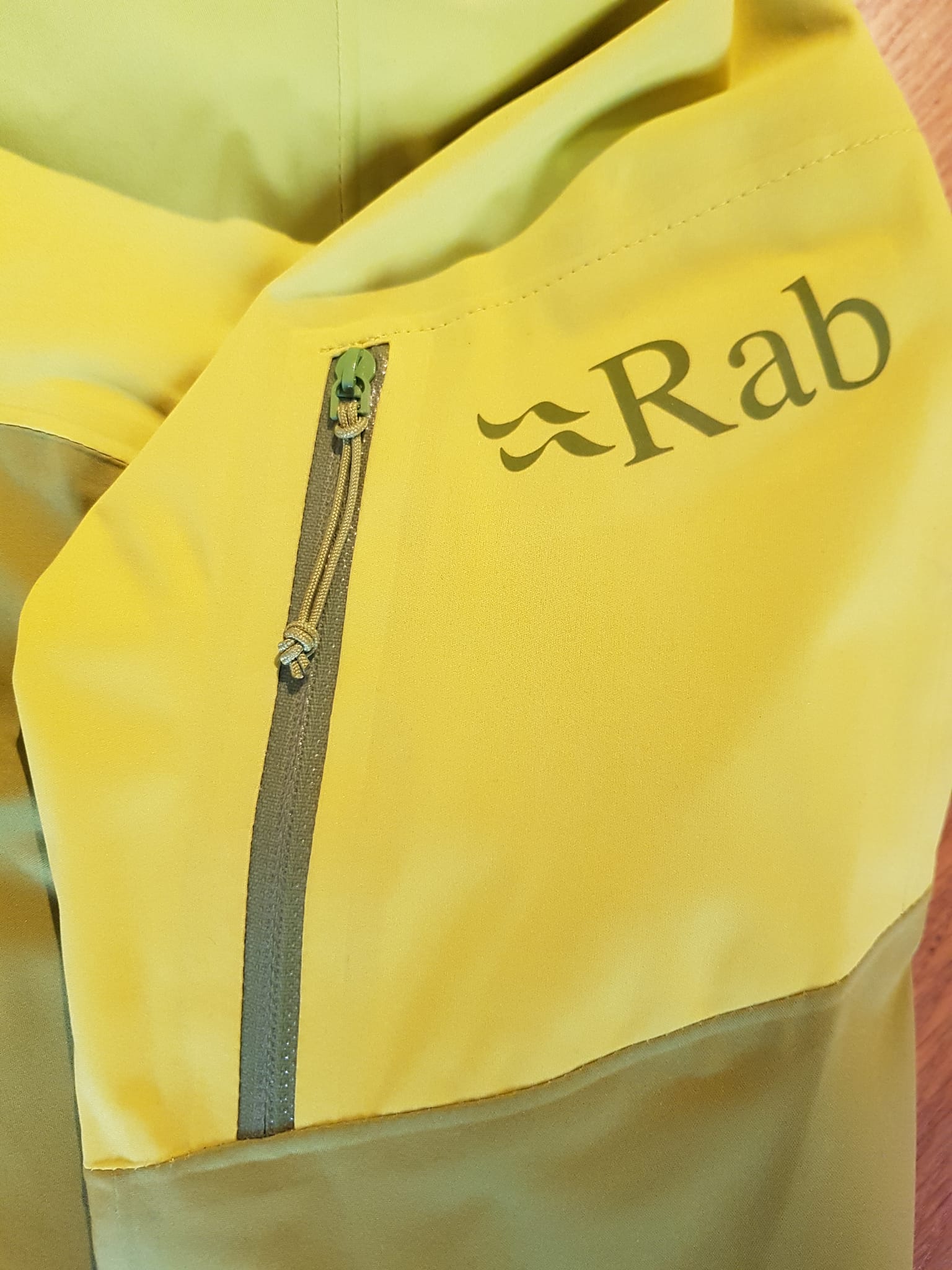 Finally, there is the added ventilation on the upper back on each side. Two small holes with an overlap to keep most rain from coming in, but allowing air to circulate a little.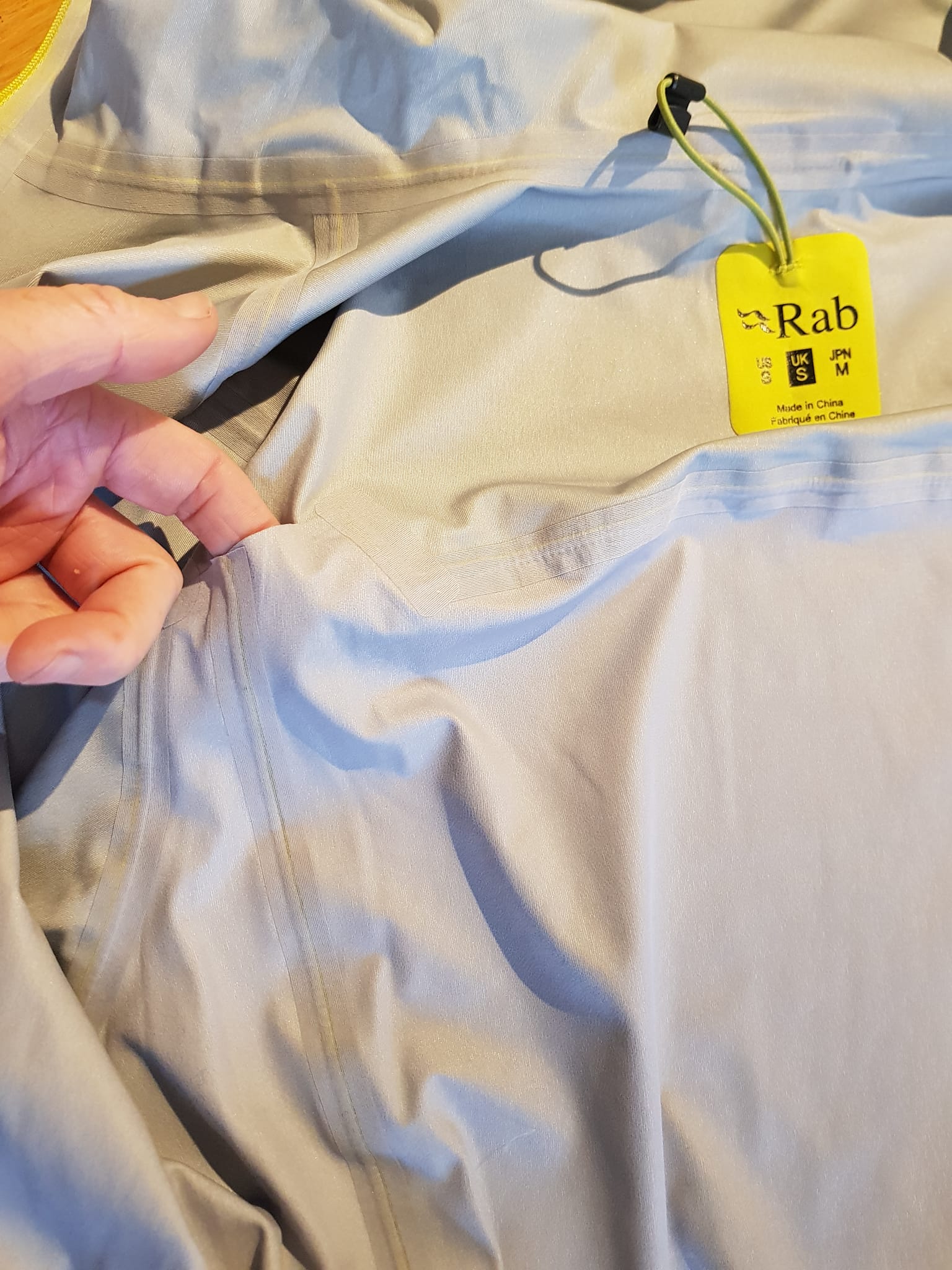 The inner view showing one of the ventilation holes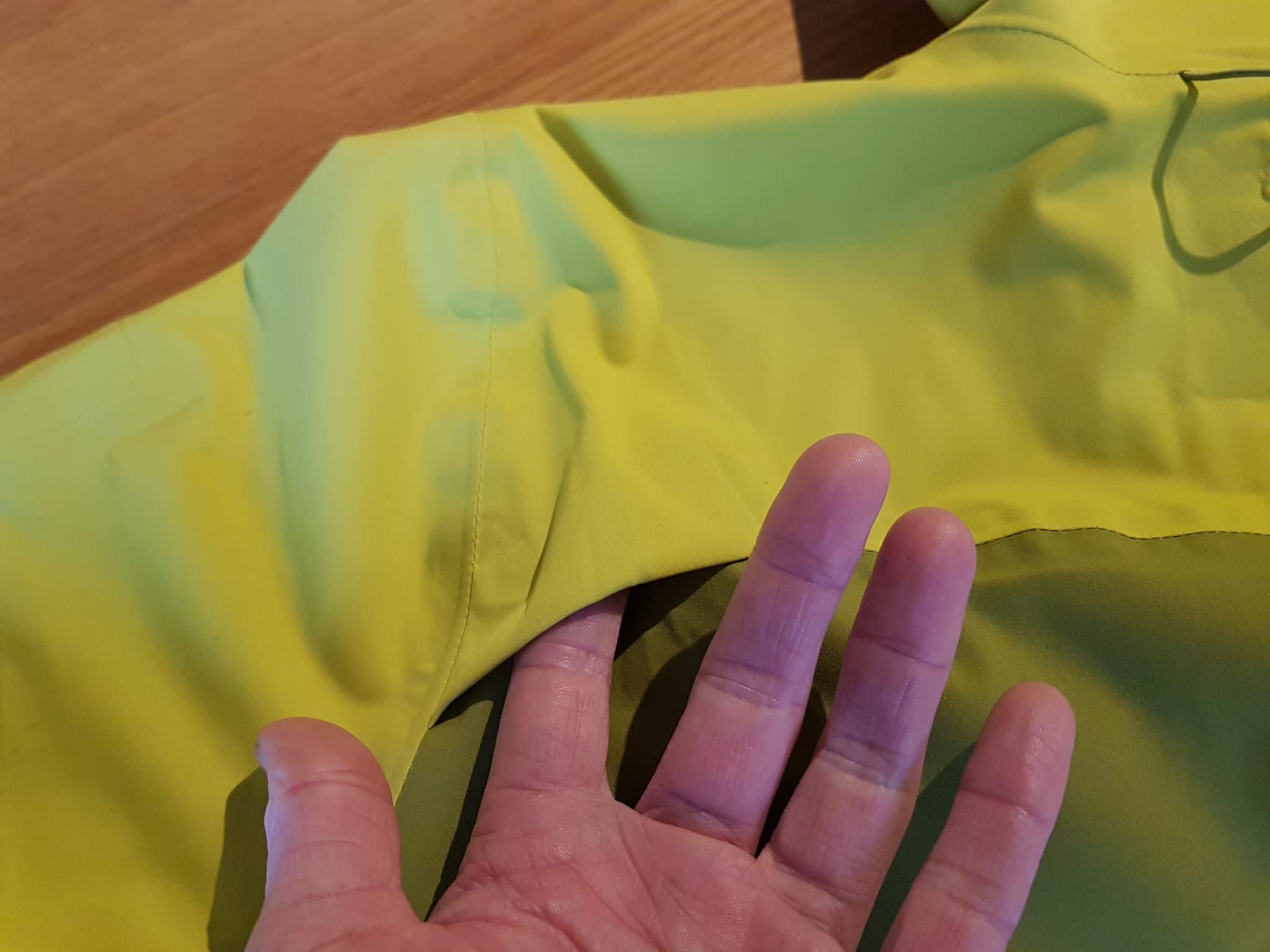 The outer view showing one of the ventilation holes
The fit, as with the stormveil, is just perfect for me, being close, so as not to be baggy and liable to flapping in the wind, yet with enough space underneath to wear a few layers. 
It is very comfortable to wear and really feels more like the Gore-Tex Infinium used on the Stormveil, than a 3-layer waterproof fabric. The stretch really gives you an amazing freedom of movement which all adds to the comfort level, and for me, meant I left it on, when I may have removed something not so comfortable. 
I have worn the Kinetic Ultra a few times in pretty challenging conditions down here on the SW Coast Path. Pretty cold at times, plenty of rain, and almost constant gale force winds coming in off the sea! The brilliant fit keeps everything in place and prevents any annoying flapping, and the hood hold well, though not as rock solid as some hoods I have tried. I prefer the hoods that have adjustable elastic all the way around the head, so it holds it in place like a hat. This was good, but it was certainly tested in the strongest winds. 
For the first few outings in proper weather, the DWR was effective, as the rain beaded up and rolled off, but soon after that it's DWR coat started to lose its magic powers and the outer shell was getting wet. I don't feel it was letting water in, but it certainly needs treating.  
I don't think this is actually a failing of the jacket, but more a product of the industry cutting fluorocarbons from the DWR treatment. Fluorocarbons where obviously very effective, so now, we need to look after our jackets that little bit more if we want them to remain effective. So, this actually makes this review a little more difficult for me to complete.  
Priced at £180 (Just over £100 in sales) the Kinetic Ultra is pricey, but not overly so. If you use a waterproof on a regular basis, and want something that actually protects you rather than the bare minimum, then the Kinetic Ultra is worth a look. With its impeccable build quality and superb fit, it feels so good and almost more like a softshell. Just remember though, and maybe this goes for all new waterproof jackets, you need to look after it, and maintain it for it to remain effective and for it to have a long life. 
To buy, please use the following link Rab Kinetic Ultra jacket
A small commision will be made at no cost to you, which will help run this site. Thanks