Written by Neil Bryant for the URC
I have tried pretty much every Petzl headtorch over the past decade or so, and there have been many, so one thing I know is that Petzl are certainly innovative. As technology improves at a rapid rate, the lights become more powerful and have smaller batteries, but Petzl are also looking at the strap system. Traditionally a strap around the head with one over the top, the Nao changed all that with its interesting system using fully adjustable cord to make a really secure and comfortable fit. I liked the Nao, even if I did get it in a little tangle occasionally when I forgot to pull the strings tight during stowage.
Enter the IKO Core. The strap is, well, it is no longer a strap at all. It is now a Soft, plasticy and solid system, Petzl Have named AIRFIT. AIRFIT, again has a new elasticated cord system which has a loop you pull at the centre rear to secure it to your head. It really is simple. You loosen it, place it on your head, then pull till it is secure. After that it really will not budge on your head. The non-material strap system is very comfortable too which surprised me a little. A brilliant part of this system is that it doesn't soak up sweat like a standard elasticated headstrap would. I sweat a lot so my headtorch gets a little unpleasant to wear, especially if using for multi day stuff where you wear then have to wear it again wet and cold.
The power source is the Hybrid concept, meaning you can use it with the Core rechargeable battery it comes with, or it will take three AAA batteries. So very adaptable. The cable that takes the power from the battery to the lamp at the front is neatly concealed within the AIRFIT system.
Now onto the actual light. The head has seven LED's. Three are utilised on the lowest of the three settings and seven are used on the other two.
There is a small rubber covered button on the head to operate it. One press gives you the lowest light setting at a mere 6 lumen, the next press gives you medium setting at 100 lumen and the third press gives you a rather large 500 lumen.
If you like or need a huge amount of light, then the IKO is not for you, but if you are happy with a little less than 'massive searchlight' levels of light, then maybe the IKO is good. Nearly all of my night running at the moment, (most of my running is currently in the dark) is on easy, to slightly technical trails, with a little road, and I am familiar with all of it so don't feel the need for much power. I tried running with the lowest setting of 6 lumen and it was just not bright enough to feel safe with my footing. It was good to have for road sections when I needed to be seen by oncoming traffic.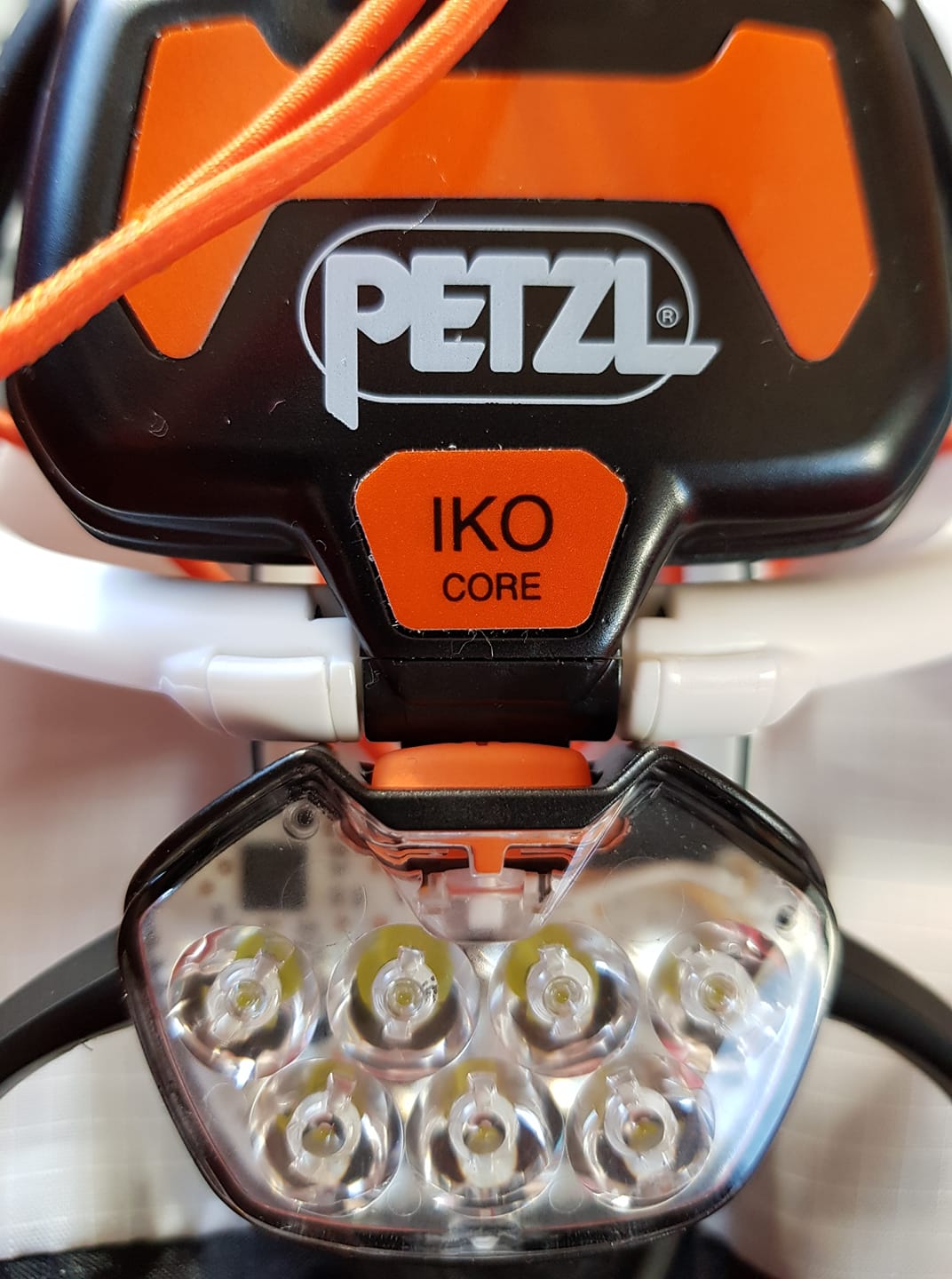 The next level up at 100 lumen is decent. It is a white light and spreads wide with a good even distribution. I could happily run on this setting for most terrains.
Just in case things get a lot more technical or I need the extra power to see further down the trail, there is the maximum power of 500 lumen. This is surprisingly powerful considering the size and weight of the unit, but of course it does eat up the battery at a considerable rate (2.5hrs) meaning use of this setting should be rationed for longer runs.
The combination of the AIRFIT system and the light weight (79g including battery), makes this possibly the closest a headtorch has got to being forgotten once on for me. The light is good and has a nice white and wide spread. It comes with a small white bag to keep it in which also diffuses the light nicely if you place the torch in there switched on which make a nice lamp. This would be great for camping or stopping at a checkpoint maybe. A nice touch. Initially I thought the 6 lumen power setting was too low to be of use, but actually it would be ideal for map reading, rooting through your bag and other close confine jobs, where you just don't need the blinding super brightness.
One issue I had was that the light unit at the front swivels on a hinge joint which is great, but for me it didn't point downwards enough, so would have to bend my neck a little when running fast technical descents. A little frustrating to be honest. Maybe my head is a funny shape! I would be interested to hear if this issue is unique to me or if others have found the same.
Overall, this has been a great light to try out. For me running mostly 1-1.5hrs it has been ideal. Very comfortable, no wet sweaty band, adequate light and brilliant that it is duo power so can be charged or slip in batteries if more practical. My one bug is that the light doesn't point downwards enough, but it is liveable for me. Would it be good for a full night in a race? I think it would be ok, but I would probably want a little more power and battery life. An ideal headtorch to grab for an evening run, or to pack into your pack in case your run spills over into the dark.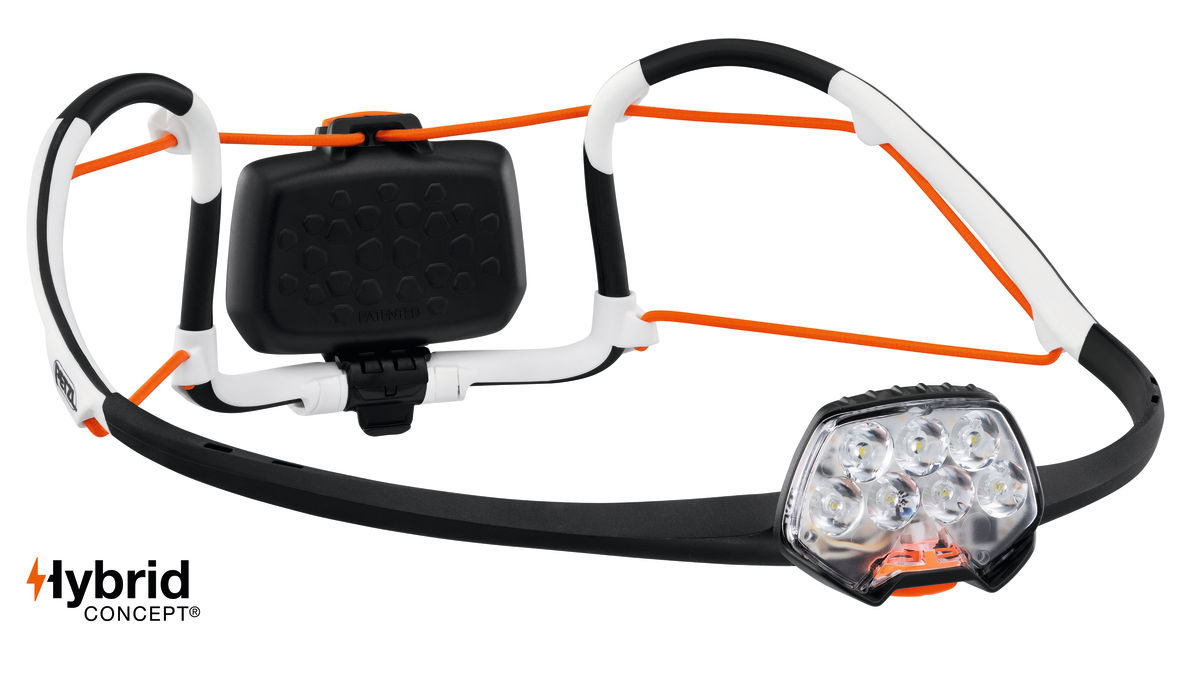 It is reasonably priced at around £50 online so if you are in the market for a quality, comfortable headtorch for training in the evening, then you should try an IKO core out.
If you would like to purchase an IKO core, then please consider using the following link. I will collect a small commision being a member of Amazon Affiliates