Written by Neil Bryant for the URC
My first vest was a Salomon and I believe one of the first running vest style packs on the market. This was around a decade ago, and since then things have moved on a great deal. Every company that makes running packs, makes vests and they are all fairly similar, but certainly not the same. Like shoes, what is perfect for one, will cause chafing for another, so some trial and error is needed to find your perfect vest.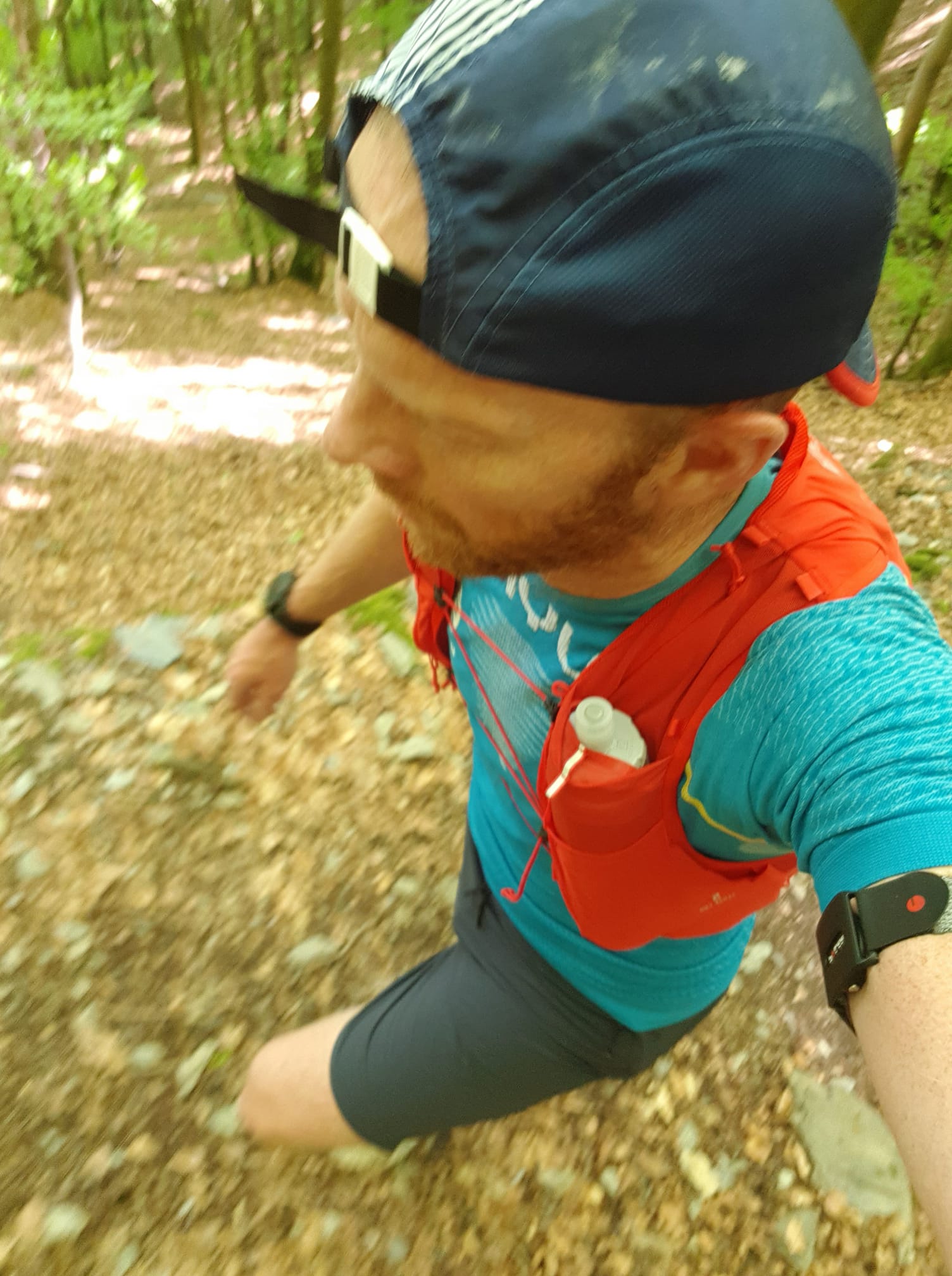 What makes an ideal vest for you? Well, it needs to be comfortable and not move around when running. They are mostly quite stretchy which takes care of that as long as the pack fits you well which like shoes is key to comfort! Then you need it to carry enough for your needs. Think the obligatory kit lists of your next big race. Just as importantly, all the pockets need to be arranged and positioned so you don't need to be a contortionist to remove your jacket when it rains. Then the usual details need to be prioritised in the right order for you, such as, price, durability, weight etc.
With all that in mind, let me introduce the Sense Pro 5 vest from Salomon. With a 5ltr capacity, this vest can carry most obligatory race kit lists, though you need some well thought out and potentially expensive small items to make it work. Some people would certainly be happier with the 10ltr vest.
My sample weighs in at a svelte 117 grammes minus the bottlesand feels really nicely built. The stretchy mesh material that covers all of the inner surfaces that rest on the body feels, soft, relatively durable and well ventilated.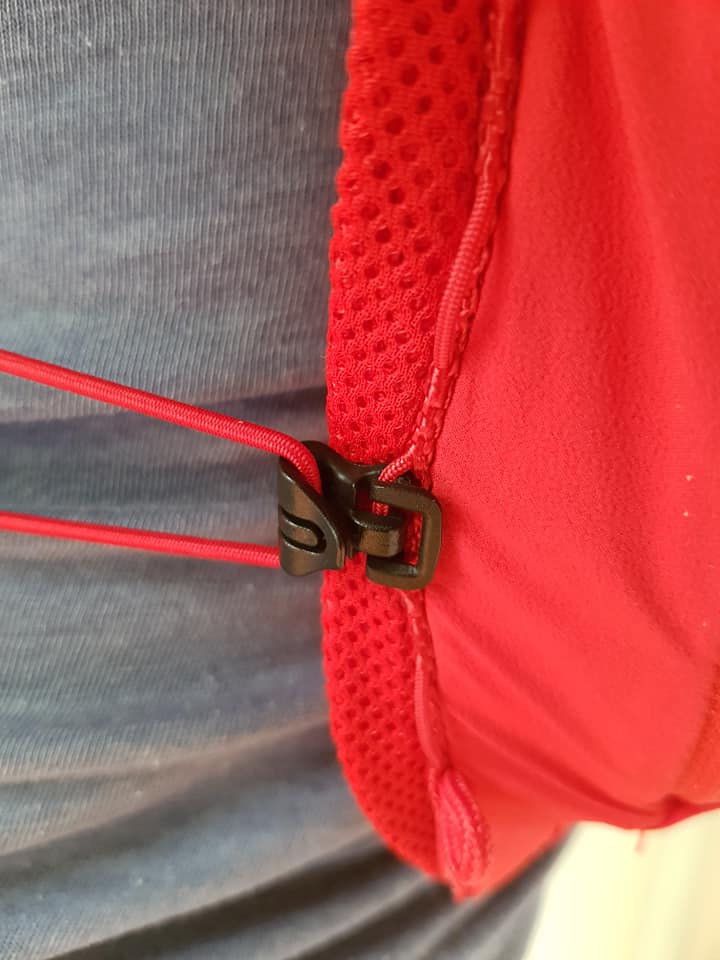 A close up of one of the quick-release clips at the front
Around the front, the fasteners that stretch across your chest are thin and elastic. The clips that hold this elastic to the vest are adjustable verticly which I know from in the past, have really helped me get the fit just perfect. The quick release points to remove the vest, are simply small plastic hooks that you wrap the elastic around. It can be a little fiddly, but overall, it is a good system. Certainly, very minimal!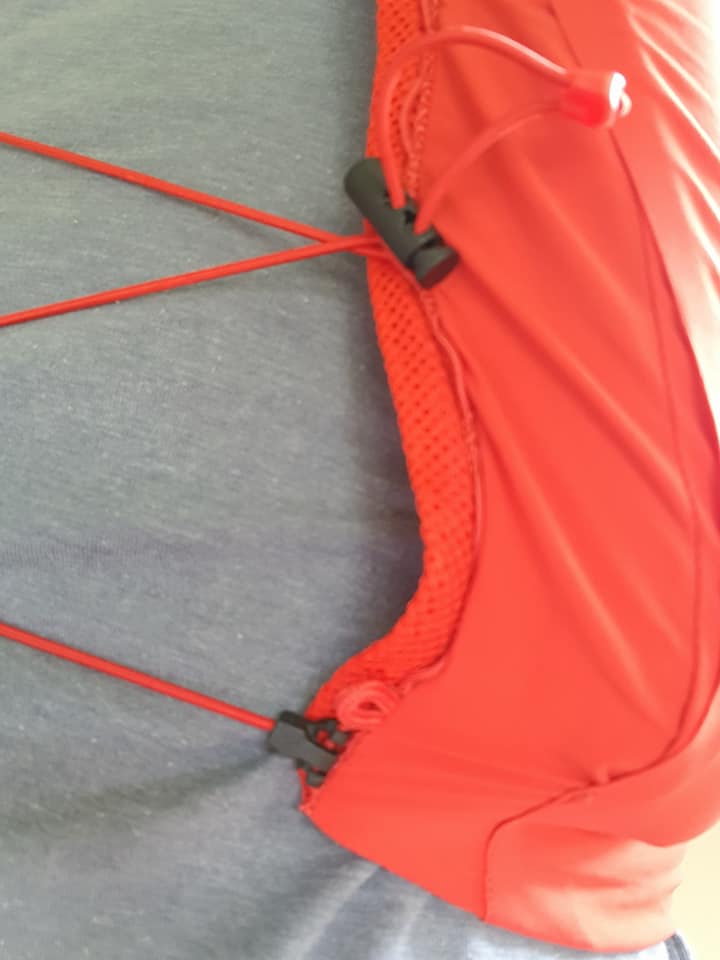 A close up showing the anchor point that once adjusted you can leave, and above, the adjustable clip to adjust when you put the vest on.
The pack comes with two 500ml soft flasks. These are made by Hydrapak who seem to produce everyones soft flasks. The great thing about Hydrapak, is their replacement guarantee if they leak. One difference to most other soft flasks is that these have the harder bottom section to aid sliding them into the pockets. This undoubtedly works, but I had heard of people having issues with the hard sections hurting their chest on long runs. I'll have to wait to see if this affected me. I did notice that there is some light padding at the top of the bottle pocket, and at the bottom, which could improve this situation.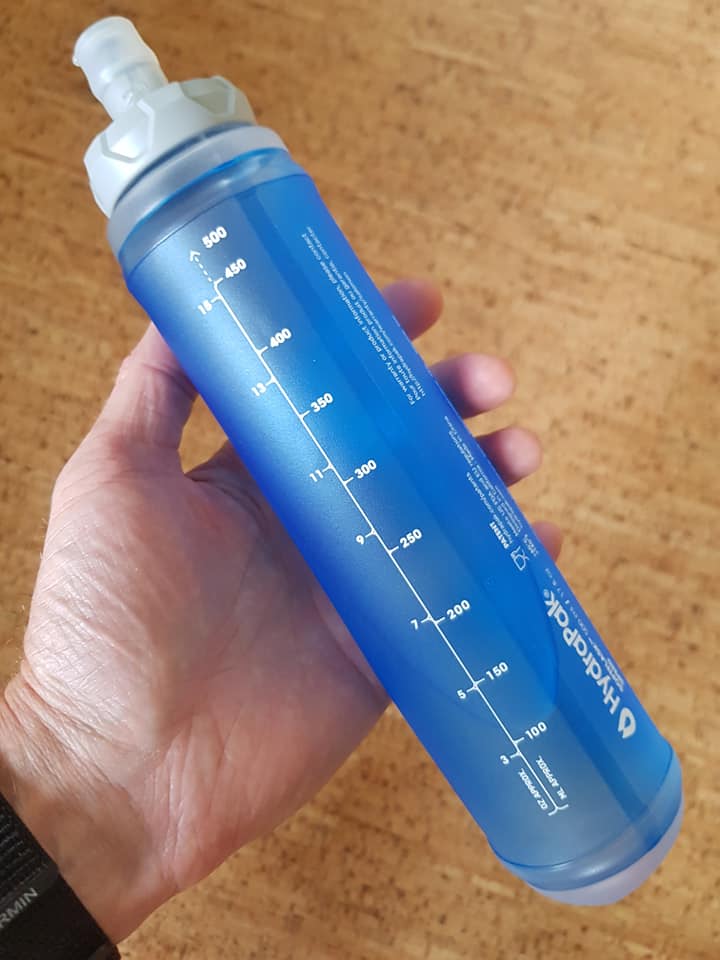 One of the soft flasks supplied with the wide mouth and the harder bottom
As a race vest is basically a load of pockets, let's discuss what the Sense Pro 5 has. Just below the opening of the bottle pockets on both sides are two other pocket openings. These pockets go all the way to the bottom of the vest and also have an extra opening at the top, rear edge. These are a decent size so could hold a fair amount. On the left of these pockets, there is another piece of stretchy material the same shape and size to create the same pocket but with an opening at the front, though this time secured with a zip. Every vest needs a secure pocket to store valuable items, such as phone, keys, money etc, so this is a welcome and necessary addition.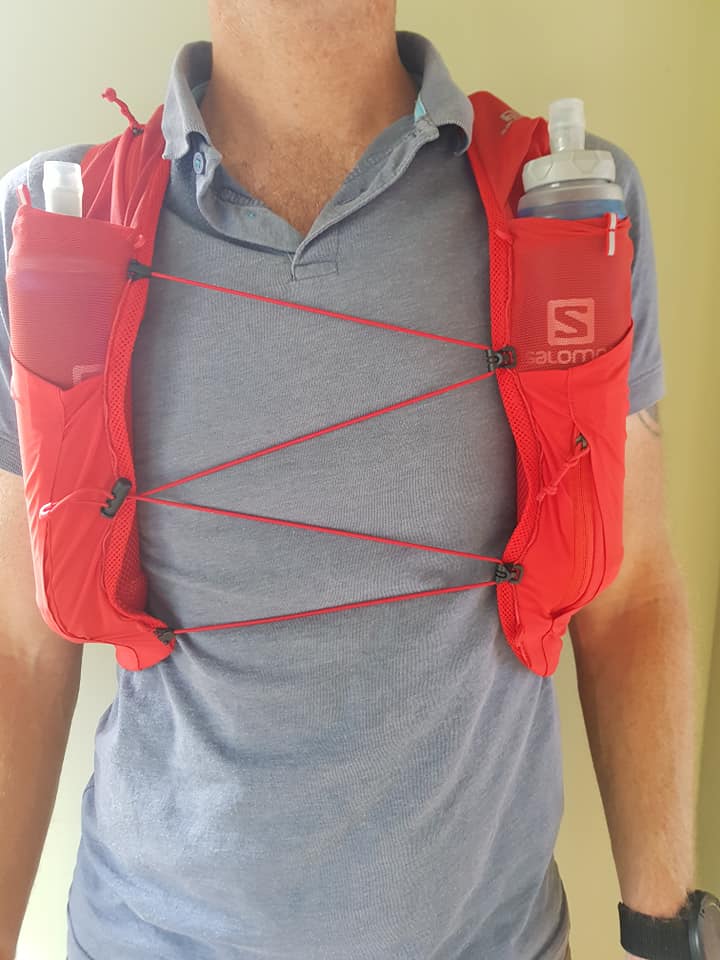 Front view of the Salomon Sense Pro 5 vest
Above the bottle pockets, there are two more features. On the right side there is another small stretchy zip pocket. Then on the left there is a little 'hood' of material which hides below it a tiny emergency whistle so you are always covered for most races kit checks. There is also a small stuff pocket which I find great for gel wrappers and other rubbish. Being under the flap of material is good as it prevents the whistle from flapping around when running.
Now moving to the rear of the vest, there are two openings, one either side, that enter one big pocket which is an ideal stuff pocket for items you'll need on the go, such as waterproof jackets or trousers. It is a bit of an awkward reach for me as my shoulders are not that flexible, so others will find it the same or more difficult, I guess. Then you have the large rear pocket that has a single opening at the top. This is the big stash pocket for stuff you may not need while on the move. You may be able to use it while the vest is on, but most people will have to remove the vest to access this pocket. So that is all the pockets.
Even me with my not too flexible shoulders, I can aceess the rear pockets fairly easily
The first thing I noticed about this vest when putting it on is that it was a bit more difficult for me. Not an issue, but I guess the shape or the arm holes have changed since my last Salomon vest. Over the years they have slowly removed anything at all stiff, and that is clearly felt as it just feels like a well fitted item of clothing to me. Soft and stretchy!
Fastening the straps across the chest is brilliant. A lot of the vests on the market at the moment are very similar, but for one part, and that is the chest fastening system. It needs to be comfortable, secure, simple, light and in my opinion, stretchy. Quite a difficult design brief, but I feel Salomon have done an excellent job. It is a little fiddly to adjust the attachment points, but once set up for you, there is no need to move it. If I had to pick anything potentially negative, it would be that the hooks you connect the elastic to, are very small. This could well cause problems if you get cold fingers, or are seriously tired. They haven't been an issue for me up to this point though.
The bottles have wide openings which are perfect for adding drinks powder and ice cubes. The hardened bottom of the flasks really does help make sliding them in to the pockets a doddle! While testing this vest, I am also testing the Gecko VP+ vest from Montane , and a key difference between them both is the height the flasks are mounted at. The Montane flasks are fairly high, making it very easy to drink without removing the flask, whereas the Sense Pro 5 flasks were quite a bit lower making it a bit more of a stretch for me. I would prefer them a little higher.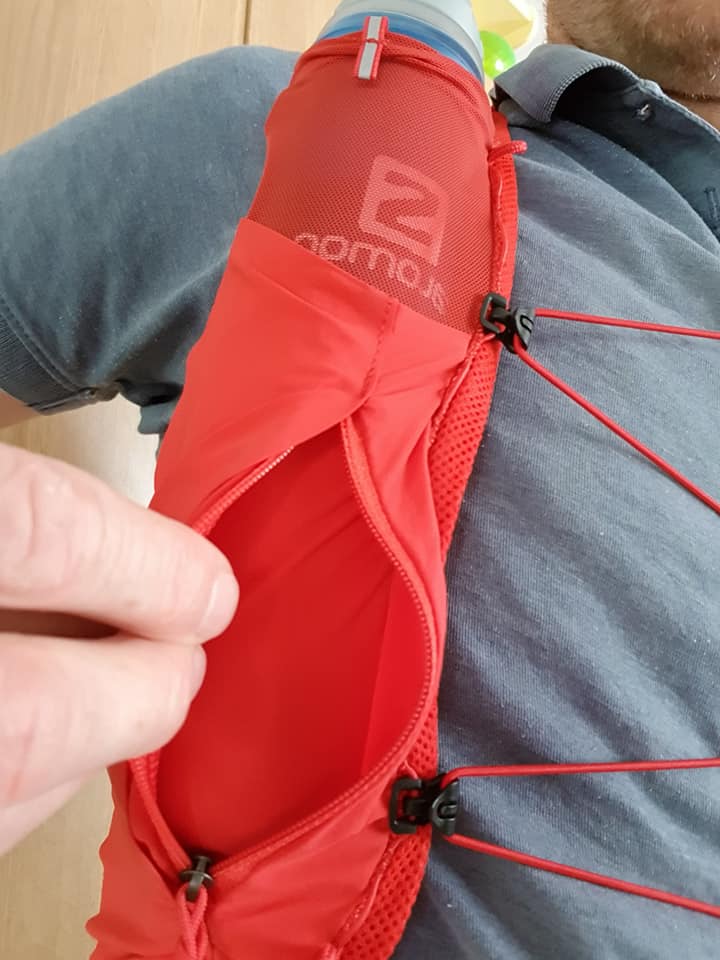 The reasonably spacious zipped pockets at the front
The comfort of this vest is excellent! It sticks to you and bounce is almost nothing when fully laden and descending. When I wear a vest, I find it best to wear a top that has a neck that isn't too low so that the vest doesn't rub the neck as this is where most movement is for me. This was still the case with the Sense Pro. The material is relatively breathable to minimise sweating. Of course, when you have it loaded up, breathability is massively compromised as with any vest.
Pocket access is great really. The two pockets in front of the bottles are simple yet effective with the two openings. The top opening is good for dropping things in, and the bigger rear opening is good for dipping your hand in to retrieve things.
The large reach-through pocket on the back is excellent, being able to carry quite a bit. The main rear pocket is also a bit of a tardis as it is so stretchy, so can fit a surprisingly large volume of gear in if well organised. The top of the pocket has no fastening, so is not secure, and being out of sight can be a little concerning, though it does have rubber grippers at the edge to help hold on to any kit that might be trying to escape.
The Sense Pro 5 vest from Salomon is a serious piece of kit, that is good for just carrying water for shorter runs, all the way up to managing to carry the obligatory kit for most 100 milers. It is super light, incredibly comfortable and bounce free. It fits so nicely that it feels like it has been tailored for me personally! I would prefer the bottle to be mounted a little higher but other than that I am struggling to think of anything else that could be seen as negative.
Each time Salomon make further refinements to their vest, I struggle to see how they will improve things in the future, but they always do! Great work from their R&D team and well done for obviously listening to their athletes.
For the latest, most tested and popular vest, you would struggle to do better than trying on a Salomon Sense Pro 5 vest. It obviously isn't going to fit everybody as well as it does me, but if it does, then this is the vest for you! If you want something with more capacity, then Salomon have an extensive line of packs for every occasion which are all worth a look.
Priced at £120, it is at the upper end of the market, so that will turn some away, but this really is a premium item. Durability maybe a concern to some as it is so light and soft, but from my experiences, and from many other reports, it seems to hold up well to general running. Certainly not a cheap vest, but certainly worth it if it's within reach for you.
I look forward to see how they evolve over the next few years!
To purchase the Salomon Sense Pro 5 vest, if you use the following link, you will get a great price and you will also help the URC with running costs as we are affiliated with them. This comes at no cost to you. Thanks for reading.