Written by Neil Bryant for the URC
Just over three years ago, I reviewed the first vest from Montane under the name, Gecko. It was a simple clean and well thought out vest. One thing I never wrote in the review as I only really realised after returning to it a while after, was that it was long. I now think too long. The brilliant thing about the vest design is that it stops at around the bottom of the ribcage and therefore doesn't slip around below that at the base of your back and cause raw chaffing marks. The original Gecko went a bit below my ribcage, unlike any other vest I have tried.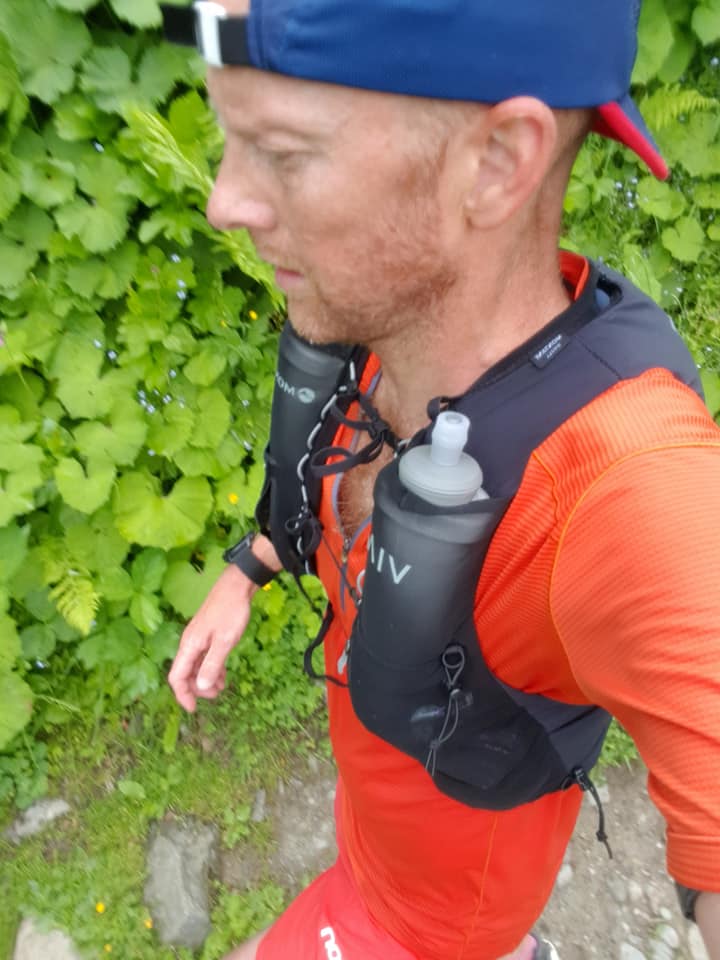 Fast forward three years and a new batch of Gecko vests are released by Montane. This time I can see before I even get my hands on one, that they are all shorter. Phew! Tick that box.
The Ultra V+ is a mega stripped down, ultralight vest for shorter days. It is basically a tight vest with pockets and no straps at the front. I will review this vest in a separate review.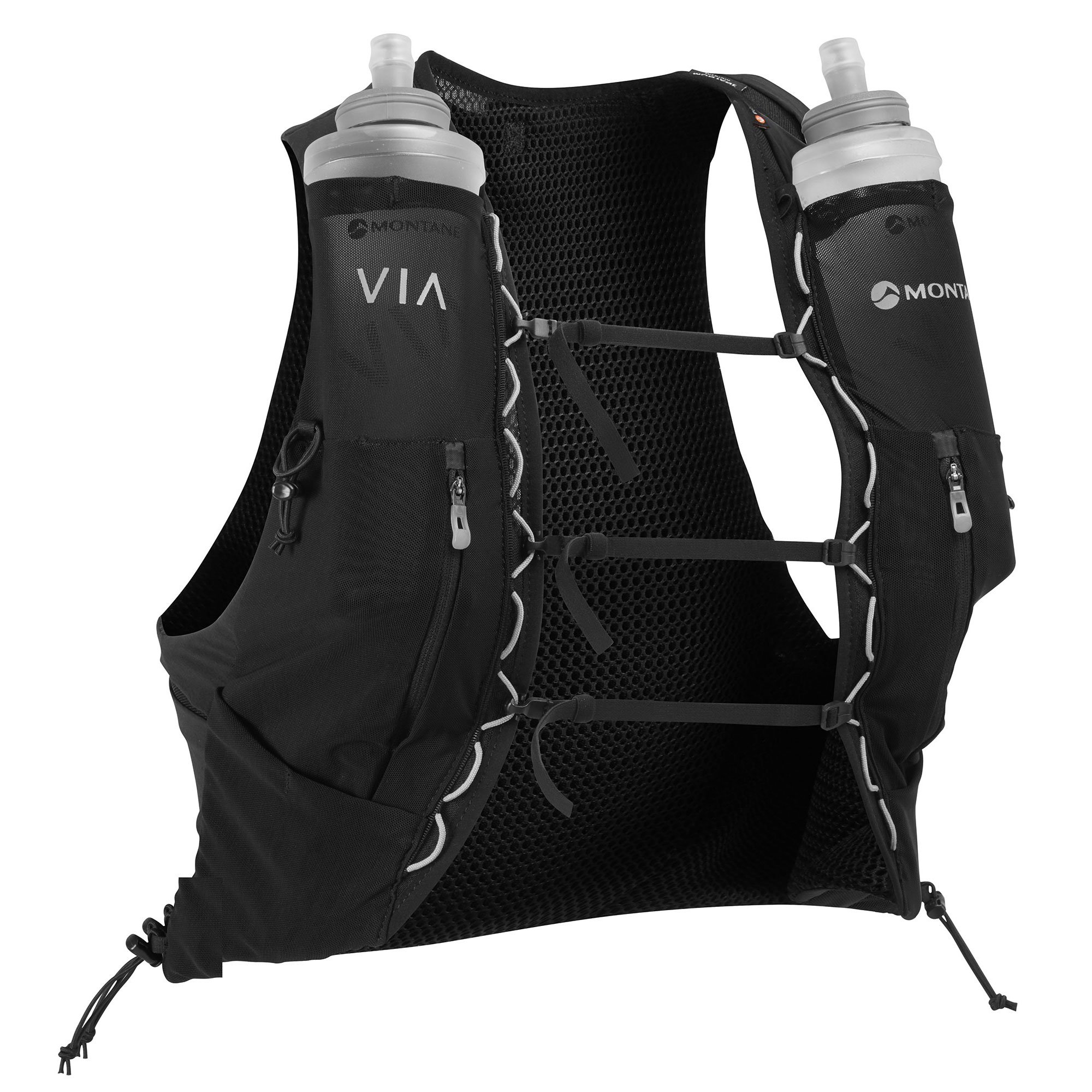 As I have already said, the Gecko vp+ is more a standard race vest, like how most vests on the market are these days. But of course, no two vests are the same.
At 180 grammes, the vest is light but not super light. As soon as you get your hands on it, you can feel why. It is a little thicker and therefore more robust than the lightest on the market. It also feels a little more padded and hopefully comfortable than the ultra light packs out there. It feels like it has been made to endure, and will be good to go for a long time. I like this. As much as the lightest stuff on the market certainly has its place, I think that the items where durability is on the priority list, are the real work horses that will get the most use.
It comes with two soft flasks made by the biggest soft flask makers, Hydrapak. These can be fitted with a short straw or longer straw (neither are supplied) and inserted in the lower zip pocket, or simply slid into the top front pockets (my favourite). I think you could hang a small bladder in the rear but there doesn't appear to be an internal route to get the tube to the front.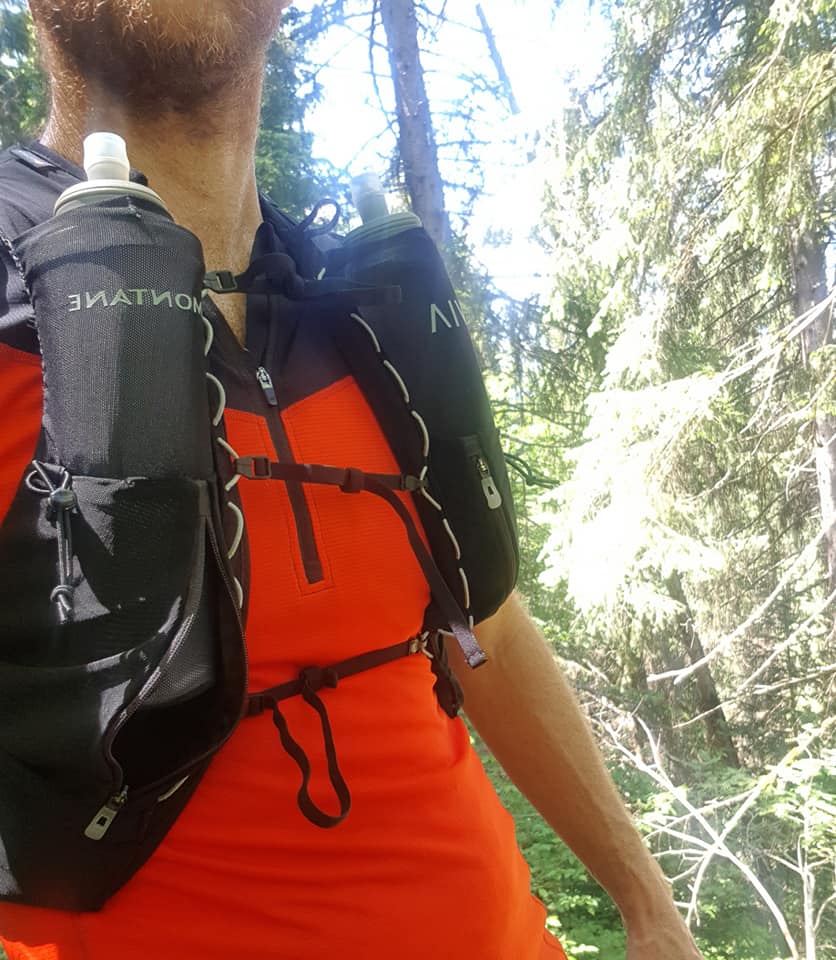 For pockets there are many. As already mentioned, there are the two higher bottle slide-in pockets on the front. Below these are the two zip-up bottle pockets with a small slit at the top for a straw should you want it. These lower pockets are quite spacious so you could squeeze a fair bit in here and it can be secure.
Just above the upper pockets are two, one each side, small slide in stash pockets. Ideal for a buff, litter etc.
At the bottom at the front are two slide-in pockets. These are of a medium size and stretchy so could push a buff or some munchies in here as they are very easy access.
On each side, you have a single large slide in pocket. Ideal for a headtorch or more food.
Finally on the back you have a large slide in pocket. Ideal for those larger soft items, such as jacket, hat and thermal top etc. A nice touch here is that you have a small sliding catch her to make it a little more secure. So, if you have just removed your jacket and struggled to stuff it all into your pack, you can now secure it, instead of constantly worrying that it will work its way out as you run. It gives you peace of mind. The rear pocket doesn't go all the way to the bottom which I would like to understand the thinking behind. The pocket could have been a fair bit deeper, but Montane chose to stop it before the bottom.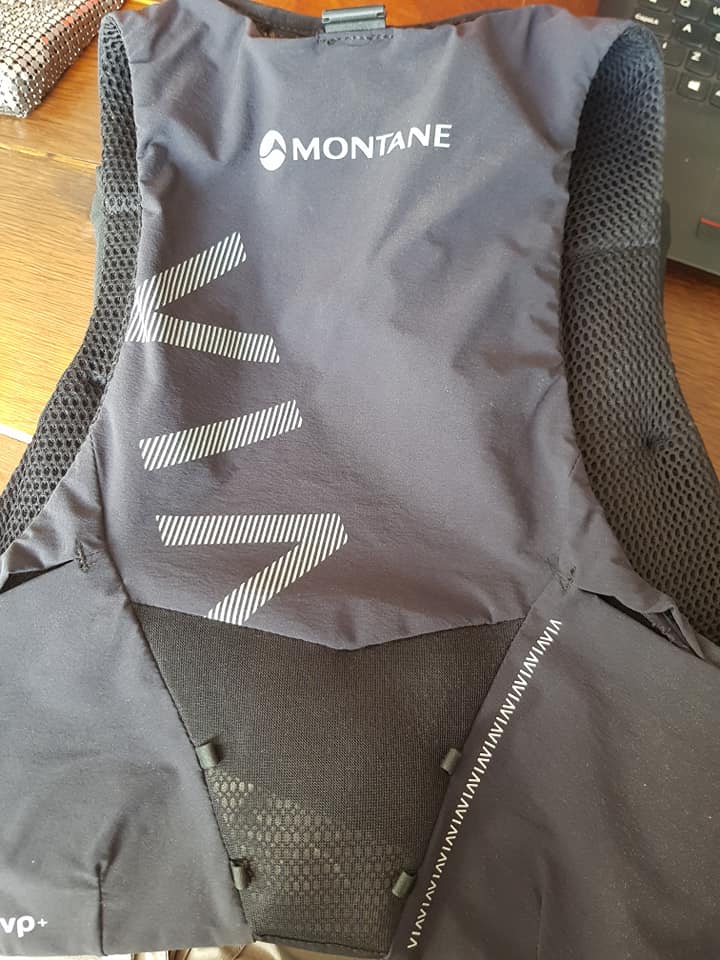 The large rear pocket that has been oddly cut short from reaching the bottom.
The final pocket is within the large rear pocket, and is a small, non-zipping pocket for keys, cash etc. I think a small zip would have made sense here. There is a small clip in here for keys also.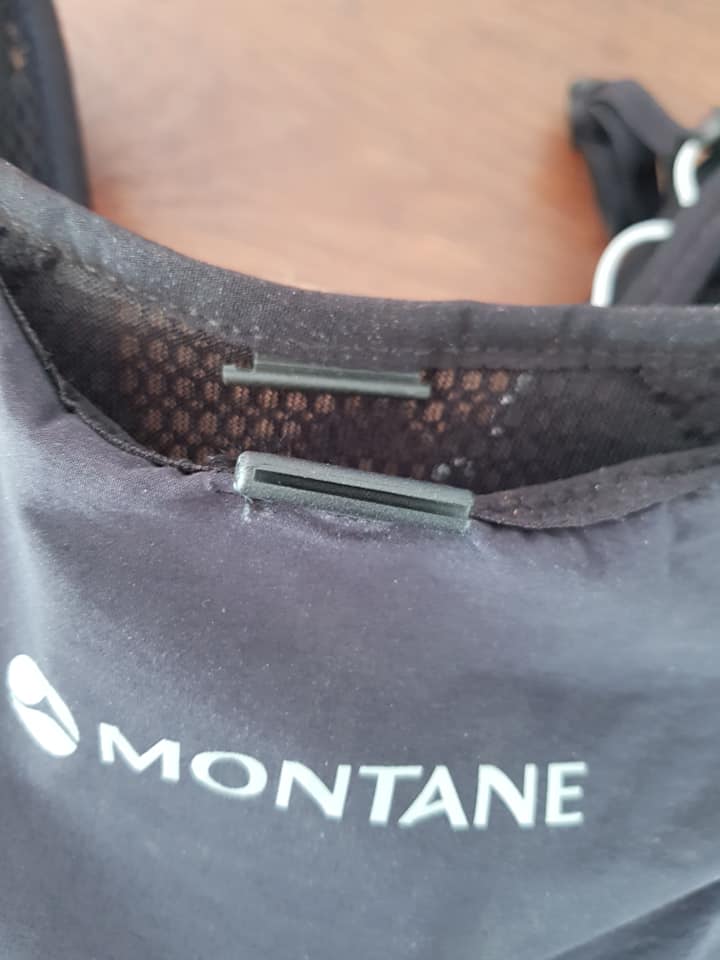 The simple but brilliant little clip that closes the back pocket
Back round at the front we have the fastening system. This consists of nine small loops running from the top to the bottom of each side. There are three thin elastic straps which you can clip into any of the nine loops. On one end of the straps is a catch that is designed to stay on, but still be adjustable, while at the other end is a small clip which is simple to do up and release. I find that I have to count down the loops before attaching the clips, to ensure I have got them in the same loops as on the other side, otherwise there is a chance I will get them crooked which is a little annoying.
The final feature to mention, is the pole carrying system. Mine came with four quick release small elastic straps which you can attack to the numerous little webbing loops on the vest. I have two set up on the front upper and two on the front lower which means you can attach poles vertically under your arms which works well. You can also move two of the elastic straps to the rear so you can carry your poles horizontally along the base of your back if you prefer.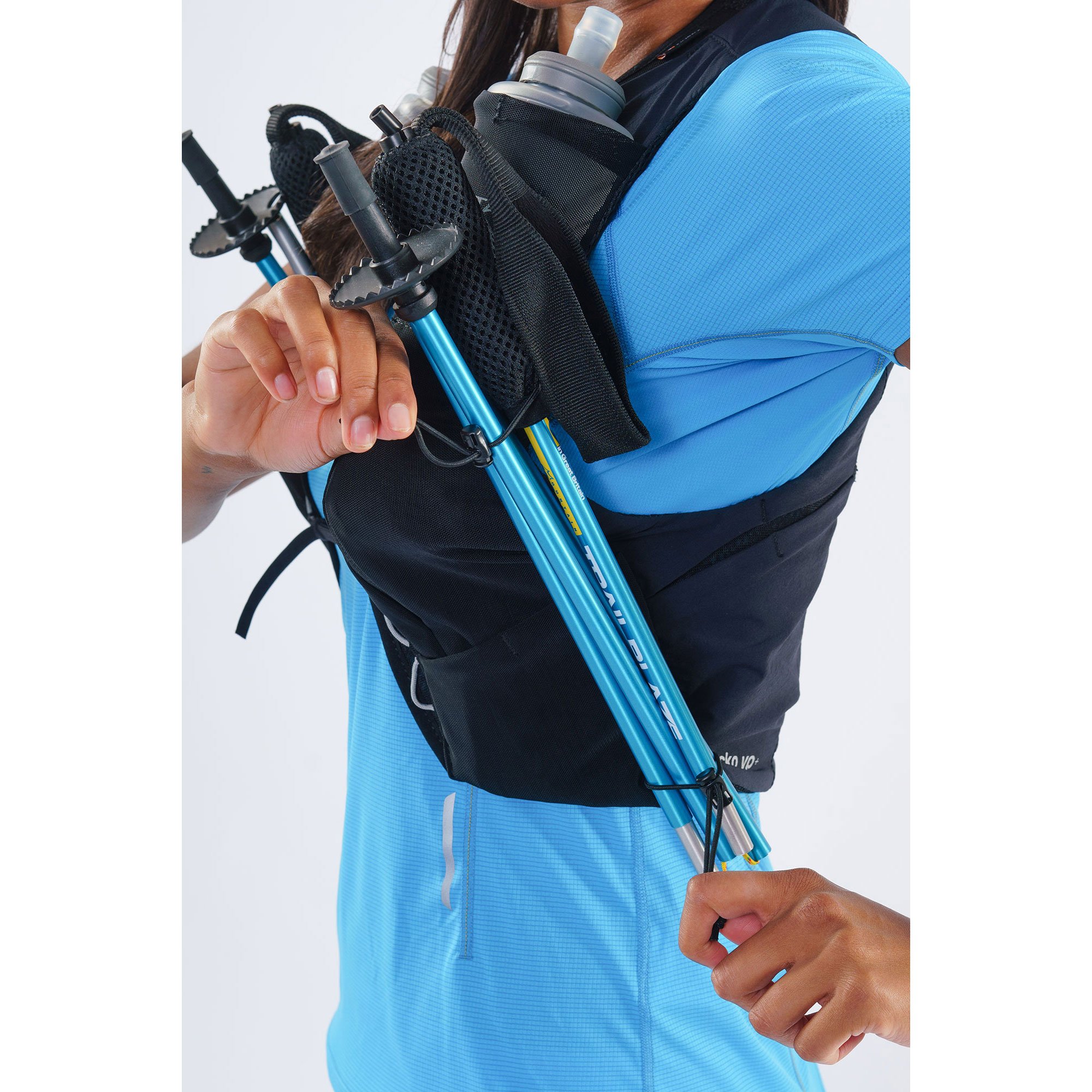 I found when running with the race vest, it was both secure and comfortable. With both bottles full, I found there was an expected amount of bounce on a steep downhill, and that there was some minor rubbing going on at the neck seam. It didn't cause any issues, but maybe it would over a long day?
The upper bottle holders were a bit fiddly to squeeze the bottle into when full, but were secure when in. They were a bit low for my liking. I like to be able to bend my neck down and take a drink without removing the bottle. I could do this, but it was a fair way down and was a bit much for my level of flexibility. If the bottles were mounted just a little higher they would have been an ideal height for me.
The front strap system is the same as on the original Gecko vest, which I would have to keep tightening as it would work itself loose when running. Thankfully the system on the Gecko VP+ didn't need tightening once during my use. Brilliant!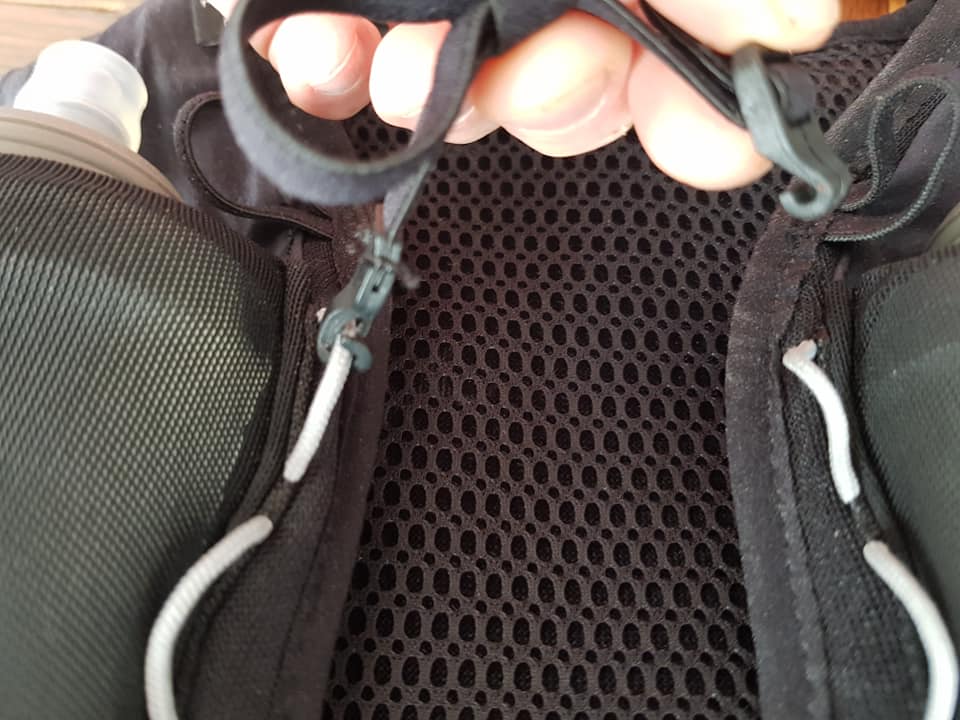 A close up of one of the front straps.
Overall, this is a really nice vest that has a few quirks, but for me is far superior to the original Gecko, so Montane have clearly learnt and refined the vest. The pockets are plentiful and well laid out so as to be fairly reachable. I like the small catch on the rear pocket to prevent kit shaking out. It has the capacity for some long days and possibly a 100 miler depending on how extreme your obligatory kit is!
Priced at £90, the Gecko VP+ seems very reasonably priced compared to what else is on the market. The price alone nudges it higher in its overall rating. Very impressive!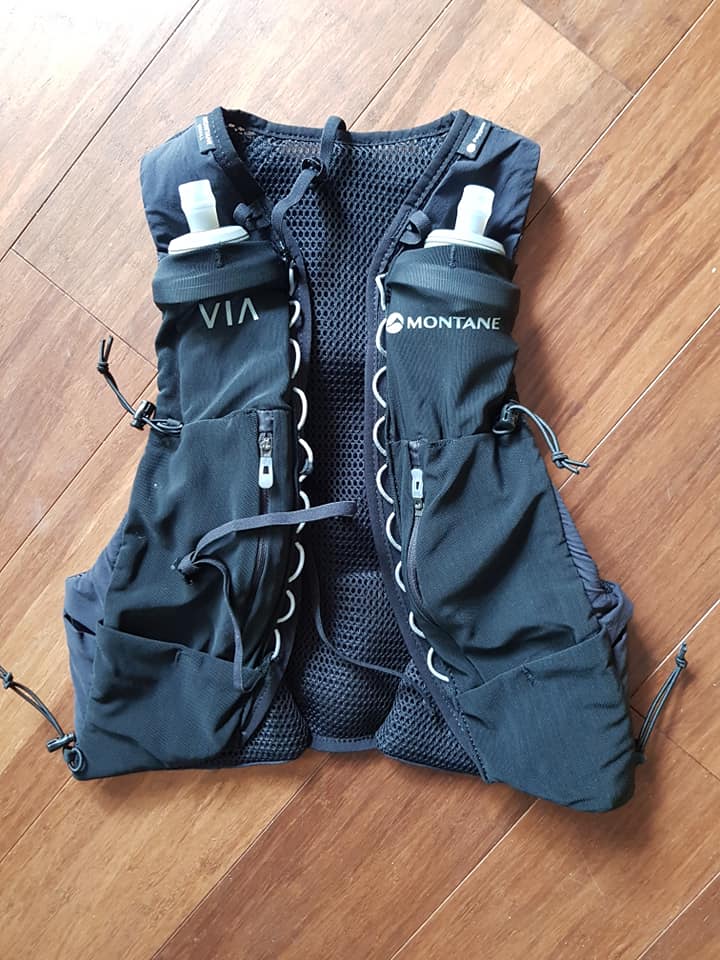 If you are after a solid, dependable vest that has been well thought out, is comfortable and has a very attractive price, then the Gecko VP+ could be your vest.
If you feel like the capacity is a little small, then Montane also offer the VP 5+, VP 12+ and the VP 20+ packs which are similar looking but with larger capacity (5 litre, 12 litre and 20 litre), though you pay for the extra capacity. The 5l is £100, the 12l is £110 and the 20l is £120.
Montane have produced a great pack here, and I feel confident that they will improve further with each new release.
To purchase the Montane Gecko VP+, please consider using the following link. The URC will make a commision at no cost to you. Thanks