Written by Doug Fernandez
Earlier this year, I'd finally won my age group (AG) in Boston. Even though I'd run it 4 times, even setting my PR there, the AG win had proven elusive. The Boston AG win was the cap of a project to win as many of the AG in the major marathons in the world (Boston, NYC, Berlin….). I decided I was finished with competing in road marathons, and that It was time for me to hang up my gloves and retire.
I was burned out with the same routine, season after season. Running 9-10 times a week; the track; the tempo runs, strength training, plyometrics and all that good stuff. I either needed to take a break or find something new and different. Maybe hit the trails, run in the mountains, breathe some fresh air and/or simply run for beers and food, stress-free and forget about the competition.
But what I had yet to do plagued me. No matter how much anyone can feel that they have seen and done it all, there is always so much left to do. Some other running projects that have kept my interest include completing the 7-continent marathon club (Antarctica left), Big Sur, The Great Wall of China, Mount Kilimanjaro and Le Marathon du Medoc in France.
Ultramarathoning also sparked my interest. I had run a 50K 4 years ago, but I hadn't run anything longer than 31 miles. Well, what a perfect opportunity to correct that! But which one? I had always heard local ultrarunners talk about the JKF 50 miler. OK, That's it!! JFK50 mile here I come!
Ask NOT what your legs can do for you, but what you can do to your legs!!
Why did I decide to run it? 'Cause it is the oldest and largest 50 miler in the country. Because its location, is not too far from where I live in Richmond, VA (a 3 ½ hour drive), and certainly 'cause it's a highly competitive race, 'cause of its unique combination of different terrain, and 'cause I am an Army Veteran, and if there was one ultra that I would do, I'd run one that honors our military and our country. The race website tells the races origin story and history:
"The JFK 50 Mile was first held in the spring of 1963. It was one of numerous such 50 mile events held around the country as part of President John F. Kennedy's push to bring the country back to physical fitness.
When Kennedy was assassinated in November of 1963, most of these events were never held again. The one here in Washington County, MD changed its name from the JFK 50 Mile Challenge to the JFK 50 Mile Memorial in 1964. The JFK 50 Mile in Washington County, MD is the only original JFK 50 Mile Challenge event to be held every year.
Although open to the public, the JFK 50 Mile is in spirit a military race. It always has been and always will be. In 1963, the initial inspiration behind the event came from then President John F. Kennedy challenging his military officers to meet the requirements that Teddy Roosevelt had set for his own military officers at the dawn of the 20th Century. That Roosevelt requirement was for all military officers to be able to cover 50 miles on foot in 20 hours to maintain their commissions. When word got out about the "Kennedy Challenge", non-commissioned military personnel also wanted to take the test themselves as did certain robust members of the civilian population"
So, after a 2 month break from running and 20 lbs. heavier, my preparation for this race began in earnest the 3rd of June 2017.
Training: My training plan was based on input I gathered from talking to and reading about what other ultrarunners had done for their 50 mile races and from a basic, generic plan that I found on the Runner's World website. It was a low mileage plan of not more than 80 miles a week at its peak, with some long, back-to-back runs on Saturdays and Sundays.
I ran a total of 5 runs of 30 miles or longer during the summer, mostly on trails. I didn't feel that I ever got myself in the kind of shape I usually would have before my major road marathons, because I didn't think that kind of speed was required to run a decent 50 miler. I did minimum speedwork, and ran a few races at the distance of the half marathon or shorter. I also neglected going to the gym or doing strength or core work because I thought that was unnecessary as well, since the race only had a few climbs. Well, I was wrong about all that, and I wish I would have done it.
As I found out, to run the JFK 50 well, you need strong quads, ankles, and glutes for those first 15.5 miles on the AT, and you would need good speed as well once you hit the tow path, all the way to the finish.
One month before the race I drove up to the area (Brunswick, MD), to familiarize myself with the AT section of the course and the C&O canal towpath. There was a free shuttle service offered by Structural Elements. They dropped us in Boonsboro, from where we ran the first 15.5 miles of the route to Weverton Cliffs Parking Lot. That day I found out that the AT portion of this race was not as difficult as I had heard some people describe it in race reports that I read online. Although it was rocky and technical in some areas where you definitely must pay attention and watch your footing, it was otherwise very runnable for the most part.
The following day, Sage, a friend of mine who lives in the area and who has successfully run this race in the past, rode her bike and gave me company as I ran 30 miles on the towpath. She gave me lots of useful information about the race as well.
The Race Course: The JFK 50 mile course is a point-to-point "horse-shoe" configuration starting in a small town in Maryland called Boonsboro and finishing at Springfield Middle School in Williamsport, Maryland. The first 5.5 miles of the race is a good climb that gains 1,172 feet in elevation. It starts on a road surface and joins the Appalachian Trail at 2.5 miles. The course from 2.5 to 15.5 miles is on the Appalachian Trail, except for two miles of paved road between 3.5 and 5.5 miles, where it reaches its highest point, 1732 ft. The AT is very rocky in some sections as it rolls along the mountain ridge. Towards the end of this trail the course drops over 1,000 feet in 1 mile. The AT is followed by 26.3 flat miles of dirt/gravel on the C&O Canal towpath along the Potomac river. The route leaves the C&O Canal towpath at Dam #4 and follows a gently rolling paved country road for 8.4 miles to the finish in Williamsport.
My Objective: I had a difficult decision at first about what my goals for this race should be. I had run over 30 road marathons in the last 10 years. My PR is 2:34:43 from Boston 2014 and I had won the AG in Berlin, Chicago, New York, and Boston. To run the JFK 50 simply to finish and get the medal wouldn't be honest and true to myself.
Mark Guzzi, a fellow Richmond runner who has run JFK50 15 times once told me that I "would crush it "and that I was quite capable and should aim at setting the 50-59 AG course record. But I am already in my late 50's, and quickly approaching the next AG decade, and that's on top of being in the midst of a mediocre, down year. I had no experience running any distance over 50K, nor any idea how to properly train and execute a 50 miler. Breaking that record seemed way too ambitious! But, if you want to do your best, you've gotta aim high. Go big or go home, right?
Judging my current fitness level, my goals for the JFK 50 were to finish unhurt, run sub-6 hours and 30 minutes and finish in the top 10 overall. If the race unfolded any better than that, I hoped for a sub 6:20 hours (which would break the current 50-59 age group record of 6:21).
There was also the possibility, that in the process I could roll an ankle, trip and kiss the rocky trail, but I would surely finish the race in under 12 hours, with bleeding knees, carrying my teeth in my pocket, with people laughing behind my back saying "Doug, what a rookie, he thought the JFK50 was going to be a piece of cake!"
My Strategy: I wasn't sure what my per mile pace should be for the AT section. I thought it wise to be cautious, play it safe and save energy on those 15.5 miles that had 1100 ft. of elevation gain, but at the same time not so slow that I could get trapped behind hundreds of people walking the trail. If I tripped on one of those rocky sections of the AT, or twisted an ankle (which I am prone to do) it would mean game over. The goal was to get off the AT at Weverton Cliffs and onto the towpath at around 2:10 hours.
The plan then was to run a solid 7:00 min/mile pace on the flat 26.3 miles C&O canal towpath section and average the last 8 rolling miles of country roads, when fatigue would start to set in, at about 8 min/mile pace. That would give me a finish well under 6:30 hours, and probably within the top 10. And hopefully, the course record for men over 50.
My Fueling/Hydration Plan: The JFK 50 course has a at least 14 fully stocked aid stations on the course. There was no shortage of food and hydration support. Among other items, there were sports drinks, water, chicken noodle soup, broth, soft drinks, PB&J sandwiches, pretzels, cookies, cakes, sweet items, energy gels, energy bars, and more. I even saw pizza! If you want to finish a 50 miler, you better take advantage of all these provisions offered in all these stations, or else you will pay dearly later on during the race.
Unfortunately, if you are running for fast times and to be one of the first to make it to Williamsport, you need to take in very easy to ingest and digest stuff only, such as water or Gatorade and energy gels. So that was my fueling plan, to carry VFuel gels which I would take approximately every 30 minutes. Tressa, who volunteered to crew for me, would meet me at Weverton Cliffs, Antietam and Taylors Landing, where she would resupply me with 2 or 3 gels tucked in my arm warmers and give me some Mountain Dew. I could supplement with water and Gatorade from the aid stations along the route.
Race day: I made the 3 ½ hour drive to Williamsport, MD on Thursday afternoon, checked into my hotel and had a long night's sleep. You know what they say, the night prior to the last night before your race is the most important one, as far as sleep is concerned.
The following Friday, I picked up my package at the Homewood Suites in Hagerstown and then stopped by an Italian restaurant close to my hotel and had spaghetti to go. I ate, made my final preparations and I went to bed early to try and get some sleep. Despite the melatonin, tryptophan and Advil PM pills that I took, I didn't have much success. I was too tense. I finally fell asleep, but woke up around 1 AM. I tried counting sheep and counting from 100 to 1, but without any luck. Apparently, that was all the sleep I was going to get.
I had a very early breakfast, took a warm shower, read the news and then looked up the weather. It was chilly (37 F) and gusty outside. According to the weather forecast, rain would start coming down around 9:00 AM. Not the kind of weather that you want to have if you are going to be outside, running for hours. But oh well, there was nothing we could do about the weather but be tough.
I left the hotel and drove to Boonsboro around 5:00 AM. Some friends got an Airbnb a couple of blocks from the start, and I went there to stay warm, drink some coffee and have my 2nd breakfast. Tressa was staying there. She would drive my car to the points on the course where race organizers designated that personal handlers and crew were allowed. After someone sang the National Anthem and without further ado, the gun was fired and off we went up Main Street Boonsboro.
The weather was cold and windy. There was a group of about 15 runners who quickly pulled ahead. I stayed with the 2nd pack, a few seconds behind. It is a pretty hard 2 ½ mile climb to where we would get on the Appalachian Trail. After 3 ½ miles we ran on a paved road that got very steep towards the end and that is where I started power walking. That's right, to save energy, I power hiked this hill to the highest point of the course. I did not train my butt and quads in the gym like I should had. I better do that next year!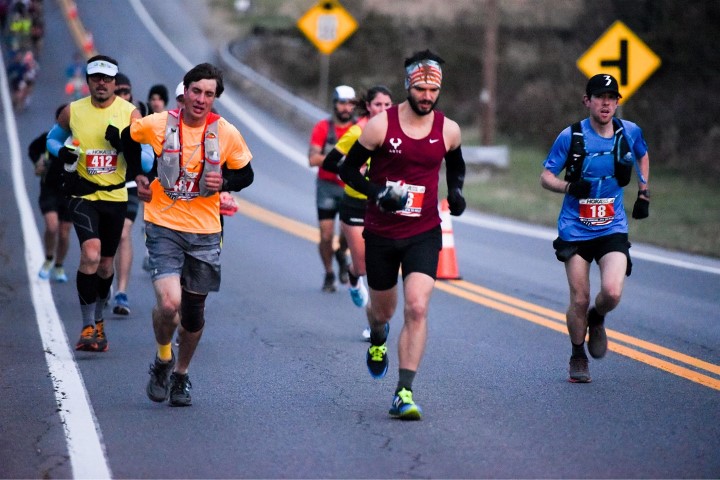 Our first 2.5 miles on our way to the AT
We were on the trail for good after having reached the highest point of the course, 1732 ft. It was all net downhill from there to Weverton Cliffs Parking Lot. I consider myself a decent trail runner, and I knew that even though I had about 30 runners ahead of me, pretty soon I
could start reeling some of them back in. I just had to be patient and play it safe.
I had a few issues on the trail. I forgot my handheld amphipod bottles at the hotel, so I had to carry this huge water bottle that became very cumbersome to carry. Also, the fanny pack, where I stored my energy gels was moving too much around my waist. I knew I would drop those two items once I was done with the trail. The prescription glasses that I wore so that I could see the trail better got too foggy on me and I had to put them away.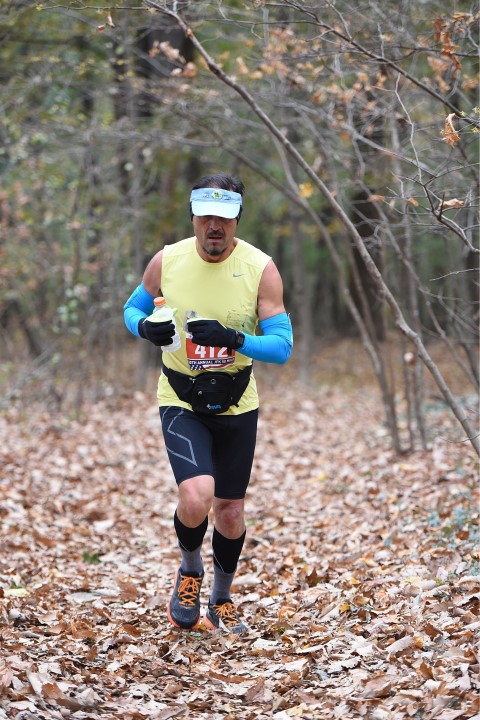 Except for some rocky areas, where you must watch your footing, the AT on this course is very runnable.
But my Hoka Challenger ATR shoes were performing excellently on the trail and I did not feel any of the sharp rocks under my feet as my Garmin 35 kept on hitting every mile in 7:30sh. It didn't take long before we hit the 2nd aid station in Gathland Gap, mile 9.3. I refilled my bottle of water and kept on going.
After 2 hours of running, I finally reached the Weverton Cliffs switchbacks. This is where the course drops 1,000 ft. in 1 mile. I made it to the bottom in under 2:08, 2 minutes ahead of schedule. I met Tressa there, took some mountain dew, grabbed a couple of gels, dropped my waist pack, headband and bottle, and kept on trucking. The flat towpath was next, and that is where I knew I was gonna catch a lot of the runners ahead of me.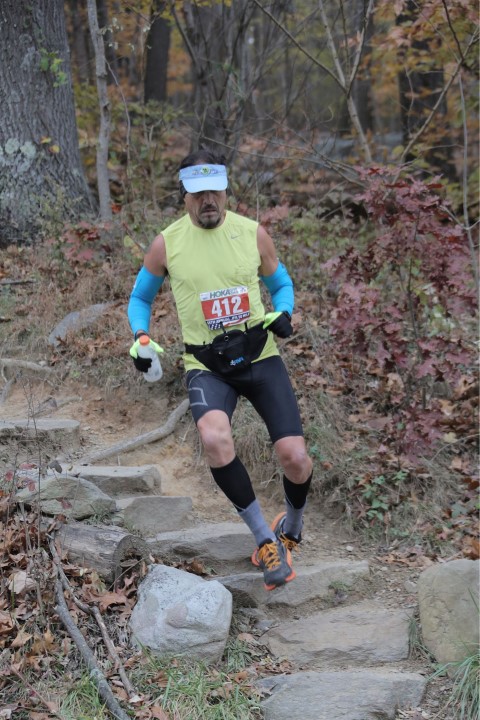 The picture right before the fall. I managed to stay upright on the roughest parts of the AT, only to fall down at the bottom of the switchbacks in front of a thousand people, that was a little embarrassing :-)
Some people feel that the towpath is too boring. Not me. I thrive in this type of terrain. I put my mind into cruise control and let the miles click away.
As I grabbed some Gatorade at the aid station at mile 16, I asked a fellow there, "how many runners do I have ahead of me?", "At least 20," he said. As soon as I went over the railroad track, I shifted gears, picked up a 7 min/mile pace and went on Wolf mode, like chasing a herd of elk.
It didn't take long before it started drizzling, a rain that continued until the end of the race. Once I passed Harpers Ferry, I could feel the strong gusts of wind on my left side coming from the river.
I heard "Go Doug!" a couple of times and wondered how these strangers knew my name? Then I realized my friend Sage, who knows some of the people volunteering at the aid stations, gave them the heads up about my bib #412.
One by one I caught at least 10 runners before I made it to Antietam Aqueduct (mile 27.1). There, I met Tressa for the 2nd time, and she re-supplied me with VFuel gels. I continued my nutrition plan of ingesting a VFuel gel right before every aid station, where I could gulp it down my throat with some water.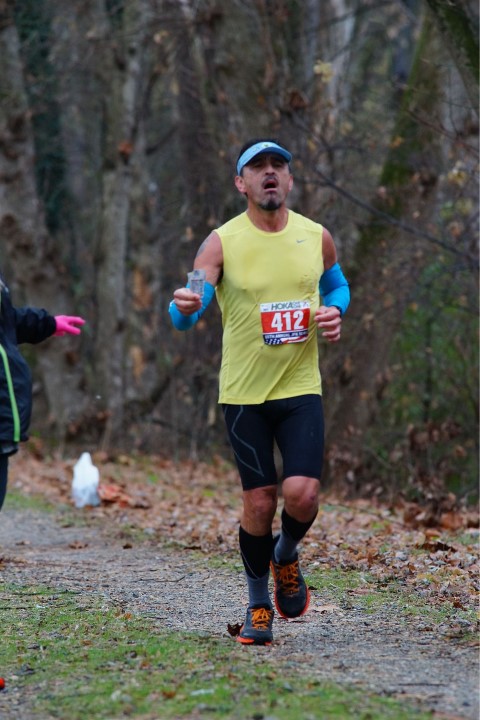 The face that I make every time I ingest an energy gel. It shows how much I like them. My plan was to take 12 throughout the race. I only managed to force 7 down my throat.
At Antietam, someone said "Number 12, looking good!" All right, I thought, I need to pass a couple more, and that would put me within the top 10. I could see 3 runners way ahead in the distance. I edged closer and closer until I caught all 3 of them once. One of them was Michael Wardian. "Wow!" I thought to myself, he must be taking it easy today, and probably running another race tomorrow, or I am probably going too fast (he was running a half marathon the next day!).
Though the towpath was getting muddy and heavy, but I was in my zone. I reeled in a couple more runners right before I made it to Taylors Landing (mile 38). Tressa and Sage were waiting for me. I took my last gel, two cups of water, and a coke and kept on going. I told Tressa that I didn't need any more gels, that I was good to go without them. I had 4 miles to go before I would get on the rolling country roads to the finish, in Williamsport.
Tressa tucking some gels in my sleeve warmers. But they were so wet that they became sleeve chillers.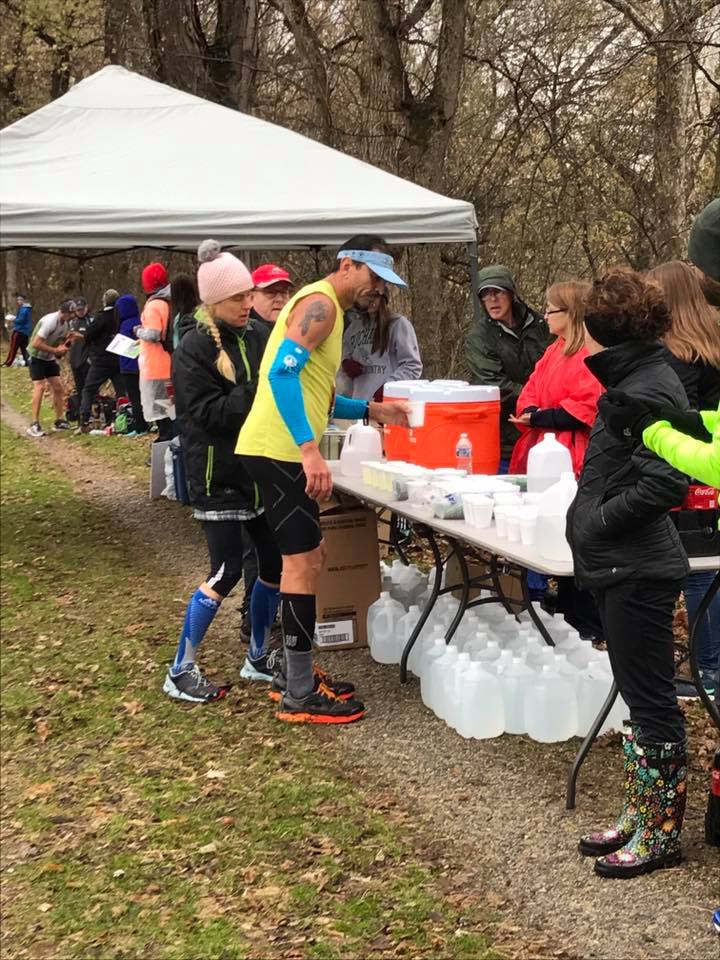 Aid station at Taylors Landing- they were fully stocked, but the most appetizing thing I could find there was coke.
Some of my cheerleading support on the course. Sage and her kids.
At Dam # 4, I finally left the towpath. I looked at my Garmin, and I had been 5:17 hours into the race so far. My pace was right on target.
I had 1 hour to run a little over 8 rolling, paved road miles to finish the race in under 6 hours, 20 minutes for the new AG course record. I thought that was a pace that I could sustain on that road. But before we got on the road, there was a very steep hill to climb first. A runner caught me there and introduced himself. "I'm David," he said. "I am Doug" I replied back. I tried to stay with him. He was David Lantz, who later on finished 7th overall.
At that point, it started raining pretty hard. The rain was icy cold, and the wind started whipping. So, there I was, out in the open, with my glycogen reserves totally depleted, fatigued, freezing and trying to dig deep to sustain some kind of a jog. It felt like all of a sudden I was bonking. I tried not to panic. I had done some math in my head, and calculated that all I needed was 8 min/miles for the next 8 miles, and I would finish under 6:20 hours, but I couldn't even do that. The best I could do was about 9-minute miles, no matter how hard I tried. I also spent too much time at the aid stations, trying to consume some calories, but it was too late. The damage was done.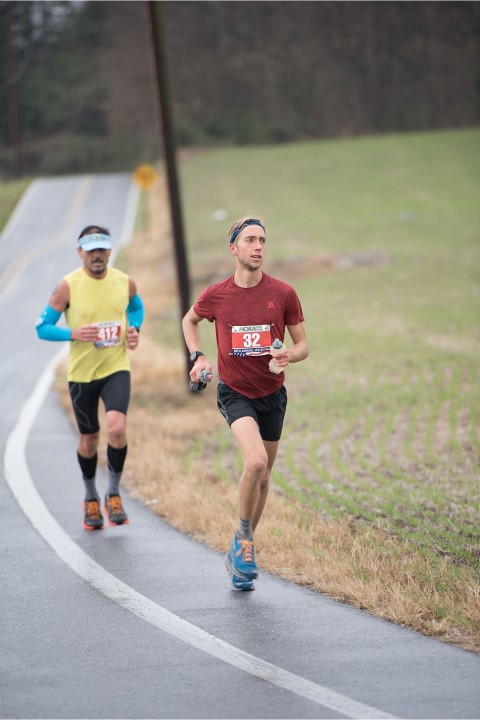 After being in 6th place overall, I started losing ground on my last 8 miles. Here, # 32 David Hedges passing me at around mile 44. He eventually got 6th overall.
I saw Sage and Tressa drive by and they shouted some words of encouragement. Tressa yelled, "I believe in you". At that point I was starting to have doubts about myself. The wolf was in trouble.
I was passed by another fellow somewhere around mile 44. He was David Hedges. Now that I was in 8th place, I tried as hard as I could to protect and hang to that position. But it didn't take long before I was caught by Michael Wardian too. I said to myself, well, so much for bragging later on that I beat Michael Wardian at the JFK 50!
It was a long and miserable death march to the finish. With about 1 mile to go, I got chicked. Emily Harrison, the women's winner, caught me as well. I had nothing left in me to respond. I looked behind just to see if there was anyone else sneaking up behind me to knock me out of the 10 overall, and I didn't see anybody. Thank you god!
I looked at my watch and noticed that I just needed that last mile in about 8 minutes to be under a 6:30 finish. That was one of the longest miles that I have ever run. At last I could see the finish line, and said to myself thank you "sweet baby Jesus" as I heard my name on the loudspeaker, "Doug Fernandez from Richmond, Virginia!" I was so cold and shivering that one of the medics there asked my name and I couldn't even get it out of my mouth. My jaw was frozen.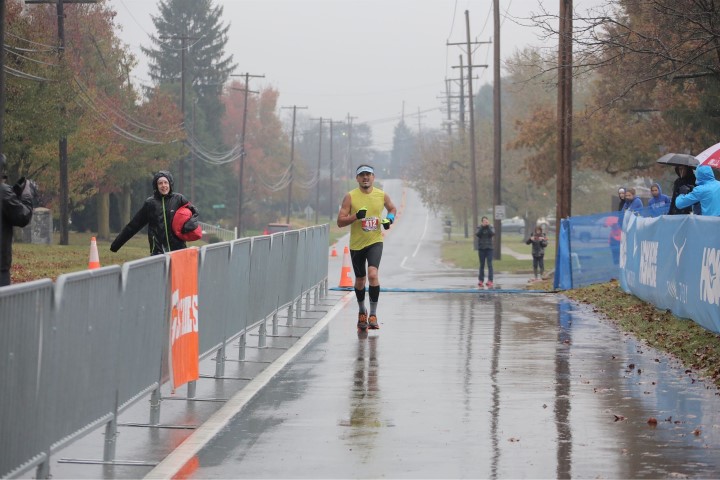 Approaching the finish, this 50 mile race was finally over- What a relief !! and what a miserable weather.
They had to rush me out of the finish area in a hurry, straight to the warm showers in the school gym just to raise my core temperature. I stayed under that shower for about 10 minutes. It took a couple hours, some cups of chicken noodle soup, some warm food and warm beverages before my shivering went away.
It took a while for the whole thing to sink in. I had run 50 miles. I was 9th overall man and finished in 6:28:45. I also got the men over 50 AG win. But I didn't get the men's 50-59 course record. Overall, I was very happy and pleased with my race result, despite the struggles at the end. I learned a few lessons and that will help me prepare better next time.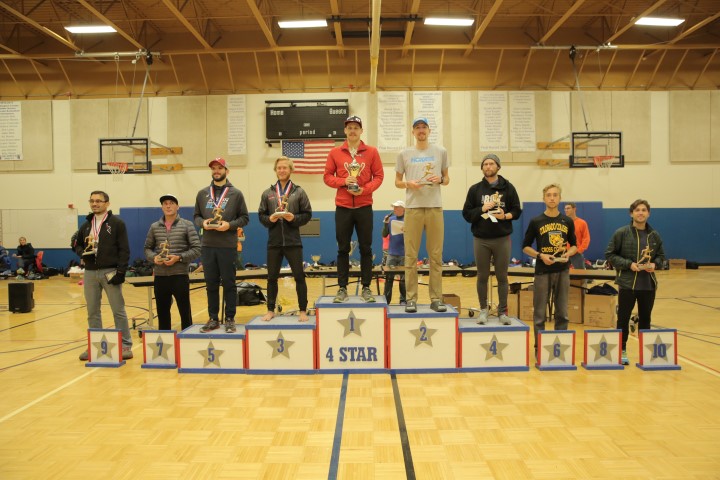 Top 10 men. I may be a whole generation (or two) older than these fellows, But I am not old, I've just been young for a very long time !.
I want to thank the organization of this race and all the volunteers that made this great running event possible, they were superb. I also would like to congratulate everyone who completed this race. Running 50 miles, no matter how fast or slow, is nothing to sneeze at. Last, I want to thank everyone who supported me before and during this race, who tracked me online and who wished me well. Hopefully I will come back next year, I still feel that I have to take care of unfinished business. Now, that I have been accepted to the Tokyo marathon (one of 2 marathon majors I have yet to run), in February 2018, I have to un-retire from road marathons, and continue my training throughout the winter, yikes !!