Written by Neil Bryant for the URC
inov-8 really are very good at drumming up lots of interest in their new shoe releases, and the new TRAILFLY ULTRA G 300 MAX was no exception!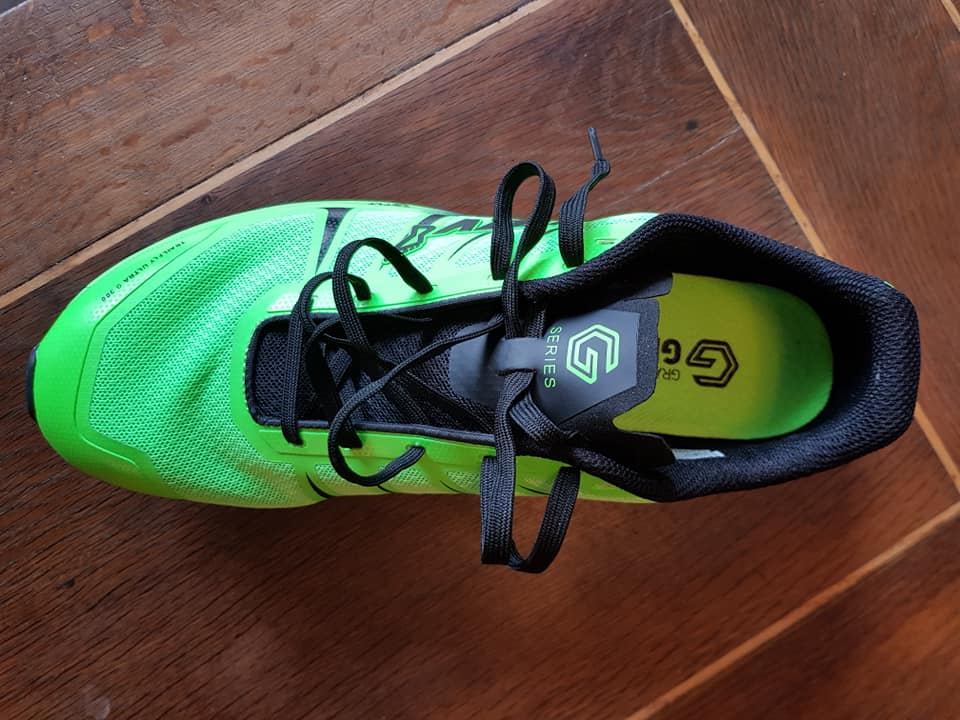 There are certainly some interesting and exciting sounding innovations in the new ultra specific shoe though and I was very interested to try a pair out. One thing I have been frustrated with many of inov-8's shoes are that they are zero rise (or very low rise) and/or too narrow for my feet. Well, the TRAILFLY would rectify this for me, as it has the same upper shape as the TERRAULTRA which fitted my foot beautifully, and apparently fits many other people feet nicely too. Unlike the TERRAULTRA which is zero rise which instantly makes it unsuitable for many people, the TRAILFLY has a decent 6mm drop. Ticking my boxes nicely!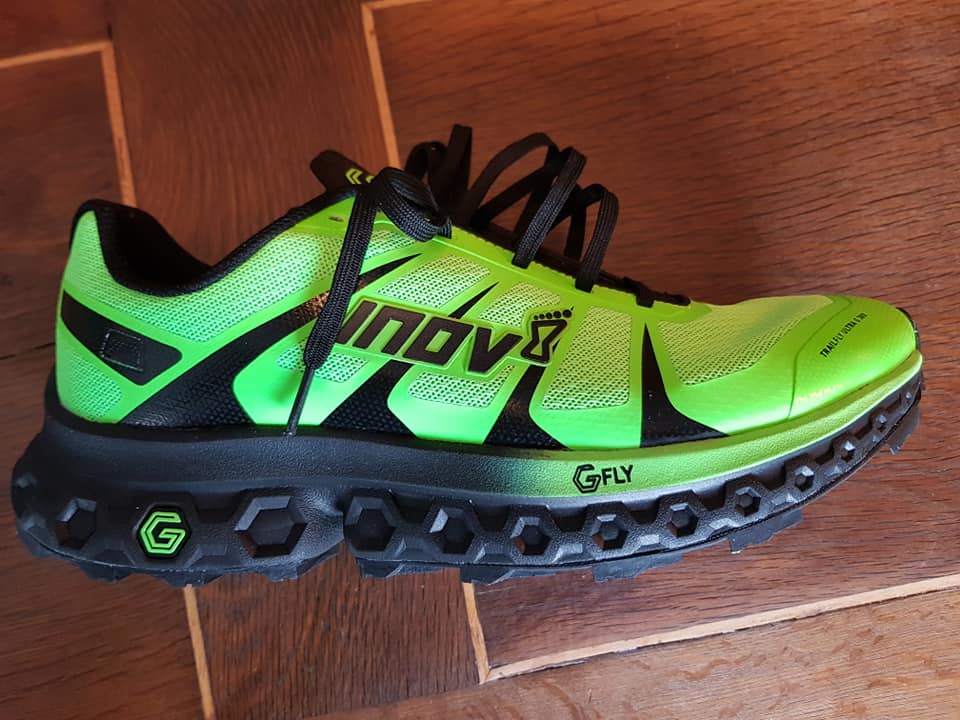 What are the innovations then? Well, inov-8 first utilised the wonder material, graphene in their Graphene grip compound outsole, which is reported to be stickier yet more durable than others. Now they have incorporated graphene into a midsole compound they have titled, G-FLY. According to the site "The foam delivers 25% greater energy return and retains its optimum levels of underfoot rebound and comfort for longer, so runners feel faster and fresher over greater distances." Well it all sounds pretty amazing of course, but although I can't say I am immune to some good promotion from companies, I can only vouch for claims if I feel it after a decent test period.
The other new innovation, is the ADAPTER-FLEX on the outsole which is basically a very deep groove on the outsole which allows for the foot to react well to uneven terrain adding stability and confidence. This is interesting as Inov8 are attempting to retain as much trail feel even with a relatively large and soft sole unit. Again, I was intrigued to see how this worked.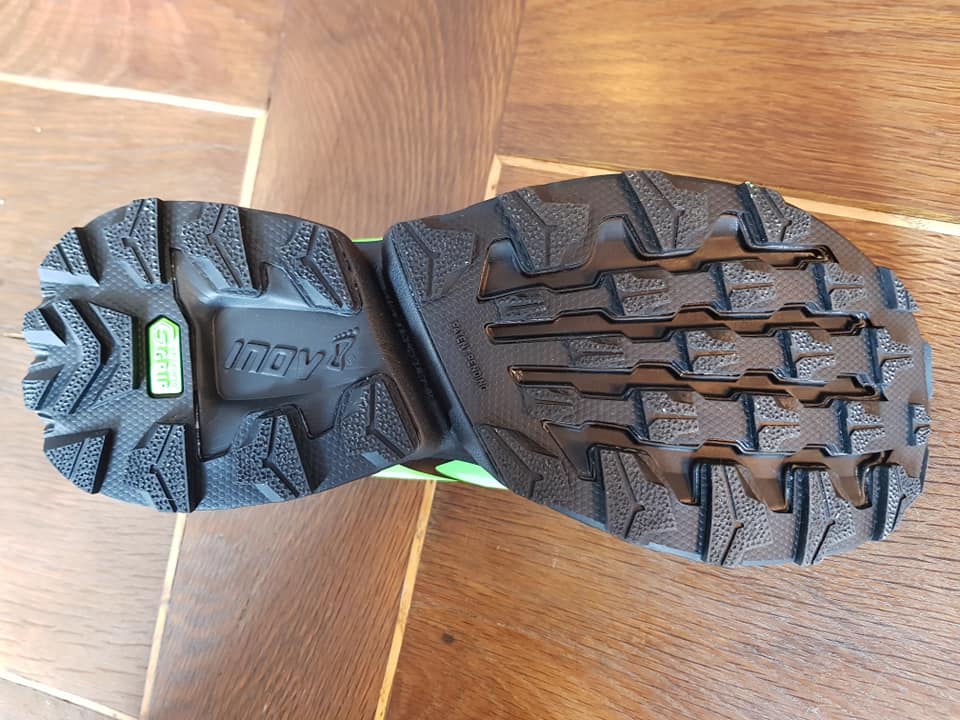 Providing grip, would be the already tried and tested Graphen grip compound which I have used before on a few other shoes and I knew was a good solid compound.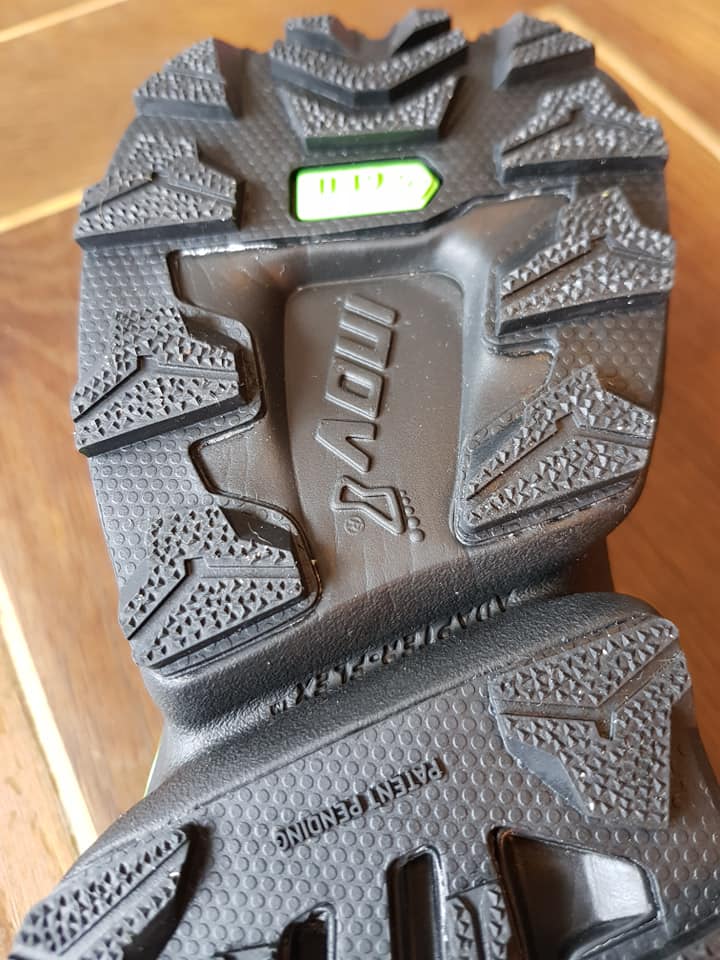 The final part that caught my attention was the 300 in the name. The number in all inov-8 shoes relates to the weight of one shoe. 300g is not light, but just on the edge of being too much in my opinion. The problem is, both my left and my right shoe weigh a rather hefty 358 grammes! That is a huge discrepancy, and in my opinion, places it in the heavy region. I am guessing that the upper is pretty light, and the outsole is fairly standard, so the weight is in the G-FLY midsole. If I am right, then it really needs to shine as some sort of magical foam to make it worthwhile!
Anyway, enough waffle with my theories, let's run this shoe and see what it actually feels like!
My first impression on opening the box was, what is that stink! Don't get me wrong, I like the 'new shoe' smell, but this was potent, and still is! My partner has a very keen sense of smell and can't stand it! I am guessing it is the G-FLY foam as my TERRAULTRA's didn't smell like this! Anyway, this isn't a performance issue obviously. I suppose it is (maybe?) better than the smell of my other old smelly shoes!
The upper, as previously mentioned, is very similar to the TERRAULTRA's, which has a wide fitting, the widest that inov-8 make, and was a fantastic fit for me giving my toes plenty of space. It was good to pull the TRAILFLY's on and instantly realise that they had the same secure, yet spacious fit. Luxury!
From my house, you have to run some road to access the trails. That combined with the fact I am running loads of slow aerobic kms on the flat (as I slowly rebuild my aerobic base) means I have been running more than usual on rolling road and trail, though still getting on the rougher singletrack trails with plenty of vert. The trails here are generally dry as they drain so fast, but wetter than most of the year as the snow melts. Overall, I'd say there has been a good variety of terrain passed beneath the TRAILFLY's soles.
The midsoles give a comfortable ride, and they do smooth a rocky trail out a bit which would certainly help tired feet when you are well into a long run. Sharp stones are really well dulled when you step on them, and they do have some bounce to them. Are they noticeably different to anything else out there at the moment due to the G-FLY foam? I really couldn't tell anything different. I was hoping for more bounce if I'm honest. There is certainly no issue here. Maybe it is that inov-8 make a huge deal about it, so it ups my expectations too much? I suppose the bottom line is, the midsole is comfortable, fairly springy and has plenty of protection, so it is good. I am just not sure the G-FLY is superior to other compounds out there.
The GRAPHENE-GRIP sole is an excellent patterned tread with 4mm studs, giving very good grip in all conditions and terrains, yet runs very nicely on the road. As I write this, I am still not sure whether the wear after 200km is as enduring as it should be. I have added pictures for you to decide. I will also plan to update this in a few months once I have got some heavier mileage on them to review the durability.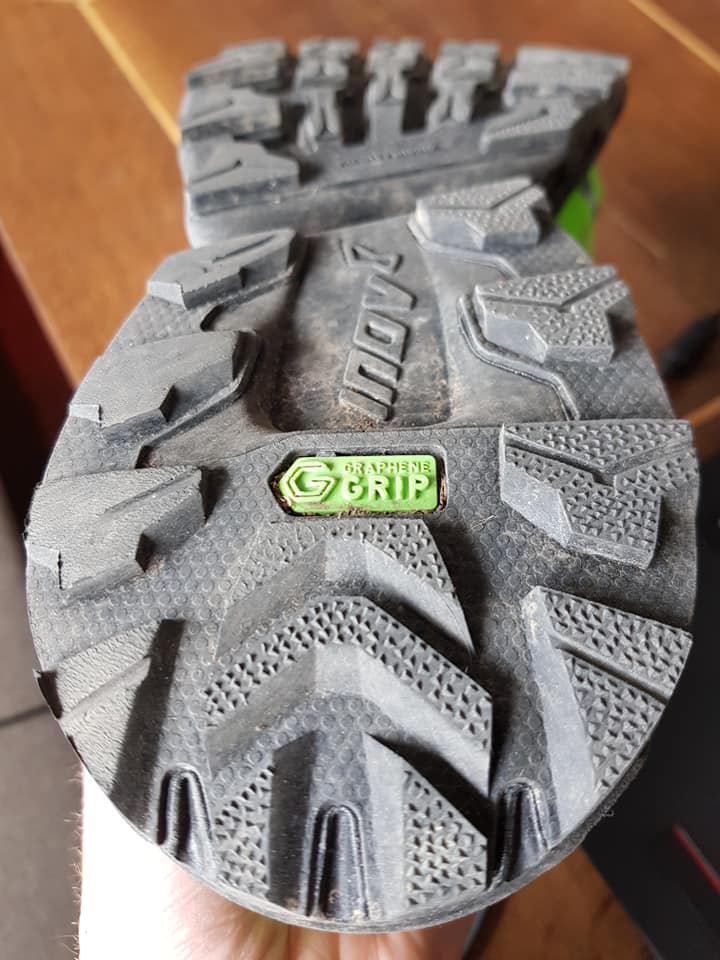 This image was taken showing the wear at 165km
The other major new feature from Inov8, which they got patented, is the ADAPTER-FLEX. This large groove in the sole aids flexibility as can be felt when you hold them in your hands and bend them. For an Inov-8 shoe, the heel height of 25mm is fairly high, but for the whole market, I wouldn't say it is that high, so I am not sure how unstable I would be on a 25mm shoe anyway. I can't feel any difference when running technical trail, but I certainly wasn't going over on them any more than I normally would. I felt like the trail feel was decent for the size of the sole, so maybe it works well. I guess the only way to truly tell how effective it is, is to have an identical shoe minus the groove but that is pretty much impossible.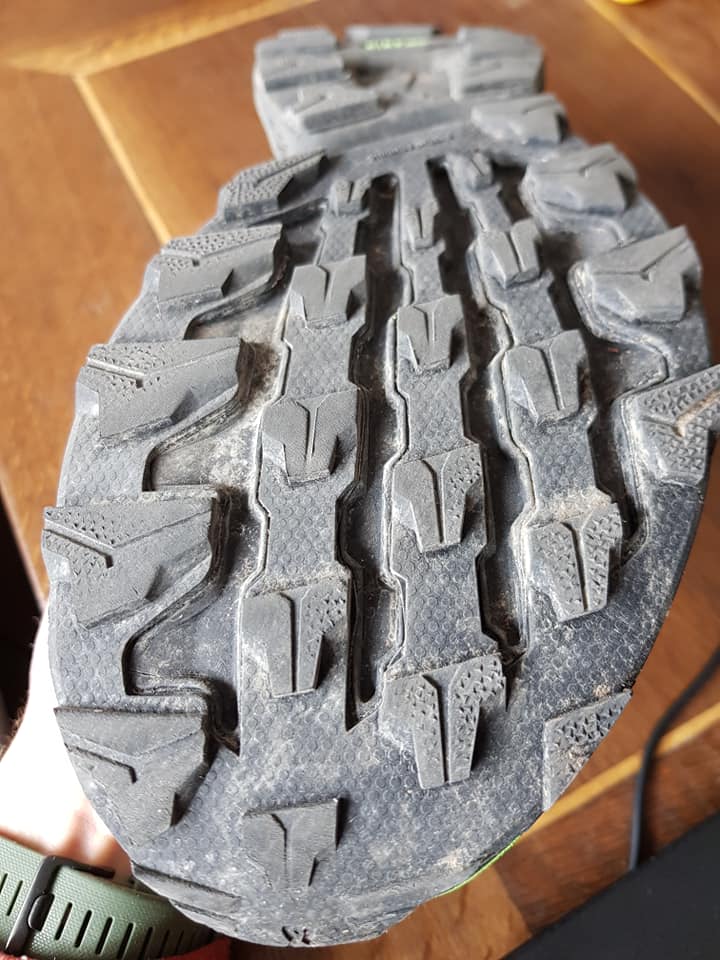 This image was also taken at 165km showing the front section of the sole.
I do like this shoe and it will get worn a lot more, but there are certainly some things I am not sure about, with the number one being, is the G-FLY foam a worthy addition? It seems to be a relatively heavy foam (I could be wrong with this) which bumps the weight of the shoe up to a fairly heavy weight. I am not too sure I can feel the magical bounce either. It feels fairly normal to me. Maybe I am just not very sensitive to such things.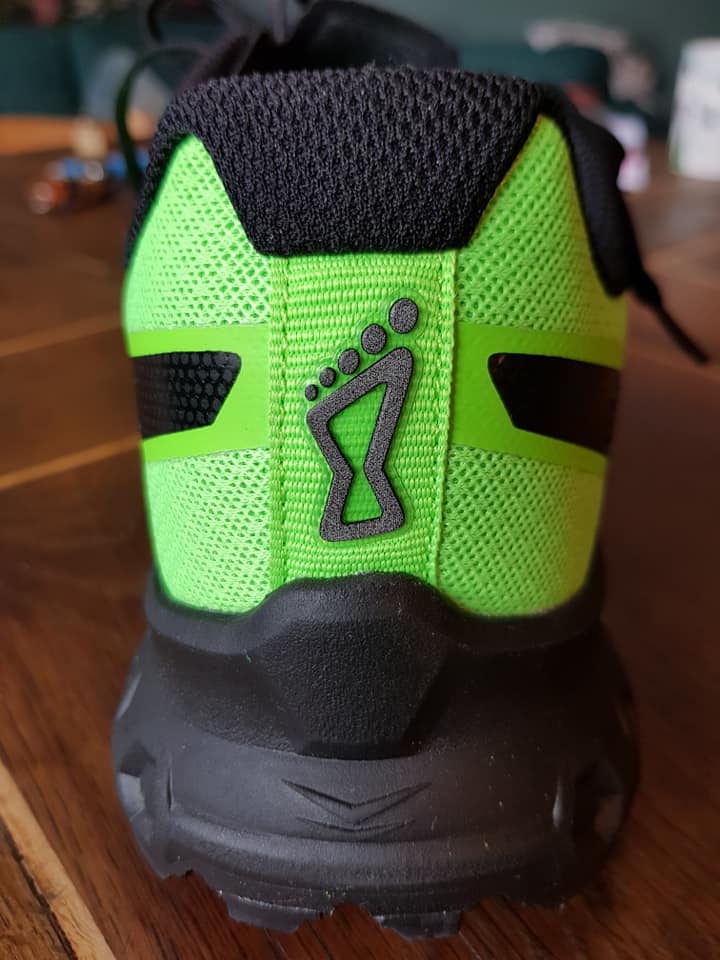 The other main issue is the weight. When I run in them, they feel good, but the fact is I have around 80-100g more on each foot than a lot of other shoes in the same market, which over a long period will make a difference. Maybe if I get to 1000km in them and they are still holding together alright it will be ok, but to be honest I will be surprised if the upper lasts that long as it is built lightly. Time will tell.
Overall, the TRAILFLY is a solid first 'ultra shoe with a big midsole' from inov-8. I admire that they have broken away a little from their norm and not only that, but they have done it with new innovations. It is brave and I am a fan of that. As with all first attempts, there is refinement needed, but it is certainly an excellent shoe and I personally am looking forward to wearing it plenty more this year.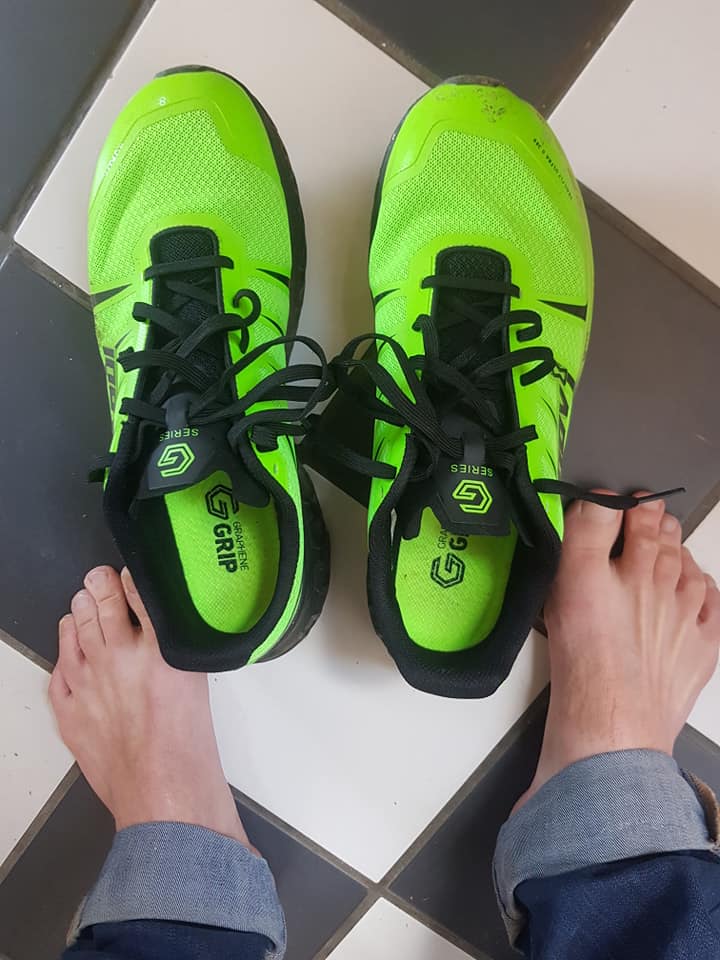 It has a hefty price tag of £170/170 Euro so is near the top of the pile when it comes to price. I guess the research and innovation with the Graphene enhanced sole and midsole has a cost, but whatever the reason, this is a shoe you want to be happy with. It seems steep to me, but only you can decide whether it is worth it.
The TRAILFLY ULTRA G 300 MAX is a top end shoe designed specifically for long/ultra runs on decent trails and even road. It performs great at a slow plod as at pace. Descending is a dream with the well cushioned midsole and the excellent grip. I think it is well able on more mountainous terrain too due to the excellent tread and amazing fit of the upper. As long as you are ok with the weight, then you can't go too far wrong with them, though I am excited to see how they evolve in future versions.
To purchase the Inov8 trailfly ULTRA G Max shoes, click on the Wiggle button below. You will get a good price and a small commision goes to the URC. Thanks