Written by Neil Bryant for the URC
My first and only Adidas were the Adizero XT 4's which I had a reviewed almost a decade ago. I have fond memories of this shoe. It was light, had excellent grip, very comfortable and very durable. Since then, I have used many, many shoes but for whatever reason I have not pulled on another Adidas shoe.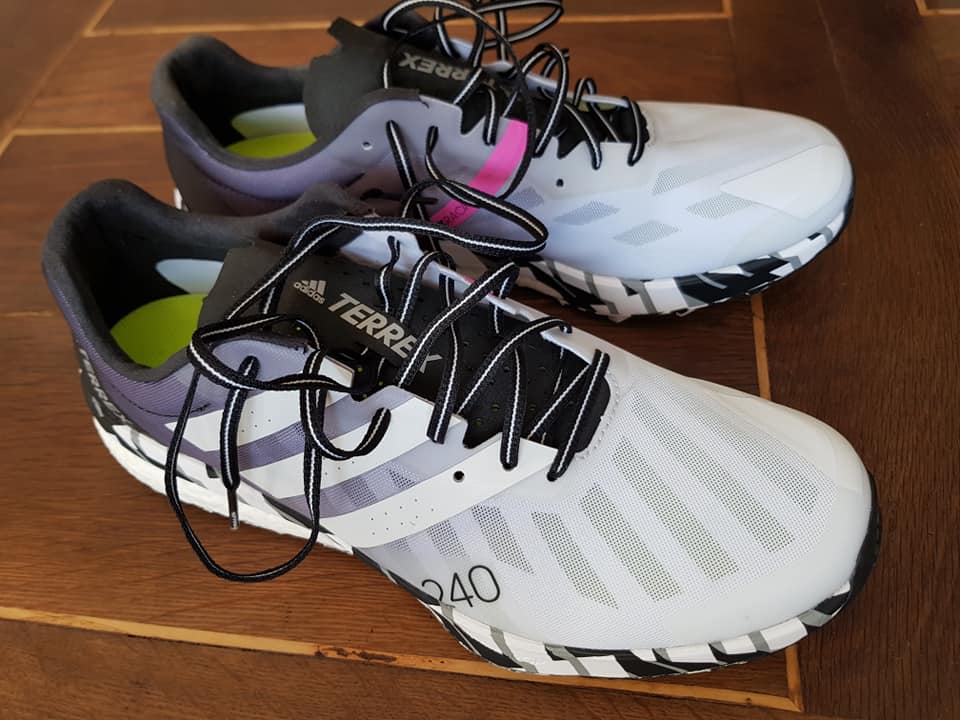 I then saw the Terrex Speed Ultra and knew I needed to try them out. It reminded me of the old Adizero XT 4's even though there were a few differences, with the major one being the tread. It is still manufactured by Continental, but it is not a deep aggressive pattern, but more a light tread designed for long distances on hard pack trails where deep tread is not needed. There is a shoe in the Speed lineup with really aggressive tread called the Terrex Speed SG.
The Speed Ultras have a midsole made from Boost foam, which I have read much about, yet hadn't tried, so was interested to see how it felt. I had just published my review of the inov8 Trailfly Ultra G 300 max which was a shoe built for a similar purpose, ultras on decent trails, providing decent comfort, yet they seemed light years apart from each other. The trailfly seemed big and clumsy compared to the compact and lighter Speed Ultra. How would they feel on the trails? Would they have enough protection, and would the Boost be as bouncy as I had read?
With 8mm of heel-to-toe drop, the Speed Ultra has enough rise to give most peoples achilles a fairly easy time when running longer, but also stays fairly low to still feel grounded.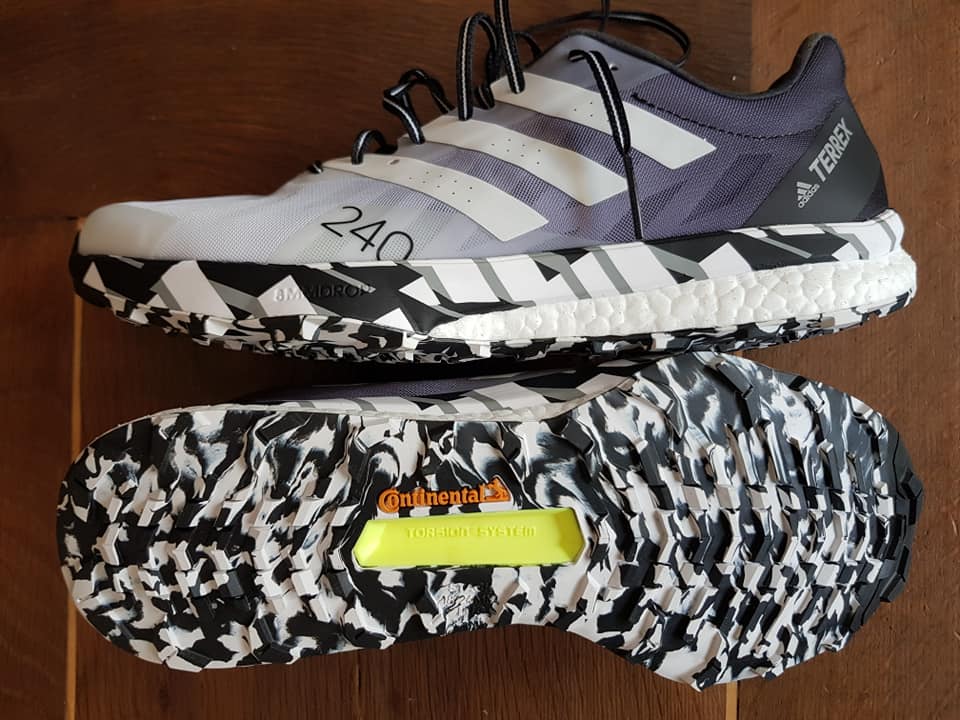 The upper is made from a single piece of fine mesh which has overlays on the inside (underlays?) which you can see through the mesh as stripes. There is an overlay toe bumper that is fairly minimalist but should add a little protection from stubs. There is also an additional overlay that is over the top of the big toe nail. I am guessing that this is to counter blow outs from the toe nail occurring? If so, this is a nice touch, just for durability.
The heel is held firmly in place by a soft, lightly padded heel cup that has no solid insert, which I really like.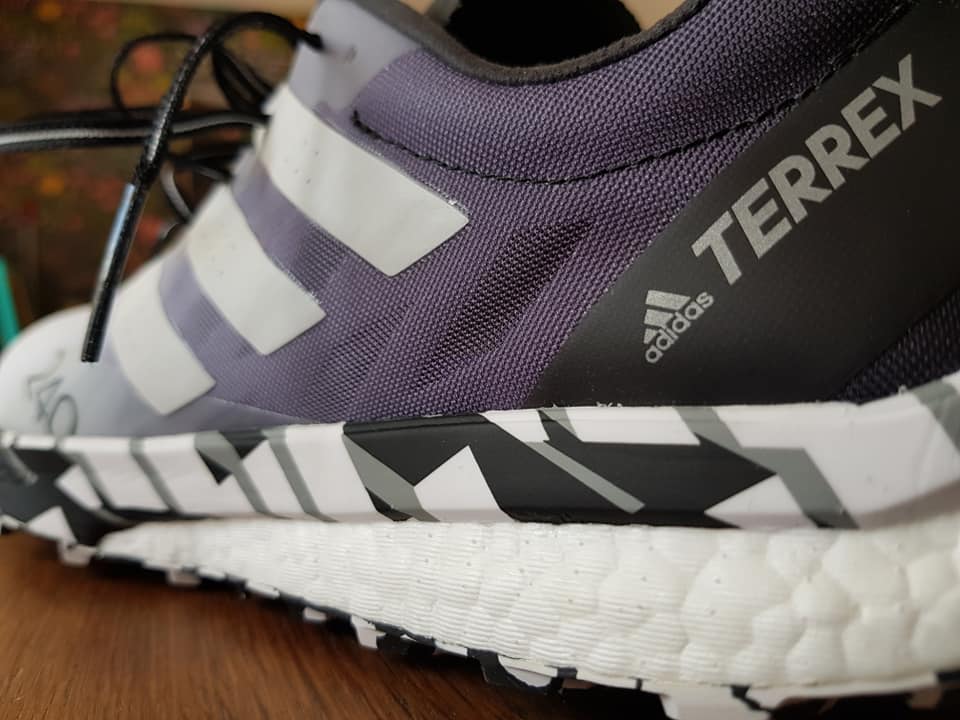 The tongue is gusseted with thin unobtrusive elastic which is sure to help keep the foot firmly in place, and keep the tongue from sliding to the side. The tongue is thin and punctured with many holes to aid air circulation. For me, having feet that sweat a lot, the tongue is the major week area when it comes to aerating the foot, so holes are always good for me.
The laces that come with the Speed Ultra are thin flat ones, which are a good length for me, and seem to stay tied well. I like them.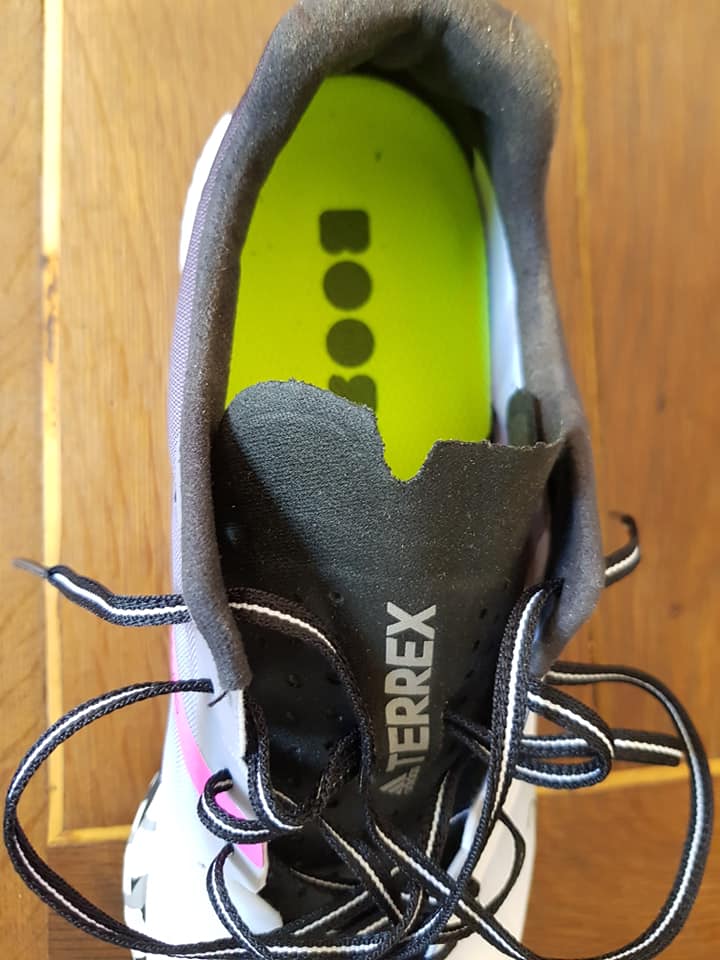 The midsole is a blend of Boost and Lightstrike materials. It feels nice and spongey and feels as though it will be springy too. Only some time pounding the trails in them will reveal if this is true.
Lug depth is a tiny 2.5mm making it a shoe which will certainly not be happy with much mud at all! This shoe is made to go fast over decent, not muddy trail or road. As previously mentioned, the outsole material is provided by Continental the car and bike tyre manufacturer. I remember being seriously impressed with the soles on my old Adidas years ago, so have high hopes for these, though I am assuming that the compound is different from back then!?
I'll be honest, I was really quite excited about this shoe. It felt light (240g according to Adidas, though my samples were 279g) and I liked the minimalist size. When I pulled it on, I immediately knew it fitted well as the elasticated gussets on the tongue hugged my midfoot.
Out on the trail, the midsole instantly felt great, managing to feel very soft and also adding a spring to my stride. I felt like my feet were well protected, but also like I was close to the ground. They feel great! The combination of the small size of the shoe, light weight and bouncy sole made me want to both run fast on the flat and descend the most technical trail. They were playful and I wanted to try them out on anything I could find here in Chamonix.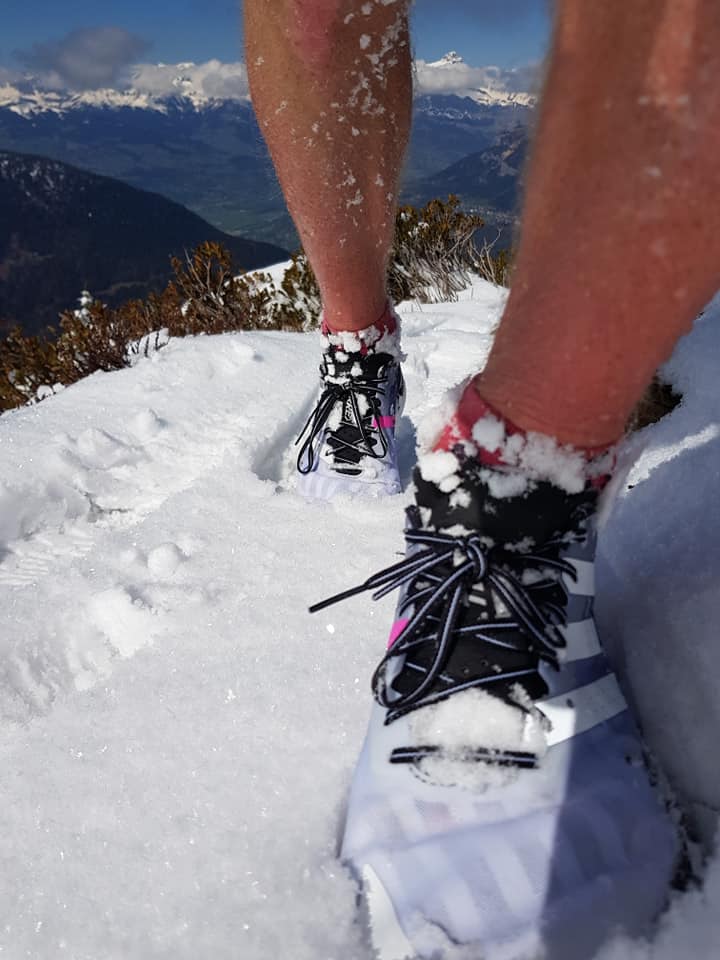 When on dry trails, the tread is excellent. It sticks reassuringly to ret rocks and copes pretty well with loose gravelly descents. The main weakness is wet mud. Now, I know that it wasn't designed as a fell shoe to grip in bogs a shoe sucking mud, but I like to raise the point for those that want an all-rounder. The 2.5mm deep studs are wholly inadequate for anything muddy. I have run a few times in some muddy areas and they just don't really bite at all. Basically, if you want a shoe that may encounter wet mud, then this is not the shoe for you! For anything else though, the tread is great! The grip on wet slabs was really impressive, I can't be sure, but I was considering it to be the best I have tried!
The shoe seems to breathe ok, though my feet still sweated a lot (they always do!), and the toe bumper seemed to hold up to a few minor stubs. Laces were great, not losing tension or coming undone. The overall feel of this shoe is fast and playful, yet they are also comfortable and provide some protection underfoot making them more ultra oriented.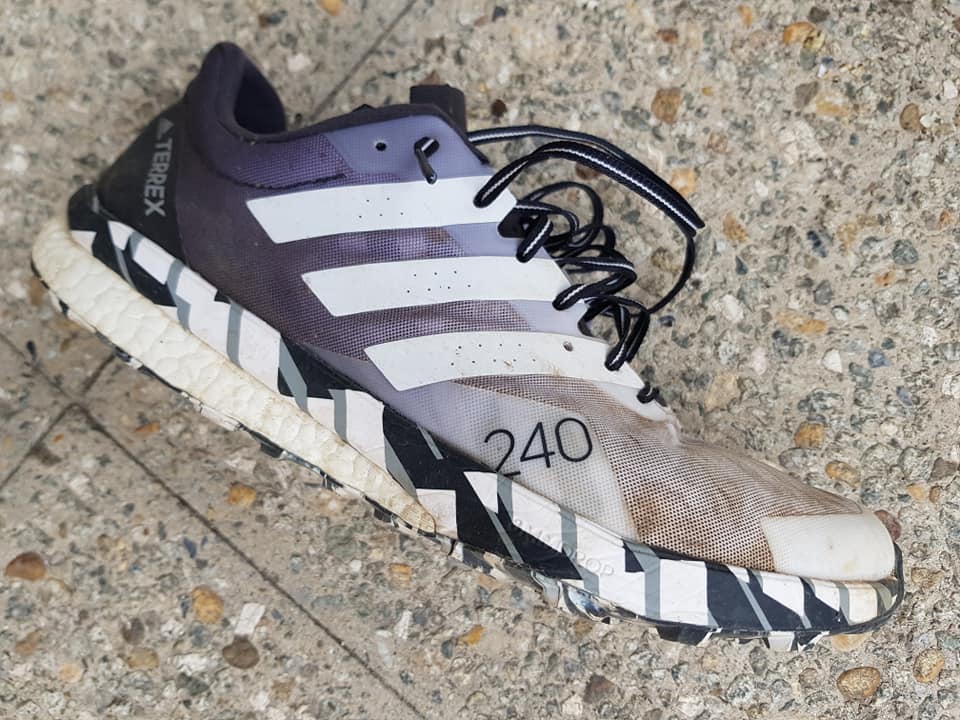 I have put over 260km into them so far, and they are showing no signs of weakness or wear in the upper. The tread is showing a little wear, which is an amount I would be happy with, but it seems more significant as the tread is so minimal. I shall update in the future when they have many more km's in them.
If you are looking for some decent underfoot comfort yet with some great spring, then the Terrex Speed Ultras are for you. If you want a shoe for racing ultra distance, that is light and playful, then the Terrex Speed Ultras are for you. If you encounter some squishy, slippery mud sections on your runs, then the Terrex Speed Ultra is possibly the wrong shoe for you.
Fast, light, comfortable, excellent grip on rock. The Terrex Speed Ultra from Adidas is a serious shoe for some seriously fast and fun runs.
Priced at £160, though currently on sale at £129 at Wiggle, they are priced at the top end, but in the sale they are much more accessible. £129 seems like a good price for this shoe I would say. Of course the true test will be the durability after a few hundred more km's.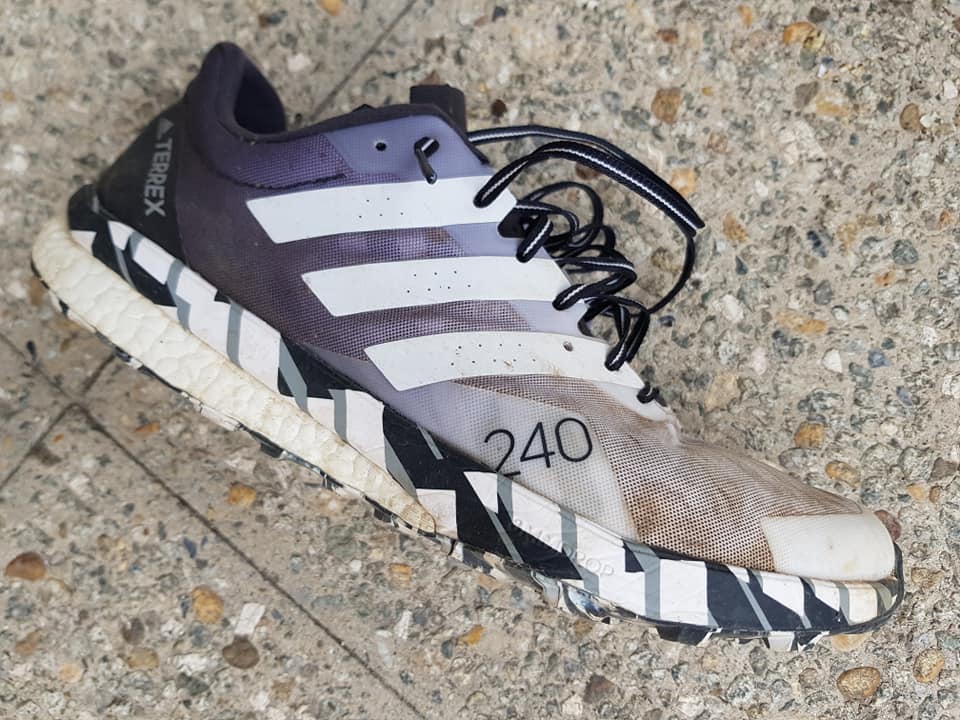 To purchase a pair of Adidas Terrex Speed Ultra, click on either of the buttons below. You will get a good price and a small commision goes to the URC (at no cost to you). Thanks
To purchase in the US, use the following link