Written by Neil Bryant
The La Sportiva website describes this shoe simply with one sentence 'Sticky soled, neutral trail shoe with a rock guard ideal for trail running on technical trails.'
Here are my thoughts on this lightweight trail shoe.
Upper
The upper midsoles area is constructed with what La Sportiva call HyDrain. This is a fine mesh that is tough and very fine so they prevent grit from entering, and are excellent at draining water. It really feels like it will endure a lot of abuse. The lace eyes are nylon loops that are attached to the TPU lacing harnes which feels solid yet flexible and it certainly adds some form of stability to this light shoe. The tongue is a relatively fat one for a light shoe and this is down to a central foam layer which is given some form of breathability via the inclusion of triangular cutouts. This same foam layer continues down to the end of the toes.
Something which I feel should be a standard feature on all shoes is the gusseted tongue.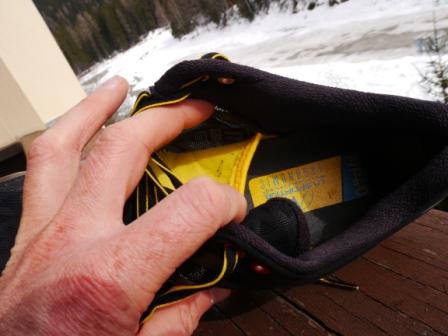 Why some shoes are not these days is beyond me. Do people actually want a loose tongue? I find without the gusset, the tongue seems to slip laterally and occasionally exposing the laces to the top of my foot creating a real painful pressure point. The gusset fixes this, plus being elasticated, it also wraps around the foot in a fashion that makes it feel like the shoe was custom made for your foot. So, as you can see, I am a big fan of the gusseted tongue! There is a simple loop at the heel to aid getting the shoes on and the laces are a nice length and grip nicely on the webbing loop eyes. I have had no issues with having to readjust laces while out on the trail. The heel counter sits in the middle being neither stiff nor super flexy giving a little extra stability.
Midsole
The basic stats for this shoe are the stackheight of the heel is 21mm and the forefoot is 19mm which leaves you with a drop of a tiny 2mm. I'm not sure if I need to say this but I will anyway. Just a little caution - Please be careful with these shoes if you are not used to a low drop. If you are not used to such a low drop then injury is a distinct possibility if you are not careful easing into the Helios SR. I had no issues as I am very used to around a 4mm drop, and in fact I now really feel comfortable with a lower drop shoe.
The midsole is a rather unusual design from La Sportiva. They call it MorphoDynamic, meaning that the injection molded Eva adapts to the ground, or rather, you won't feel small stones on the trail as they will be swallowed up by the soft midsole. The final, and for me, key ingredient in the midsole is the Endurance platform which is a full length foot insert that will add a little extra protection from the larger, sharp rocks that bring tears to my eyes during the latter stages of long technical races.
Outsole
Glued to the MorphoDynamic midsole is the unique AT/VA wave sole. The midsole lower surface is in the shape of a wave with around 9 peaks The rubber of the sole only covers the peaks of the waves. Hopefully you can make sense of my description by looking at the pictures.
The forefoot section of the outsole is made using La Sportiva FriXion XF which is a super sticky compound, and the heel is made from the tougher Frixion AT. The unusual design of the whole sole unit with the thinner sections at the wave highpoints that have no outsole attached create a very flexible sole indeed.
First thoughts...
So, how do these shoes feel straight out of the box? Well, although they are at the lighter end of the weight spectrum, they have a lot of plush padding around the ankle and the tongue. This is something that is noticeably different from the Helios and the SR. The Helios certainly has thinner padding. Which is more favourable? Well, to be honest, it matters not for me. If I had to choose, I would take the slightly less bulky feel of the Helios, but as I say, it really doesn't matter. Anyway, that is enough of the comparisons for now. These shoes are super comfortable, with the ample padding and the gusseted tongue that hugs your midfoots every contour. Then you run in them and feel the, well, I've thought about this a lot and the best word I can come up with, is, sponginess of the midsole. I know, sponginess may not sound hugely positive or even attractive, but, believe me when I say that this is meant as a compliment. The only other time I have felt anything similar to this is when I experimented with a pair of Hokas. They felt ok, but I just wasn't happy with the stackheight of them. Well, the Helios SR has a similar plush shock absorption that the Hoka has, but with a fairly low stack height keeping you low to the ground, and not disconnected as I felt with the Hokas. As was the purpose of the MorphoDynamic sole, small rocks just disappeared. The fit of the shoe overall was close but not tight. For my foot it felt pretty much perfect. My feet are fairly average with a slightly wider midfoot section, so I found the decent toe box ideal for my foot. For a reference, I find the Salomon Speedcross too narrow for my feet.
I have so far been on a few snowy runs, todays being a tough slog through some fresh but wet snow, A run out of the valley to escape the snow, and a quick dash up the Chamonix vertical km and then back down.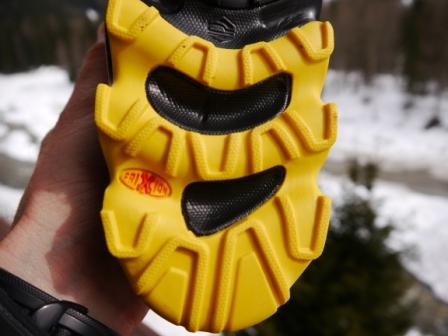 They are wonderfully comfortable shoes and the sole is incredibly forgiving. I found myself on a little bit of tarmac at one stage and they felt great. These are incredibly adaptable shoes. When I first saw the tread on the Helios (identicle to the Helios SR) I was convinced that it wouldn't be effective in all conditions. In fact I was concerned that it could possibly be dire on certain terrains. I have used them on many different terrains from wet grass to Slippy rocks, from Deep mud to dry loose rocks, and I have been and continue to be surprised by it's effectiveness. This sole is not a gimmick, in fact it is an incredible example of the designers thinking out of the box of the traditional lugged sole and for it to be a true success. A brave move that paid off for La Sportiva! I love the 'natural' low heel feel that keeps me in communication with the trail and the super flexy sole just adds to this.
What about the Endurance Platform then. Does the added protection improve on what is already a great shoe? I have designed a highly unscientific test that is a little for fun but will also demonstrate the flexibility and stiffness of the sole. The 'Flex Test' consists of taking a new shoe and standing it on it's heel end on my bathroom scales and then pushing downwards on it till I get roughly a 90 degree bend. I then take note of the weight (subtracting the shoes weight) and then taking a photo to shoe how it has flexed to demonstrate how it bends i.e. at the toe or further back. I will build up a bank of results from different shoes and publish them together so that comparisons can be made and you can maybe relate if you own one of the shoes. The Helios was the first shoe to get flex tested and it scored 3kg. I happen to have a brand new pair of the Helios too so tested these for the comparison, expecting them to be a little more flexible due to not having the Endurance Platform. They scored exactly the same! The flex looked the same too. So before I had run in these I was thinking this was going to be a subtle change. Would it be noticeable? Well, I think I need a little more time bouncing around on technical rocky terrain, but I must say that although I can feel it's there, it is incredibly subtle. On fresh feet, sharp rocks are very noticeable. Later this year I have a place in the 200 mile Tor des Geants and I have already decided that the Helios SR doesn't have enough protection for my feet which is a shame. I will be able to do all my training in them but when it comes to race day I'll need something a little more substantial. You must remember that these are purely my opinions relating to my body. I know from experience that the bigger the race, the more care my feet need, and have always been amazed when I see people finishing races in super minimalist shoes that I know would put me through hell had I tried, yet their feet seem fine! So not everyone needs the same amount of protection as me.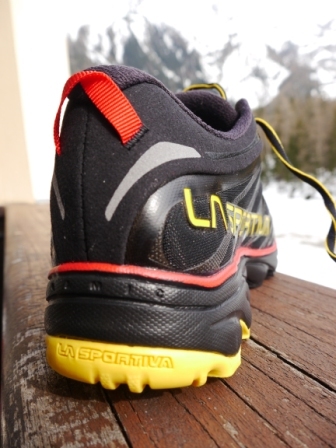 So after experiencing the older Helios and the new Helios SR, I am a big fan, and these shoes will certainly be in my regular shoe circulation pile for 2015. I love the slipper like comfort as they hug your feet. The fairly low to trail sole and the low heel drop. The standout feature for me though, is the MorphoDynamic sole which was a relevation when I first tried it. It is a master of all surfaces and conditions. Although I will be wearing this shoe pretty much exclusively on technical Alpine terrain, I feel that this would be best suited to relatively well maintained trail, with not too many technical sections. Once I have some more time racked up with these I will return to report on how they are surviving the brutal terrain out here. A highly recommended shoe that is definitely worth checking out.
I must add that these shoes were provided to the URC as a test sample. I give my word that I have been as honest as possible.
Weight - 255g - My sample weight
2mm Heel drop
19mm, 21mm sole
Flex test - 3.2 same as Helios