Written by Neil Bryant for the URC
I first had a polar unit many years ago, in a previous lifetime before I was a runner. In those days I was a cyclist and it was during this period that I started to show an interest in the science of training, which lead me to training by heart rate. I obviously needed a Heart rate monitor and at the time, the best on the market were produced by Polar. It was a fairly large watch that read your HR and that is about it. Very simple, but from what I remember, it did a pretty good job.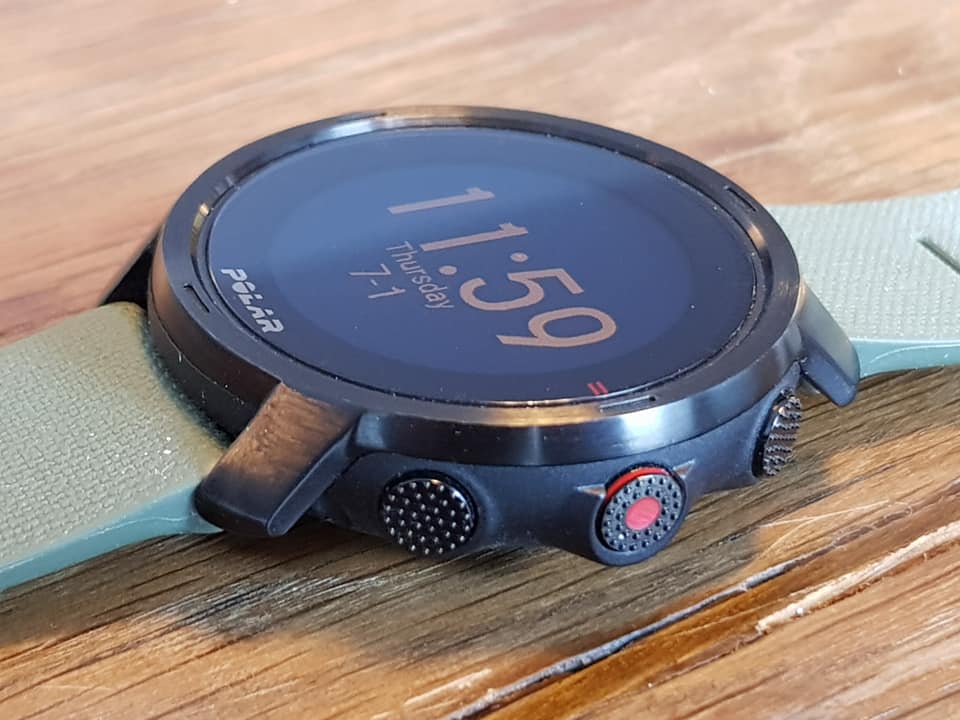 Zoom forward 35 years (!) and I have in my hands a new unit from Polar. Things are a little more complex these days of course, but I was equally excited as I was back in the 80's to try out the Grit X to see whether they were still leading the way for Heart Rate Monitors.
On opening the box, my first impression was good. It looks good! I wear my watches all day, so I prefer a watch to not be too sporty looking or in your face. The Grit X is not too large and yet has some class about it. I have the Black bezel with a dark green strap and it looks nice. It certainly looks as though it could be a normal watch. How do they fit all this technology inside such small units!
The Grit X is touted as the ultimate outdoor multisport watch. The Vantage V2 arguably has a few more features but in not in such a robust case as the Grit X which comes in a stainless-steel case and has laminated super tough Gorilla glass. Maybe I am overly cautious with my watches, but I have yet to scratch any of my watches that have had Gorilla glass fitted and I wear my watches 24/7.
At just 64 grammes, the Grit X is no bother to wear and the face is 47mm in diameter and 13 mm thick, making it a good balance between very legible, yet not the size of a dinner plate strapped to your arm. I liked the size. I have medium wrists for a skinny guy, if that makes sense, so I guess if you have very slim wrists, then maybe it will feel large? Only you can decide that I guess. The strap is a 22mm standard silicone variety that has a nice texture on the outside that makes it almost look like woven fabric. It is quick-release so changing straps takes seconds and no special tools which is great!
To charge the unit, you have a round disc which is magnetic to the rear of the watch. You could certainly wear it while charging during a longer race if needed.
Image wise the Grit X is not very customisable which could be a turn off for some, as it has just two watchfaces, Digital and analogue. I thought this was a little lazy at first, but to be honest I think they are both great. I have used them both and they are both simple and very clear.
It has an optical heart rate monitor which has 6 LED's which is more than most (maybe all?) and this, Polar say, is because it sometimes gives better results. Polar manufacture everything about the sensor, from the LEDs to the electronics, to the software to the algorithm. I have found that my experience has been pretty good. The reading from my sleep is generally quite believable with just one night where it lost connection for too long to give any meaningful data back. During runs and skis I have found it very good and generally gives readings that seem realistic with just one ski that had very low readings, though I think this was just my gloves pushing the watch away from my skin enough to affect accuracy.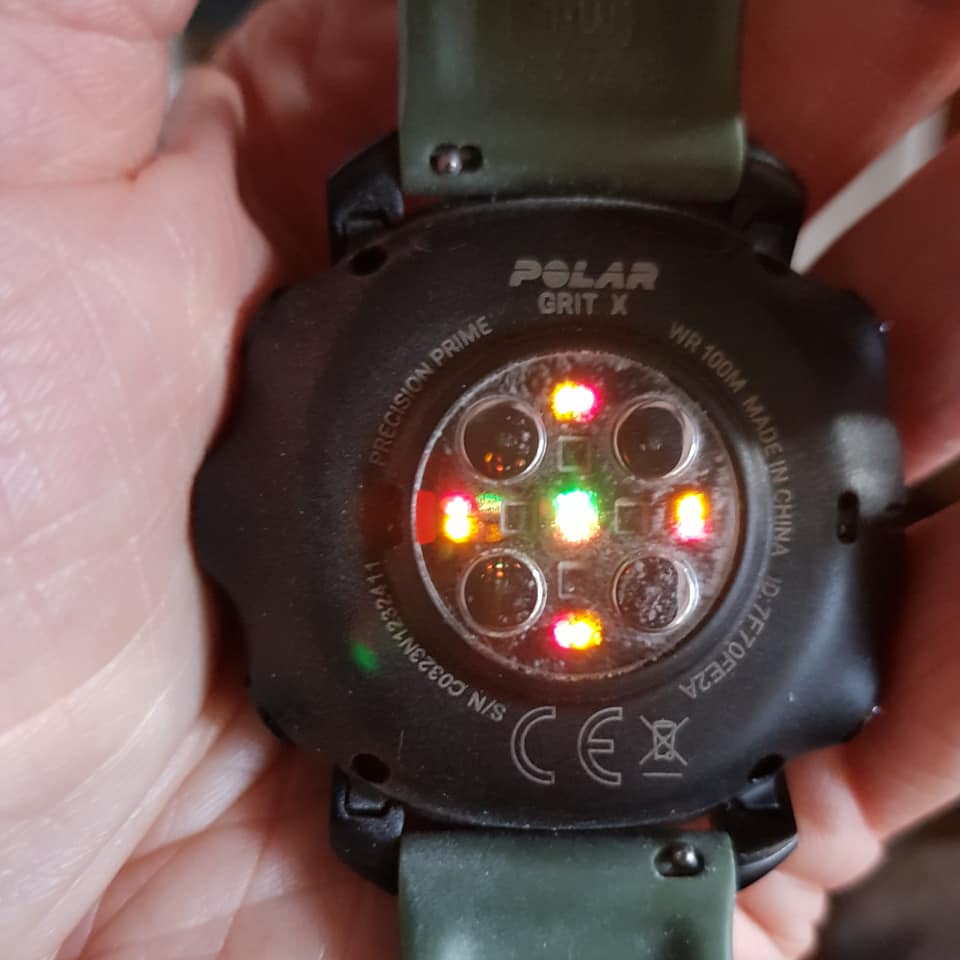 The GPS has been ok but not the best. Accuracy has been good. It has taken a while to find satellites but not too bad. Speed and distance have been good. Overall, I have been happy with the GPS but would be happier with a faster lockon
As with the Coros Apex Pro I recently reviewed, the Grit X has wrist-based power while you are running. Wrist based power is an interesting development as a training aid and as of now there has been no standardisation, so different power meters will give different readings for the same output. The important thing is that whichever unit you choose, it is consistent. The figures I get are a fair bit higher than from the Coros, but I think they could both be used effectively as a training aid. There are some features which I am not too bothered about, but I actually see power as a valuable tool.
Polar have teamed up with route making site Komoot to give the ability to design routes on Komoot, transfer the route to your Grit X, and then getting turn by turn guidance out on the trail. Firstly, you have to sign up to Komoot. This can be done for free which means you can access one region of map for free. The free region I have covers most areas local to me. I am close to both the Swiss and Italian border though so the map stops there. Once you have your membership, you can then make routes with the easy-to-use system. Then, once you have connected your Polar Flow account to your Komoot account, you can sync them which will get the route on to your watch. I drew a route on komoot taking in road and trail, both large and singletrack. The great thing about this setup compared to breadcrumbs, is that it will advise you when a junction in the trail is approaching. This makes a much better system in my opinion. With breadcrumbs, if there is a junction in the trail ahead, and both the trails run roughly parallel, then it can be a bit of a gamble deciding which trail to choose, whereas with Komoot, the decision is made for you. It is not as good as topographical maps, but it is certainly a big improvement on breadcrumbs, and battery use will be less than with maps.
A feature missing from the Grit X, which will be either a deal breaker or you simply won't care is the fact that it has no music playing ability. It is of no concern to me.
All ultra-runners have one detail that is at the top, or very near, their list of priorities, and that is battery life. It gives a decent 40hrs in full training mode, and 100hr in battery saver mode. When you are using it in 24hrs heart rate monitoring, it will last up to 7 days, but a lot longer if you have it recording HR just over night. I started off with it recording my HR permanently and was charging roughly every 5 days to a week. It does charge very fast! I then switched to just night HR reading (and training) and it is lasting a lot longer. When it records HR it is recording every second which would explain why it is such a battery drain. I would like to see an option to have it recording every second during the night for accurate sleep analysis, but every 30 secs or something, during the day just to save battery and to have a rough recording or your days.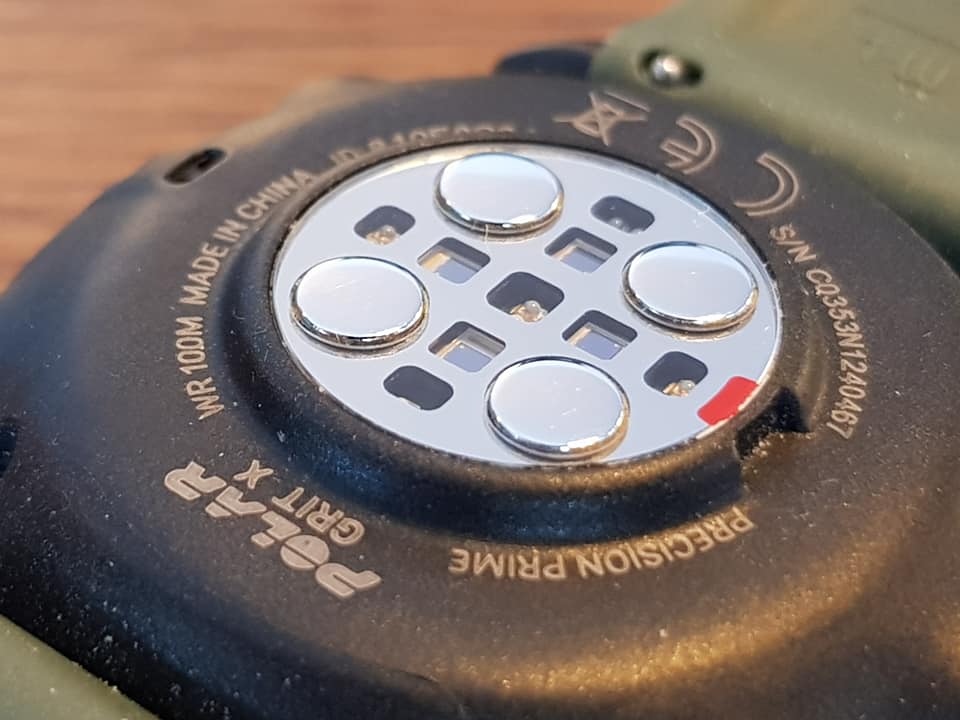 Now I shall comment on the tools used for analysis and all the fascinating data that Polar produce. The system is called Polar Flow. It is both phone based and web based. I know that this will please some. You can do a lot more on the web-based version, plus of course it is nice to see your activities on the big screen. It is also a social system so you can join clubs and follow others and they can follow you if that is your thing.
Polar perhaps have the best tools for analysis out there, and this was certainly what I was interested to have a good look at. There are a number of features, so let's start with the all-important sleep analysis.
There are two parts to Polars sleep analysis.
Firstly, there is sleep structure which breaks the night up into light sleep, deep sleep, REM and interruptions. From this it rates, using your previous data, the amount of sleep, the solidity and the regeneration. I find that things tend to make sense, but as expected, I do need to wear my watch pretty tight to get a full night's readings which I am not so keen on.
Your Nightly Recharge status is based on two components: how you slept (sleep charge) and how well your autonomic nervous system (ANS) calmed down during the early hours of your sleep (ANS charge). Both components are formed by comparing your last night to your usual levels from the past 28 days. Your watch automatically measures both sleep charge and ANS charge during the night.
I really feel that this fairly in-depth sleep analysis can be quite useful, not only if you want to train effectively, but for general well-being. It is simple to see if there is a pattern forming and you are perhaps not getting enough quality sleep regularly. All this can be viewed the instant you get up, on your watch, or, as soon as it has uploaded, on your phone or the web.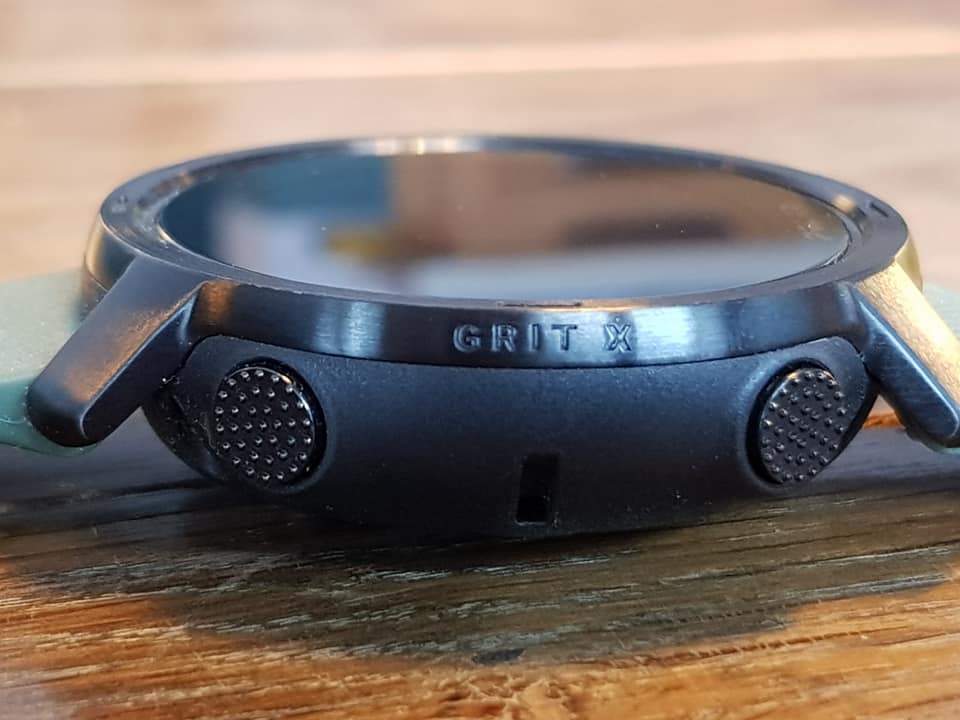 A feature Polar push is the Hill Splitter. This will automatically detect when you are going uphill or downhill and split them into laps. This will give you stats on each climb and ascent. Certainly, an interesting concept, yet I find I don't use it. Maybe other users like it. I feel with more development there could be something really good in here but currently it just wasn't getting me interested, and I love ups and downs!
This brings me on to the Strava Live Segments feature. Now I must confess to being a bit of a segment junkie. I don't always go out after particular segments, but I love using them as a tool to analyse runs which I repeat. I think it is a great concept that has been well executed by Strava. So how does it work with the Grit X? You connect your Flow account to your Strava account, then you mark as favourite, the segments on Strava you want to be live, which can be up to 100. You sync your watch with Flow and that is it. When you hit a favourited segment when out running, it will automatically pick it up and begin the timer, and you can view your progress against you current PB. It seems to work well. A great feature that you can set up for interval training, hill training etc.
More features that can help with training and recovery analysis include Training load pro, which gives you insights into the stresses and strains each training session puts on you and your body. There is a lot of detail here which is fascinating stuff, but the bottom line is that it can advise whether you are detraining, overreaching or being productive.
There is also Running Index, which is basically your estimated Vo2 max. Apparently, I have the Vo2 of an elite athlete! I really should get my Vo2 done in a lab so I can rate this figure as I would hardly call myself elite!
Another interesting feature is Fuelwise. Fuelwise helps you remember nutrition and hydration intake. It will calculate, using run information you loaded in beforehand, and previous running history, how many carbs you need and how frequently. A great feature which can really take the pressure off of at least this one area when racing and during long runs. I would advise to properly test how it works for you on longer runs before using it in a race.
Fitspark will give you a range of sessions with different aims that you could follow daily. They are generally simple and will take into account your training history and how recovered you are. A nice feature as it can be carried out pretty much anywhere and with no equipment, so you literally just do as your watch says. No need to even make up a routine.
The final feature I will mention which I really like and is so simple is the weather, which you can have on your watch face permanently should you choose. The forecast is from Open weather and I have found it to be quite accurate, and so tend to actually refer to it. You can see three days ahead on your watch at all times. I actually really like this simple feature. Clear, well executed and Open weather is actually decent.
There are more bits and pieces I could discuss such as training plans, fitness test and serene breathing exercises, but I think this is long enough.
Overall, on paper the Grit X is a capable looking watch but did it live up to that?
For me the definite winner is Polar Flow. The layout of the app and the web version is great. The masses of data and analysis that can be taken from Flow is great and the sleep analysis is brilliant.
Some will definitely want more of a selection of watch faces, but if you are after nothing fancy and clear, then the Grit X has it covered.
The charger is a simple and wearable solution for those longer adventures.
The battery is pretty solid if you only have it on night HR reading. If you set it to 24hr/1sec HR reading, then it will last around a week or less.
I may have mentioned I love the weather feature ?
Its GPS lock is far from being the fastest. This could be a little frustrating sometimes. It has a sony GPS chip which are generally good, so I guess this is more to do with the antennae arrangement?
When you sync with the app via Bluetooth, it takes a little while. Again, some units are a lot faster. The Apex Pro from Coros is lightning fast in comparison!
So, I am happy with it. There is certainly room for improvement, but there is with all watches right. Depending on your needs, then this could well be the watch for you.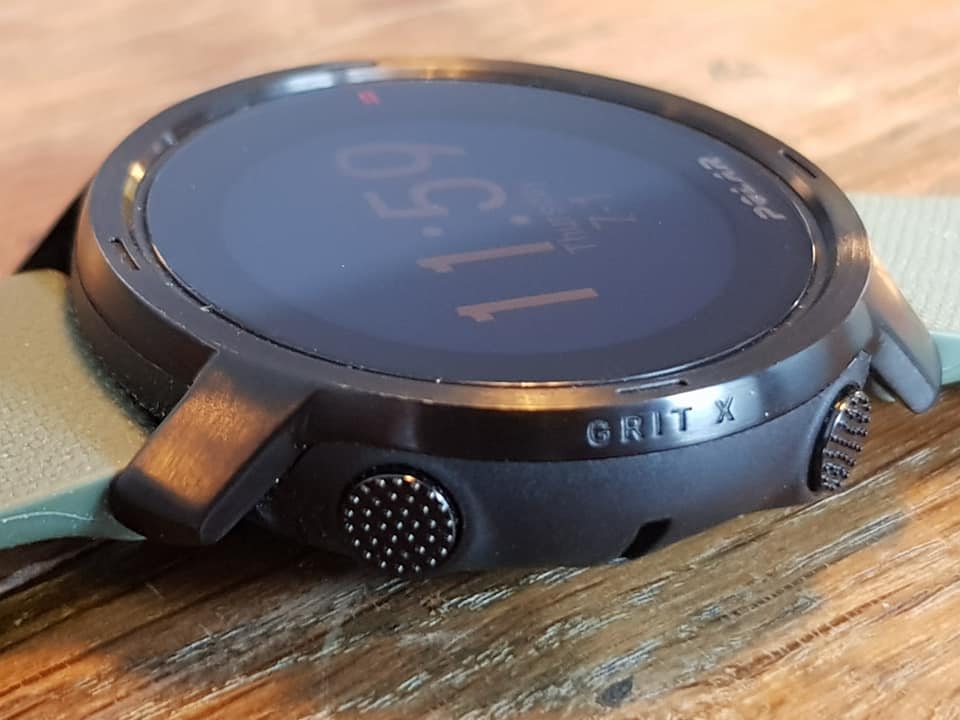 Here are a few pros and cons to hopefully help you out (This is of course personal).
Wrist HR has been great except in very cold weather
Decent battery – Fast charge

Wrist-based power
Would be nice to have an option for every 30 secs HR readings during the day
If you would like to purchase a Polar Grit X, then please consider using the following link. The URC will collect a small commision