Written by Neil Bryant for the URC
I recently reviewed the interesting and innovative Trail running shoes from Cimalp and found them to be a good shoe. The variable heel to toe drop, which is adjustable with the three different thickness insoles that come with them (4, 6 and 8mm) worked well, and if they could get the weight down a little then this would be seriously competitive with the big boys. Not bad for a small company who have just recently started producing shoes.
I was then offered the opportunity to test and review some of their extensive clothing range. Have a look at the site here to check out their large range.
In more detail, in the same order, let's start with the Storm Pro 3 jacket
The Storm Pro is constructed with 3-layers incorporating ultrashell as the breathable membrane. It weighs in at 260g so compared to the super lightweight end of the spectrum, which is around 100g, it isn't that light, but this is a 3-layer jacket, and because of that, it should be able to handle a great deal more than the super light jackets. This will be the jacket you take if you are expecting plenty of rain for long periods.
I liked the fit, as it wasn't a very slim fit, so you could layer up underneath if it was really cold too. This is a jacket that is made for those foul weather days that you want to be both light, and comfortable. A difficult balance!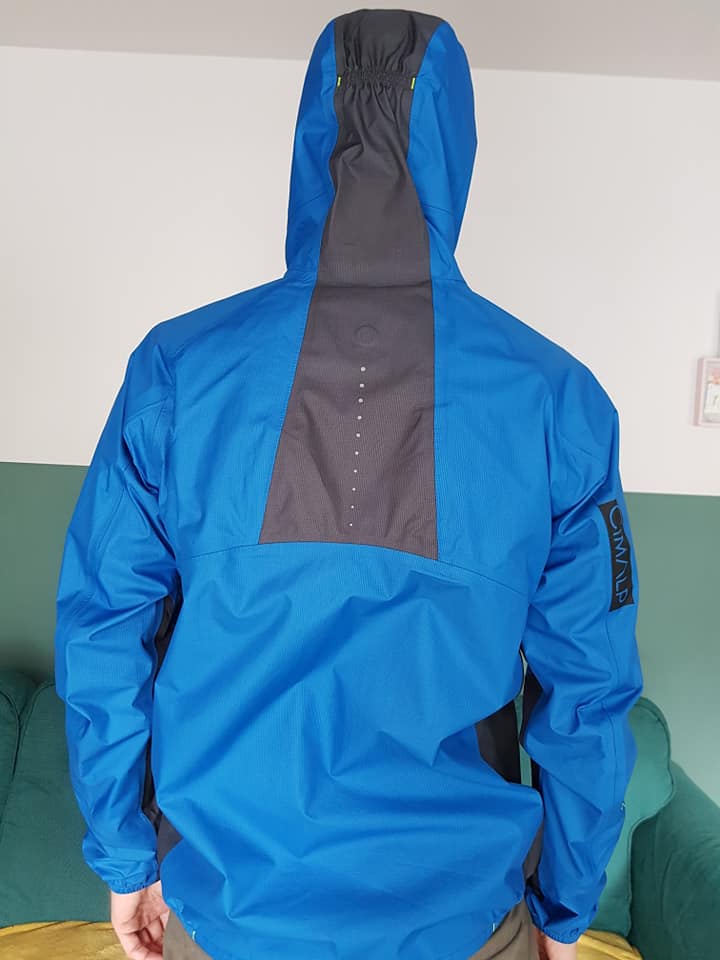 Some detail of its construction. It has one pocket on the chest that also has a small pocket inside for a phone or music player. There is an internal hole for a headphone cable too. The full-length zip is of the waterproof variety from YKK, one of the best zip manufacturers.
The hem around the lower edge, is lightly elasticated with no way to adjust it. This fitted me nicely. The wrists are also non-adjustable and lightly elasticated. This time though there is a small triangle of lycra like material with a hole at one edge which provides a thumb loop. A nice touch as I often get slightly cold wrists which leads to cold hands and end up pulling the sleeves down over my hands. This means I can just stick my thumb through the hole and my wrists are protected from the elements. A nice, unusual touch.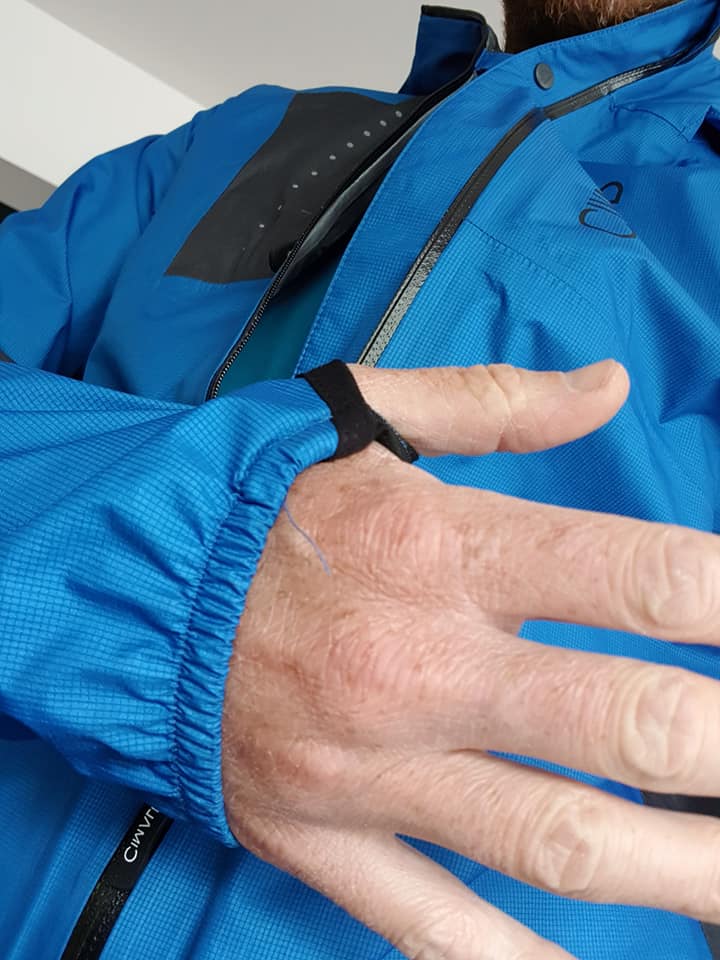 The all-important hood. How does it measure up? It is big enough and has a decent peak. It is again lightly elasticated around the back, and again there is no adjustment. This time though, I feel that there should be a way of tightening it up. This jacket, in my opinion is built for the really grim days, so really should have a solid hood that can cope with anything. It would be good for most things, but when the wind gets really strong, it moves around a little. For the cost of literally a few grammes, this could be vastly improved and rock solid on your head. I think it is acceptable for super light jackets to have no adjustment, but when you have a mid-weight, three-layer jacket, it should have a fully adjustable hood.
The final detail, which I really like, and should be on every waterproof made for high intensity activity, is a small push button strap that holds together the two sides near the top of the zip, enabling the zip to be opened up for ventilation without the shoulders sliding off. I love this feature!
I have used this jacket a fair bit over the last few months for both ski touring on the descents, and running. It has been used for a few rainy dog walks too! It was a good jacket to pull on during ski touring. I would work hard on the descent and generate a lot of heat, when the temp was around –10 celcius, then would rapidly cool down at the top as I prepped for the descent. Here I would quickly don the jacket and make my way back down. A pretty good test of how well the jacket creates a cosy environment considering the low temperatures, the strong wind chill and how wet with sweat I was. It is definitely an improvement over a super light jacket as it is thicker and more solid. I also felt that if I fell, I probably would shred it as I have with a lighter jacket.
Out on the trails it was also great and really added to my feeling of being more protected from the elements. It seems very waterproof and very breathable. The breathability figures are 80,000g/m2/24hr which are incredibly high! When working fairly hard, I still sweat a lot unless it is well below zero, but then I can open up the front zip and this is when I can button up the little strap at the top and this stops the jacket sliding off of my shoulders. I have this on a Montane jacket also, so this isn't the first time I have seen it, but seriously think it should be on every jacket!
The thumb loops are a nice touch and really help to keep your wrists and back of hands out of the rain and wind which saves hands getting too cold on many occasions.
I have to say though that it is of course not the lightest or the most packable jacket by a long shot. If I thought there was just a threat of showers, I would take the lighter, smaller jacket. But that is not what this jacket is for. Throw the elements at this all day and it will be happy. This is not a jacket designed to be stowed away for emergencies.
The hood, in practice has been adequate. It has kept all but the worst out. It could certainly be improved though with a single adjustable cord around the helmet line.
Overall this is a superb jacket. It is practical, durable, light for a 3-layer jacket, some nice touches, such as the zip strap and thumb loops. As always, when chasing a light weight, sacrifices have been made, and I mostly am happy except for the hood. It is nice to use a jacket that isn't incredibly light as it adds that protection you just don't get. We are getting quite a lot of heavy rain at the moment, and this jacket has been perfect. Well doneCimalp.
The gilet is an underappreciated item of clothing amongst athletes I feel. It took me a while to understand the point of them. Now I see it as an item I can't go without! When it is very cold or cold and wet, a long armed jacket can just be too warm during high effort runs and will be sweated out very quickly, whereas the gilet, by virtue of having big holes instead of arms, is massively vented. You just don't sweat as much wearing one! It just protects your core from the elements. They are of course capable of being incredibly small when packed and light. They can be so small and light, you can pretty much carry them without knowing! The Cimalp gilet is made from a windproof material which is both thin and light. There is a light elastic band around the bottom to keep it close fitting, and one pocket on the chest. The zips have a pull cord on which is nice when wearing gloves to make use of them easier. Not too much else to say feature wise really. A simple garment!
It is very light at 87g and initially the material feels a little stiff, but with a bit of wearing, and a few times through the washing machine it is beginning to feel a little more supple. Build quality is good and overall a nice garment.
I am not much of a tights wearer, but over the last few years, there have been a few times when I have dug them out for a particularly cold or miserable day and been happy that it was a wise choice. Last year I reviewed some tights from Rab which were great but fairly thick, so for me only any use when it was minus 10 celcius otherwise I would overheat (I tend to run hot!). The Cimalp tights are a lot thinner and made me think that I would be able to get more use from them.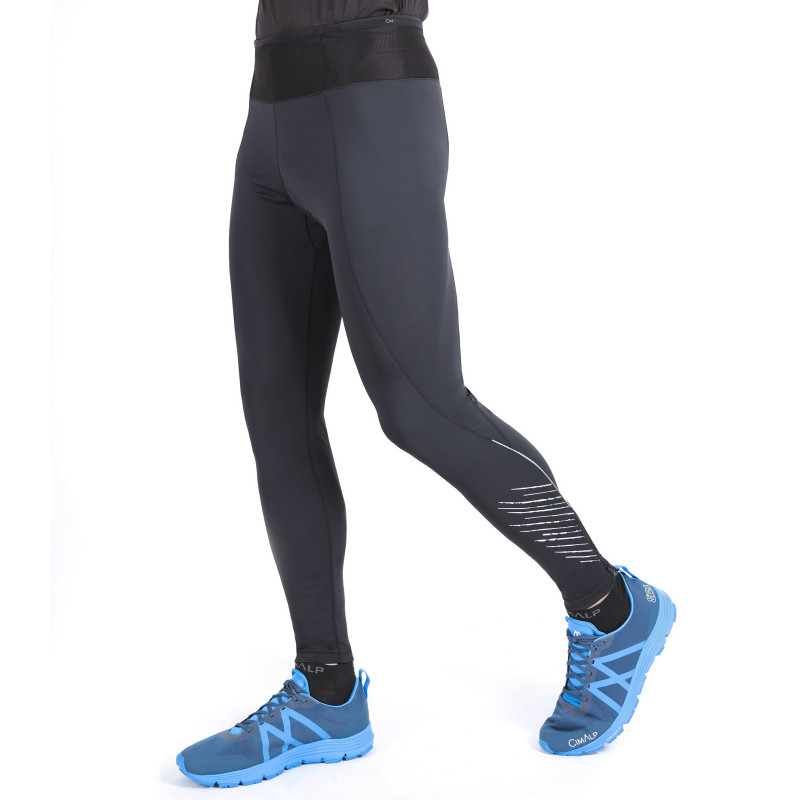 These are nice fitting on me, with small ankle zips to make getting them on and off easier. They also have a very wide waist with five elasticated pockets around it, one being zipped which is brilliant. This feels like one of my favourite clothing innovations of recent years as you can hold enough for a two or three hour run around your waist with no need to carry a bag or hold anything in your hands. The wide elasticated waist is very comfortable and secure. There is a draw cord to, but I have never needed it.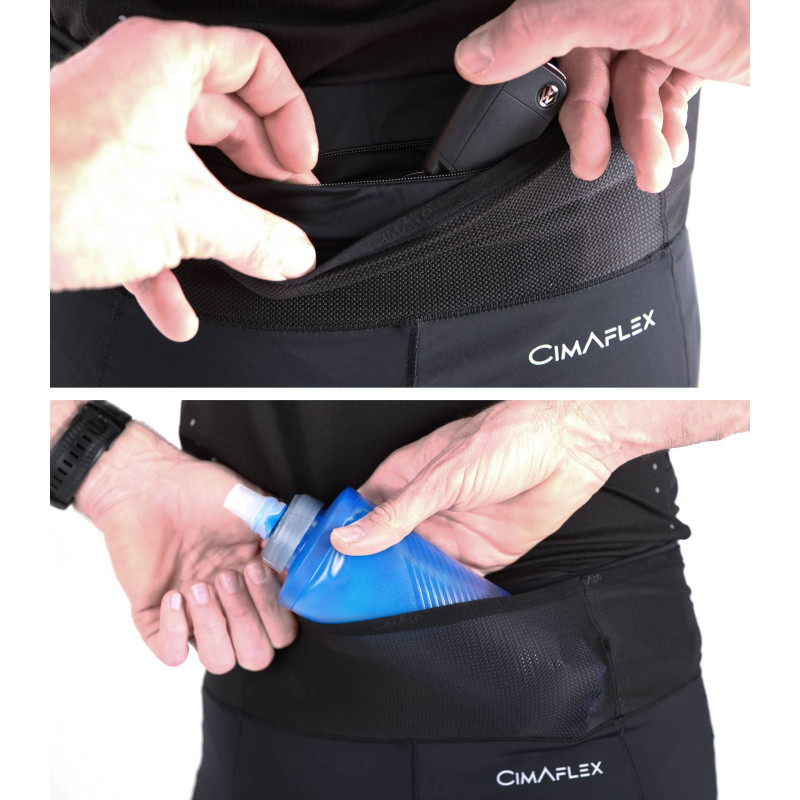 To run in these tights is pretty good. They are comfortable, fit in length and being about the right tightness for me. Movement felt completely unimpeded and the warmth they provide is ample, yet they allow air through so there is an element of breathing which is nice. This is my favourite item from Cimalp I have tried yet and I am not really a tight wearer!
The Argentieres top is a thermal long sleeve with a short zip and a slightly raised neck. It also has thumb loops.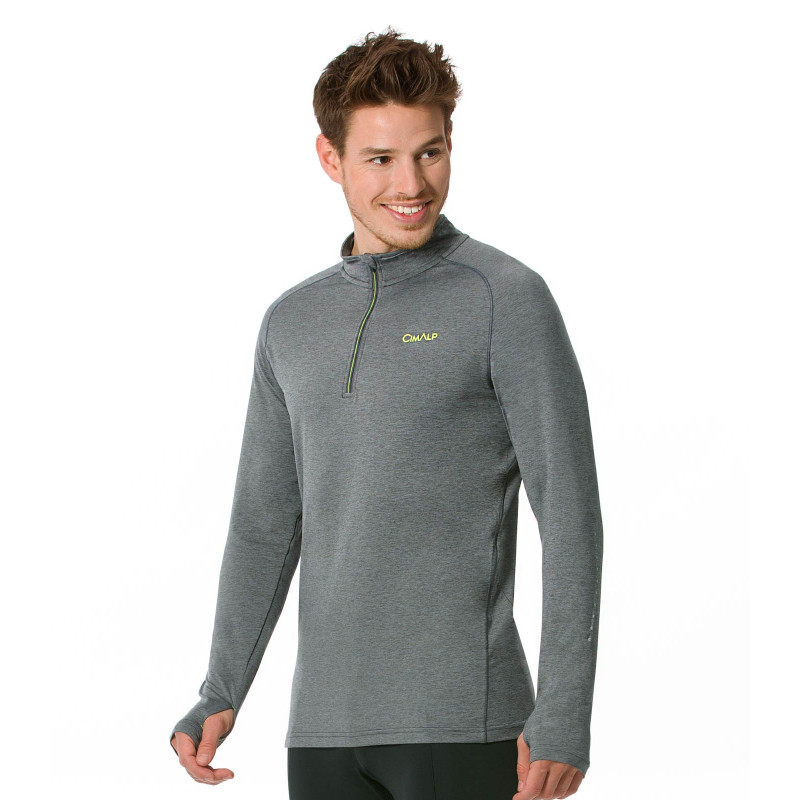 When I first got this top I didn't think the material looked good as it has a sheen to it that for some reason made me think it would stay wet once it got wet. Maybe it reminded me of something I've owned before?
On first pulling the top on, it was smooth and comfortable. It is a fairly casual fit on me which is nice. With a decent length to the arms so that the thumb loops are comfortable to wear. I once had a top with thumb loops, with arms that were long enough for my arms, but as soon as I used the thumb loops, it was too short and would eventually cut off the blood to my thumbs! No problem of that here.
I have worn this top in some cold conditions and some wet conditions. Under a waterproof, under a gilet and alone. First thing to note, is that it manages moisture well and my concerns of it being a bit of a sponge were unfounded. It is warm yet breathable and the not tight fit was nice. You can wear this in everyday use without it looking too sporty. It is a mid-weight/thickness so fits most winter days well. I have thinner tops which are great when it is just a bit too chilly for short sleeves and I have thicker for proper cold stuff, but this fits well for most cold days. It has had some decent use, and will get plenty more use.
A great option for those cold days when all-day comfort and drying out quickly are paramount to having a good day in the hills.