Written by Neil Bryant for the URC
I will start by letting you know what my involvement is with La Sportiva. When I review shoes, clothes, equipment or races, I am always honest. What would be the point otherwise? I am fortunate to be in the Lyon Outdoor team, which means that I am supplied with La Sportiva shoes. I have been using their shoes for a few years now and they are good, but I always feel like I could tweak them to improve them. I thought that there were all the features to make a truly great shoes spread through their whole range. Maybe I should have become a shoe designer!
I have been using the Helios SR for shorter stuff and the Anakonda for slightly longer stuff, but although they are great shoes, my soft feet needed a little more protection for the longer stuff. I needed a La Sportiva 100 mile shoe.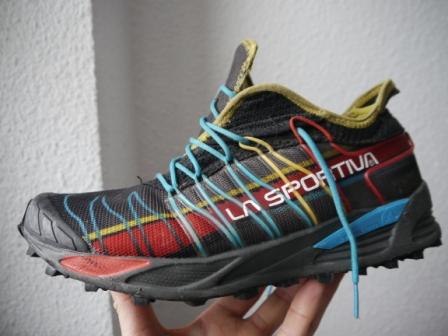 Along came the Mutant. Lots of innovative features have been utilised on this new shoe from La Sportiva. I was excited when I first read a report about it, and when I first got my hands on a pair in a shop, my enthusiasm was not derailed. It felt solid with the great tread that I was already familiar with from the Anakonda. It didn't feel particularly light, but I was not concerned as I am starting to err on the side of durability rather than super light racing shoes that fall apart too quickly. The midsole felt relatively thick too which possibly meant more protection for my feet over the longer distances.
Then, I received a pair from Lyon to try out. Fortunately they were a great fit. They are a medium to wide fit. My feet are fairly average except they are a little wider at the ball, so these really seemed to work for me.
Anyway, let's go into more depth with how they are constructed.
Upper
The first thing that leapt out at me was the Spyral tongue. This is a split tongue, with the larger section being on the inner side. When the shoe is on, the inner part goes underneath the outer section, creating a very cosy fit. To tidy things up further, the inner lace is threaded through a hole in a pocket on the outer tongue before tying. Once tied, the whole bow is tucked away into the pocket. Meaning no loose laces are swinging around. If that made no sense, then hopefully the image will help.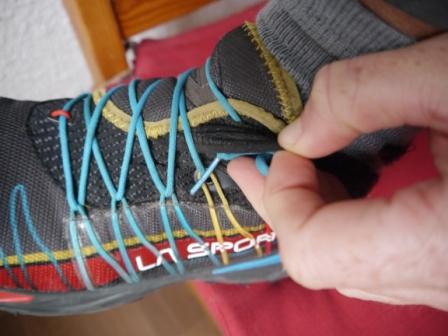 For stability and a really great fit around the midfoot the "Integrated Fusiongate™ Technology Lacing Harness with High Frequency reinforcements" has been employed. I have seen things similar to this a number of times on different shoes now and I can see the reason for its popularity. It is light, strong and very effective.
Around the toe box there is a small but solid rubber rand or toe bumper. An extra few grammes in a shoe to help prevent stubbed toes is well worthwhile in my books for big events.
You are probably getting an idea that this shoe is a solid practical beast, and continuing that theme is a rather solid heel cup adding yet more stability to the Mutant. The heel has a pull on loop at the back making life that little bit easier.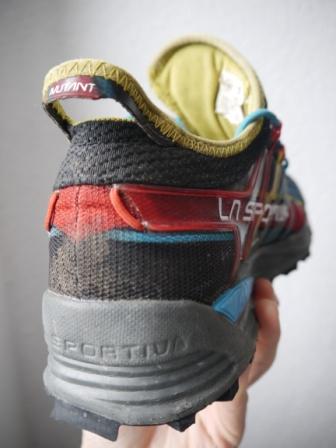 The main fabric of the upper is a really tight weave that feels as though there is some sort of rubbery coating. I hope that this is breathable enough. So many shoes are ruined in my eyes because they don't breathe well enough.
Midsole
The midsole has been built using a fairly standard EVA. Also in the mix is TPU which adds to the durability. The insole is quite thin which is all you need I think. It is a fairly wide shoe so if you need something a little more built up inside, then you probably have room to add you own custom insole.
My standard heel drop in a shoe is around 4-6mm over the last 3 years or so. This is what I am comfortable with and it just feels good. Well, this is where this shoe differs a little. The forefoot stack is 16mm, and the heel is 26mm giving a lofty 10mm of drop.
Outsole
Now on to the outsole which can make a shoe great or a flop. Due to La Sportivas history with mountaineering boots and climbing shoes, the outsole is where LS really excel. The mountaineering boots have incredibly durable soles and the rock shoes, of course have incredibly flexible and sticky soles. Somewhere in the middle is the perfect mountain running sole compound. This compound is titled Frixion XF. The tread is fairly aggressive though not a full on bog slayer. It is a similar tread to the Anakonda which I was very happy to see as I thought it was amazing. It was impressively durable considering how sticky it was. Let's hope things are the same here.
The tread pattern is called the Impact Brake System or IBS. This just relates to the "studs being oriented in opposing slanted directions. This opposition increases braking power by an average of 20% and decreases impact forces by an average of 20%". La Sportiva sure like there tech talk and this all sounds great, but how an earth they came to these figures I don't know. Either way, I don't really care about the marketing madness, as I know, through extensive use of the Anakonda shoe, that this sole works. All I wanted with the Anakonda, is a bit more cushioning. Enter the Mutant!
The Ride
There are a few things on paper about this shoe that I am not normally attracted too, such as the higher heel drop and the relatively higher weight (though not a heavy shoe!). When I first handled it though, it just felt right. I didn't try it on then, but I felt pretty sure it would have a great fit.
The first time I tried them on was a couple of months ago when I returned to the UK for a few weeks. I pulled it on and the tongue wrapped amazingly nicely around the midfoot. It is a fairly wide fitting shoe, so probably not great for those with narrow feet, but for me it felt perfect. My first run was a 25km run on Dartmoor, the land of bogs and tufts. A fine test for how well they fitted my feet. They passed with flying colours! My feet were often deep in sucky bogs that would often, with some shoes be a potential shoe losing situation, but the Mutants, didn't budge. The tufts mean that if my foot moved around much then I'd probably have blisters, but due to the amazingly secure fit my feet felt great at the end.
The next time I wore them was in the Lake District. I ran the first leg of the Bob Graham mostly in the dark and in pretty bad conditions. I had a bit of a navigation issue just before the end leaving me semi-scrambling down some greasy rocks. A great sign of a new shoe is that they were never a concern. In fact, they didn't even register in my thoughts. Meaning that I had very quickly got to completely trust them in bad conditions. That is how a shoe should be surely.
There had been a lot of rain and the land was saturated, but the Mutants just soldiered on. A simple but great feature for any shoe in my opinion, is that they drain water well, and these certainly did that.
Next up was the Isle of Skye. Here I ran the full length of the Trotternish ridge. It is a magnificent ridge, and yet again the weather was challenging, as Hurricane Abigail hit us full on. Again the Mutant performed flawlessly!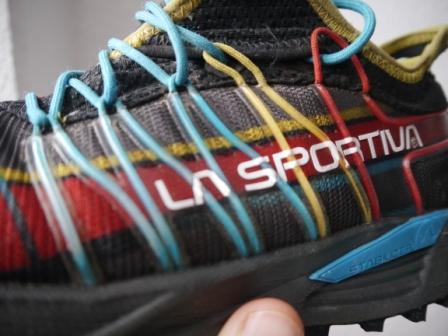 All that was left was to test them out at home in Chamonix. I was gifted one glorious dry day when we returned before winter hit us hard. I ran up to a ridge and then did a little scrambling as I traversed the ridge. Very new terrain for my trusty Mutants, but I knew that they would have no problems. They were great on the rock and impressive on the very steep couloir I came down. The 1km descent back into Chamonix at the end was an absolute pleasure. The shoes were 'playful' like they were a lot lighter.
Once the Snow came two days later and blanketed the whole valley, now was time for the final test. Snow running is never easy when it's deep and you're breaking trail, but it is great fun. I put my NorTec spikes on the Mutants and they were great. The close fitting wrap-around tongue acted a little like a gaiter as it kept the majority of snow out which was great.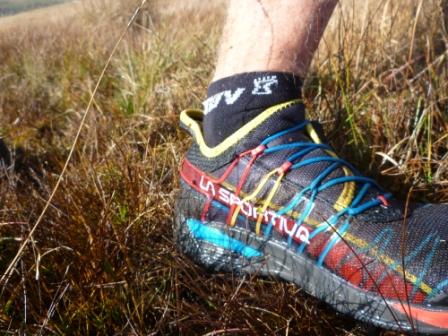 So, you can see that they have had a good testing in many environments and they have performed fantastically.
For me, the fit is as good as I've ever felt, which is partly down to the slightly wider last, but also the excellent tongue, which I can't fault. A great design which I would like to see on more of the LS range.
Although the shoe is relatively heavy, weighing in at 338 grammes (for my sample), and the Flex-Test is a whopping 10.2 (making it the stiffest shoe tested to date with the Scott Kinabalu Supertrac in a distant 2nd place with 6.7) it somehow feels a lot lighter and more flexible. Why is this? Well, my guess is that the glove-like fit is the answer. Even the 10mm drop just didn't register like it has with me and other shoes.
The Mutant just feels damn good, and I am now a very happy man as I now have a new super dependable, ultra distance mountain shoe.
A great thing I've noticed about all of my LS shoes I've owned which is a refreshing change from many other shoes out there, is that I have never had holes forming in the uppers on the sides at the base of the toes. Not one of my LS shoes has any holes! I was starting to believe that this was impossible to believe with my history of holey shoes. Then I started running in LS.
So, to summarise, the Mutant is a true beast of burden that will keep working no matter what the elements and the terrain can throw at it. All while you completely forget about them! They fit so great that I want to wear them all the time, the tread is super effective on wet or dry rock, adding yet more confidence with each stride, and the underfoot protection means that they will leave you with relatively fresh feet after a mountain 100 miler.
What's not like to like? I really want to throw in something negative here to make it appear that this isn't just some LS promotion, but I honestly can't think of anything. For me this is now my No1 shoe.
Of course it won't be for everyone. No shoe is. We all have different demands, tastes, running gaits, body weights, distances etc. etc…. The list is endless.
I would imagine that there will be quite a few people who will also appreciate the Mutant. It is an excellently thought out ultra distance mountain shoe that you should try out if you get the chance.
To buy the La Sportiva Mutant and to support the URC website, then please use the following link. Thanks