Written by Neil Bryant for the URC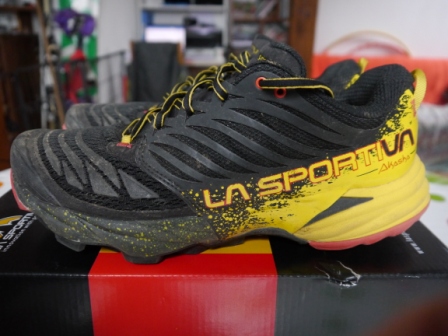 Akasha, a Sanskrit word that stands for "ether"
Finally, La Sportiva seemed to have released a new shoe that, on paper, looks like it could be a great shoe for the really long stuff! It is down on the website as being a solid 330g, and that is exactly what my sample shoe weighed. I think this is the first time my sample shoe has weighed as advertised!
The midsole is heavily cushioned and is lined with a deep but unobtrusive tread. There is also a decent rubber toe bumper. The upper is well padded yet very breathable. Oh, and perhaps the thing that many shoes with the current spec list don't have is a low heel to toe drop. The Akasha has a sweet 6mm, which personally, is not too little or too high for longer days.
When I first pulled them out the box, they felt good. I like light, but solid is my new priority. Maybe it's an age thing, but I am not sure a really light shoe makes that much difference, yet I know that a shoe being reliably durable is now very important to me. I've had a shoe fail on me up on the hills and it was not a good situation. I'll take the extra 100g thank you.
The more shoes I test, the more I understand that the shoes weight is not the only factor that makes it feel more nimble. The La Sportiva Mutant and the Scott Kinabalu Supertrac taught me that. I used to not even give a shoe a looking if it was over 300g, but now I am more open-minded. I am not going to pretend I understand exactly what features in a shoe make it just feel great when you run, but I do know that it is hugely personal.
This shoe was supplied to me for free to test, but I have remained as honest and unbiased as possible.
Upper
The upper is constructed from airmesh with polyurethane overlays and a substantial though not bulky rubber rand to protect the toes and toe nails. The midfoot overlay reaches all the way around the heel adding to what is already a stiff heel cup. This overlay also reaches around the midfoot to the outsole.
On the heel is a neat little nylon loop to hang your shoes off a bag or to help pull them on. At the front end we have the neat rubber toe cap which I have already mentioned and also the interesting feature called Dynamic ProTechTion. This is the strips of PU that have been welded on to the airmesh on the top of the toe area. This, according to La Sportiva "provide protection and structure following the foot in a dynamic way and without constrictions".
The heel is well protected and supported with it's sturdy cup, while the padding around the opening to the shoe is fat. The heel section is particularly chunky. I have never felt that lots of padding in shoe uppers is a good thing. It never seems to add anything to the comfort, and tends not to breathe well meaning sweatier feet! I hope it doesn't harm my experience with this shoe.
The tongue, on the other hand is not fat, but kind of sitting in the middle being fairly big but not unnecessarily so. Thankfully it is not a loose tongue either, meaning it is gusseted to prevent it from sliding sideways when you're out running. Being gusseted gives it a more secure fit too.
Midsole
The midsole is EVA injected as oppose to EVA compression molded. This is springier and more durable so shouldn't break down as quick as a compression molded midsole.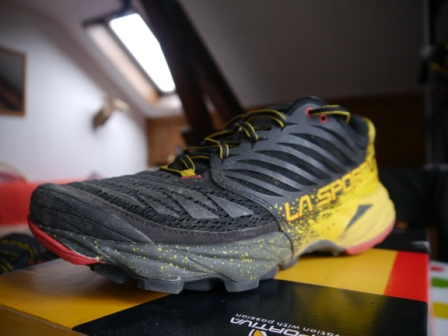 From what I can work out, there is no rock plate present in the Akasha, which for me is usually not great, but being as it is quite a thick midsole, it may prevent sharp stones being painful.
Which brings me on to the stackheight which is not exactly minimalist with the toe being 20mm and the heel being 26mm, but what this gives is a relatively low 6mm drop. Personally I really like this. Too often really solid, built to endure shoes, have a really big drop, so it's refreshing for me as 6mm is comfortable for my style (or lack-of!) now.
The footbed, or insole is an ortholite one as so many companies are now. La Sportiva make a few different ones, and unsurprisingly, the Akasha uses the thickest one which is 5mm thick, adding a tiny bit of extra comfort and protection.
Outsole
The outsole on the Akasha is substantial and fairly deep, yet not to the point where the studs will feel uncomfortable on hard flat surfaces. This is a do it all tread. The pattern is, I believe, a new one for La Sportiva, being formed from many chunky V's which have adequate space between them to encourage the shedding of sticky mud.
The rubber compound used is a dual density with La Sportivas Propriety Frixion XT (red in colour) used in the high wear points of the heel and toe.
Keeping inline with the high comfort ethos, the outsole also has some rocker to it (raised at the front and back) called Trail Rocker, to help smoothen out your heel to toe transition.
The Ride
They felt good and solid when I lifted them out of the box. Built for comfort and to last. When I tried them on they felt plush. I usually don't like what I consider to be too much heel padding. I just find it's unnecessary and tends not to add any additional comfort if the shoe fits well. When putting them on, it feels like your heel is going to slide out when you run. Thankfully this sensation completely disappears once you lace them up and run.
Normally when I get new shoes to test, I will firstly do the photo shoot while they are clean and fresh, and I will also give them the flex-test as this must be done when unused. Well, for some reason, I couldn't control myself and just had to get them out on the trails first! Maybe the timing was good and it caught me on my transition from a winter of skiing to running, or it was sunny. I think the real reason was I just wanted to try them. I guess my expectations were high. My previous running up to this point had been in a pair of inov8 Terraclaw 250's I had been reviewing. The Terraclaws are way more minimalist than the Akasha, so it was quite a contrast to jump from one to the other, but after a couple of runs they started to feel lighter and nimbler.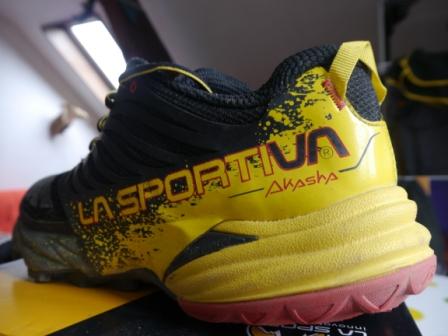 The underfoot protection is just amazing. I won't say that it is a minimalist feel, but considering the amount of protection you get, the amount of feel you still have is fantastic. Often when a shoe is so well protected, you don't feel much of the trail.
The more km's I put into this shoe, the more I like it, and amazingly, it seems to look just the same. Barely any wear is showing. This is one tough shoe. Not everyone wants a shoe like this, but, personally a bomb-proof shoe which will cope with anything you throw at it is an essential part of my oversized shoe collection.
We've had some fast changing weather here in Chamonix over the review period, providing really testing conditions, day to day. I have worn it for every single run, since that first run, without question. The gusseted tongue aids the already cosy fit meaning there is no sliding around or rub, no matter how much mud, water or snow gets in. The grip has been super dependable in all conditions. I know that La Sportiva are wizards with rubber, largely due to their heritage with making mountain boots and climbing shoes, but the tread pattern was a new one to me. For a tread to be effective in slippery muddy conditions and on wet rock is one thing, but for it also to be comfortable on the smoother trail or even road is a very fine balance. For the shoe the Akasha is trying to be, it has to be good at everything, which is perhaps the most difficult balance. The Akasha felt fast and responsive on the smoother surfaces. This is where the Trail Rocker comes into effect, really making your gait that little bit smoother. I never really noticed the Trail Rocker on rougher more technical trails, but when things flatten out, you really notice it. A nice addition to this luxury trail beast.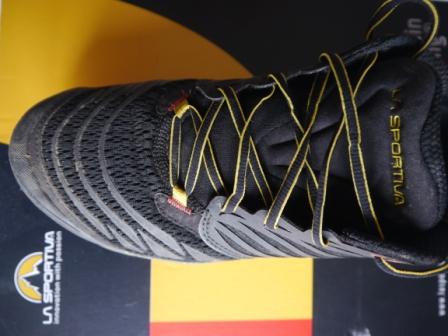 It's sold as a high volume shoe, but although I agree, I think maybe a little more volume in the toe box wouldn't hurt.
I have upped my running since I've got these shoes, running at least 12hrs a week with around 6,000m of ascent in preparation for the Mont Blanc 80k (This is a lot for me). Normally my feet during such periods would be complaining at the hammering I am giving them on a daily basis, but I can honestly say that they feel as fresh as they ever have. No achy sore bits, and thanks to the toe protection, I don't even have black toe nails and I am particularly good at stubbing them!
The tread is in great condition. Some of the texture has come off the high wear point studs, but that is it really. These things are tanks!
In fact the more I think about my experience of these shoes (over 300km) and every single feature, the more I appreciate them. Considering they are bomb-proof, I am starting to think that the initial concerns over the 330g weight are laughable. Now I am thinking I wonder how they got such a solid shoe so light!
My only gripe is the padding in the heel, which I am reminded of every time I put them on, but I really am being picky here as it truly doesn't affect the run.
So, if you want a shoe you can tie the laces with then forget, that will protect your feet from the sharpest of stones, over some really big days, day after day, yet still want a bit of trail feel then this could be your shoe.
Once I finish this, I will be going out on the trails, and my normal shoe selection process has gone as the Akasha literally does it all for me!